Editor's note: You may want to read more of Autotrader's model vs. model comparison car reviews as well as the 2016 Honda Accord review, the 2016 Subaru Legacy review and Buying a Used Honda Accord: Everything You Need to Know.
For every five Honda Accord sedans that leave a dealer lot, Subaru sells less than one Legacy. But does this difference in popularity equal a similar degree of superiority as a car, or are family-sedan shoppers overlooking a scrappy underdog in the 2016 Subaru Legacy? To help you figure out which one would be better for you, we've created a comparison of the 2016 Honda Accord and the 2016 Subaru Legacy.
2016 Honda Accord
Noteworthy updates to the Accord for 2016 include less-conservative styling, the wider availability of its Honda Sensing accident-avoidance technology and a new touchscreen standard on most trim levels that includes Apple CarPlay and Android Auto. See all 2016 Honda Accord models available near you
2016 Subaru Legacy
The Subaru Legacy received revised steering for 2016, while the Limited trim upgraded to a more comfortable suspension. On the features front, the Premium and Limited trims added standard emergency communications services, and the optional EyeSight package of accident-avoidance technology gained active lane-departure intervention. See all 2016 Subaru Legacy models available near you
Reliability
You really can't go wrong with either of these midsize sedans, as each has been one of the most reliable cars on the road during this decade. Multiple sources identify relatively few problems experienced by owners with both the current generations (the Accord was redesigned in 2013, the Legacy in 2015) and preceding ones. Their warranties are also basically equal: a 3-year/36,000-mile basic warranty and a 5-year/60,000-mile powertrain warranty.
The Honda Accord does have a much longer history of superior reliability, so a case could be made that it's the safer call for those planning on extra-long ownership.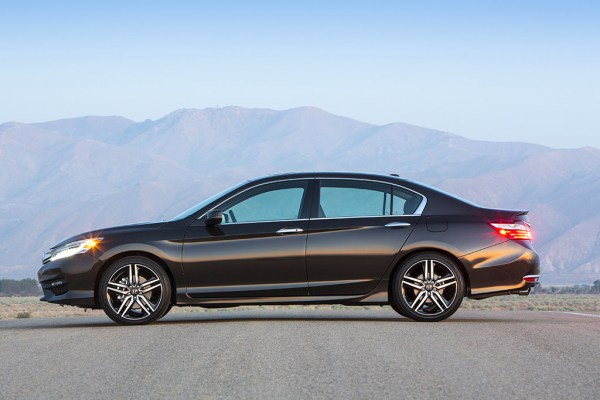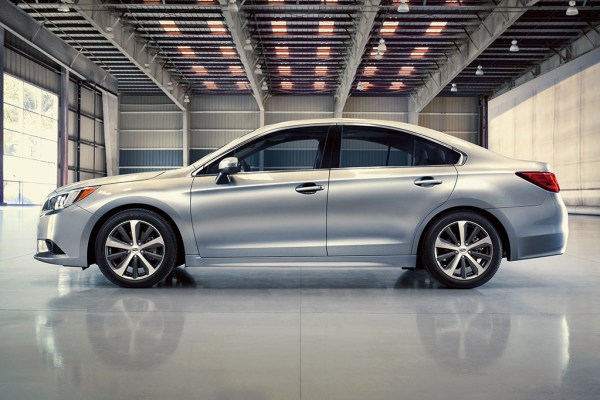 Fuel Economy
The Subaru Legacy comes standard with all-wheel drive, which is not available on the 2016 Honda Accord or any other midsize sedan with a base 4-cylinder engine. This is a great feature for those living in snowy winter climates, and unlike past Subarus, it doesn't come with a fuel economy trade-off. The Legacy's standard 175-horsepower 4-cylinder engine returns an Environmental Protection Agency (EPA)-estimated 26 miles per gallon in the city, 36 mpg on the highway and 30 mpg in combined driving. The Accord's standard 185-hp 4-cylinder returns an EPA-estimated 27 mpg city/37 mpg hwy/31 mpg combined, which only equates to a few bucks in savings every year.
The Accord, however, is a significantly quicker car, and we think you'd be able to tell the difference when merging onto the freeway — the Legacy is one of the slowest in the segment. Both sedans are available with a more powerful 6-cylinder engine, but the Accord's silky-smooth V6 has both an acceleration and fuel economy advantage (3 mpg combined better).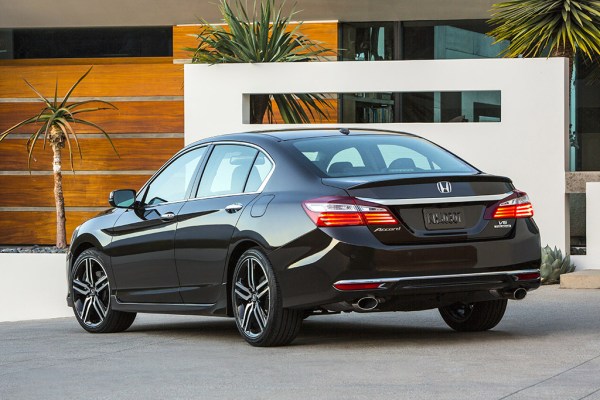 Safety
The 2016 Honda Accord and 2016 Subaru Legacy both received Top Safety Pick+ awards from the Insurance Institute for Highway Safety (IIHS). The Legacy received a perfect five stars in every crash test from the National Highway Traffic Safety Administration (NHTSA), but the Accord sedan fell short with a 4-star frontal crash rating. Both achieved 5-star overall ratings from NHTSA.
All but the base trims of each sedan are available with a suite of accident-avoidance technology that includes frontal crash-prevention systems rated as Superior by IIHS. In practice, though, Subaru's EyeSight systems are better executed. Honda Sensing's frontal-collision warning system is prone to false alarms, annoyingly blaring "Brake!" in situations that EyeSight would correctly identify as no problem at all. Honda's adaptive cruise control system is also similarly dim-witted, whereas the Subaru system is one of the better systems available.
Technology
This is a big win for the 2016 Subaru Legacy. Its Starlink touchscreen interface isn't perfect, but its sensible menu structure, big virtual buttons and physical knobs for volume and tuning contrast with Honda's frustrating touchscreen found on most trim levels. Many of its virtual buttons are too small, and moving between menus is frustrating. Honda does include Apple CarPlay and Android Auto, which are unavailable on the otherwise similarly equipped Legacy.
Comfort and Interior Space
The 2016 Honda Accord has a more spacious back seat and trunk, a quieter cabin and a more comfortable ride. In general, it feels like a more refined and sophisticated car. The uppermost trims are almost akin to an entry-level luxury sedan. The Subaru Legacy isn't a slouch in these areas, but it nevertheless trails.
Value
Given the Accord's massive sales advantage, you might think that Subaru would be heavily discounting the Legacy, but that isn't the case. If anything, greater dealership inventories will probably lead to better discounts on the Accord. The Honda will also hold its value a bit better over the years and require less maintenance. These aren't huge advantages, mind you, especially when you consider that the Legacy has similar feature content at notably lower sticker prices.
Autotrader's Advice
This comparison is much closer than you might imagine. The Subaru Legacy is the superior choice for winter weather and is not really compromised should you live where the sun always shines. It also has better-executed technology features. However, the well-rounded Accord is more refined, practical and better to drive. In the end, you should give both of these sedans a thorough test drive.
Find a Used Honda Accord for sale