Editor's note: You may want to read more of Autotrader's model vs. model comparison car reviews as well as the 2016 Honda Accord review, the 2016 Volkswagen Passat review and Buying a Used Honda Accord: Everything You Need to Know.
If you only test drive the 2016 Honda Accord in your search for a midsize family sedan, it's unlikely anyone would raise an eyebrow — after all, it's such a well-rounded car. But cross-shopping is always a good idea, especially in a segment without a bad apple in the bunch.
One such good apple is the 2016 Volkswagen Passat, a car that blends solid German driving feel with the American-car values of generous space and ample power. But which is better for you? To help you find out, we've created a close comparison of the Honda Accord and Volkswagen Passat.
2016 Honda Accord
This model year's Honda Accord received its first significant update since being completely redesigned 3 years ago. Key updates include attractive styling changes, the wider availability of accident-avoidance technologies and a new touchscreen interface that's standard on most trim levels and includes Apple CarPlay and Android Auto. See all 2016 Honda Accord models available near you
2016 Volkswagen Passat
This VW Passat generation also received its first update for 2016. Visual changes are barely noticeable, but the features list similarly swells with newly available items such as Apple/Android connectivity, a new touchscreen and Volkswagen's own suite of accident-avoidance tech. The standard rearview camera and USB port are other welcome additions. See all 2016 Volkswagen Passat models available near you
Reliability
Volkswagen has a reputation for unreliability, but as far as this Passat generation goes, reliability data from multiple sources indicates that this reputation is unfounded — the Passat should offer average reliability. That said, the Accord takes the cake here: Both its reputation and the data indicate that it's one of the most reliable cars you can buy.
Fuel Economy
The 2016 Honda Accord is more efficient than the Volkswagen Passat. Its standard 185-horsepower 4-cylinder engine returns a very impressive 27 miles per gallon in the city and 37 mpg on the highway. This makes it one of the most efficient examples in the segment.
Nevertheless, the Passat is no slouch. It returns 25 mpg city/38 mpg hwy, which should amount to an annual fuel-cost difference of about $100 according to the Environmental Protection Agency. That slightly higher expense may be worth it, since the Passat's standard turbocharged 4-cylinder produces more low-end power than the Accord, making it feel much quicker when pulling away from a traffic light or passing on the highway. That engine makes the Passat one of the quickest cars in the segment.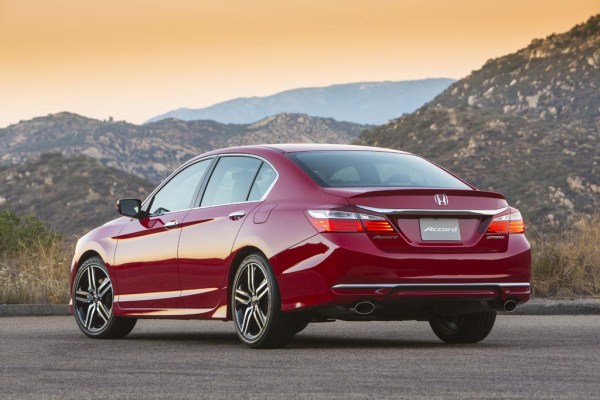 Safety
Crash testing by the National Highway Traffic Safety Administration awarded both the 2016 Honda Accord and 2016 Volkswagen Passat overall ratings of five out of five stars. The Insurance Institute for Highway Safety also awarded both models the coveted Top Safety Pick+ award.
All but the base trim levels of both vehicles can be equipped with advanced accident technologies, but their execution differs greatly. The Accord's forward-collision warning is annoyingly hypersensitive and prone to false alarms, while its adaptive cruise control system is too quick to slam on the brakes and too slow to speed up again. The Passat's systems are superior, demonstrating a technological sophistication more in line with the industry's best.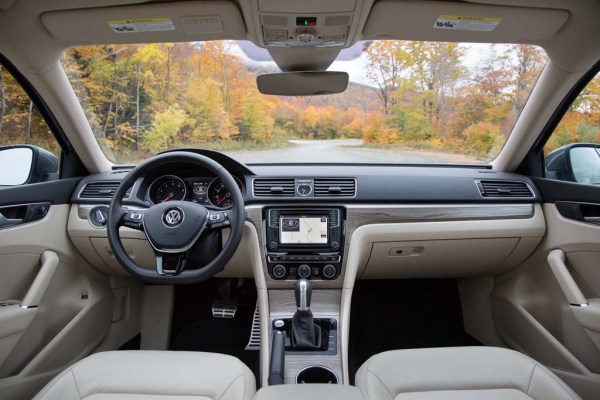 Technology
This is not an area of strength for either the Accord or the Passat. The touchscreen interface found on most Accord models is placed within easy reach and packed with features, but it's frustrating to use. Frequently used virtual buttons are too small, and moving between menus is confusing. Even radio volume is controlled by a touch-sensitive button.
The Passat is a bit better in this regard. Its touchscreen is more user-friendly, but it's small and located comparatively low on the dash. It feels like an older car retrofitted with new technology.
Value
The Honda Accord's pricing is average for the midsize segment, but it comes with a generous array of features. It certainly seems like a better buy when you add in its superior reliability, strong residual values and the fact that the Passat tends to be a bit pricier when similarly equipped.
In reality, though, steeper discounts would likely make the 2016 VW Passat thousands of dollars cheaper, making any such value determinations a tough call.
Comfort and Interior Space
The 2016 Honda Accord and 2016 Volkswagen Passat are two of the most spacious midsize sedans, though the Accord has a slightly more comfortable back seat and the Passat's colossal trunk is more usable. Both are also impressively comfortable and composed, but the Passat is ultimately stronger on the highway, with a more buttoned-down feel and a quieter engine.
Autotrader's Advice
The Volkswagen Passat's huge size and superior highway performance make it a great choice for those who take family road trips, but its vague steering and throttle response make it less engaging to drive around town. There are generally more peaks and valleys to be found when considering the Volkswagen. The 2016 Honda Accord is a more complete package, with its frustrating tech systems the rare dark spots on an otherwise flawless complexion.
Find a Used Honda Accord for sale