Car Comparison
2016 Honda Civic Coupe vs. 2016 Kia Forte Koup: Which Is Better?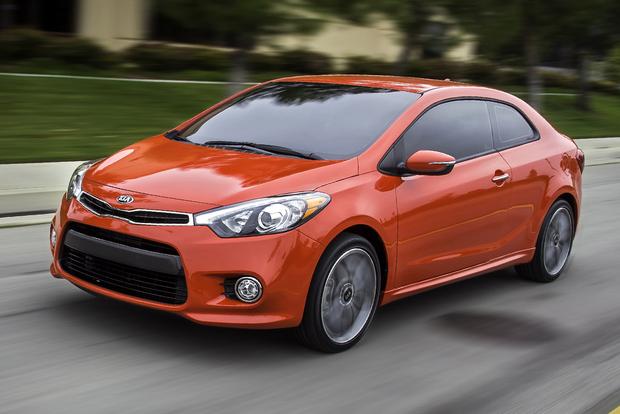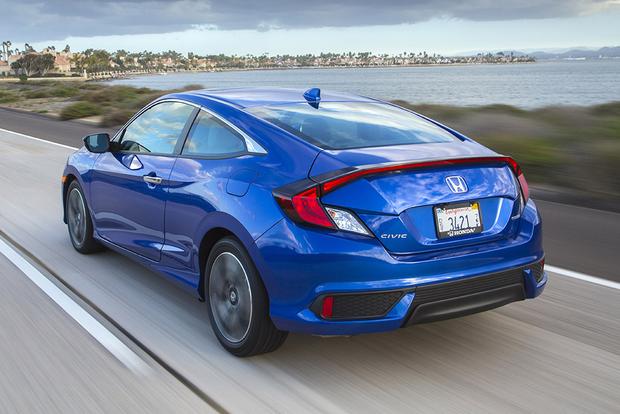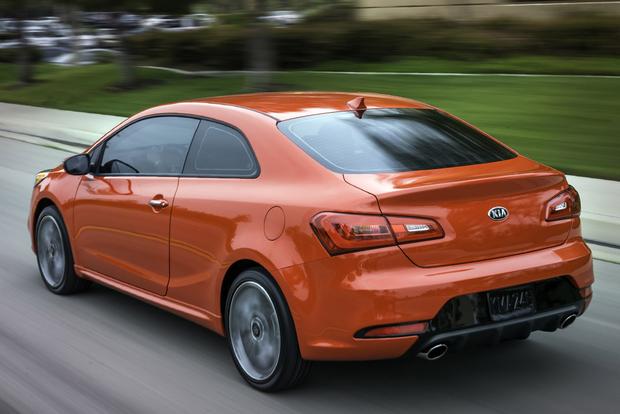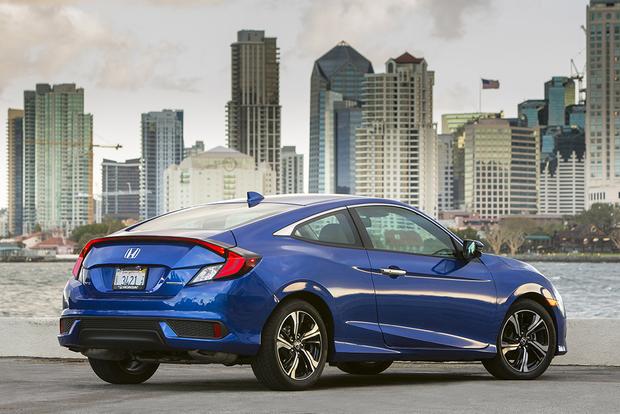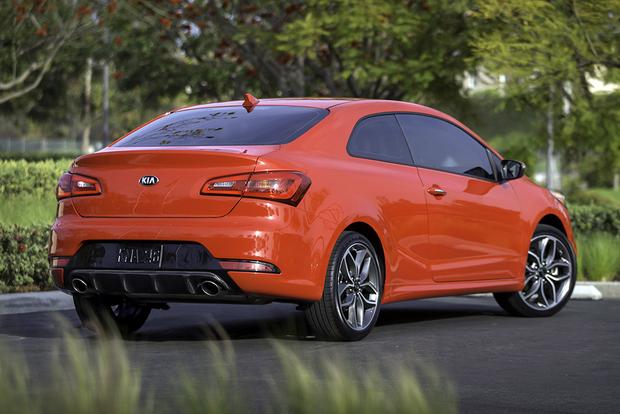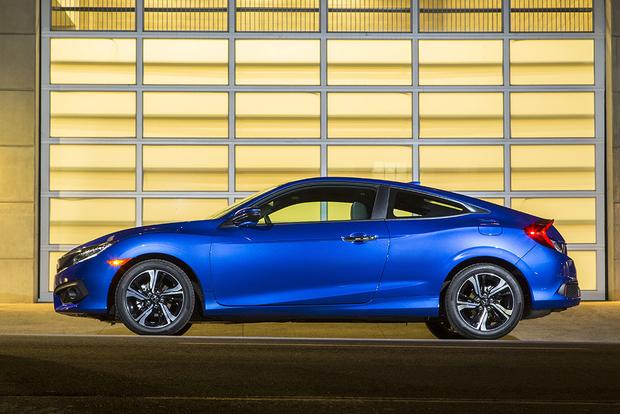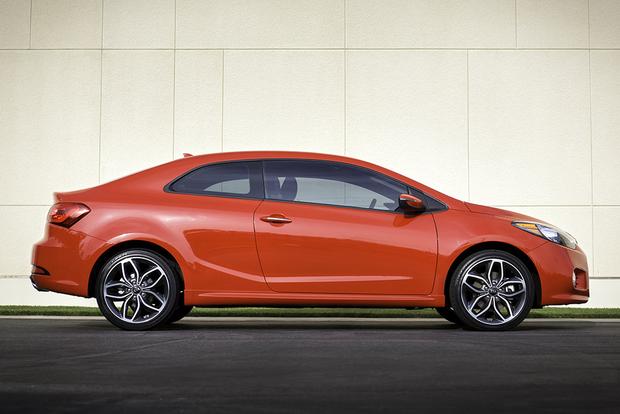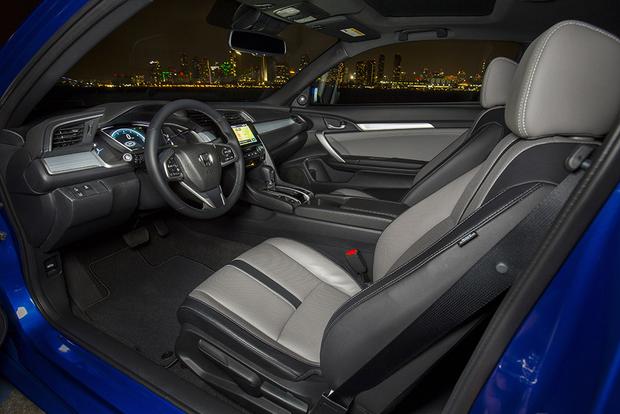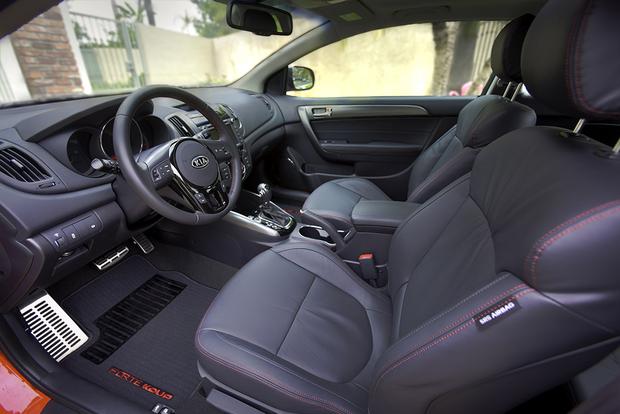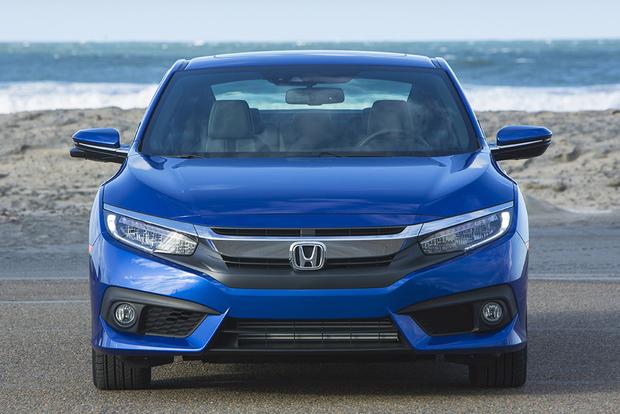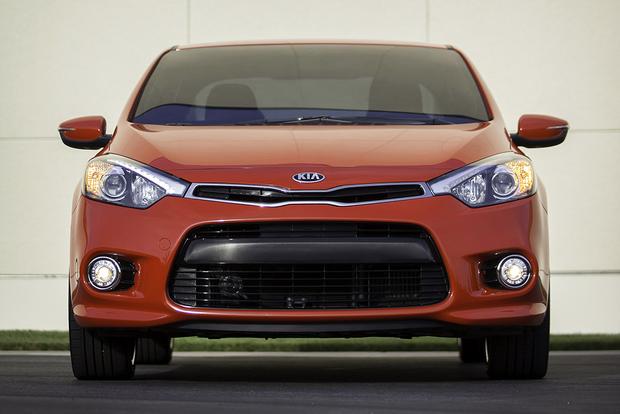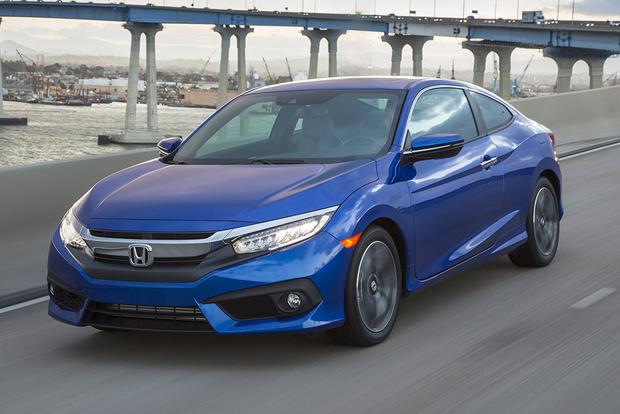 And then there were two. Indeed, the 2016 Honda Civic Coupe and 2016 Kia Forte Koup (yes, with a K and no E) are the only traditional, 2-door compacts currently on sale for those who want something a little more distinctive and stylish than a regular-old compact sedan. Luckily, they're great choices to have, and they'd probably be tough to beat even if there were 10 other options available. But which is better? Let's take a look.
2016 Honda Civic Coupe
Like its sedan sibling, the Civic Coupe is all-new for 2016, and the differences are significant. For starters, while the new coupe shrank by an inch in overall length, its wheelbase grew significantly, resulting is sportier proportions and greater rear-seat room. The Civic also gains a new, more powerful, more efficient base engine, along with an even more powerful and efficient optional turbocharged engine. Interior quality, overall refinement, ride comfort, handling and the features list were also improved.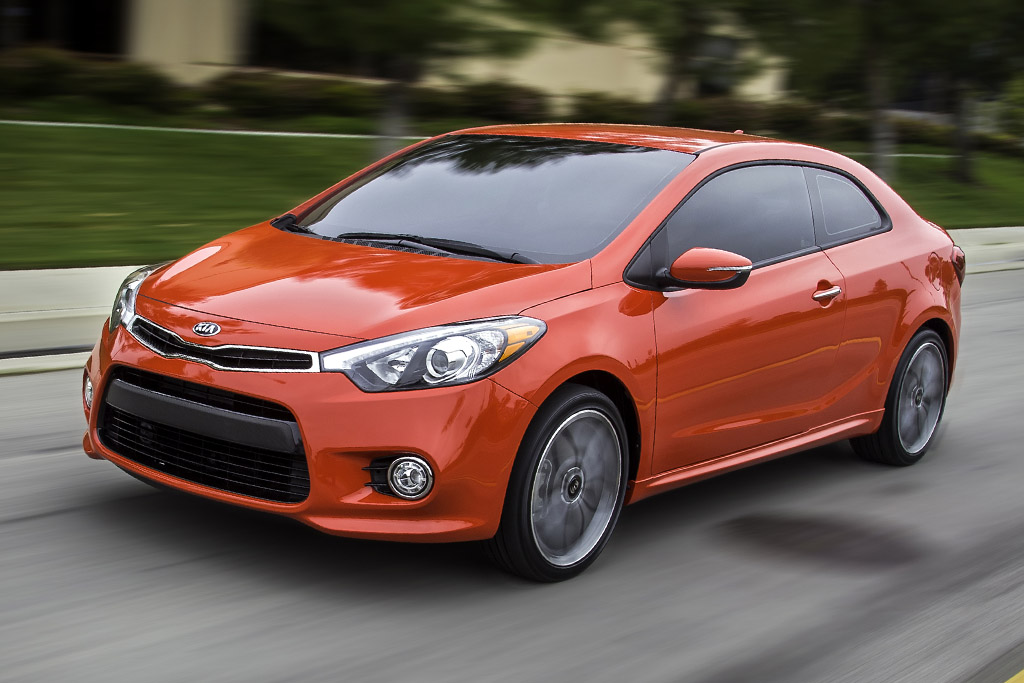 2016 Kia Forte Koup
The 2-door Forte receives only minor features-related updates for 2016. It was last redesigned 2 years ago and generally still feels like a fresh product.
Reliability
The 2016 Honda Civic Coupe is new to the market, but already owners have reported a flood of problems related to the electronics interface (as you'll read later, this probably isn't surprising). Specifically, many have complained about the Bluetooth system not working. Otherwise, when it comes to pricier mechanical issues, the Honda Civic has long been a reliability ratings all-star.
There's less reliability data for the Forte Koup, but the ratings that are available indicate average to above-average reliability, with Kias in general being some of the more dependable cars on the road.
Fuel Economy
Advantage Honda Civic -- it's not even close. The Civic's base 2.0-liter 4-cylinder produces 158 horsepower and returns an excellent 30 miles per gallon in the city and 41 mpg on the highway with the continuously variable automatic transmission, according the Environmental Protection Agency (EPA). Meanwhile, the optional and highly recommended 1.5-liter turbocharged 4-cylinder that produces 174 hp is actually a bit more efficient at 31 mpg city/41 mpg hwy. The fact that the turbo delivers best-in-class acceleration is icing on the cake.
Truth be told, the Forte is a pretty efficient car. Its base 2.0-liter 4-cylinder produces a stout 173 hp while returning 25 mpg city/34 mpg hwy with the optional 6-speed automatic. However, unlike with the Civic, opting for the more powerful turbocharged engine option hurts fuel economy. For 201 hp and acceleration that nearly matches the Civic, the Koup SX trim's 1.6-liter turbocharged 4-cylinder comes with a penalty of 22 mpg city/30 mpg highway. According to the EPA, you'd spend an average of $400 extra per year to fill up a turbo Koup versus the turbo Coupe. The difference between the naturally aspirated engines is $200.
Safety
The 2016 Civic Coupe received five out of five stars from the government for overall crash performance, along with four stars in a frontal crash and five in a side crash. The Insurance Institute for Highway Safety (IIHS) gave the Civic Coupe its Top Safety Pick+ designation for getting the best-possible ratings in every crash and crash-avoidance technology category. That crash tech includes forward-collision warning, automatic emergency braking and lane-departure warning and mitigation.
The Forte Koup has not been tested by the IIHS, but the Forte sedan has been, receiving mixed results of Good in the moderate-overlap front crash test but a second-worst score of Marginal in the more stringent small-overlap front crash test. The government also hasn't tested the Koup, but the sedan received the same scores as the Civic Coupe. The Forte is not available with any high-tech accident-avoidance features, though you can equip it with automatic crash notifications and an emergency-call button through Kia's optional UVO eServices.
Technology
In short, Honda offers a few extra infotainment bells and safety whistles, but the Kia is easier to use. Whether you get the Forte's standard 4.3-inch touchscreen or the optional 7-in one, you're likely to find they're pleasantly user-friendly, with big virtual buttons that are easy to decipher. The optional navigation system is also more advanced, with superior graphics and a less aftermarket feel. The Forte is less likely to make you pull your hair out.
Honda, on the other hand, is rightly being criticized by owners and reviewers alike for its difficult-to-use touchscreen that's standard on the EX-T, EX-L and Touring trim levels (the LX trims have a mostly preferable combo of buttons and 5-in color display). Virtual buttons are smaller and sometimes aren't clearly buttons, and the menu structure can be confusing. Although Apple CarPlay and Android Auto are included with the touchscreen, we've experienced glitches, and moving between the Apple/Android and Honda interfaces can be confusing and frustrating.
Comfort and Space
The Forte Koup had a clear space advantage over the old Civic Coupe, but the gap has been narrowed for 2016. The Civic's massive 5 inches of extra rear legroom have transformed it from being barely usable by anyone to being usable by almost everyone. Headroom continues to be cramped, however, which is where the Forte Koup continues to reign supreme. Quite simply, there's less of a space trade-off when opting for the 2-door Forte instead of its 4-door sibling.
The Civic has a storage advantage thanks to its ingeniously clever and roomy center console. And when it comes to comfort, Honda offers comfy, body-hugging seats and greater front-seat adjustability. Its refined and sophisticated ride also makes it feel like a pricier car than it is when cruising down the road, soaking up bumps but also taking corners with confidence and agility. The Forte Koup is perfectly fine to drive, but it lacks the Civic's comfort, composure and driver involvement.
Value
For its base price of about $19,000, the base Civic Coupe still gives you push-button start, a sunroof, alloy wheels, auto headlights, auto climate control, a rearview camera and Bluetooth. For an extra $3,000, the next trim up (the EX-T; there are no options on any trim) gets you the turbocharged engine, dual-zone climate control, heated seats, a 10-speaker sound system, an extra USB port, satellite radio, the LaneWatch blind-spot camera, Apple CarPlay, Android Auto and the touchscreen interface. Really, that's great value, and it continues as you move up the trim ladder.
The base Forte Koup costs more at $19,890, and although it includes standard satellite radio and a leather-wrapped steering wheel, it ultimately comes with less equipment than the Civic. And although the Kia offers a heated steering wheel and a ventilated driver's seat (not available on the Honda), if you want extra equipment of any sort, the Forte doesn't spread it out as much as the Civic does. Instead, Kia places all the good stuff within the Premium Tech package, which adds $4,500 (EX trim) or $3,700 (SX) to the Forte Koup's bottom line.
Now, you might be able to find a better deal on a Kia, but the Civic's better fuel economy and residual value should give it a further advantage in the short and long term.
Autotrader's Advice
When the Kia Forte Koup came out 2 years ago, it truly impressed with its style, interior design and quality, feature content and class-leading interior space. That still applies today, and we think you'd enjoy owning it, but the 2016 Honda Civic Coupe's clear advantages in fundamental areas make it the easy recommendation.