Editor's note: You may want to read more of Autotrader's model vs. model comparison car reviews as well as the 2016 Honda Civic used car review, the 2016 Toyota Corolla used car review and Buying a Used Honda Civic: Everything You Need to Know.
If you're interested in a reliable, roomy, affordable compact car, we have no doubt that the 2016 Honda Civic and 2016 Toyota Corolla both appear on your shopping list. And indeed, both sedans tout roomy interiors, excellent gas mileage, reasonable pricing and notorious durability. But which one is better? And which one should you get? To help you figure it out, we've created a close comparison between the 2016 Civic and the 2016 Corolla, but first let's see what's new with both models for the latest model year.
2016 Honda Civic
The Civic is totally redesigned for 2016, touting new equipment, new engines and a thoroughly revised look both inside and out. The latest Civic is also a lot bigger than the outgoing model, which means more passenger room — and more cargo space. See all 2016 Honda Civic models available near you
2016 Toyota Corolla
The Corolla was fully redesigned a few years ago and is unchanged for 2016, save for a slightly updated Entune infotainment system and a new Special Edition trim variant. See all Toyota Corolla models available near you
Reliability
Because the Honda Civic is so new, it has not yet been rated by experts at J.D. Power for reliability. The Corolla, however, earned an above-average score from the firm. We suspect the Civic will earn a similar rating, since previous Civic models have fared well, but given the new model's mechanical changes, it's too early to tell.
As for warranty coverage, the two models are identical, touting 3 years or 36,000 miles of bumper-to-bumper protection and 5 years or 60,000 miles of powertrain coverage. The result: This one's a toss-up, and we suspect both the Civic and the Corolla will be excellent choices for shoppers who are interested in a reliable compact car.
Fuel Economy
The Civic is currently offered with two engine choices, with more to undoubtedly follow. Base-level models use a 158-horsepower 2.0-liter 4-cylinder, which is offered with a 6-speed manual or a continuously variable automatic transmission (CVT). Fuel economy reaches 27 miles per gallon in the city and 40 mpg on the highway with the manual or an impressive 31 mpg city/41 mpg hwy with the automatic. Upper-level Civic models (the EX-T, EX-L and Touring) include a 174-hp 1.5-liter turbocharged 4-cylinder. This engine, which is only offered with a CVT, returns an excellent 31 mpg city/42 mpg hwy.
Meanwhile, the Corolla only offers a 1.8-liter engine. Most models get it with 132 hp, while it boasts 140 horses in the LE Eco. Available in 4-speed automatic, CVT automatic or 6-speed manual guise, the Corolla touts up to 27 mpg city/36 mpg hwy with the 4-speed, 28 mpg city/37 mpg hwy with the 6-speed manual and up to 30 mpg city/42 mpg hwy with the LE Eco trim level and the CVT.
Despite the Corolla's strong numbers, the Civic easily runs away with this category. Not only does it offer better fuel economy than its Toyota competitor, but it boasts noticeably more power — a rare combination.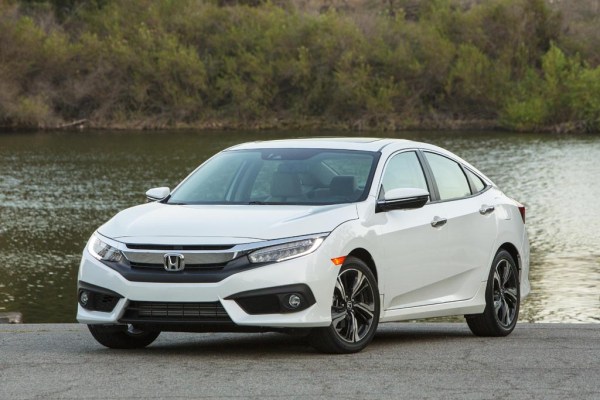 Safety
Because it's so new, the latest Honda Civic has not yet been rated by the federal government's National Highway Traffic Safety Administration. The Corolla, however, has earned a perfect 5-star overall score. Meanwhile, the Civic earns the Insurance Institute for Highway Safety's sought-after Top Safety Pick+ distinction, while the Corolla falls short after a mediocre Marginal rating in the firm's small-overlap front test.
As for safety features, it's almost hard to believe how far ahead Honda's latest Civic is when compared to the Corolla. Indeed, the Corolla only offers the basics: anti-lock brakes, side-curtain airbags, a backup camera and traction control. The Civic has all that and much more, offering adaptive cruise control, forward-collision warning with automatic braking, a blind spot monitoring camera, LED headlights and automatic wipers. Simply put, safety-conscious shoppers should skip right over the Corolla and go straight for a Civic with the upscale Honda Sensing package.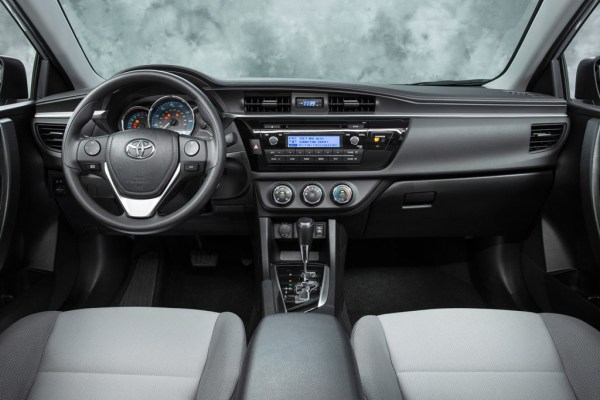 Technology
As you may have guessed from reading our Safety section, the Civic is head and shoulders above the Corolla when it comes to technology. Virtually every item that comes standard on high-end Civic models is unavailable on any Corolla, from simple features such as parking sensors and heated rear seats to high-end amenities such as adaptive cruise control and the LaneWatch blind spot camera.
Indeed, when it comes to technology, we think the Civic is at the very top of the compact-car segment — and the Corolla is near the bottom. If you're a technophile, we suspect you'll lust after the features in the Civic, and you'll be highly disappointed by the Corolla.
Value
Given the Corolla's dramatic disadvantages in interior space, features, safety equipment, crash-test ratings and technology, you'd think the small Toyota would offer a dramatically lower base price than the equivalent Civic. And indeed, a base-level Corolla L touts a base price of just $18,300 with shipping, undercutting the base-level Civic LX by $1,300.
But that doesn't tell the whole story. A base-level Corolla L also does without necessities such as remote keyless entry, cruise control and variable intermittent wipers, all of which come with the Civic LX. The Civic also touts automatic headlights, a backup camera and automatic climate control, all of which are optional in the Corolla.
Our take: When you account for differences in features, the Corolla isn't really that much cheaper than the equivalent Civic — and the Civic is a much better car. The result is that the Civic is a much better value than its chief Toyota rival.
Autotrader's Advice
This one's easy: The 2016 Honda Civic is possibly the best compact car on the market, while the Corolla is an average contender. Years from now, we'll look back on this Civic for changing the shape of the compact-car world, boasting a bold design, larger dimensions and a lot of new technology, while the current Corolla will go down as just an average rival. Our advice: Unless you find a Corolla at a price you just can't pass up, choose the Civic instead.
Find a Used Honda Civic for sale