Editor's note: You may want to read more of Autotrader's model vs. model comparison car reviews as well as the 2016 Honda HR-V review and the 2016 Jeep Renegade review.
The subcompact-crossover segment is heating up, as several highly competent new challengers have made their debut within the last few years. Two of those new models are the 2016 Honda HR-V and the 2016 Jeep Renegade, which have already established themselves as highly credible vehicles for shoppers interested in a city-friendly SUV. But which one is better, and which one should you get? We've created a close comparison between both models to answer those questions, but first let's see what's new with the HR-V and the Renegade for the 2016 model year.
2016 Honda HR-V
The Honda HR-V is a subcompact crossover that slots below the popular CR-V and features 4-cylinder power and front- or all-wheel drive. Like many of its rivals, the HR-V is completely new for the 2016 model year. See all 2016 Honda HR-V models available near you
2016 Jeep Renegade
The Renegade is a boldly styled compact crossover that slots below Jeep's larger Cherokee in the brand's growing lineup. The Renegade, which was on sale last year, only underwent minor changes for 2016, including the addition of optional automatic wipers and an available Beats sound system. See all 2016 Jeep Renegade models available near you
Reliability
Because the Renegade and HR-V are so new, reliability experts at J.D. Power have not yet individually ranked the two models for dependability. It's worth noting, however, that in J.D. Power's overall dependability study — which ranks automakers, not vehicles — Honda scored among the top tier of car brands, while Jeep scored near the bottom.
As for warranty coverage, the HR-V and Renegade are identical: Both tout 3 years or 36,000 miles of bumper-to-bumper coverage, and both offer 5 years or 60,000 miles of powertrain protection.
Unfortunately, there is not yet enough information about the HR-V and the Renegade to award this category to either one. But based on previous history and J.D. Power's ratings, we're inclined to say that the Honda will likely beat out the Jeep when it comes to long-term dependability.
Fuel Economy
The HR-V offers only one engine: a 141-horsepower 1.8-liter 4-cylinder mated to a standard 6-speed manual or optional continuously variable automatic transmission. The manual returns up to 25 miles per gallon in the city and 34 mpg on the highway, while the automatic touts up to 28 mpg city/35 mpg hwy.
Meanwhile, the Renegade offers two engines. Base models use a 160-hp 1.4-liter turbocharged 4-cylinder, while all other models use a 180-hp 2.4-liter 4-cylinder. The turbocharged 1.4-liter touts up to 24 mpg city/31 mpg hwy, while the 2.4-liter engine drops to 22 mpg city/31 mpg hwy.
Overall, there's no doubt here that the HR-V offers better gas mileage than the Renegade. It's worth noting, however, that the Renegade touts more power than its HR-V rival — even in the Jeep's base-level variant.
Safety
Although the subcompact-crossover market has not yet seen the same level of safety technology advancements as other SUV segments, the Renegade stands out from most of its rivals. While both the HR-V and the Renegade tout standard anti-lock brakes, side-curtain airbags and traction control, the Jeep also offers forward-collision warning and automatic braking, lane-keep assist, lane-departure warning and rear cross-traffic alert — none of which is offered in the Honda. Admittedly, the HR-V offers a few unique benefits of its own, such as a standard backup camera (it's optional in the Renegade) and Honda's excellent LaneWatch blind spot camera. But when it comes to safety features, the Jeep is the star of this segment.
In crash testing, however, it's a slightly different story. While the HR-V earned a perfect 5-star overall rating from the federal government's National Highway Traffic Safety Administration (NHTSA), the Renegade earned only four stars. In crash testing carried out by the nonprofit Insurance Institute for Highway Safety, the HR-V earned mostly Good — but some less-than-stellar — ratings, while the Renegade has not yet been fully tested. The Jeep gets our nod for safety, but that's largely due to its available safety features. In terms of crashworthiness, neither of these two models inspires perfect confidence, though we suspect they'll hold up fairly well in the event of an accident.
Technology
As we mentioned in the Safety section, the Renegade offers a lot more technology than the HR-V, and it isn't confined to just safety gadgets. The Jeep offers a wide range of features that you can't get in the Honda, such as a Wi-Fi hot spot, an improved infotainment system, parking sensors, automatic wipers, dual sunroofs and a wide variety of trail-ready off-roader options.
While we don't necessarily think the HR-V is lacking in features, the Renegade goes above and beyond, touting far more equipment than the Honda — or any other subcompact-crossover rivals.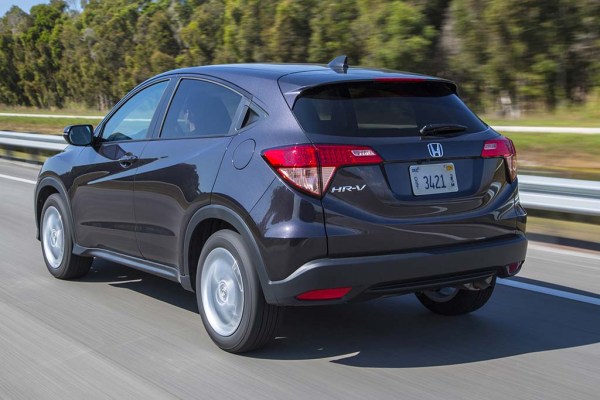 Value
If you're looking to get a small SUV at the best possible price, a base-level Renegade is a great option. The tiny Jeep starts from $19,000 with shipping compared to more than $20,000 for a base model HR-V LX. But base-level Renegade models are, indeed, basic. They lack a lot of the equipment that even comes standard in the HR-V, including a center screen, air conditioning, a backup camera and cruise control. As a result, we really don't recommend the base-level Renegade.
However, if you move up to higher trim levels, you'll generally find that the small Jeep's prices mirror those of the small Honda, with the midlevel Latitude model starting at $22,200 compared to $22,100 for the HR-V EX, and the upscale Renegade Limited starting at $26,000, only $500 more than the HR-V EX-L. As a result, value is more or less a toss-up, with the HR-V offering better fuel economy and reliability and the Renegade touting improved equipment and safety features — all for about the same price.
Autotrader's Advice
Both the 2016 Honda HR-V and the 2016 Jeep Renegade have their strengths. With the Renegade, it's primarily related to bold styling and improved equipment — two items that many drivers will likely find important. To us, however, the HR-V offers even more benefits, including stronger gas mileage, improved reliability and higher NHTSA crash-test ratings. We happen to prefer the HR-V's driving experience, too. While some car shoppers may find the Renegade compelling, the HR-V would be our pick — unless you really prefer the Jeep's standout styling or its extra gadgets.
Find a Used Honda HR-V for sale