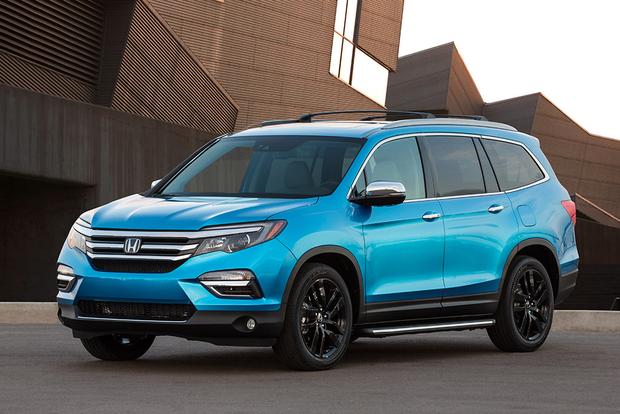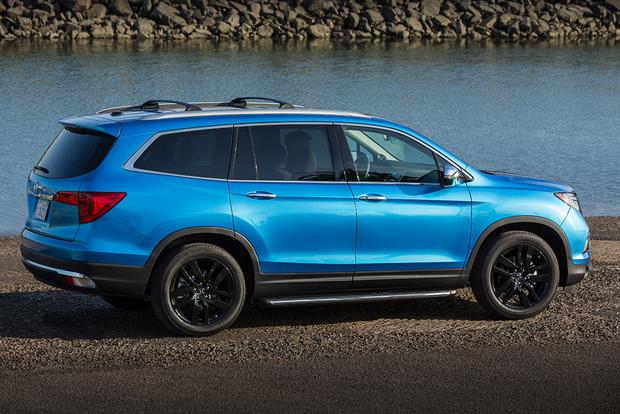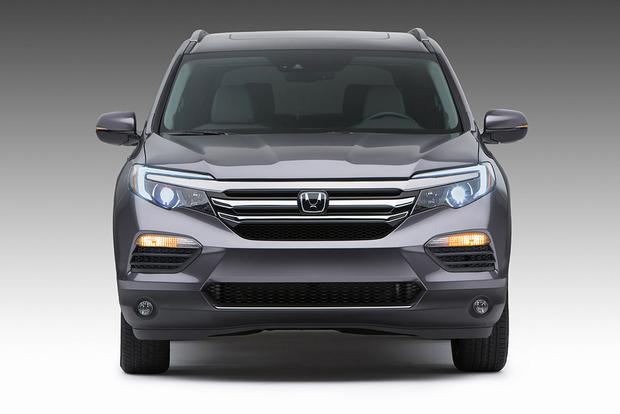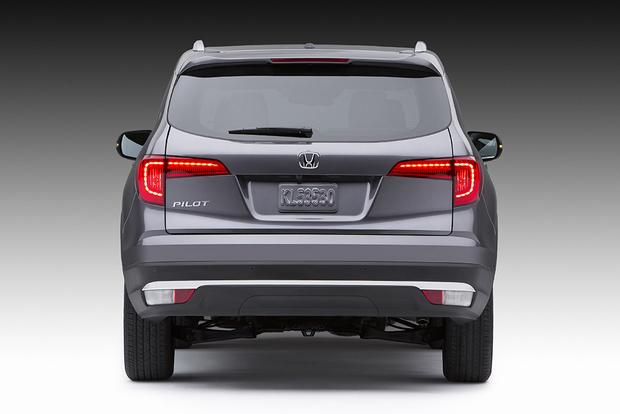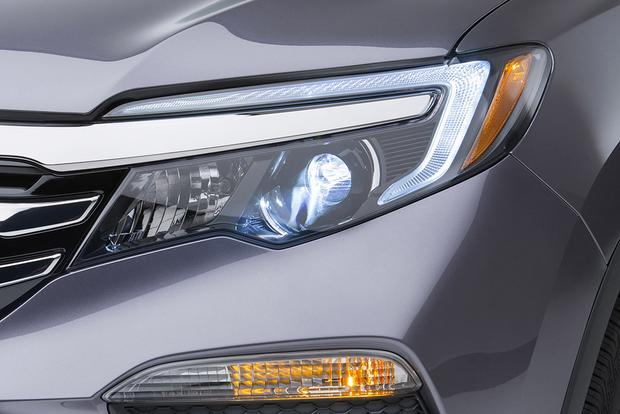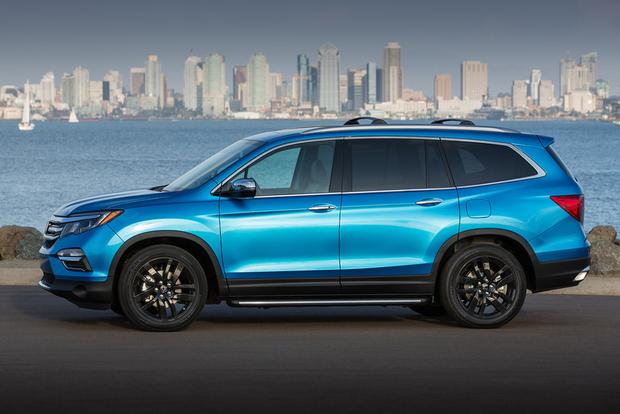 Families with three or more kids are best served by a minivan, but many moms and dads can't bring themselves to commit to the automotive equivalent of a fanny pack. For those buyers, the 3-row crossover is a worthwhile alternative. Larger and more macho, these vehicles offer much of the space of a minivan without the stigma. Honda has offered the Pilot for this crowd since 2003, and a third-generation model is debuting this year. Improved in almost every way, the 2016 Honda Pilot is a smart way to avoid buying a minivan.
More Conventional Looks, Better Dynamics and Powertrains
The new Pilot trades the blocky, tough-guy looks of the last model for a more conventional crossover appearance. The body is 3.1 inches longer, but the Pilot has slimmed down by 250 pounds overall, thanks to its greater use of high-strength steel.
The lighter, stiffer body helps improve the ride and dynamics, and from behind the wheel, the Pilot drives much like a minivan. You can feel that big cargo and passenger box behind you, and the vehicle is prone to lean in turns, which can be uncomfortable for some passengers. However, it's not cumbersome like a body-on-frame SUV. It's well-controlled, and the ride, even with the newly available 20-inch wheels, is forgiving, making it comfortable for everyday commutes.
Power and fuel economy are also improved. The 3.5-liter V6 engine carries over, but it adds 30 horsepower and 9 lb-ft of torque for totals of 280 and 262, respectively. A 5-speed automatic transmission gives way to a 6-speed in lower-end models and a 9-speed automatic in Touring and Elite models. The updated engine is noticeably more responsive, and it lowers the 0-to-60 mph time by about a half second to somewhere in the sub 8-second range. Fuel economy for front-wheel-drive models also improves from 18 miles per gallon in the city and 25 mpg on the highway to 19 mpg city/27 mpg hwy with the 6-speed and 20 mpg city/27 mpg hwy with the 9-speed.
A Move Upscale
The new Pilot's interior is greatly improved. That's appropriate because the competitors have also improved their interiors. While the last Pilot was plagued by hard plastic surfaces, the 2016 model has quality, soft-touch materials on the dash, door panels and armrests. The result is an ambiance that would be expected in the MDX from Honda's upscale division, Acura.
Honda has also replaced the button-intensive control interface with an 8-in touchscreen that absorbs the communication, navigation and entertainment functions. Honda calls it Display Audio, and it offers a Garmin navigation system, Siri Eyes Free voice control, and access to Pandora Internet Radio and SMS text messaging through owners' smartphones. This system works pretty well, but Honda should add separate knobs for volume and tuning. The Pilot also offers up to five USB ports, a new ceiling-mounted Blu-ray rear entertainment system and a panoramic sunroof.
Minivan-Like Interior Space
Roomy and functional, the Honda Pilot has the most impressive rear seating arrangement of any midsize crossover. Buyers can get a second-row bench seat for 8-passenger seating or second-row captain's chairs that reduce capacity by one. With either setup, the second row has plenty of space, as well as a button on each outboard seat bottom that tilts and slides the seat forward in one easy step. Mounted low, these buttons are accessible by children, and they move the seats far enough forward to provide easy access to the third row. The 3-passenger third row is large enough for two adults or three kids, with excellent headroom and decent legroom. The seat bottom sits too low for good thigh support, so adults won't want to sit back there on a long trip, but this is one of the best third rows on the market.
Behind the third row, the Pilot has 16.5 cu ft. of cargo space, which is about the size of a sedan's trunk. The third row folds flat via a pair of straps on the seatbacks to expand to 46.8 cu ft. Levers on the second-row seats allow them to fold flat, maxing out cargo space at 83.9 cu ft. These are impressive figures, but the Pilot is bested by the Chevrolet Traverse's 116 cu ft. of cargo space. The Chevy is 9.2 inches longer, so Honda would have had to increase the Pilot's size considerably to compete with that figure. If you've taken a test drive in the Buick Enclave or Chevy Traverse and found those to be too big, the new Pilot might work well for you.
Our Take
The 2016 Honda Pilot may not be as big as some of its rivals, but it's the most family-friendly vehicle of the lot. The 2016 changes corrected issues with interior quality while making the seating even more convenient. Two new transmissions and an updated engine add more usable power while improving fuel economy, and efforts to reduce noise have improved overall refinement. For the family that can't bring itself to buy a minivan, the Pilot is the next best thing.