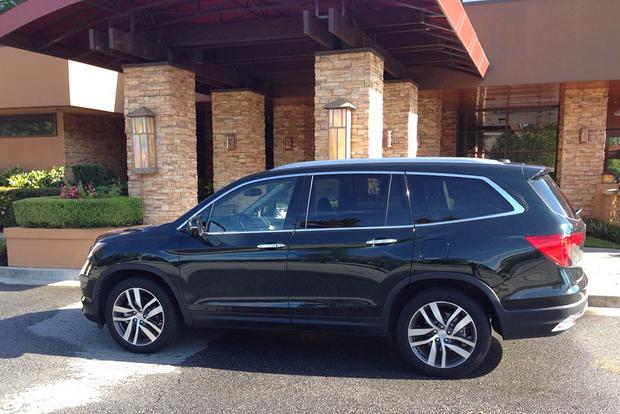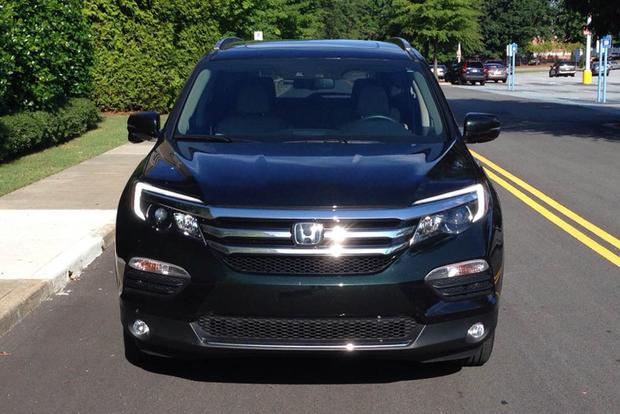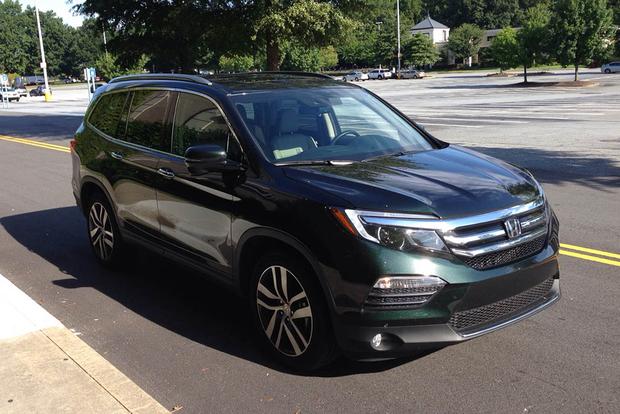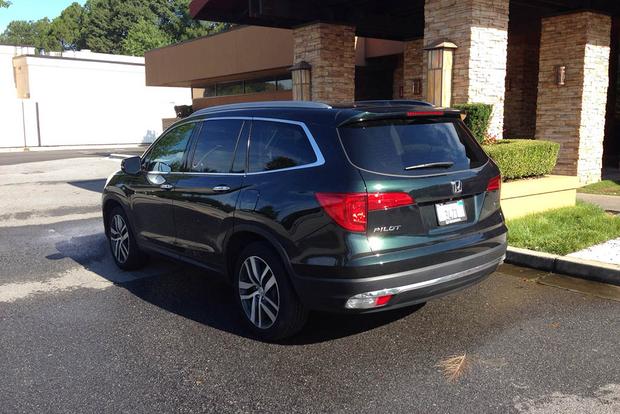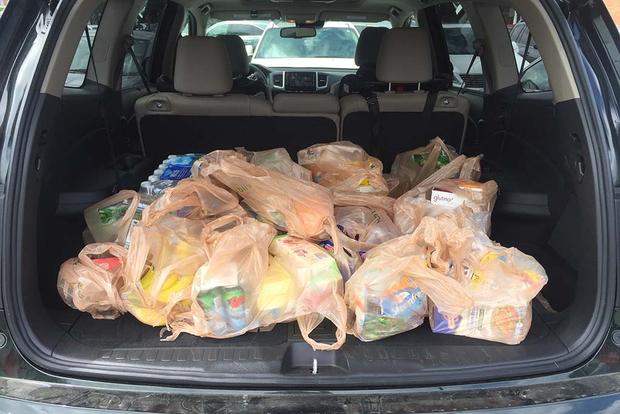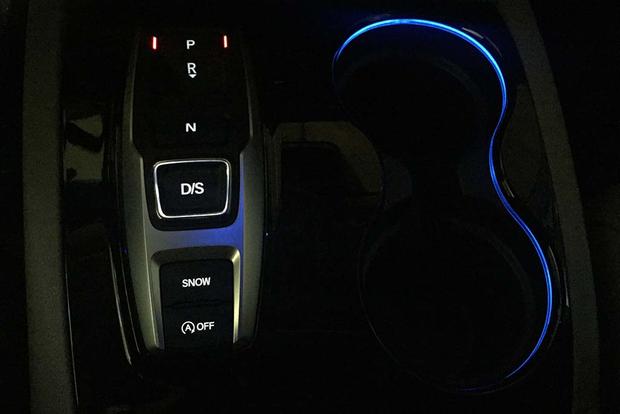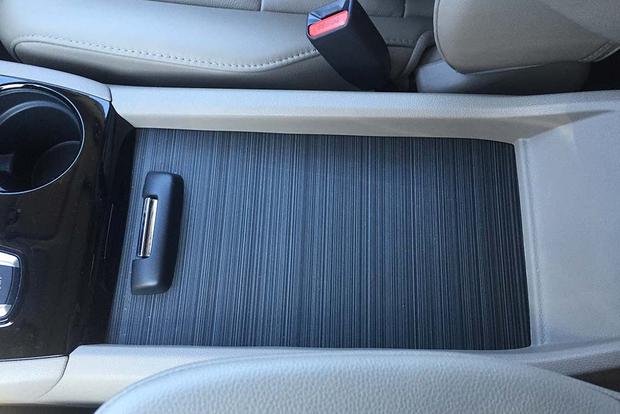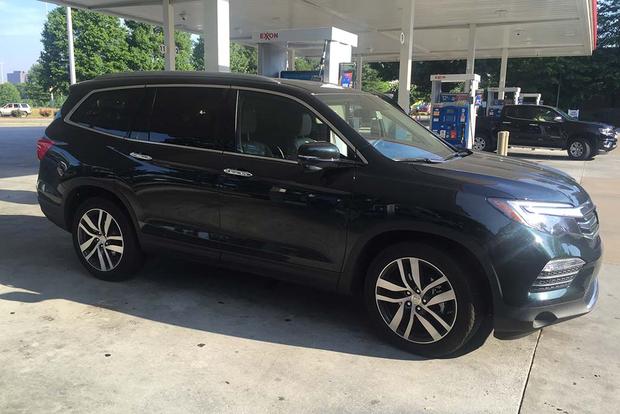 We've spent the last year with our 2016 Honda Pilot Touring long-term test car -- and now the time has come to hand it back. But before it goes home, we're taking a look back at our long-term test of the midsize SUV, as we really put it through its paces -- using it for family duty, long commutes, inclement weather, road trips, and regular around-town driving. In the end, here's what we thought about the Honda Pilot after a year behind the wheel.
The Good
Generally speaking, the Pilot was well received by our staff. We suspect most drivers reading this will want the Pilot for family car duty -- and in that sense, it performed admirably, earning considerable praise from everyone who drove it. Our managing editor, Tara -- mom to two kids -- spoke highly of the Pilot's interior room, calling it "just right." She also mentioned it was roomier than our 2015 Nissan Murano long-term test car, but noted it's not so big that it feels like you're driving a bus.
Interior size and comfort remained praiseworthy attributes about the Pilot for virtually everyone who drove it; one test driver noted, "there's so much head room in [the Pilot] that it can accommodate any size," while another marveled at the myriad adjustments of the driver's seat that make it especially easy to find a comfortable position. The Pilot also took our editorial staff on several road trips, and all drivers returned from these journeys with positive remarks about its comfort and ride quality.
Interior room came up again as a positive trait when it came time to find storage space for, well, virtually anything. Several of our long-term write-ups note that the Pilot has "a place for everything," with one going so far as to say that "the amount of places to put stuff in the Pilot would impress even the most demanding hoarder."
The Bad
But it wasn't all praise for our Pilot. You'll notice the powertrain didn't get mentioned above, and that's largely because our feelings about it were mixed. While we generally noted strong acceleration and never really wanted for power, several members of our team complained about the Pilot's 9-speed automatic transmission, noting that it's clunky and unrefined -- even compared to the 6-speed automatic in other Pilot models.
Several of our test drivers also complained about the Pilot's exterior size. Ultimately, this is the trade-off for the wonderfully large interior we noted above -- but while the interior seemed cavernous, roomy and full of storage options, the result was a bulky exterior. One tester especially noted he had trouble fitting the Pilot into a snug parking spot -- and there's no question that owners of previous Pilot models will find a noticeable step up in size with the latest version.
The Mundane
We also noted a few mundane items, good and bad, that might escape shoppers on a simple test drive -- which is one of the reasons we like to experience long-term test vehicles. For instance: The rear-seat entertainment system disappointed us by offering only one screen rather than two. Even a double-wide screen that lets you watch two different things at once would be preferable. Another item we noticed after a few weeks behind the wheel: the awkward start/stop system, which can sometimes be slow to restart the engine, especially in bumper-to-bumper traffic. We also had trouble with the steering-wheel telephone icons that control the Bluetooth system.
There were some positive Pilot details, though -- like, for example, the excellent service we received when we took our Pilot in for its first maintenance, along with the low cost ($62.88). We also loved the Pilot's center console "tech locker," which allows you to hide (and lock) valuable electronic devices when you park the car. And while fuel economy numbers differed, one of our test drivers hit 28 miles per gallon on a road trip -- not bad for a family SUV.
Our Take
In the end, our 2016 Honda Pilot long-term test car impressed us. Barring a few disappointments -- like the transmission and the exterior size -- the Pilot seems like a great choice for shoppers interested in family duty: It touts a cavernous interior with lots of room for cargo and people, it gets good gas mileage, it's quick and peppy, and it's comfortable and (generally) user-friendly. We'd stop well short of calling the Pilot "perfect" -- but we think "excellent" would do.