Car Comparison
2016 Honda Pilot vs. 2015 Toyota Highlander: Which Is Better?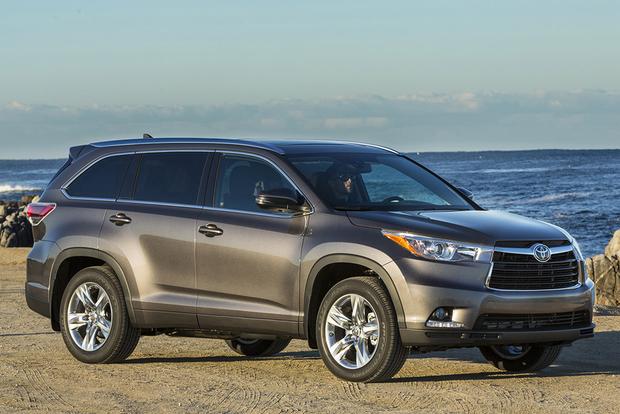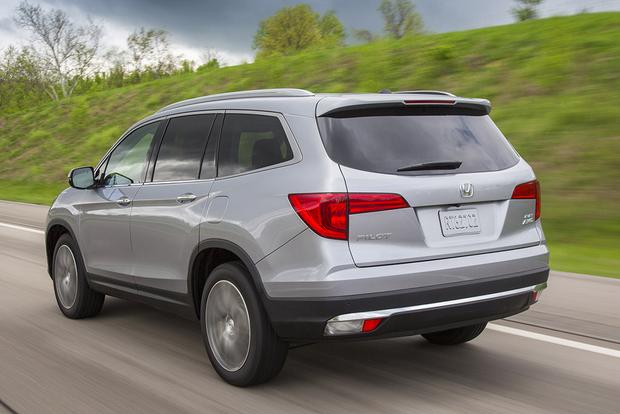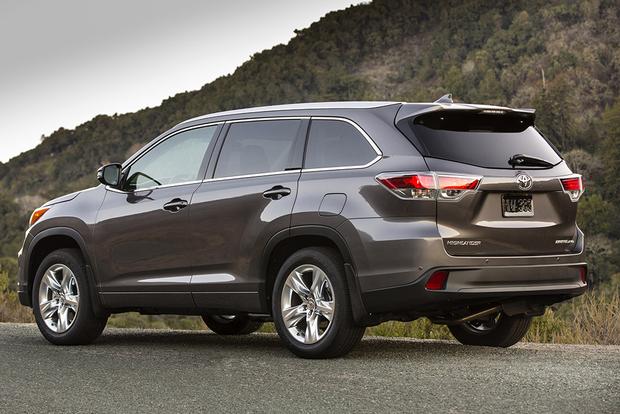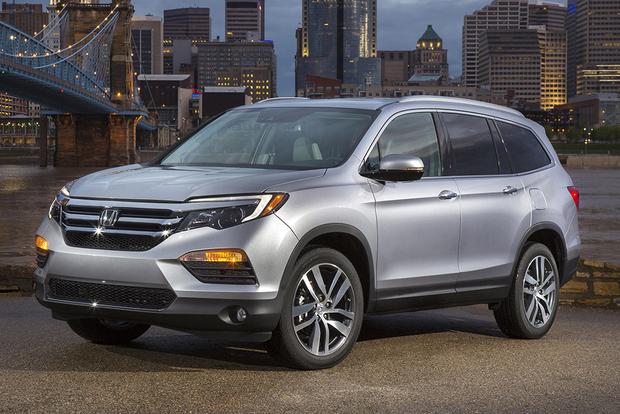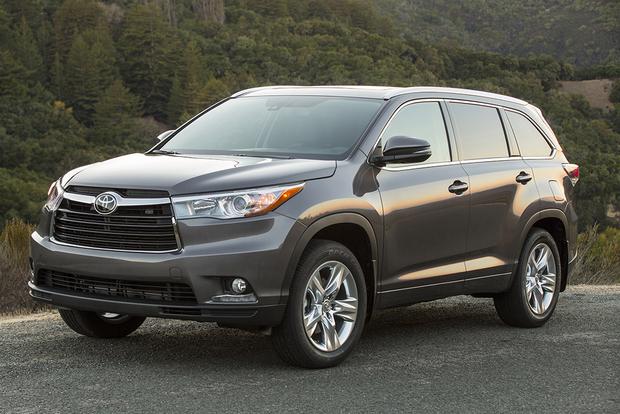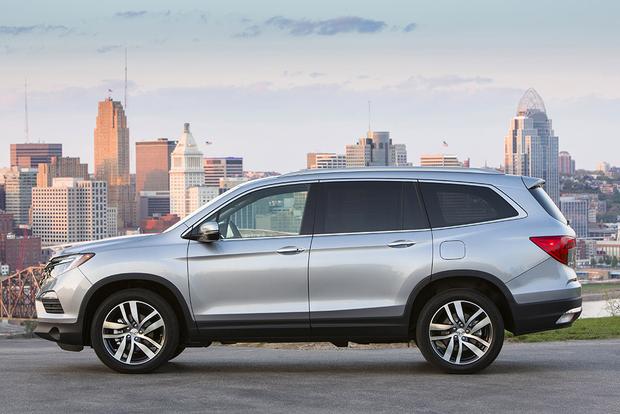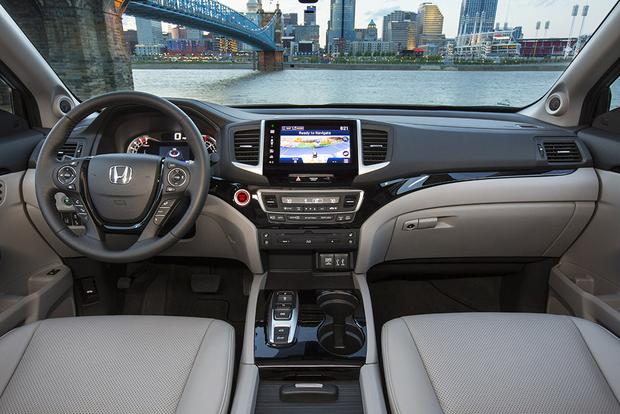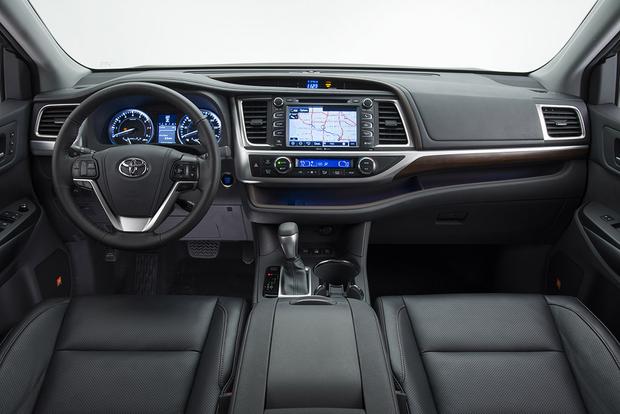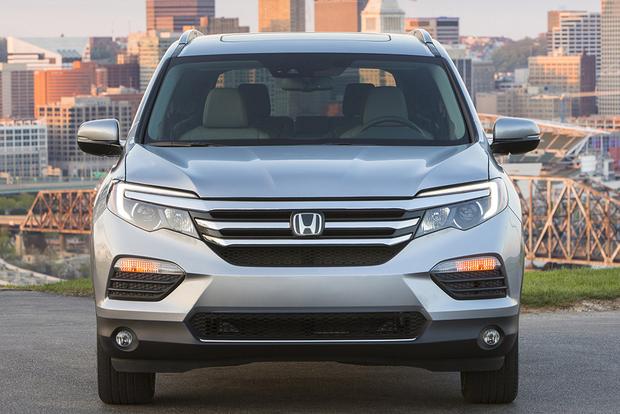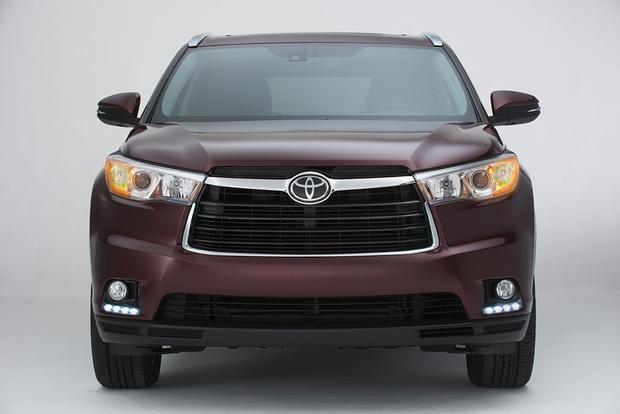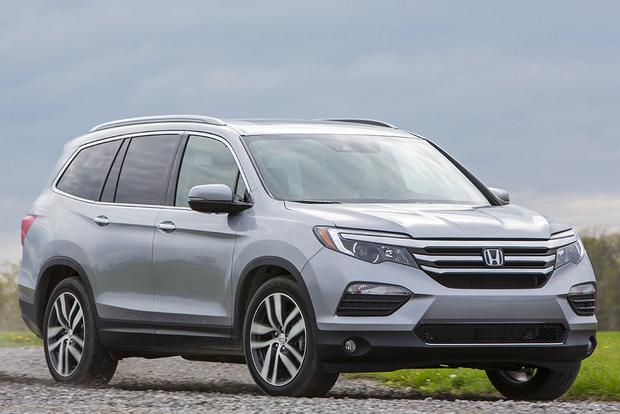 If you're interested in a 3-row family SUV, we know the 2016 Honda Pilot and the 2015 Toyota Highlander are on your shopping list. These are two of the most popular models in the segment, offering excellent dependability, stellar resale value, good engines, strong fuel economy, impressive convenience features and lots of equipment -- all for a reasonable price. So that begs the question: if you're comparing these two great choices, which one is better? We've created a detailed comparison to help you find out. But first, let's see what's new with both SUVs for the latest model year.
2016 Honda Pilot
After a surprisingly long period of only minor changes, the Pilot has finally been completely redesigned for 2016. Styling is totally new, inside and out, while the crossover adds a long list of new features and options, along with some powertrain updates.
2015 Toyota Highlander
Following a complete redesign last year, the Highlander is unchanged for the 2015 model year.
Reliability
Although the latest Honda Pilot is way too new for reliability ratings from groups like Consumer Reports or J.D. Power, the outgoing model earned strong scores from both firms -- including a "better than average" J.D. Power rating. The Highlander also earned a "better than average" score from J.D. Power, along with excellent marks from Consumer Reports for dependability.
As for warranty length, these SUVs are identical: both offer 3 years or 36,000 miles of bumper-to-bumper coverage, along with 5 years or 60,000 miles of powertrain protection.
Given the similarities in terms of reliability and warranty coverage, we think this category is a toss-up -- though we're interested to see final ratings from Consumer Reports and J.D. Power regarding the new Pilot's reliability.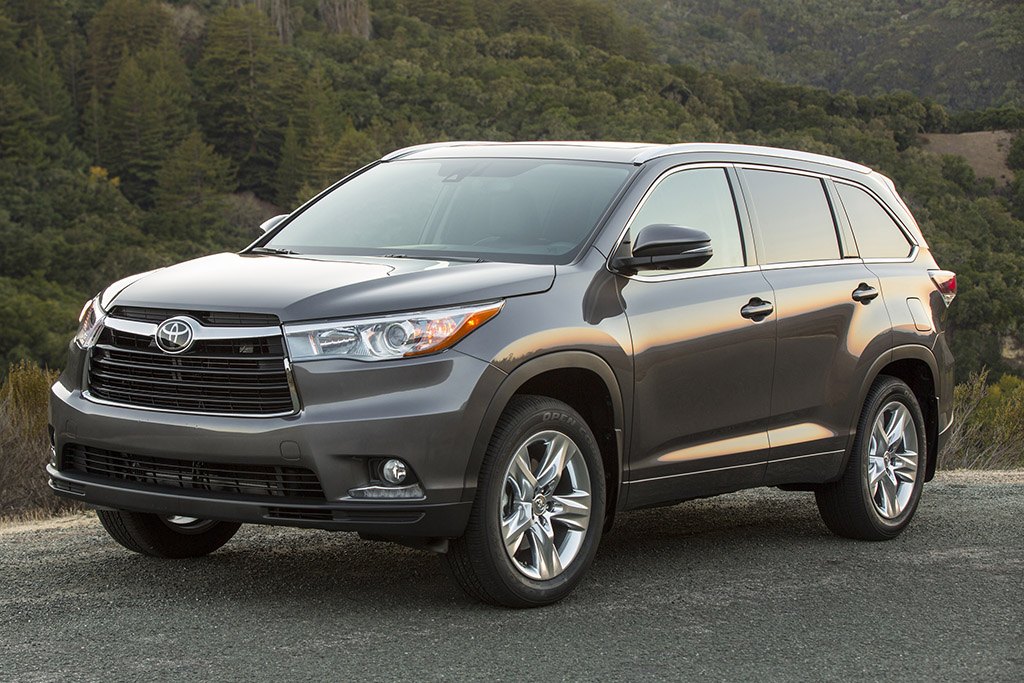 Fuel Economy
The Pilot offers only one engine: a 3.5-liter V6 that makes 280 horsepower (up 30 horses from last year) and 262 lb-ft of torque (up 9 lb-ft). Fuel economy reaches as high as 19 miles per gallon in the city and 27 mpg on the highway with the standard 6-speed automatic, though drivers who opt for the new 9-speed will see those figures increase slightly to 20 mpg city/27 mpg hwy.
Meanwhile, the Highlander is available with three engines. Base models use a lethargic 185-hp 2.7-liter 4-cylinder, which returns a surprisingly mediocre 20 mpg city/25 mpg hwy. Most drivers will opt instead for a 270-hp 3.5-liter V6, which touts fuel economy ratings as high as 19 mpg city/25 mpg hwy. Finally, SUV shoppers who especially prioritize fuel economy can get the hybrid-powered Highlander Hybrid, which boasts a 280-hp hybrid V6 and gas mileage of up to 27 mpg city/28 mpg hwy.
So which one is better? If you want a traditional, gas-powered engine, the new Pilot outshines its Highlander rival -- even if you compare the Pilot's muscular V6 to the Highlander's much smaller 4-cylinder. But if fuel economy is your top priority, you can always opt for the ultraefficient Highlander Hybrid, whose gas-mileage ratings stand near the top of the midsize crossover class. The only drawback is a substantial price premium over both the regular Highlander and the Pilot.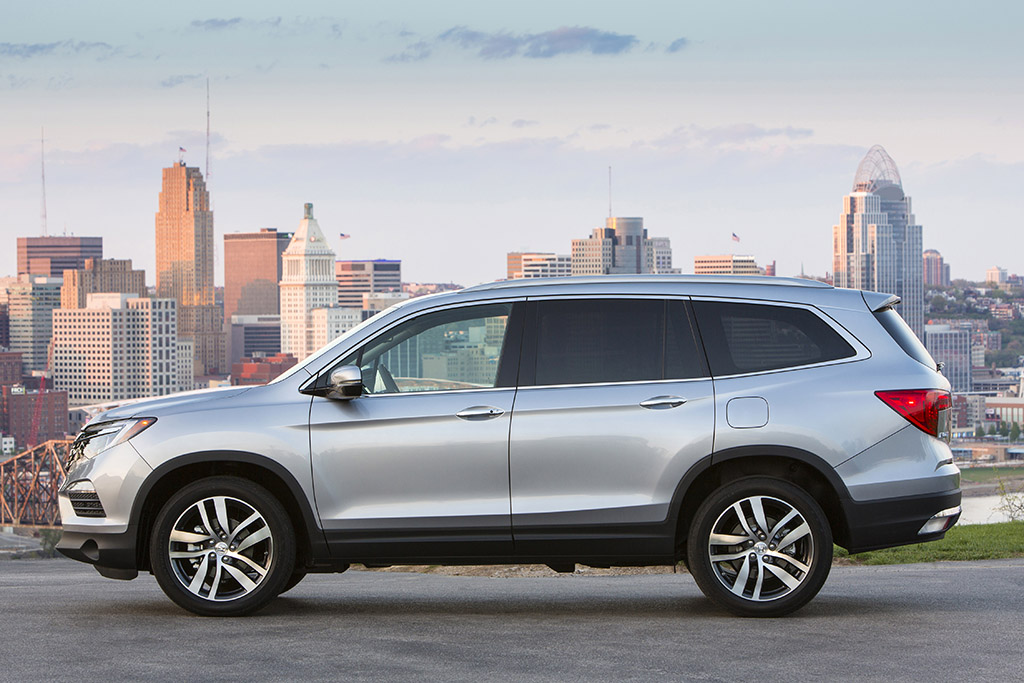 Safety
Although the 2016 Honda Pilot is too new for crash-test ratings, the 2015 Toyota Highlander received a perfect 5-star overall score from the federal government's National Highway Traffic Safety Administration (NHTSA). Likewise, it earned the highest rating of "Top Safety Pick+" from the nonprofit Insurance Institute for Highway Safety (IIHS). Although the outgoing Pilot boasted neither of those accolades, we suspect the new model will improve on the old one's crashworthiness.
As for safety features, both the Highlander and the Pilot are at the top of their class. Both SUVs include everything you need as standard equipment, including anti-lock brakes, a backup camera and side curtain airbags. And both offer all the options you could want, including forward-collision warning with automatic braking, lane-departure warning, a blind spot monitor, rear cross-traffic alert, parking sensors and adaptive cruise control. However, the Pilot has one benefit over the Highlander: an excellent blind spot camera dubbed Lane Watch, which we think is one of the most useful features in the industry. It gives the Pilot a slight leg up over its Toyota rival.
With that said, we're not prepared to award this category to either model -- especially before we've seen the final crash-test ratings for the Pilot. But suffice it to say, we suspect drivers who place a high priority on safety will be pleased with both the Highlander and the Pilot.
Technology
When it comes to technology, these two crossovers are among the best. In fact, it's hard to even think of any high-tech items you'd want in your family hauler that these two SUVs don't have.
To prove our point, consider some of the available features in the Highlander and Pilot. Both SUVs offer a power tailgate and sliding second-row seats. Both offer excellent infotainment systems with smartphone app integration. Both offer ventilated seats, heated rear seats and a heated steering wheel. And both boast a wide range of today's latest safety features, as we've described in our safety section above.
Although there are a few technology differences between these SUVs (like Honda's excellent Lane Watch system and Toyota's unique Safety Connect feature), we don't think either model offers a huge advantage over the other. As a result, this category is a draw.
Value
On paper, it might seem like the Highlander and the Pilot are priced so closely that this category should come down to a coin flip. But that isn't quite the case. While base prices of the two SUVs are indeed within just a few hundred dollars, the Highlander's starting MSRP is listed with its 4-cylinder engine -- a lethargic powerplant that we think should've been replaced years ago. Add a V6, which is standard in the Pilot, and prices rise considerably to make the Highlander a lot more expensive than its chief rival.
Once you're in the mid-$30,000 territory, however, things even out -- and by the top of the lineup, both the Highlander and the Pilot cost roughly the same. As a result, we think the Honda is the best value for drivers interested in getting the most they can at the lowest possible price, while the two SUVs are fairly even for shoppers who want to add equipment and options for a more luxurious experience.
Autotrader's Advice
Picking a winner between the Pilot and the Highlander is like arguing about the Red Sox and the Yankees: a never-ending battle with no clear winner. Yes, the Pilot has better gas mileage -- but only the Highlander has a hybrid version. Yes, the Pilot has more standard horsepower -- but the Highlander has a few extra standard features. Yes, the Pilot has Lane Watch -- but the Highlander offers Toyota's Safety Connect system, which some drivers may prefer. The discussion could go on for days.
So here's our take: if you're on a tight budget, we suggest choosing the Pilot, as its standard V6 trumps the Highlander's base-level 4-cylinder. If not, we strongly suggest driving both SUVs, checking out the trim levels and features and bargaining with the dealer to see where you can get a better price. Then buy the cheaper one -- or, alternatively, buy the one you like best. Ultimately, these two are among the best models in their class -- and it's hard to go wrong with either vehicle.