Car Comparison
2016 Hyundai Tucson vs. 2015 Honda CR-V: Which is Better?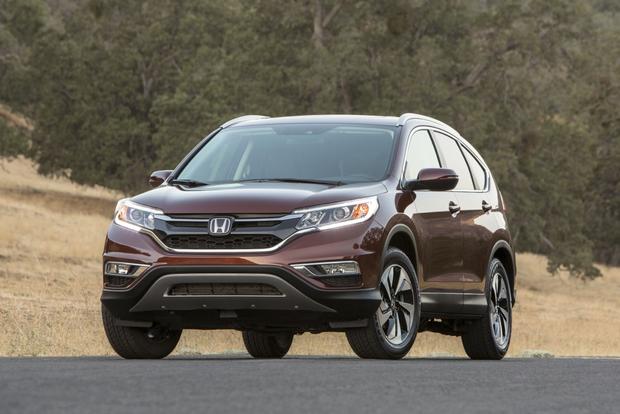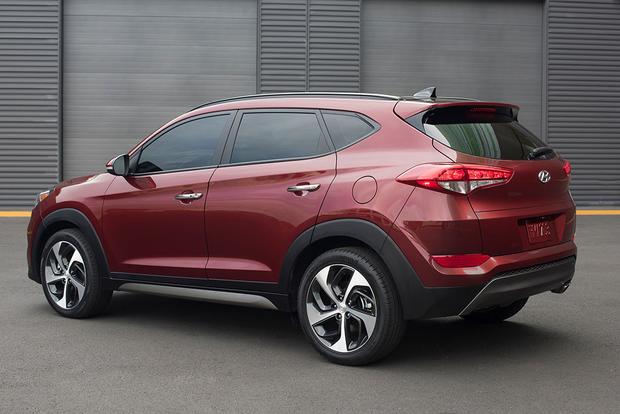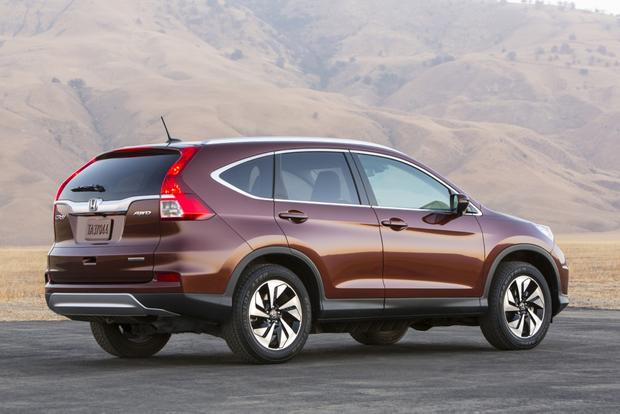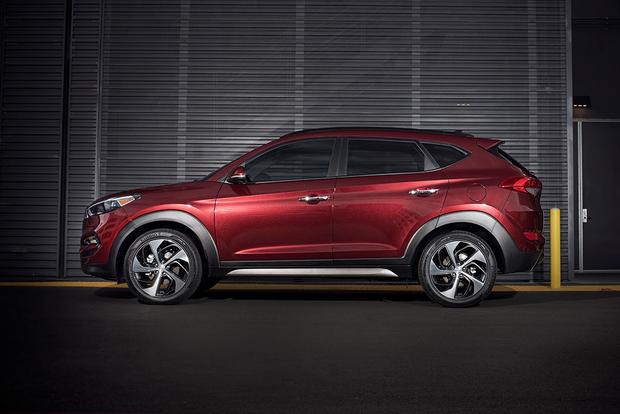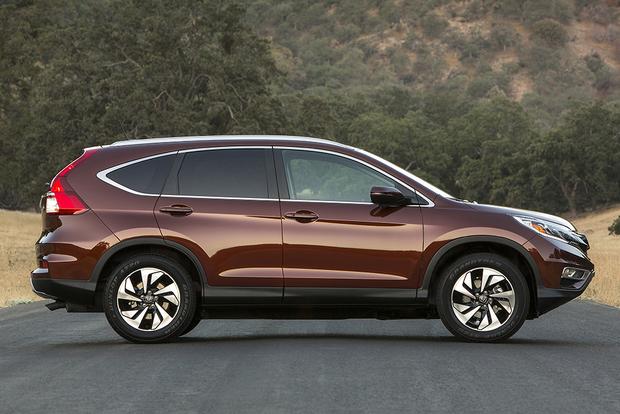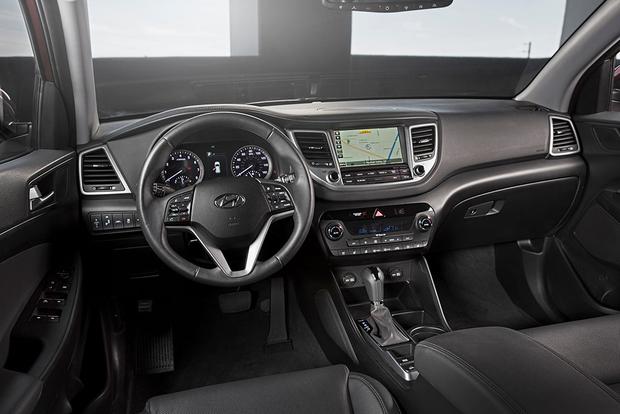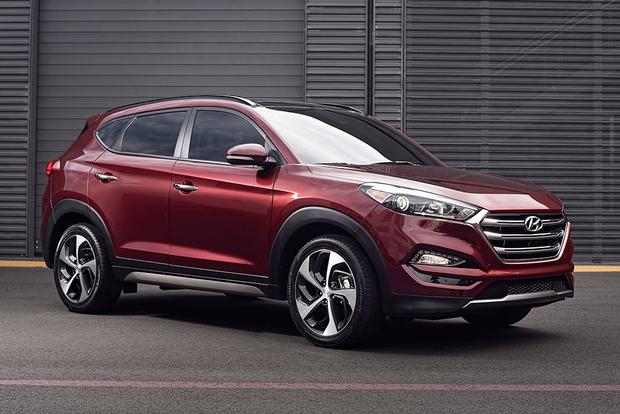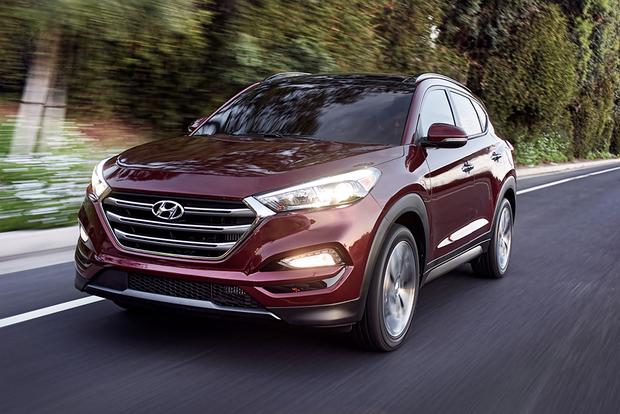 If you're interested in a compact SUV, we have no doubt that the 2015 Honda CR-V is on your shopping list. After all, it's among the most popular small crossovers, touting a fuel-efficient engine, lots of technology and reasonable pricing. You should also add the 2016 Hyundai Tucson to that list, as the small crossover was redesigned this year with a host of changes including more technology, better fuel efficiency, more modern styling and improved ride comfort. But which one is better? We've created a close comparison to address exactly that. But first, let's see what's new with both SUVs for the latest model year.
2016 Hyundai Tucson
The Tucson is fully redesigned for 2016, offering new styling, new powertrains, new features and a more comfortable ride. It boasts so many changes that it effectively shares only its name with last year's model.
2015 Honda CR-V
The CR-V isn't fully redesigned for 2015, but it's heavily revised with new styling, an updated engine, new features and a new top-level Touring model with additional equipment.
Reliability
Although the latest Hyundai Tucson is too new for reliability ratings from industry experts at J.D. Power, the outgoing model has earned mostly Average scores for the last few years. By comparison, the CR-V's ratings tend to range from Above Average to Best in Class, topping nearly every other compact crossover.
When it comes to warranty length, however, the Tucson pulls ahead dramatically. While the CR-V boasts three years or 36,000 miles of bumper-to-bumper coverage and five years or 60,000 miles of powertrain protection, the Tucson touts an impressive five years or 60,000 miles of bumper-to-bumper coverage and 10 years or 100,000 miles of powertrain protection. To us, the Hyundai's excellent warranty is just enough to even out its deficit in J.D. Power scores -- and that makes this category a tie.
Fuel Economy
The CR-V offers only one engine: a 185-horsepower 2.4-liter 4-cylinder that boasts up to 27 miles per gallon in the city and 34 mpg on the highway.
By comparison, the Tucson offers two engines. Base models use a 164-hp 2.0-liter 4-cylinder that returns up to 23 mpg city/31 mpg hwy. Drivers interested in more power -- and better gas mileage -- will want to upgrade to the optional 175-hp 1.6-liter turbocharged 4-cylinder, which boasts up to 26 mpg city/33 mpg hwy in Eco guise, or 25 mpg city/30 mpg hwy in Limited and Sport models.
Although the Tucson Eco comes close to beating out the CR-V, this category is a narrow victory for the Honda. While you may not experience major gas mileage differences driving these two models, those who choose the CR-V will definitely see some improvement -- even a very minor one -- over the Tucson.
Safety
Because it's so new, the latest Hyundai Tucson hasn't yet been crash-tested by the federal government's National Highway Traffic Safety Administration. The CR-V received an average 4-star overall rating, though, out of a possible five stars. In tests carried out by the nonprofit Insurance Institute for Highway Safety, both the Tucson and the CR-V earned the firm's excellent Top Safety Pick+ rating.
As for safety features, both the CR-V and Tucson include everything you really need as standard equipment, including a backup camera, side-curtain airbags and stability control with traction control. As for options, it's a mixed bag: The CR-V has some advantages such as its excellent Lane Watch blind spot camera, while the Tucson has others, including rear cross-traffic alert and Hyundai's Blue Link telematics system with crash notification and stolen car tracking.
In our view, this category is too close to call: Both crossovers offer a lot of the latest safety features and excellent crash protection.
Technology
Thanks to recent updates, the CR-V is able to hang with its fully redesigned Hyundai Tucson rival in terms of technology. Specifically, the Honda now offers LED running lights, adaptive cruise control, driver seat memory and a power liftgate -- items previously reserved for luxury vehicles.
While the Hyundai doesn't offer adaptive cruise control or driver seat memory, it touts a few advantages of its own over the CR-V -- such as a panoramic sunroof, adaptive xenon headlights and ventilated seats, none of which you can get in the Honda. And as we mentioned above, both vehicles bring out the latest in safety technology, with neither one having a clear advantage over the other.
This category, too, is a draw: Both the CR-V and Tucson tout a lot of the latest technology, and we suspect technophiles will be happy with either model. It'll be up to you to figure out which one fits with your specific gadget preferences.
Value
When it comes to pricing, the 2016 Hyundai Tucson and 2015 Honda CR-V are very close. The Tucson starts around $23,500 with shipping, while the CR-V is just over $24,000 -- a difference of less than $1,000. Interestingly, that difference changes as you go through the trim levels, with the mid-level Tucson Sport actually costing slightly more than Honda's mid-level CR-V despite offering roughly the same level of equipment.
While a comparison between two competitively priced cars can easily yield a value winner if one car is much better than the other, that doesn't apply here. These SUVs are close in every category, including price. As a result, this category is -- once again -- a draw.
Autotrader's Advice
Comparing the 2016 Hyundai Tucson and the 2015 Honda CR-V is largely futile because both SUVs are such excellent compact crossovers. Both offer stellar reliability records, lots of technology, excellent safety ratings, reasonable pricing and comfortable interiors. We think you'd be happy with either model, and if you don't have a strong personal preference between the two, we suggest that you should just go with the one that offers the best possible deal.
Find a Hyundai Tucson for sale