Car Comparison
2016 Hyundai Tucson vs. 2015 Hyundai Santa Fe Sport: What's the Difference?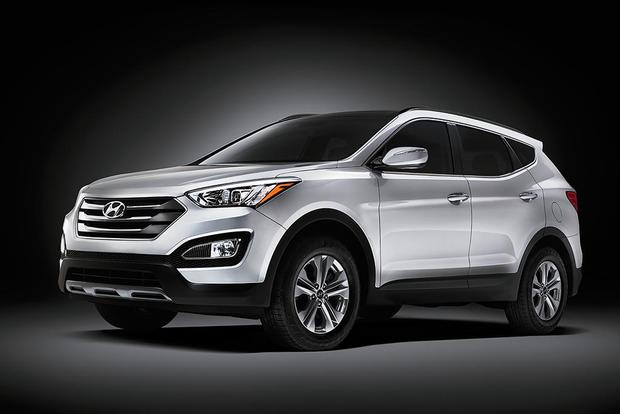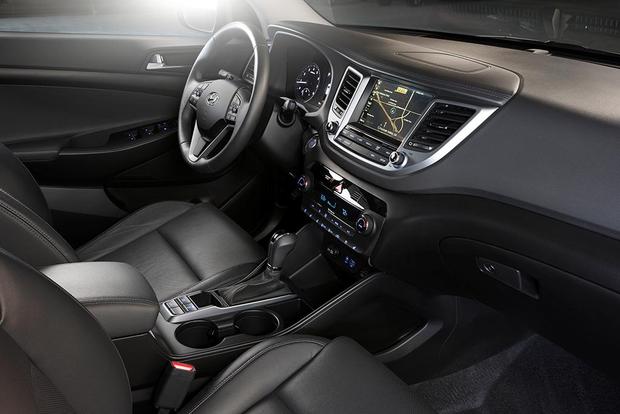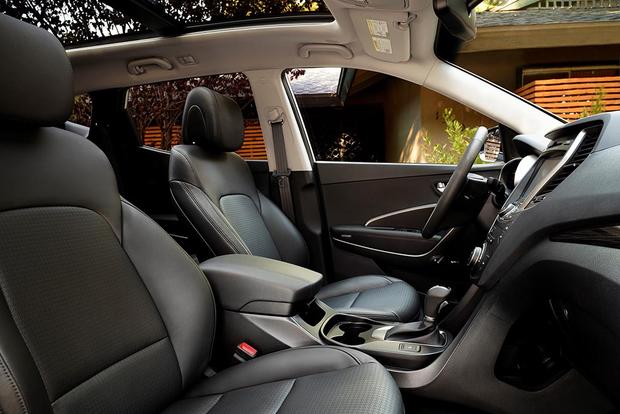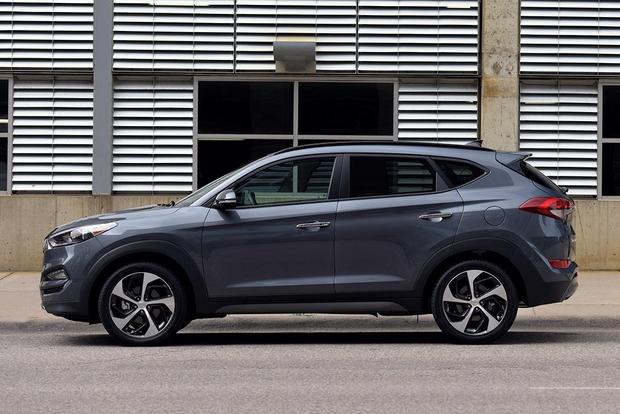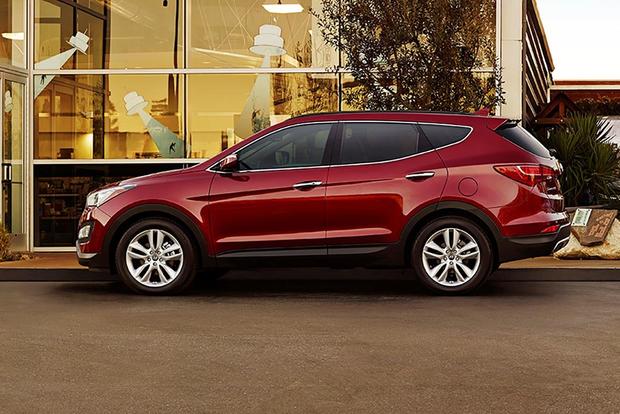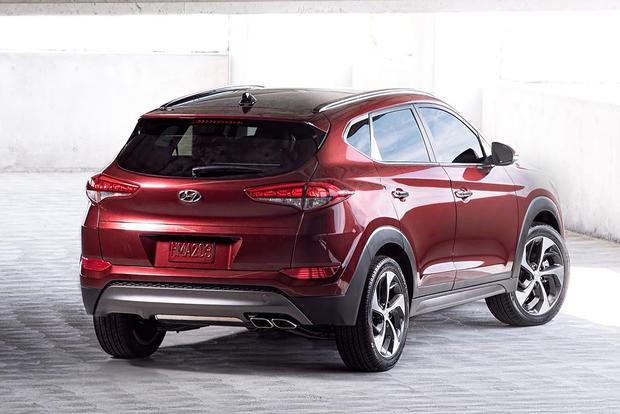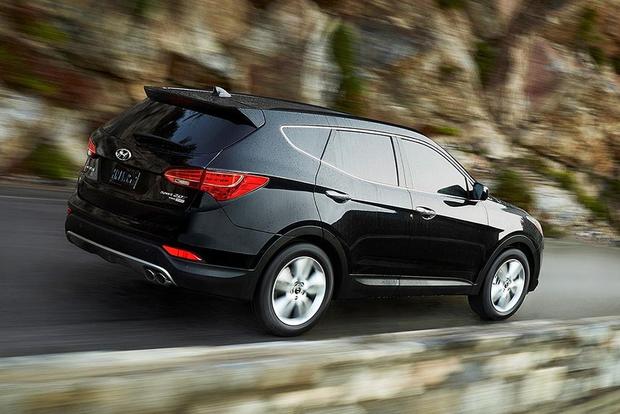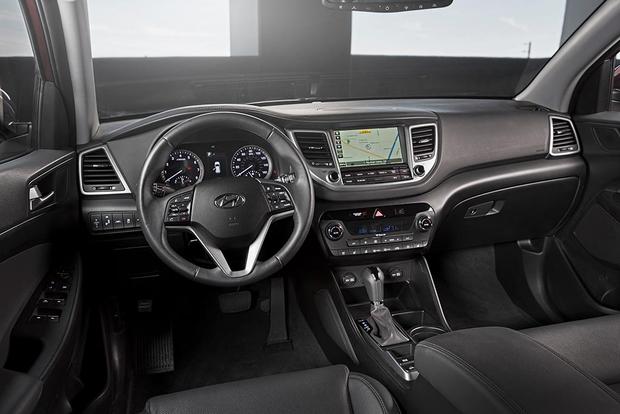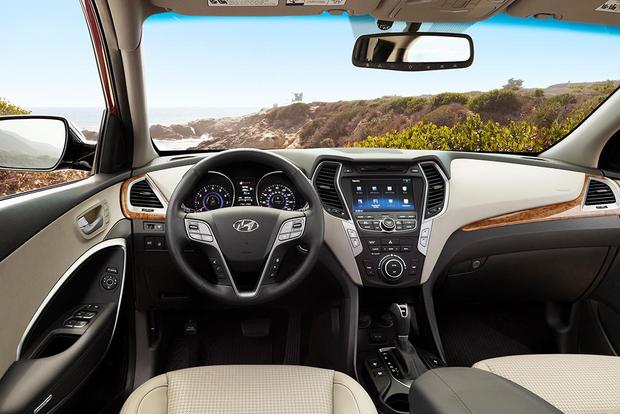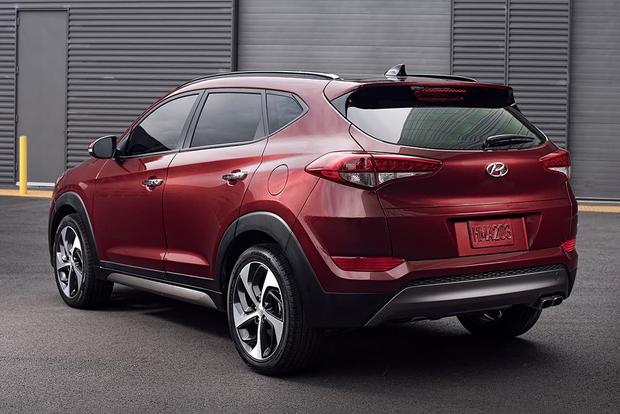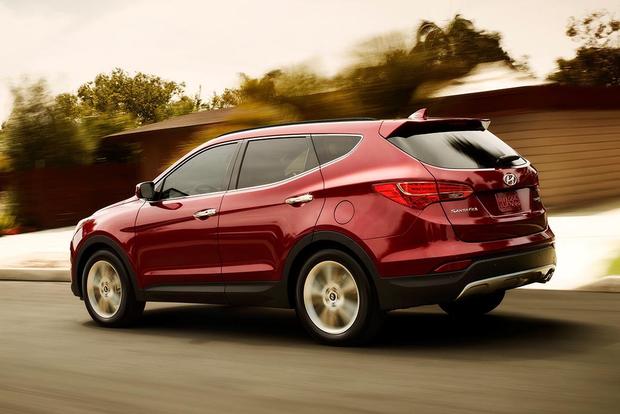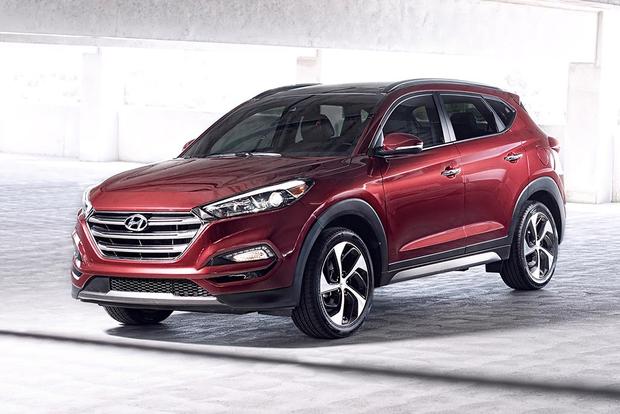 If you're interested in a new crossover and you're glancing through Hyundai's lineup, you may have noticed that the brand offers two models -- the 2016 Hyundai Tucson and the 2015 Hyundai Santa Fe Sport -- with similar fuel economy numbers, sizing, styling and equipment. So what's the difference between the Tucson and the Santa Fe Sport? And which one should you get? We've created a close comparison of both models to help you understand exactly what sets them apart.
Exterior
Although the Tucson and the Santa Fe Sport share many of the same styling cues, the two models ultimately have a few key differences. Specifically, the Santa Fe Sport looks like a stretched version of the Tucson by virtue of its larger size and longer wheelbase. There are also differences in back, as the two models boast a different tailgate design and different taillights. Still, with many similar stylistic touches, the Tucson and Santa Fe Sport might be difficult for some crossover shoppers to tell apart after only a quick glance.
Interior
The Santa Fe Sport and Tucson also boast some big differences on the inside. The most obvious is interior room: The Santa Fe Sport simply has more of it, especially in back and in the cargo area. But the two crossovers also offer different dashboard designs, different center control stacks, different gauge clusters and slightly different materials -- though we think it's the Tucson, not the pricier Santa Fe Sport, that offers better quality, especially in high-end versions. Chalk that up to the Tucson's newer overall design.
Mechanicals
The Tucson offers two different engine choices. Base models use a 164-horsepower 2.0-liter 4-cylinder, which boasts fuel economy ratings of up to 23 miles per gallon in the city and 31 mpg on the highway. Drivers looking for more power -- or better fuel economy -- can get a turbocharged 1.6-liter 4-cylinder that offers 175 hp and up to 26 mpg city/33 mpg hwy in Eco guise or 25 mpg city/30 mpg hwy in Sport or Limited trim.
The Santa Fe Sport also offers two 4-cylinder engines, but they're larger than the Tucson's powerplants, owing to the model's larger size. Base-level Santa Fe Sport models use a 2.4-liter 4-cylinder which makes 190 hp and returns up to 20 mpg city/27 mpg hwy, while drivers interested in more power can upgrade to a 264-hp 2.0-liter turbocharged 4-cylinder that delivers a respectable 19 mpg city/27 mpg hwy.
Features & Technology
Oddly, it's the smaller (and cheaper) Tucson, and not the larger Santa Fe Sport, that offers more equipment and technology. That's because the Tucson boasts a newer design, as it was just redesigned for 2016 compared to the Santa Fe Sport's debut in 2014.
Examples of areas where the Tucson beats out its Santa Fe Sport rival: Only the Tucson offers a lane-departure warning system, forward-collision warning, automatic braking, LED headlights and adaptive headlights.
Admittedly, the Santa Fe Sport is no dinosaur: It still offers high-end touches such as ventilated seats, a power lift gate, xenon headlights, an 8-inch touchscreen, rear cross-traffic alert and a blind spot monitoring system. But for now, the Tucson is the champ if you're interested in the widest array of standard and optional equipment.
Driving Experience
On the road, the Santa Fe Sport certainly feels bigger than the Tucson. Handling is a little slower, proportions are a little larger, and dynamics don't quite match those of Hyundai's smaller crossover. The trade-off is that Santa Fe Sport drivers enjoy more passenger and cargo room than they would if they had chosen a Tucson.
The major exception is the Santa Fe Sport 2.0T, which feels downright fast. That makes sense, considering that it offers 264 hp -- far more than you can get in any version of the Tucson. It also boasts larger wheels, which seem to improve handling just a little.
Our take: While these two crossovers offer fairly similar driving experiences, the Tucson feels a little more nimble and city-friendly than the Santa Fe Sport. But drivers who want the most enjoyable experience possible should pick the Santa Fe Sport 2.0T, which touts a muscular turbocharged 4-cylinder engine and the driving dynamics to match. It's still no sports car, but it's one of the sportiest midsize SUVs on the market.
Safety
Although the recently redesigned Tucson is too new for government crash testing, the Santa Fe Sport earned a perfect 5-star overall rating from the federal government's National Highway Traffic Safety Administration. Meanwhile, the Tucson earned an excellent Top Safety Pick+ rating from the nonprofit Insurance Institute for Highway Safety -- a score the Santa Fe Sport couldn't quite match due to a troubling Marginal rating in the firm's challenging small front-overlap crash test.
The Tucson's safety advantages continue in terms of equipment and features, where the smaller crossover boasts several advantages over the larger Santa Fe Sport, including forward-collision warning with automatic braking, lane-departure warning and LED headlights. While the Santa Fe Sport offers a few of today's latest safety gadgets (such as rear cross-traffic alert and a blind spot monitoring system), the Tucson has them all.
Conclusions
The 2015 Hyundai Santa Fe Sport finds itself in an awkward position, nestled in between the smaller (and more advanced) 2016 Hyundai Tucson and the larger Santa Fe, which touts 3-row seating. Unless you seriously need the Santa Fe Sport's larger interior, we recommend the Tucson: It offers better fuel economy, better crash-test scores, more equipment and a nimbler driving experience. And if you really do need the Santa Fe Sport's extra space, we recommend considering the full-size Santa Fe instead, which offers 3-row seating without a huge additional price premium.