Editor's note: You may want to read more of Autotrader's model vs. model comparison car reviews as well as the 2016 Jeep Renegade review and the 2016 FIAT 500X review.
If you're interested in a subcompact crossover, we suspect your shopping list includes the 2016 Jeep Renegade and the 2016 FIAT 500X — two of today's most popular new models. But which one of these two small crossovers is better? And which one should you buy? To help you find out, we've created a close comparison between the 500X and the Renegade — but first, let's take a look at what's new with both small SUVs for the 2016 model year.
2016 Jeep Renegade Changes
After going on sale last year, the Renegade is mostly unchanged for 2016, save for newly optional automatic wipers and a new Beats sound system. See all 2016 Jeep Renegade models available near you
2016 FIAT 500X Changes
Like many models in the fast-growing subcompact crossover segment, the 500X is totally new for the 2016 model year. See all FIAT 500X models available near you
Reliability
Because the Renegade and the 500X are so new, reliability experts at J.D. Power have not yet rated either model for dependability. However, both Jeep and FIAT scored near the bottom of J.D. Power's recent Vehicle Dependability Study, suggesting neither of these crossovers will be among the top of their class for reliability.
As for warranty coverage, the Jeep offers 3 years or 36,000 miles of bumper-to-bumper protection, compared to 4 years or 50,000 miles for the 500X. But while the 500X doesn't offer an additional powertrain warranty, the Renegade touts 5 years or 60,000 miles of powertrain coverage. As a result, we think warranty coverage and reliability will be roughly the same with both models.
Fuel Economy
Because both the Renegade and the 500X share a parent company (FIAT Chrysler), the two models offer identical powertrains. Standard in both SUVs is a 160-horsepower 1.4-liter turbocharged 4-cylinder, while both offer an optional 180-hp 2.4-liter 4-cylinder.
With its base-level engine, the 500X returns up to 25 miles per gallon in the city and 34 mpg on the highway, while the Renegade offers 24 mpg city/31 mpg hwy. Upgrade to a larger engine and you'll get up to 22 mpg city/31 mpg hwy in both the Renegade and the 500X. The result: If you pick the base-level powertrain, the FIAT has a slight advantage in fuel economy. Otherwise, these two crossovers are identical.
Safety
In crash testing carried out by the federal government's National Highway Traffic Safety Administration, the Renegade earned 4 stars out of 5, while the 500X has not yet been tested. Meanwhile, the nonprofit Insurance Institute for Highway Safety gave the 500X a coveted Top Safety Pick+ rating, while the Renegade has not yet been tested.
As for safety features, both models offer a wide range of items to choose from. Standard on both SUVs are anti-lock brakes, side-curtain airbags and traction control, while options include a blind spot monitoring system, rear cross-traffic alert, lane-departure warning, lane-keep assist and forward-collision warning. The sole advantage belongs to the Renegade, which offers front and rear parking sensors — a feature you can't get in the 500X. Still, that small advantage isn't enough to sway us from calling this category a dead heat.
Technology
Because the 500X and Renegade come from the same parent company, it's no surprise that the two crossovers offer roughly the same equipment. Specifically, they both offer Chrysler's excellent Uconnect infotainment system (with accompanying 6.5-inch touchscreen), along with a long list of modern safety features, such as a lane-departure warning system, lane-keep assist, forward-collision warning and more. The two crossovers also offer luxury conveniences like a Wi-Fi hotspot, a navigation system, keyless ignition/entry and more.
As a result, we find it hard to award a winner in the technology category, as these two models are virtually identical when it comes to standard and optional equipment.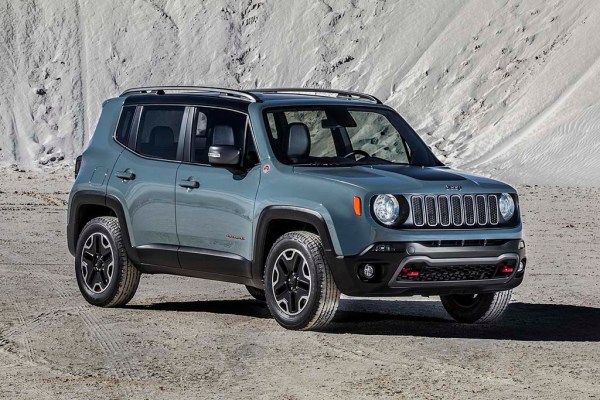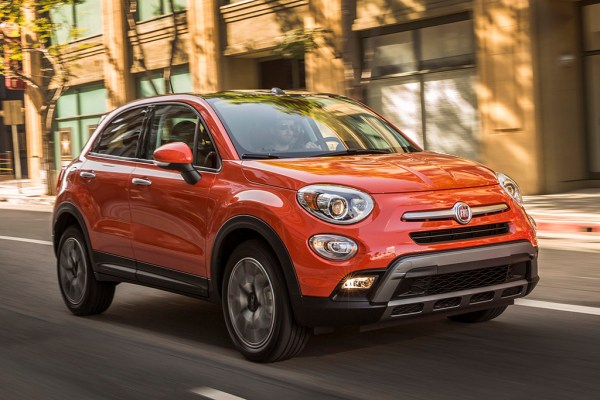 Value
If you're interested in one of the cheapest new SUVs you can buy, a base-model Renegade is the one you want. It starts at just $19,000 with shipping, which is around $2,000 less than a base-model 500X. But we don't recommend the base-model Renegade, as it doesn't even include air conditioning. Step up to the mid-level Latitude model ($22,400 with shipping) and you'll find that the Renegade and 500X — in addition to offering similar equipment, similar reliability, similar safety features and identical engines — are also priced pretty similarly, too. As a result, value joins the other categories on our list as being a little too close to call.
Autotrader's Advice
If you've followed along so far, you probably think that little separates the 2016 Jeep Renegade from the 2016 FIAT 500X. After all, both models are subcompact crossovers with similar equipment, similar safety features, similar sizing and similar pricing. They even share engines and an infotainment system.
But to us, there are two major differences: styling and driving experience. While the 500X offers a more traditional look — albeit one that shares a few cues from the smaller 500 hatchback — the Renegade is boxy, bold and unusual. Compared to the FIAT, it's sure to get noticed in a crowd. Meanwhile, the 500X offers a better driving experience than the Renegade, touting greater poise over bumps and a more secure feel through the corners. Given the 500X's improved driving experience and the fact that we like its more traditional styling to the Renegade's standout look, we'd pick the FIAT over the Renegade if our shopping list came down to these two models.
Find a Used Jeep Renegade for sale