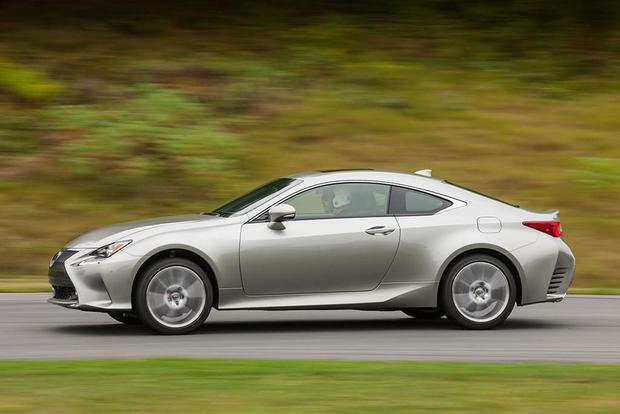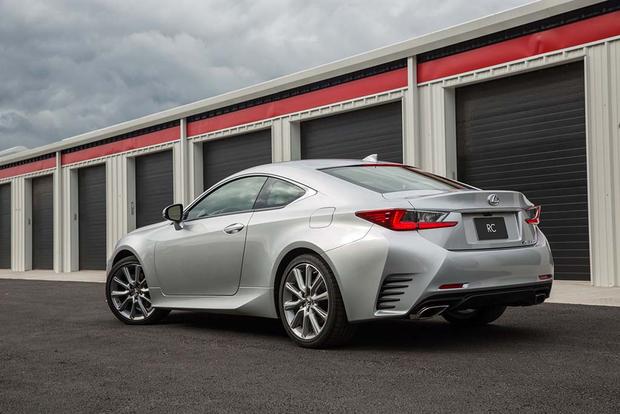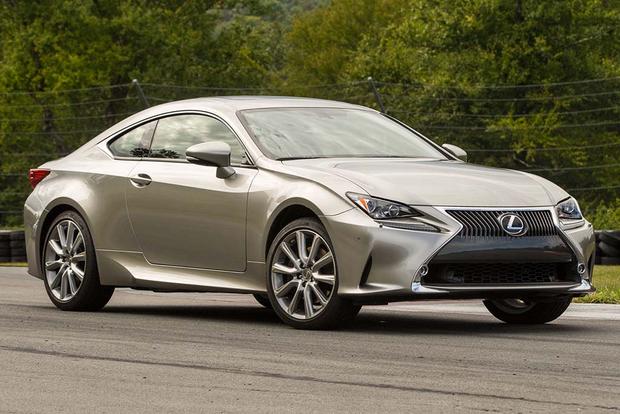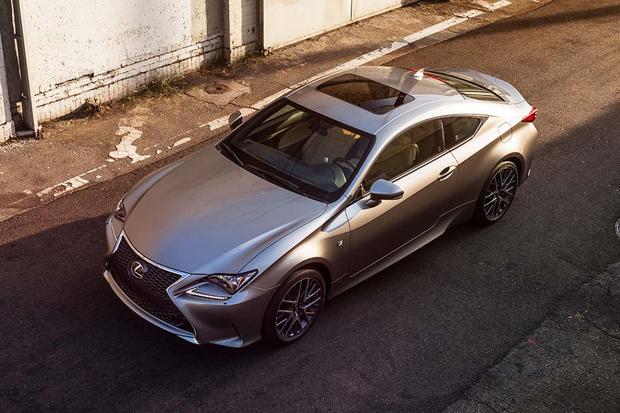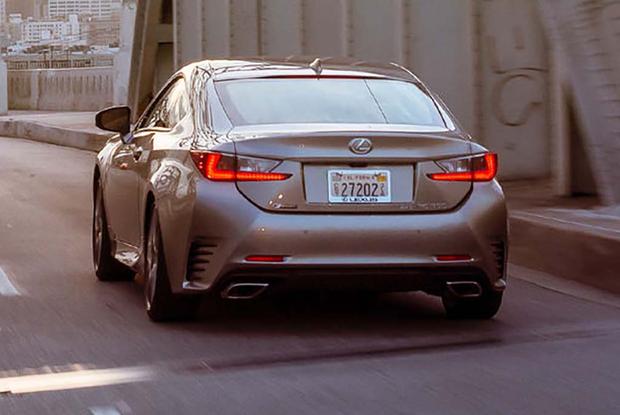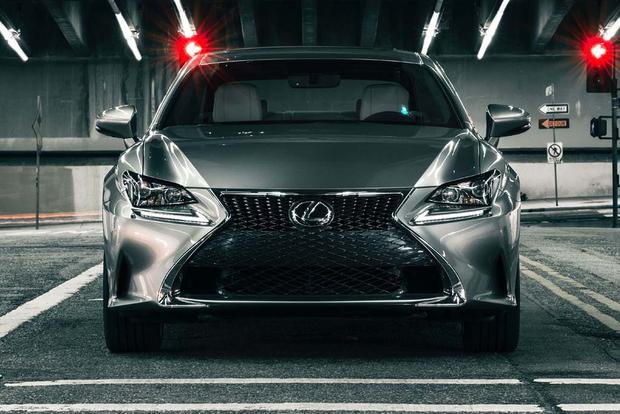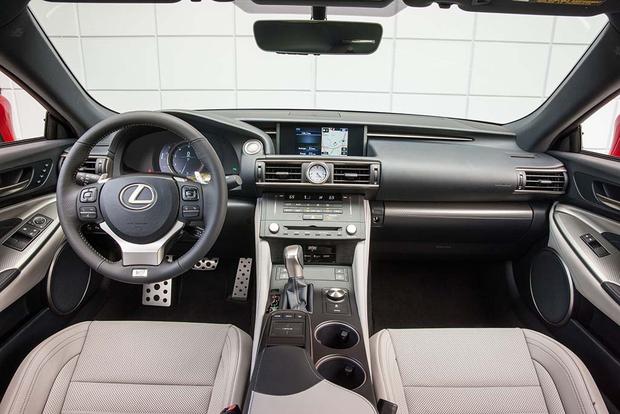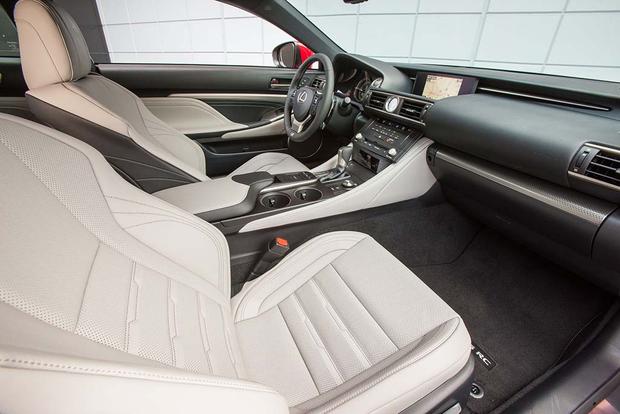 The 2016 Lexus RC is in its second year of existence and expands its range with a new entry level model and a lower-priced all-wheel-drive version. This premium compact coupe takes some of its underpinnings from the IS sedan, but behind that distinctive spindle-grille Lexus hallmark is a design of its own, signifying that the RC is not merely an IS minus the rear passenger doors. It's undoubtedly a Lexus, though. There's an air of refinement that pervades everything from cabin to engine to transmission.
What's New for 2016?
Two new variants debut for this model year: the RC 200t and RC 300 AWD. Neither are as powerful as the cars that came out last year, the RC 350 and RC F.
The Enform proprietary infotainment system is upgraded, allowing users to check information about their ride with a smartphone app, or on the LexusDrivers.com website. Sportier versions now have the option of orange-painted brake calipers.
What We Like
Typical Lexus high-grade build quality; classy analog clock in the center console; quiet cabin; the ability to enhance a pliant ride with cornering abilities
What We Don't
The way the center screen is set so far back and down that the bottom row of information is liable to be obscured by the center console's lip; all-wheel-drive hardware means less space in the front footwells; extra weight of all-wheel-drive hardware; somewhat anesthetized driving experience
How Much?
$40,935-$63,745
Fuel Economy
The 200t is propelled by a turbocharged 2.0-liter 4-cylinder making 241 horsepower and 258 lb-ft of torque. An 8-speed automatic transmission sends that muscle to the rear wheels. Consumption is rated at 22 miles per gallon in the city and 32 mpg on the highway, and 26 mpg combined.
The 300 AWD has a 3.5-liter V6 developing 255 hp and 236 lb-ft of torque. Every all-wheel-drive version of the RC has a 6-speed automatic transmission. Fuel use is estimated at 19 mpg city/26 mpg hwy, and 21 mpg combined.
That same V6 is tuned for 306 hp and 277 lb-ft in the RC 350. In rear-wheel-drive form, consumption is 19 mpg city/28 mpg hwy, and 22 mpg combined, or 19 mpg city/26 mpg hwy, and 21 mpg combined with all-wheel drive.
A 5.0-liter V8 dishing out 467 hp and 389 lb-ft of torque puts the rear-drive-only F at the top of the RC class, but this engine needs exercising to make the most of it. It still returns a relatively reasonable 16 mpg city/25 mpg hwy, and 19 mpg combined.
Standard Features & Options
The 200t starts with 18-inch alloy wheels, LED lighting, puddle lamps, climate control, 7-in screen, 256-watt/10-speaker audio, rearview camera, Bluetooth and a voice-activated infotainment system. All-wheel-drive RC models also have heated front seats.
The list of options includes moonroof, navigation, park assist, upgraded audio system and a radar-based intelligent cruise control.
F Sport versions bring adaptive variable suspension with a sport-plus mode (for extra stiffness), sport front seats, aluminum pedals, 19-in alloy wheels, high-friction brake pads, TFT instrumentation, variable gear ratio steering and 4-wheel steering. The RC F offers a carbon fiber roof option, which reduces weight and lowers the center of gravity.
Safety
The Insurance Institute of Highway Safety awarded the 2015 RC its highest accolade: Top Safety Pick+. The National Highway Traffic Safety Administration has yet to crash-test the RC.
Hill-start assist is standard throughout the range, but adaptive cruise control, a blind spot monitoring system, rear cross-traffic alert, and forward-collision alert are all optional. Stability control systems in the F Sport and the RC F allow the driver to change the activation points for those electronic aids.
Behind the Wheel
A rigid body means a finer state of tune for the suspension. Getting the balance between a comfortable ride and not wallowing around corners is hard to achieve, but Lexus does it here. The RC 350 absorbs surface imperfections, yet remains composed on sweeping freeway ramps as well as tighter country corners.
The steering feels substantial and precise, but still lacking in information about how the front tires are behaving. That's an issue with most electric power steering systems from practically every manufacturer.
The opportunity to get more involved comes with steering wheel-mounted shift paddles. Gearshift action is so mechanically perfect to be virtually imperceptible — exactly the sort of quality expected from premium cars in general and Lexus in particular.
Progress is about average for the class. In rear-wheel-drive versions of the RC 350, standstill to 60 miles per hour is polished off in 5.8 seconds before going on to a top speed of 143 mph; all-wheel-drive cars are a tad slower. In a rear-wheel-drive F Sport version, whose rear-steer function brings maneuvering benefits at both high and low speeds, the thrill factor goes up a notch or two.
But all-wheel drive and the hardware's extra weight is a downer. It takes a heavier foot on the gas and more aggressive behavior with the gears to get things moving, which isn't as much fun as when there's a degree of effortlessness in an engine.
The RC F, however, is seriously quick. Zero to 60 mph happens in 4.4 seconds and top speed is 170 mph. It bristles with driver aids like a limited-slip differential and (optional) torque vectoring. The result is virtually foolproof progress, bringing an ability to control the car at speeds many would find scary.
The front seats are comfortable, with an emphasis on support rather than cushioning -- an attribute that becomes more apparent in the sport seats of the F Sport trim. Think of the RC as a 2-plus-2 rather than a proper 4-seater. The rear seats are OK for kids, but no adult will want to spend much time back there.
Other Cars to Consider
2016 Audi A5 2.0T -- A little low on power (220 hp), but comes with the option of all-wheel drive. And there's no shortage of Audi design fans.
2016 BMW 435i -- The big player in this class and absolutely worth test driving to experience its poise and pace, plus the fact that not many other manufacturers can make a car this thrilling.
Used Mercedes-Benz C350 Coupe -- There's a depth to the quality of engineering in Mercedes-Benz vehicles that becomes apparent as soon as the door thunks shut, the engine fires up and the car gets rolling. Continuous improvement over 100-plus years will do that.
Autotrader's Advice
A rear-drive F Sport version of the 2016 Lexus RC 350 is the best bet unless all-wheel drive is an absolute necessity. It feels agile and lively. And the whole point of a coupe is to have some degree of sportiness.