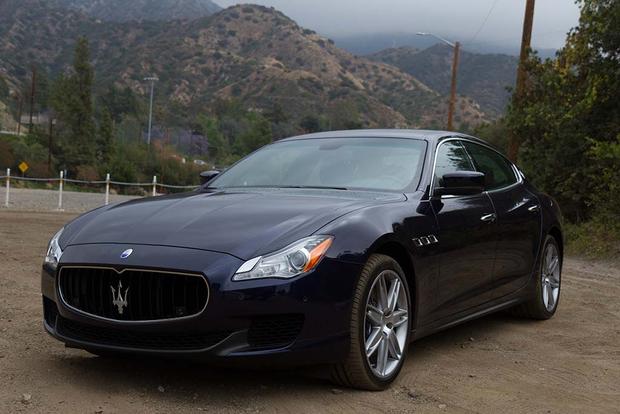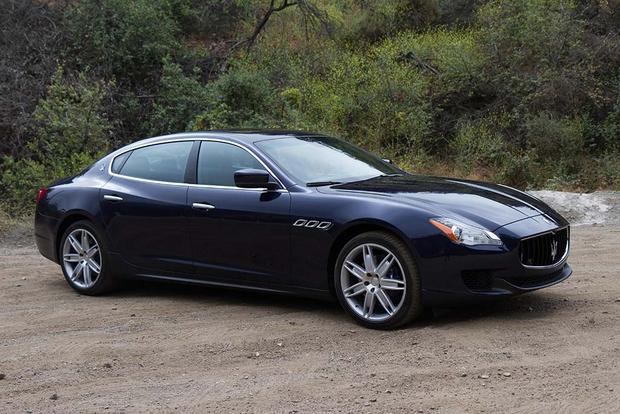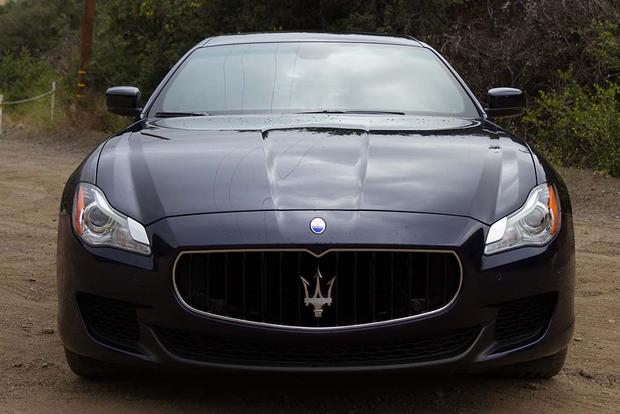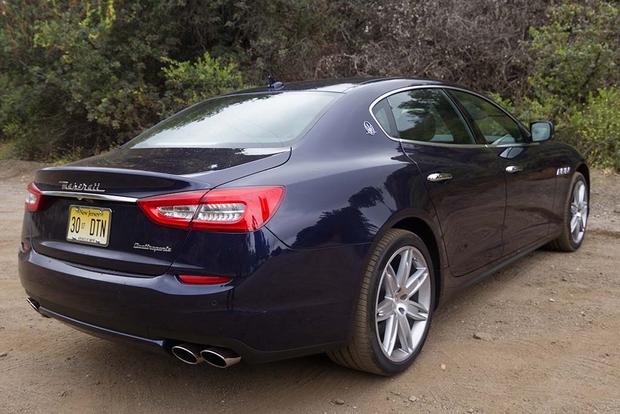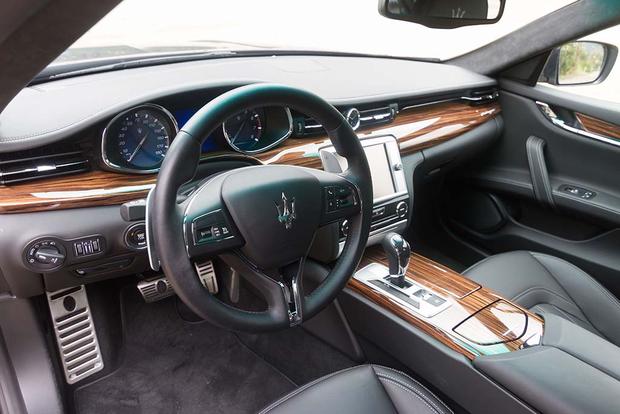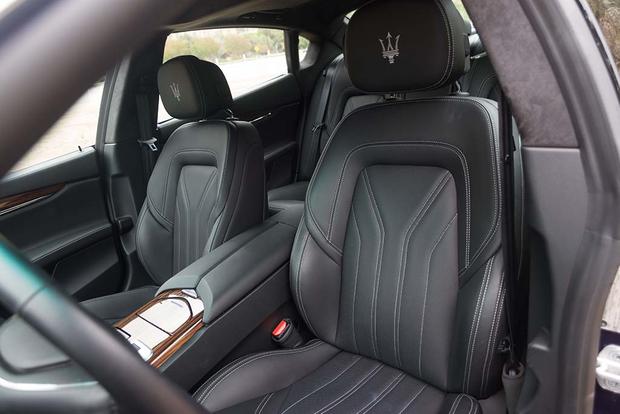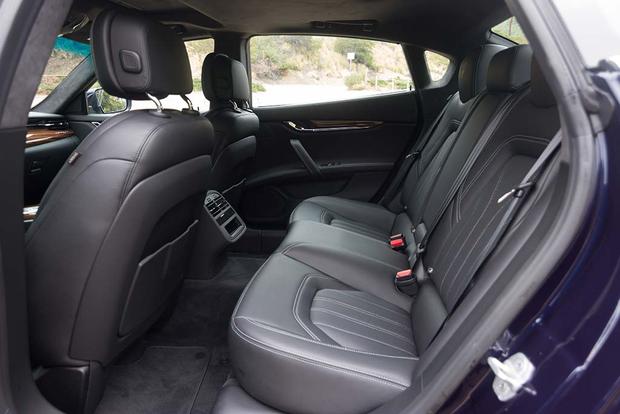 Since 1963, Maserati has been producing gorgeous sedans bearing the nameplate Quattroporte, which means "four-door" in Italian. The elegant simplicity of that name is the perfect introduction to the 2016 Maserati Quattroporte S (starting price of $99,950; $115,250 as tested), which we had the privilege of driving for 10 days this month.
Exterior
Even in the jaded car mecca of Los Angeles, the Quattoporte attracts eyeballs like Monica Bellucci in a Bond film. Sure, there are younger, slimmer models out there, but a mature beauty, perfectly attired, always conveys elegance.
It all starts with the grille. The Quattroporte's big, open, chrome-trimmed mouth announces the car's arrival with a tastefully large Maserati trident logo. The long hood, raked windshield and sleek roofline swoop toward the short trunk with a brief flip at the end, courtesy of an integrated spoiler. Muscular arches frame the wheels (19-inch standard; 20-in optional for $3,000 on our test car). No frames surround the windows, and chrome tridents dress the C-pillar like earrings on a fashion model. Most of the Quattroporte's body panels are aluminum, including the hood, doors, trunk and fenders, which saves weight and adds stiffness.
Our test car was painted in a rich coating of Maserati's Blu Passione, a hue as deep as a night sky. It looked almost black in the darkness and royal blue in sunlight. Beautiful!
Interior
Slipping into the Quattroporte's heated, leather power driver's seat is the beginning of a wonderful relationship. The driver is surrounded by a simple yet complete array of controls, perfectly placed for operation. The 8.4-in touchscreen display is powered by Maserati Touch Control (MTC), which provides menu-driven access to audio, navigation, climate and other systems in an intuitive fashion. Apple's Siri Voice Control is included, and there's a DVD player and an SD card reader built in. Audio is by Harman Kardon, and it sounds great in the cabin. Big dual analog gauges (a tachometer and speedometer) flank a 7.4-in thin-film-transistor screen in the instrument panel above the power tilt-telescopic steering wheel.
The center console houses the gear selector, a slightly quirky unit that takes a while to get used to. You use a row of buttons along the left side to select drive modes and suspension settings (Normal or Sport). The electric parking brake switch is just behind the gear selector. Unlike many mechanical systems, the parking brake operates all four brakes at once (most just affect the front or rear wheels) and can be used as an emergency brake for panic stops.
Our test car came with ventilated, heated front seats (part of an extensive $7,500 Luxury Plus package of options), which the driver can control through the MTC. Supportive, firm and adjustable, the seats promise comfort for long rides. The roomy second row provides executive-level comfort for passengers but less so for the middle seat, which has a shorter seat pad. A big 18.7-cu-ft. trunk is fully finished and ready for a load of cargo.
Every passenger -- we had no problem recruiting friends to take a ride -- complimented the design and comfort of the Quattroporte's interior. Our test car was dressed with an upgraded package featuring glossy Ebano wood trim ($1,600), one of five options that also includes piano black and carbon fiber. The wood trim, which would have looked good on a piece of fine furniture, enhanced the sophistication of the Quattroporte's interior.
Technology and Driving Experience
The allure of the Quattroporte's driving experience starts with the glorious sound of its 3.0-liter twin-turbo V6 engine, which produces 404 horsepower and 410 lb-ft of torque. There's nothing like the growl of an Italian engine, and it sounds even better in Sport mode, when the exhaust valves are opened more fully and the rich tenor of the Ferrari-built engine can sing. Sure, the audio system is top-notch, but we think the Quattroporte's best music experience is the one you get by turning off the stereo, rolling down the windows and hitting the gas.
The Quattroporte S comes standard with rear-wheel drive (an all-wheel-drive version is available starting at $107,900) for a classic driving experience. Quick acceleration (quoted as 5.0 seconds from 0 to 60 miles per hour) gets downright fun as the turbochargers kick in at midrange. The Quattroporte's relatively light weight (4,100 pounds) is balanced on the 4-wheel independent suspension (double-wishbone front/multilink rear), and dual stabilizer bars keep body roll to a minimum.
An 8-speed ZF automatic transmission can be used in standard, manual, sport or sport-manual modes. Steering-column-mounted paddle shifters provide true manual shifting in sport manual mode. The engine will hold a gear right up to the rev limiter, if that's how you want to torture your Maserati. Sport mode is noticeably more assertive than normal mode, and of course, you get the intoxicating soundtrack.
Fuel economy for the Quattroporte S (certainly calculated based on serene, rather than fun, driving) is rated at 16 miles per gallon in the city, 23 mpg on the highway and 18 mpg combined. Good luck with that!
Our Take
The competition in the large-performance-luxury-sedan class is stiff. If you're considering a Quattroporte, you owe it to yourself to drive the BMW 7 Series, Mercedes-Benz S-Class, Porsche Panamera, Audi A8, Jaguar XJ and Cadillac CT6, as well. Have fun!
For Italian style and panache, the 2016 Maserati Quattroporte S is tough to beat. And if you ever get a chance to give Monica Bellucci a ride to a movie premiere, she'll look perfect in your passenger seat.