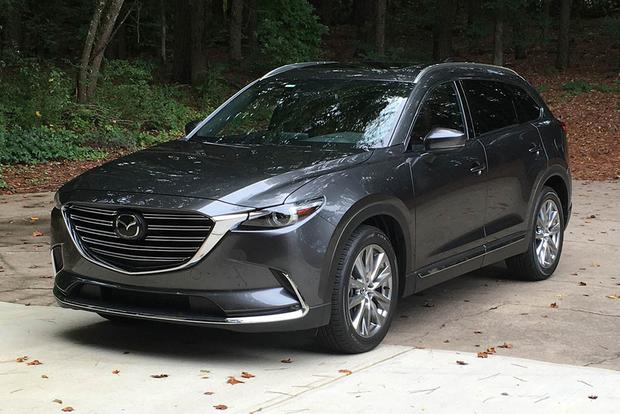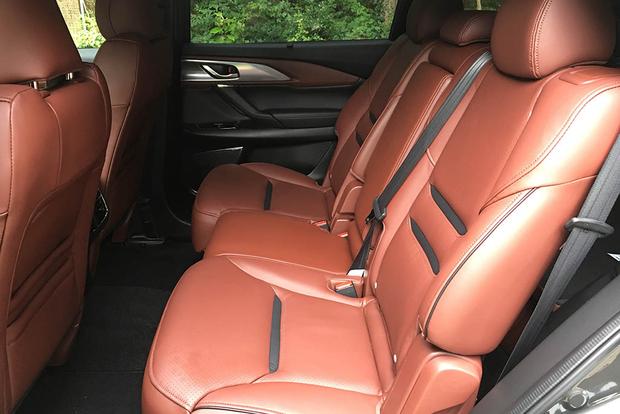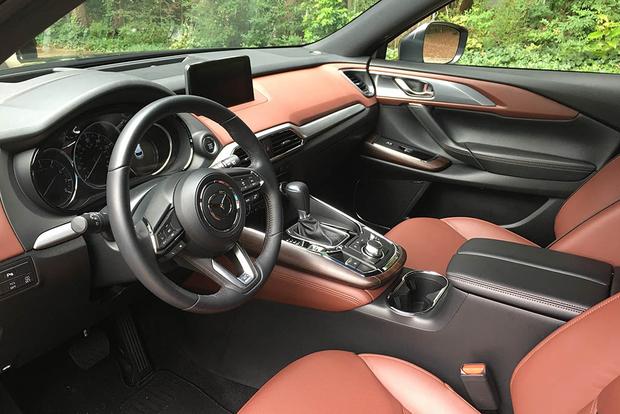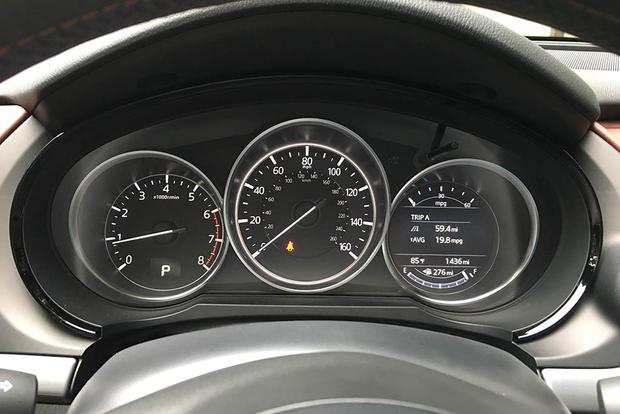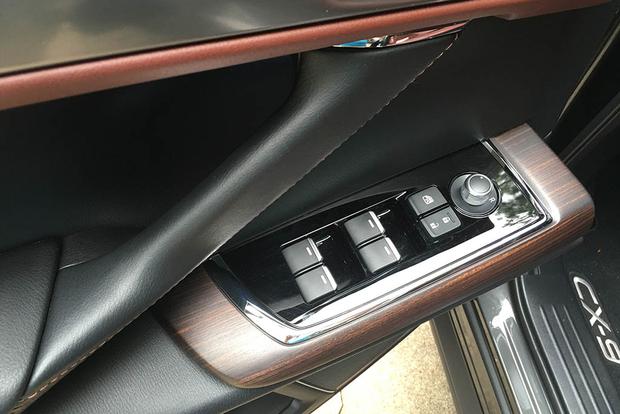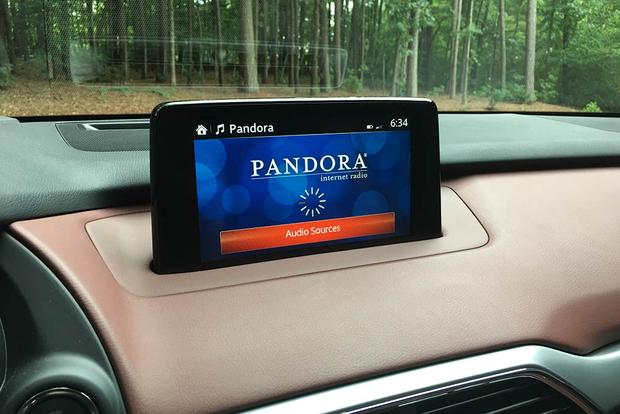 The 2016 Mazda CX-9 is a 3-row family SUV for those who'd rather not drive a 3-row family SUV. It's big without being lumbering to drive. It's attractive without sacrificing utility. And it generally makes it easier to transition to a family hauler from a fun-to-drive car.
Needless to say, then, that our Autotrader team was quite fond of the completely redesigned CX-9. Here are some of our thoughts after spending a week with Mazda's impressive new SUV.
A Superior SUV to Drive
In all the comments put forth by our testers, one impression was clear: The CX-9 is great to drive.
"The driving characteristics are what raise this so much higher than a Toyota Highlander, a Nissan Pathfinder or a Honda Pilot," said one test driver. The CX-9 demonstrates a level of precision and transmits a feeling of control to the driver that can't be matched in this segment. This SUV is agile, regardless of whether you're on a winding road that leads to a family ski spot or hitting a highway on-ramp with a little extra zing.
"This clearly is one of the best SUVs out there," noted another tester. "One specific impressive trait is how great it rides compared to the Pilot. By comparison, there's little to no body roll. It also feels more in control on rough roads and doesn't bounce around."
Perhaps another of our testers said it best: "This is a great vehicle if you want something that provides a third row but doesn't feel like a heavy SUV."
Surprising Performance, So-So Fuel Economy
The 2016 Mazda CX-9 is only available with a 2.5-liter turbocharged 4-cylinder paired to a 6-speed automatic transmission and front- or all-wheel drive. It produces 227 horsepower with regular fuel, but opting for premium results in a significant bump up to 250 hp. Ultimately, though, this engine's 310 lb-ft of torque remains the same regardless of the fuel, and its impressive kick is what you're likely to notice when driving around town or passing on the highway.
"The 4-cylinder turbo engine was a surprise to me," noted one of our testers. Just about every competitor in this segment relies on a V6 engine. "It moves this vehicle with ease and does well with acceleration."
Now, we did fall short of the Environmental Protection Agency's estimates of 21 miles per gallon in the city, 27 mpg on the highway and 23 mpg combined when equipped with all-wheel drive. However, additional miles traveled may result in better figures. For comparison, the V6-powered Pilot with all-wheel drive achieves 21 mpg combined, while the all-wheel-drive Highlander gets 20 mpg combined.
A Great Interior
"Mazda did a great job with the interior," wrote one of our testers. "The materials choices feel rich and look elegant."
Indeed, the CX-9's cabin is a clear step up from its predecessor in terms of quality, and it has a premium look and feel that its more utilitarian competitors can't match. The design is interesting without being over the top, while the high center console and low, sloping dash help the CX-9 disguise its SUV-ness further.
There were some mixed feelings elsewhere, however.
The seats were praised for being comfortable and offering commendable support, but the power driver's seat adjusts in only six directions (not counting lumbar adjustment) versus the usual eight. As a result, there were complaints that there was insufficient thigh support. Second-row space and comfort were praised, and although the third row isn't as adult-friendly as that of the Honda Pilot or the Dodge Durango, kids will nevertheless find enough space.
A Different Kind of Tech Interface
Like other Mazda models, the CX-9 comes with a tech interface that consists of a dash-mounted screen and a knob/button controller on the center console. Distinctively, that screen can be operated by touch but only when parked, which limits its effectiveness. It's also quite far away. The knob controller takes some time to get used to, and it isn't always logical in some of its commands.
"The infotainment system is the one area that slightly hurts this vehicle," one of our testers wrote.
Packed With Features
"I kept thinking that it would be missing features found in more expensive cars like the Acura MDX, but they were all there," noted one of our test drivers. Indeed, our all-wheel-drive CX-9 Signature model topped $45,000 but came loaded with items such as adaptive cruise control, lane-keep assist, a blind spot monitoring system, frontal-collision warning and automatic braking, LED headlights, a navigation system, a heads-up display, leather, retractable sunshades and a Bose premium sound system. Even the base CX-9 comes with an ample list of equipment.
"The CX-9 Signature provides all the current safety features that the current driver needs. Its heads-up display helps to highlight some of these safety features."
Our Take
Quite simply, if you're in the market for a 3-row family crossover, you need to check out the 2016 Mazda CX-9. It provides the practical elements you're likely seeking in a family vehicle, without looking or driving like the typical family vehicle. The CX-9 sets a new standard for how great an SUV can be.