Editor's note: You may want to read more of Autotrader's model vs. model comparison car reviews as well as the 2016 Mazda3 review and the 2016 Mazda CX-5 review.
If you're interested in a practical new car at a reasonable price, you might have the 2016 Mazda3 hatchback and the 2016 Mazda CX-5 on your shopping list. While it's true that these models aren't direct competitors — the CX-5 is a crossover, after all, while the Mazda3 is a compact car — they offer similar styling, equipment, pricing and practicality. Plus, both tout a sportier driving experience than most rivals. So what exactly is the difference between the Mazda3 and the CX-5? We've created a close comparison of both models in order to find out.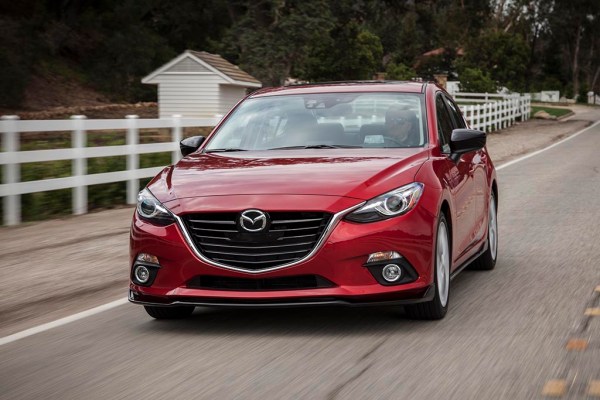 Exterior
On the outside, the most obvious difference between the CX-5 and the Mazda3 hatchback is ride height: Specifically, the CX-5 is taller than the Mazda3 on account of being an SUV. Get beyond that and you can see some strong similarities between the two cars, with both touting stylish character lines down either side, along with similar headlights, similar taillights and a similar overall profile. While nobody will ever mistake these two cars for one another, a quick glance proves that there's little doubt they come from the same family.
Interior
Inside, the CX-5 and Mazda3 also share some design — though there are some major differences between the two models. The most obvious difference is the infotainment system, which is integrated into the dashboard in the CX-5 and tacked on above the dashboard in the Mazda3. Beyond that, you'll notice a similar (though not identical) interior design from the front seats. In the back, you'll find that the Mazda3 offers a little more rear leg room than the CX-5 — which might be a surprise for drivers who expect an SUV to be larger by default — while the CX-5 offers more total cargo volume.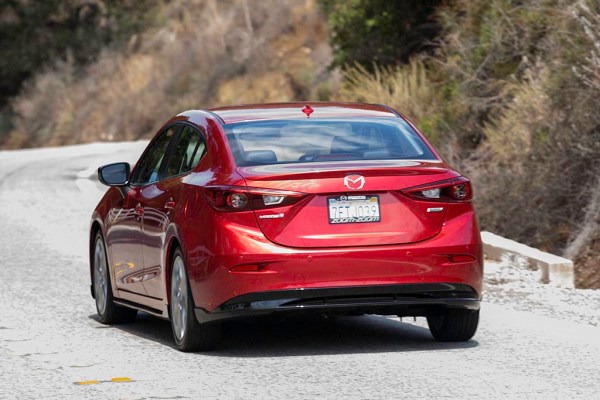 Mechanicals
Both the Mazda3 and the Mazda CX-5 offer identical engines. This means that base models use a 155-horsepower 2.0-liter 4-cylinder, while drivers looking for more power can upgrade to a 184-hp 2.5-liter 4-cylinder.
Not surprisingly, however, it's the Mazda3 that offers better gas mileage, touting up to 30 miles per gallon in the city and 41 mpg on the highway with the 2.0-liter powertrain (compared to 26 mpg city and 35 mpg hwy in the CX-5), or up to 28 mpg city and 39 mpg hwy with the 2.5-liter engine (compared to 26 mpg city and 33 mpg hwy in the CX-5). With that said, it's worth noting that only the CX-5 offers all-wheel drive, which can be an important benefit for drivers who often face challenging climates or traverse rough roads.
Features & Technology
Thanks to a series of updates for 2016, the CX-5 is now on par technologically with the Mazda3, which formerly held an advantage. This year, both models offer a wide range of the latest gadgets, including adaptive cruise control, rear cross-traffic alert, lane-departure warning and LED headlights.
For several years, both models have offered other cutting-edge features such as forward-collision warning, low-speed automatic braking, automatic high beams and automatic wipers. And then there's the usual smattering of luxury goodies, such as leather upholstery, heated front seats, dual-zone automatic climate control, a power sunroof and a Bose sound system. The result: These two models are virtually identical when it comes to features and equipment.
Driving Experience
On the road, there's no doubt that the Mazda3 offers a more connected, sharper driving experience with more improved handling and cornering capabilities than the CX-5. But that goes without saying, considering the CX-5's increased ride height and center of gravity. Still, it's worth noting that the CX-5 offers surprisingly good cornering capabilities for a small crossover. In fact, we rank it among the best on the market for drivers who are looking for a compact crossover with a fun side.
As for acceleration, a Mazda3 with the 2.0-liter engine offers only average performance, while a CX-5 with that powertrain is downright slow. Adding the 2.5-liter engine to either vehicle improves things dramatically. Ride quality is average with both models, while visibility is stronger in the CX-5 — especially to the rear, where the Mazda3 suffers due to its small back window.
Safety
The Mazda3 outperformed the CX-5 in government crash testing, earning a perfect 5-star rating (compared to the CX-5's 4-star score). Both models, however, earned the coveted Top Safety Pick+ rating from the non-profit Insurance Institute for Highway Safety.
As for safety features, recent updates to the CX-5 means that you'll find little separating these two models. For 2016, they're both on the cutting-edge of their segments, touting forward-collision warning, low-speed automatic braking, adaptive cruise control, lane-departure warning and rear cross-traffic alert. Indeed, you won't find much difference between the CX-5 and the Mazda3 — and that's a good thing.
Conclusions
If you've followed along so far, you've probably noticed a lot of similarities between the 2016 Mazda3 and the 2016 Mazda CX-5. After all, both models offer similar styling, equipment and safety features, and identical engines, with major differences coming only in gas mileage (where the Mazda3 has an advantage) and cargo space (where the CX-5 wins).
There is, however, one big difference: pricing. A base-level Mazda3 hatchback starts at $19,300 with shipping, while a base-level CX-5 is $22,600. That price difference expands as you move through the trim levels, with a top-end Mazda3 Grand Touring starting at around $26,500, compared to $32,200 for a CX-5 Grand Touring.
As a result, our advice is simple: Unless you really need the space, the ground clearance or the all-wheel drive, you should consider sticking with a Mazda3 over the larger, pricier CX-5. You'll save money up front and at the pump — and you'll get a better driving experience, too.