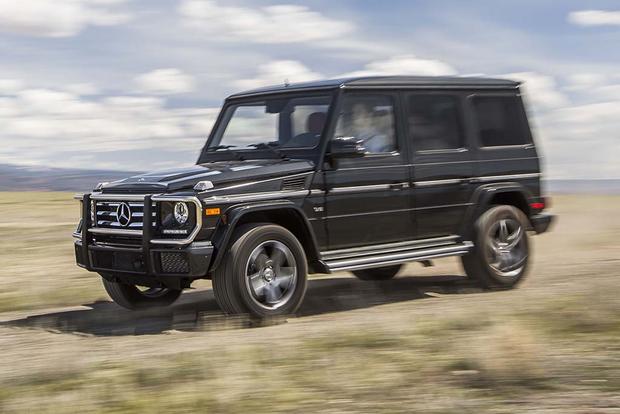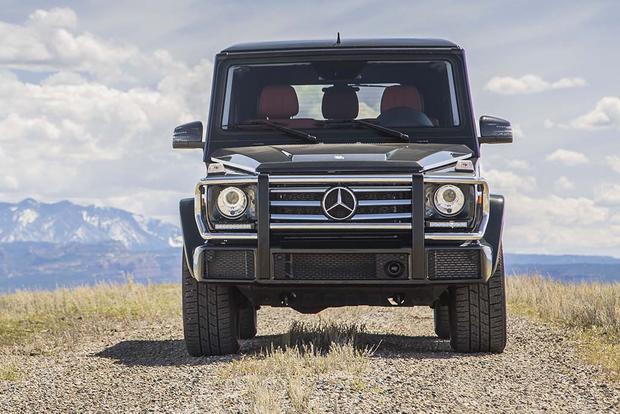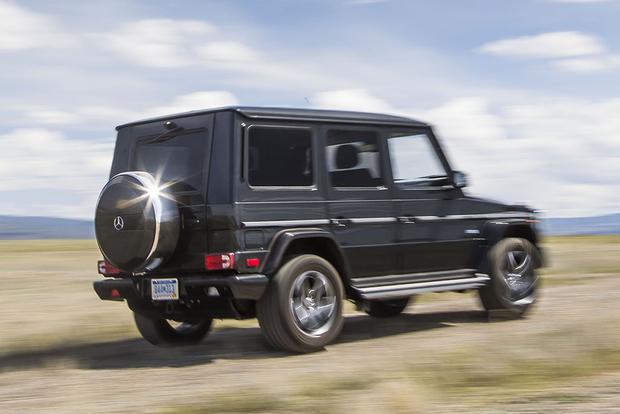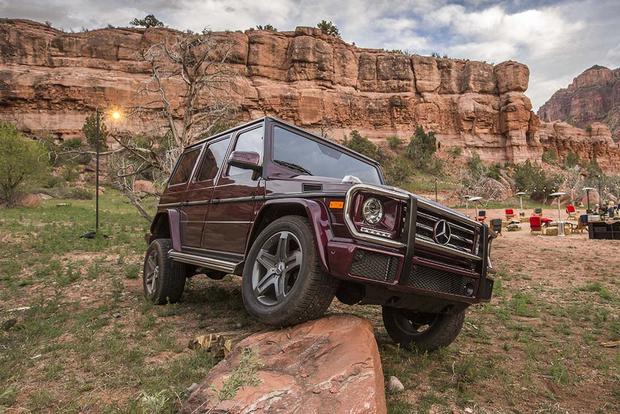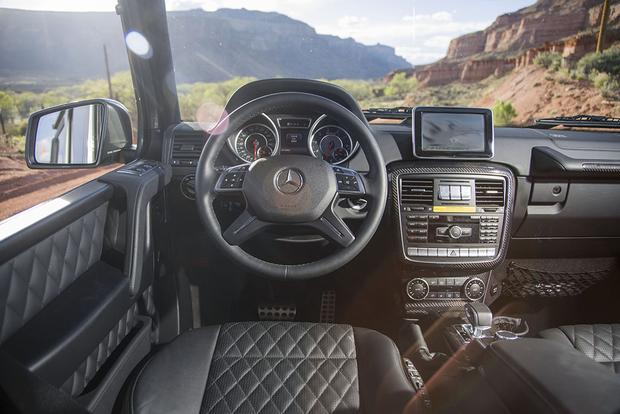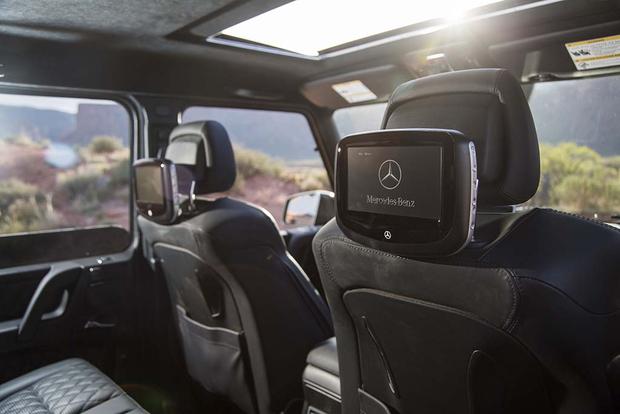 The 2016 Mercedes-Benz G-Class revels in its unapologetically square styling and brutal military chic. Equally at home in the Sahara Desert and the Arctic Circle, the G-Class has also pulled duty as protective transportation for a Pope (when it was nicknamed the Popemobile), and now it's famously owned by a few selfie-obsessed reality television stars. It's gone beyond mere utility to become part of modern culture.
Technically, this is a premium midsize SUV, employing old-school body-on-frame construction. It's sometimes known as the G-Wagen, because the G in the name refers to Gelandewagen, which is German for cross-country vehicle. Buying a G-Class means dropping six figures on a glorified German Jeep that debuted during the Carter administration, which isn't necessarily a bad idea.
It started out as a Cold-War-era German military vehicle, tough and functional. The first year of civilian production was 1979, and the current generation hit the streets in 1990. It's recently received the best engines Mercedes-Benz offers, including the glorious 5.5-liter twin-turbocharged 536-horsepower V8 powering the AMG G65 and the V12 version.
Outwardly, it hasn't changed much, nor has the all-wheel-drive hardware. G-Wagen fans will say Mercedes-Benz had it right from day one, and any shortcomings have been addressed by regular powertrain and interior updates.
What's New for 2016?
A new, even more muscular AMG version joins the lineup, the V12-powered G65. The G550 has a new 4.0-liter twin-turbo V8 and sees some exterior styling revisions, plus the option of an adjustable suspension (a first for the G-Class). All versions have new instrument clusters.
What We Like
World-class engines; go-anywhere skills; steeped in tradition; plenty of modern technology
What We Don't
Decades-old platform; not great at taking corners; unsophisticated ride quality
How Much?
$120,825-$218,825
Fuel Economy
All G-Wagens have a 7-speed automatic transmission, along with a sophisticated 4-wheel-drive system with low-range gearing and electronically locking front, center and rear differentials.
The G550 employs a twin-turbocharged 4.0-liter V8 engine rated at 416 hp and 450 lb-ft of torque. It has a stop/start feature to save gas, but the Environmental Protection Agency still estimates fuel consumption at 13 miles per gallon in the city, 14 mpg on the highway and 13 mpg combined.
The AMG G63 sports a twin-turbo 5.5-liter V8 developing a mighty 536 hp and 560 lb-ft of torque. Consumption is 12 mpg city/14 mpg hwy and 13 mpg combined despite also having an auto stop/start feature.
The new AMG G65 enjoys a monstrous 621 hp and 738 lb-ft of torque from its twin-turbo 6.0-liter V12. Predictably, fuel consumption is barely in the double digits at 11 mpg city/13 mpg hwy and 12 mpg combined.
Standard Features & Options
The 2016 Mercedes-Benz G-Class comes in G550, AMG G63 and AMG G65 versions.
The G550 ($120,825) comes with a rich list of standard items, including alloy wheels, xenon headlights, LED lighting accents, a sunroof, front and rear parking sensors, a rearview camera, adaptive cruise control, a blind spot monitoring system, keyless entry and starting, heated and ventilated 10-way power front seats with driver's-side memory settings, heated rear outer seats, leather upholstery, two 12-volt outlets in the cabin and one 115-volt outlet in the cargo area, dual-zone automatic climate control, a Harman Kardon 12-speaker surround-sound system and the COMAND infotainment system with navigation, a USB port, an-SD card slot, auxiliary audio input and a 7-inch central display.
The AMG G63 ($140,825) adds 20-in wheels, an AMG-tuned suspension, a sport exhaust, special styling cues and designo leather upholstery.
The AMG G65 ($218,825) brings 21-in wheels and diamond-patterned stitching for the leather, as well as a huge engine.
There aren't many options. Highlights are a rear-passenger entertainment system, a stainless-steel brush guard, carbon-fiber trim, faux-suede headliner and a heated steering wheel.
Cargo space amounts to 45.2 cu ft. with the rear seats up and 79.5 cu ft. when they're folded down. Every G-Class has a towing capacity of 7,000 pounds.
Safety
The G-Class comes with standard stability control, 4-wheel anti-lock disc brakes and four airbags (two in the front and two full-length side-curtain airbags).
Standard electronic safety aids include a blind spot monitoring system, a rearview camera and the mbrace2 telematics system featuring automatic collision reporting, a stolen vehicle locator, an SOS button and remote door locking.
The G-Class has not been crash-tested by any agencies in the U.S.
Behind the Wheel
Believe it or not, the G-Class feels higher than it looks. Its tall and narrow shape is amplified once you're behind the wheel. If there's a tight corner ahead, take it slow.
People generally don't buy a G-Class for the way it drives, but the fortunate few who do will be pleasantly surprised by its highway cruising talents, limited only by terrible aerodynamics and the subsequent wind noise, but that's the trade-off for such generous headroom. It's even more adept off the road, as long as 22-in chrome rims with low-profile street tires haven't been installed (you wouldn't do that, would you?).
Other Cars to Consider
2016 BMW X5 M -- The G-Class range now has the distinction of having more AMG variants than regular versions, so consider the high-performance 567-hp X5 M: crazy fast and super capable.
2016 Infiniti QX80 -- Based on the excellent overseas Nissan Patrol SUV, the QX is a legitimate off-roader, and its styling rivals the G-Class for sheer audacity. It also costs tens of thousands of dollars less.
2016 Land Rover Range Rover -- The current generation of Range Rover is lighter than before, so it can run circles around the hefty G-Wagen.
2016 Land Rover Range Rover Sport SVR -- As an alternative to an AMG G-Class, the 550-hp RRS SVR is sumptuous, civilized, swift and spine-tingling.
2016 Lexus LX 570 -- Anyone with a penchant for old-school luxury SUVs should check out the LX. It's based on the venerable Toyota Land Cruiser and also has dismal fuel economy.
Used Mercedes-Benz G-Class -- Since the G-Class' current platform dates back to 1990, you could pick up a used model and save a bundle while still enjoying the same styling and driving character.
Autotrader's Advice
The less-expensive G550 delivers a reasonably competent drive (especially now that it can come with an adjustable suspension), and its V8 is surprisingly responsive. If you're seriously considering a G-Class, then there's no doubt your budget is considerable. In which case, why not go for the newest V12-powered G65? It's the status symbol among status symbols.