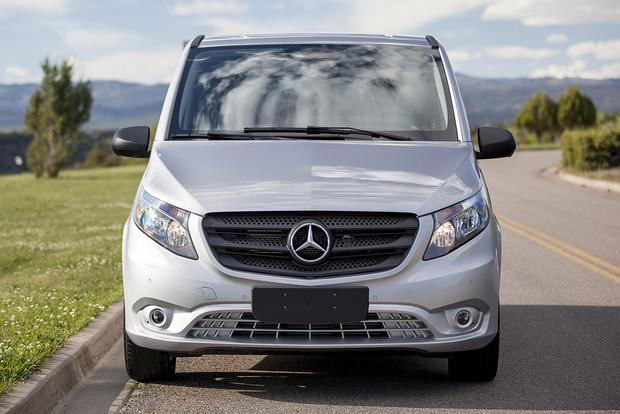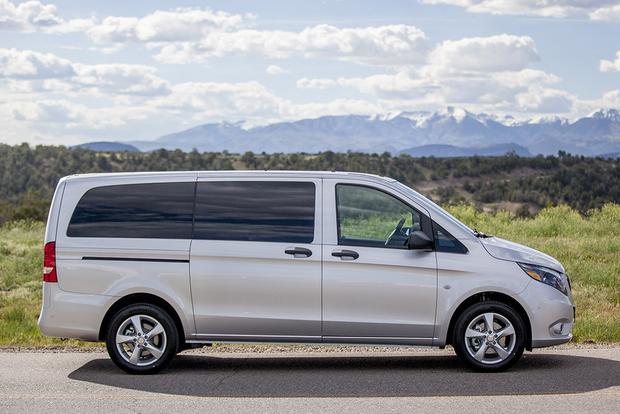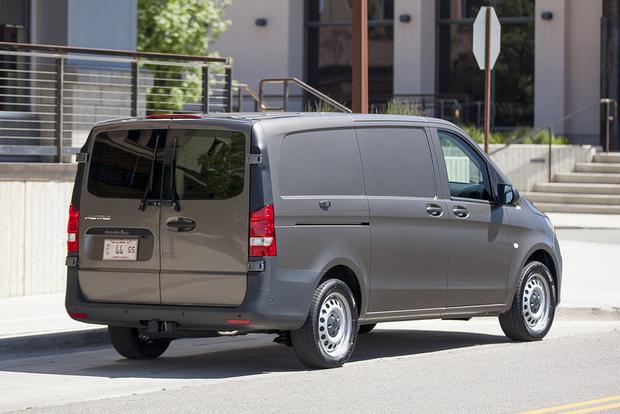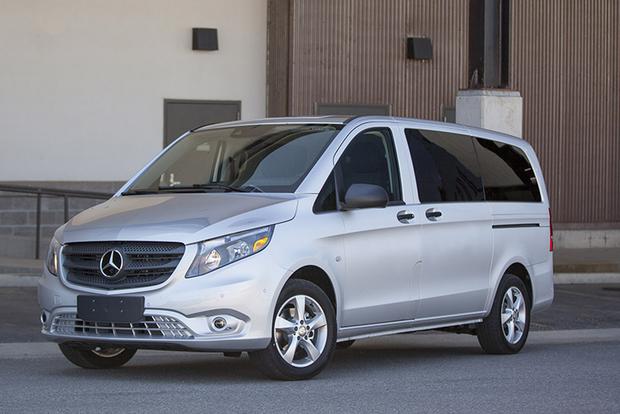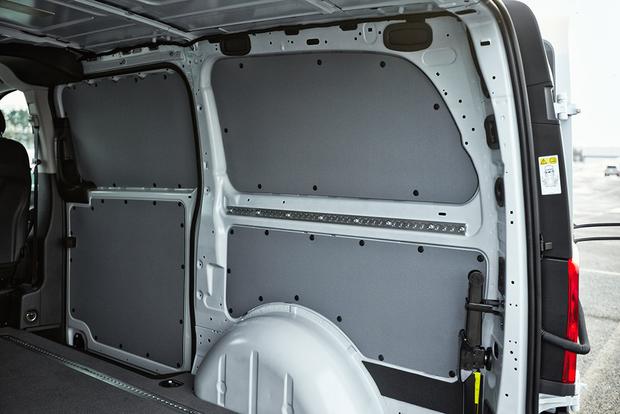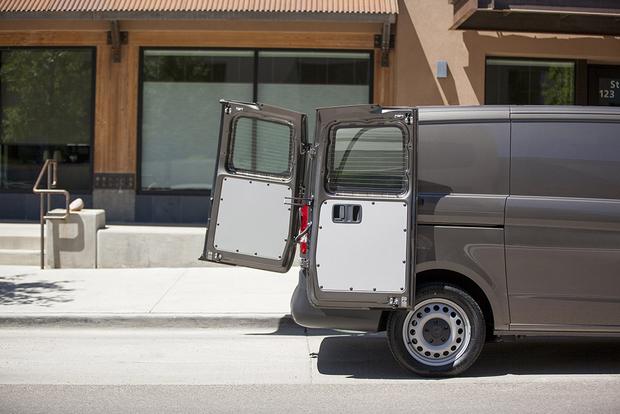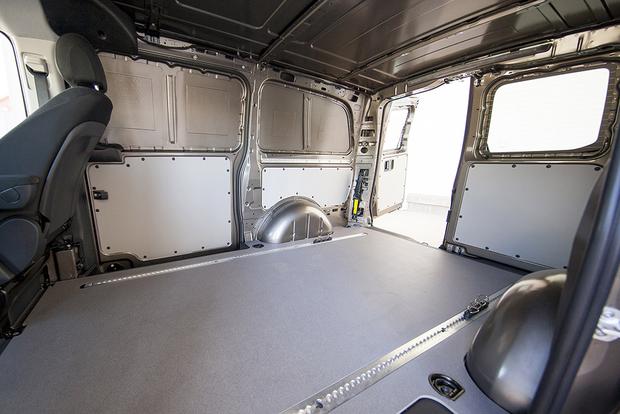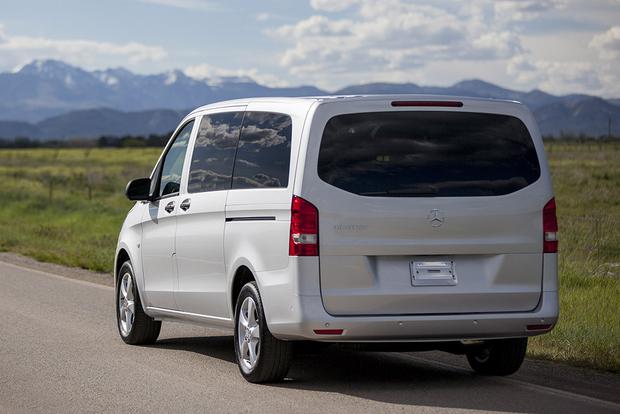 The 2016 Mercedes-Benz Metris shows us the other side of the 3-pointed star -- the commercial side. It doesn't have the glamour, the fine leather or the sleek looks, but it keeps the wheels of industry turning. In Europe, Mercedes-Benz makes highly respected trucks -- referred to in the United States as tractor units for semis. It also builds commercial vans, the large Sprinter, for example, which is available stateside.
Now the company has launched the Metris, a midsize commercial van based on a platform that's been used in Europe for a while. It's smaller than the Sprinter but larger than, say, the Ford Transit Connect. It will carry a considerable payload or, in the case of the passenger version, eight people, yet it can still tackle tight city streets.
Mercedes-Benz keeps things simple here. There are no length or height choices, and there's only one engine with one transmission.
What's New for 2016?
The Metris is all-new for 2016.
What We Like
Useful dimensions; drives more like a crossover than a van
What We Don't
No option for all-wheel drive or a diesel engine; no option for a power tailgate in the passenger version
How Much?
$29,875-$33,425
Fuel Economy
A turbocharged 2.0-liter 4-cylinder makes 208 horsepower and 258 lb-ft of torque. It drives the rear wheels through a 7-speed automatic transmission. That's not a massive amount of power, but should be perfectly adequate for making deliveries around the city and suburbs, where a Metris will probably spend most of its time. Mercedes-Benz recommends using 91-octane gas for optimum efficiency, but 87-octane should also be fine. Maximum towing capacity is a useful 5,000 pounds.
The Environmental Protection Agency has fuel consumption figures for the passenger version only, which are 20 miles per gallon in the city, 23 mpg on the highway and 22 mpg combined.
It's too soon to work out the total cost of ownership or residual values, but the larger Sprinter was recognized by the Automotive Lease Guide (ALG) as having the highest resale value in its class. So Mercedes-Benz knows how to make vans attractive to potential customers. Another part of that attraction is quick turnarounds on servicing to make sure the vehicle isn't sitting in the shop for too long. Service intervals are 15,000 miles.
Standard Features & Options
The 2016 Mercedes-Benz Metris comes in Cargo and Passenger body styles.
Cargo ($29,875) comes with a wooden load-space floor as standard, which helps keep the cabin quiet even when the van is empty. Lashing rails are part of an optional cargo-protection package, though. There's a standard-issue sliding side door on the passenger side (a sliding door on the driver's side is optional) and a pair of "barn" doors (that open up to 270 degrees) for access to the cargo area.
Passenger ($33,425) is the version with the extra windows and three rows of seating. It can carry up to seven occupants. It offers two sliding side doors and a pair of 180-degree rear doors as standard, with the option of a tailgate. The side doors can be powered, but a power tailgate is not available. It's possible to remove the second and third rows of seats, if really necessary. But they are fairly heavy.
Both models have Bluetooth and an infotainment system with a 5.8-inch color screen. An optional Driver Comfort package features plusher seats with lumbar support. Satellite navigation is also available in both models, along with a self-parking function that handles parallel and perpendicular spaces.
Safety
Six airbags are standard and the side airbags in the passenger version are extended to cover the van's full length. There are also some safety features that are typical of Mercedes-Benz, such as driver-attention assist, load-adaptive stability control and crosswind assist. This last item is part of the stability control system that can brake individual wheels to prevent the van from being blown off course. It's beautifully effective.
A rearview camera, lane-keep assist, a blind spot monitoring system and collision-prevention assist are all on the options list.
Behind the Wheel
The Metris benefits from well-considered dimensions. It's 202.4 inches long, 88.3 inches wide (including mirrors) and 75.2 inches tall. This makes it suitable to park in garages and it's highly maneuverable, thanks in part to a relatively small turning circle of 38.7 feet from wall to wall. The cargo model's suspension is tuned a little stiffer than the passenger version, in anticipation of taking heavy loads, but it's still completely comfortable.
Speaking of loads, the Metris has a gross vehicle weight rating (GVWR) of 6,724 pounds. Ultimately, the amount of cargo space depends on how the van is equipped. Many vans are adapted for specific uses, or upfitted, by specialist companies. But maximum cargo volume is 186 cu ft., and the total payload is 2,502 pounds in the cargo model or 1,874 pounds for the passenger version.
Not only can the Metris appeal to the business owner who writes the check, it will also please those who drive it every working day. It feels as civilized as a crossover. The driver's seat has lateral support cushioning for the thighs and the lower torso, armrests are standard for the front chairs and all the seats are covered in a tough-looking fabric that's still fairly easy on the eye.
The driver's seat is set close to the front wheels, so there's satisfying, responsive feel to steering inputs. The wheel itself only adjusts for height, but finding a comfortable driving position is quick and easy. The automatic transmission, which goes about its business in the smoothly subtle way worthy of the Mercedes-Benz badge, has paddle shifters mounted just under the steering wheel. The dash looks respectable, but certainly nothing along the sophisticated lines of the company's luxury cars. Then again, this is a commercial vehicle.
Some people might be wondering if the passenger version could function as a minivan. It's not ideal and not specced up to the family friendly equipment levels found in something like the 2016 Honda Odyssey.
Other Cars to Consider
2016 Ford Transit -- The Metris has a lock on midsize vans -- everything else is either bigger or smaller. The fairly new Transit is one larger alternative.
2016 Ford Transit Connect -- The Transit Connect is great if you want to go smaller. It will still take 1,600 pounds and offers up to 128.6 cu ft. of cargo space.
2016 Nissan NV200 -- This Nissan's maximum payload is 1,480 pounds and cargo space is 122.7 cu ft., but its fuel economy is a high point.
2016 Ram ProMaster City -- The ProMaster City has an impressive load capability of 1,883 pounds, plus 101.7 cu ft. of cargo volume.
Used Mercedes-Benz Sprinter -- Like the Transit, the Sprinter is larger and therefore better suited to different kinds of work, but it's a great van.
Autotrader's Advice
If either version fits your wish list, don't hesitate.