Car Comparison
2016 Mercedes-Benz Metris vs. 2016 Mercedes-Benz Sprinter: What's the Difference?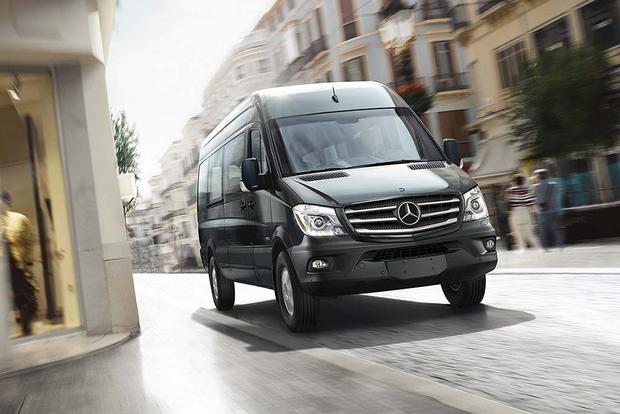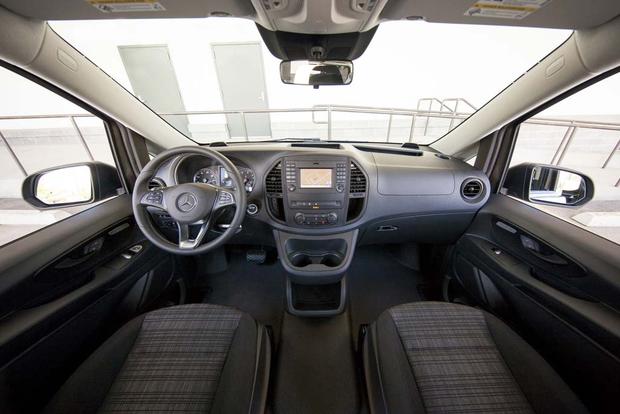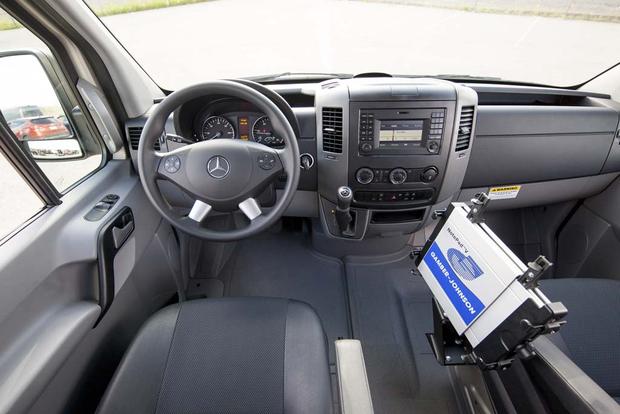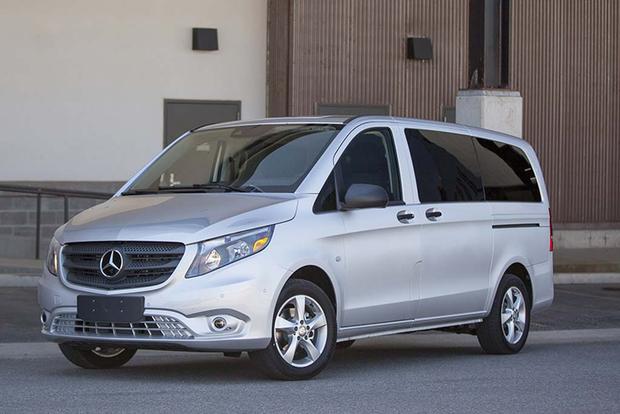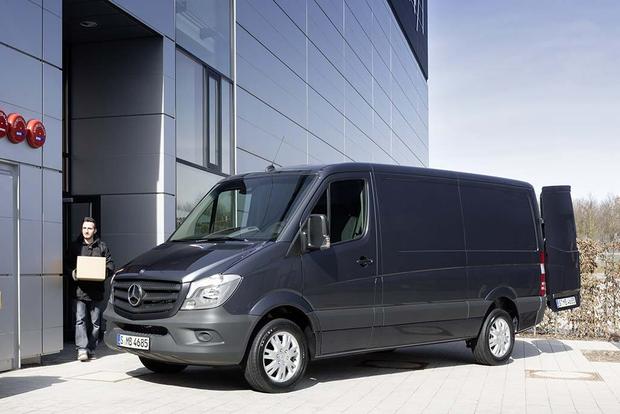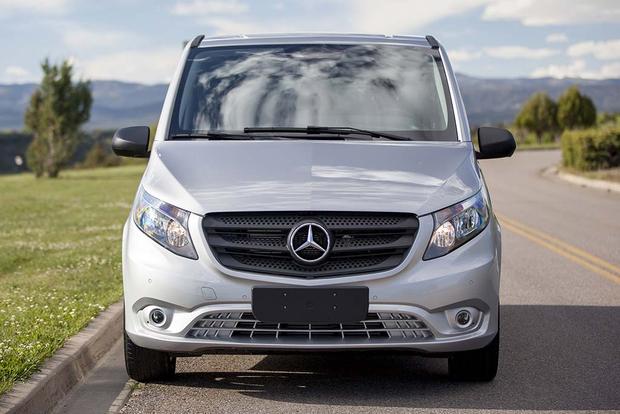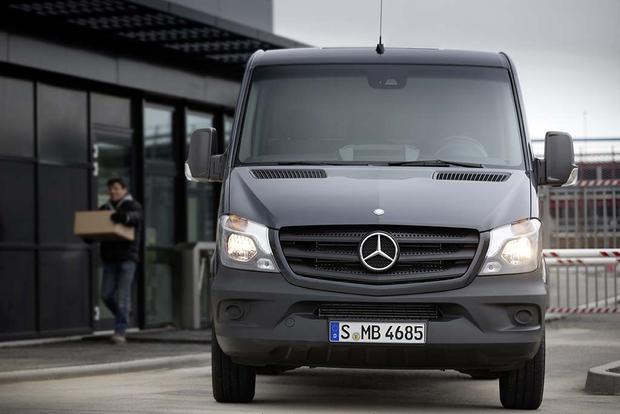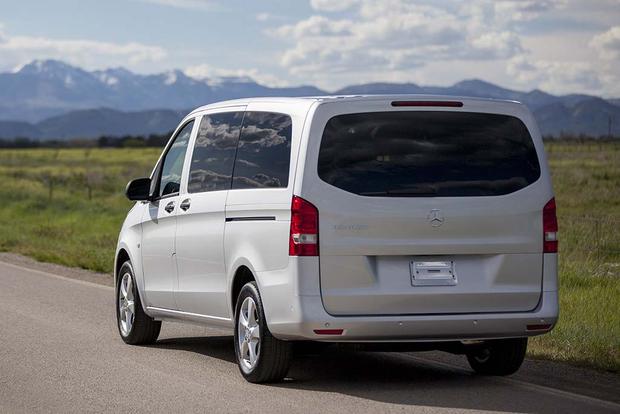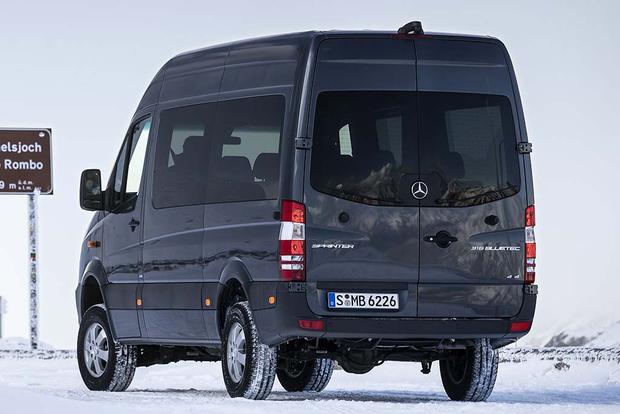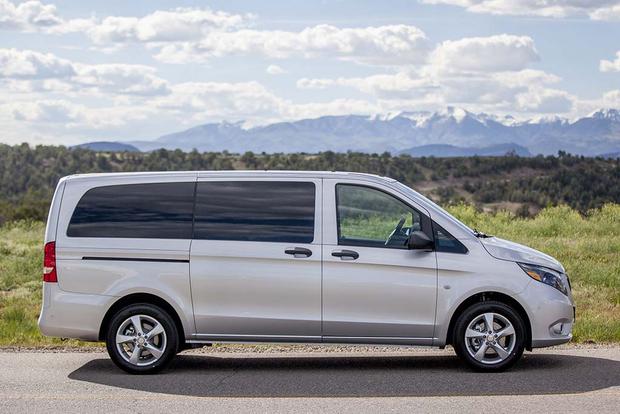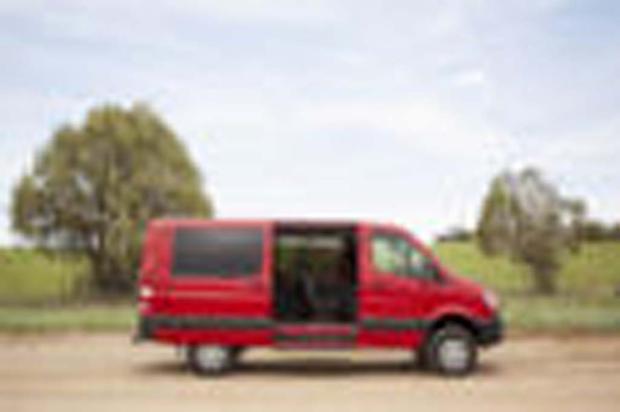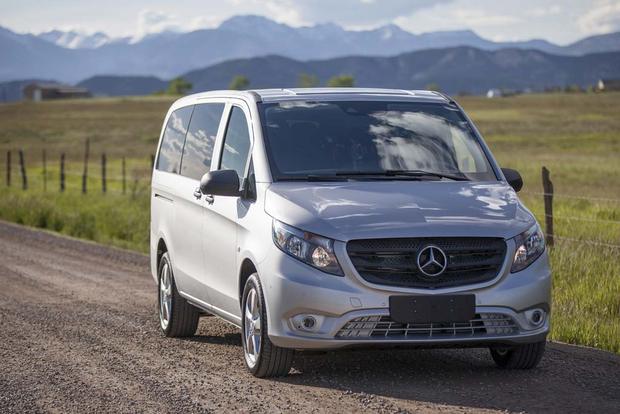 If you haven't spent much time shopping for full-size vans, you might be surprised to learn that Mercedes-Benz offers two: the Metris and the Sprinter. While the Sprinter has built up some recognition after several years on the market, the Metris is brand-new for the 2016 model year. What exactly separates these two vans? And which one should you get? We've created a close comparison between the 2016 Mercedes-Benz Metris and the 2016 Mercedes-Benz Sprinter in order to help you answer those questions.
Exterior
Although the Metris and Sprinter share a similar look, the most obvious difference between the two vans becomes clear the moment you first see them: The Sprinter is a lot bigger than the Metris. Not only does the Sprinter offer a taller roof for additional cargo and passengers, but even the regular-length Sprinter has a longer overall length of around 233 inches to the Metris' 202 inches. That gives the Sprinter more room for cargo and passengers. Unlike the Metris, the Sprinter offers long-wheelbase and high-roof versions for even more cargo-carrying and passenger-carrying capabilities.
Interior
Given their exterior differences, it's no surprise that the Sprinter and the Metris also offer major variations on the inside. In the passenger model, it's all about seating capacity: While a Sprinter can seat up to 12 passengers, the Metris can only seat up to eight. Opt for the cargo version, and it's all about volume. While the Sprinter boasts an impressive 320 cu ft. of cargo capacity with its standard wheelbase and roof or 590 cu ft. with its long wheelbase and high roof, the Metris offers only 186 cu ft. -- not a small figure, but hardly on the same level as its big brother.
As for dashboard and control differences, both the Metris and Sprinter have fairly basic cabins for Mercedes-Benz models. The Metris's steering wheel, gauge cluster and driving position gives it a much more carlike feel than the almost buslike seating position and control layout of the Sprinter.
Mechanicals
The Metris is offered with only one engine: a 208-horsepower 2.0-liter turbocharged 4-cylinder, which is mated to a 7-speed automatic transmission and rear-wheel drive. At the moment, the van doesn't offer a diesel-engine option or all-wheel drive.
Meanwhile, the Sprinter offers only diesel powertrains. Base models use a 161-hp 2.1-liter turbodiesel 4-cylinder, which is also mated to a 7-speed automatic and mandatory rear-wheel drive. Drivers looking for more power or increased capabilities can upgrade to a 188-hp 3.0-liter turbodiesel 6-cylinder, which is mated to a 5-speed automatic and offers either rear-wheel drive or all-wheel drive.
As for capabilities, the Sprinter easily outdoes its smaller Metris stablemate. Not only does it offer a larger seating capacity and more cargo room, as we've described above, but its payload capacity is around 3,500 pounds, or roughly 2,500 pounds more than the Metris. Interestingly, towing capacity for both models is around 5,000 pounds, regardless of configuration.
Features & Technology
When it comes to equipment, both the Metris and the Sprinter offer a surprisingly long list of features -- more than you'd usually expect to see in a cargo van. Both vans offer an available blind spot monitoring system, for instance, along with forward-collision prevention assist, lane-keep assist and automatic wipers. There's also an available parallel-parking assist feature, along with an available backup camera, cruise control and heated seats. In all, both vans deliver a surprisingly plush experience if you check a few boxes on the options list.
As for differences, however, you won't find many. Virtually everything available on the Metris is also offered on the Sprinter, and vice versa.
Driving Experience
Climb behind the wheel of a Metris, and you'll feel a lot more like you're driving a minivan than a cargo van. There's a passenger-car engine and transmission, a carlike driving position and surprisingly carlike handling and cornering traits that distinguish the van from other cargo models. With that said, we wouldn't necessarily consider this van as city-friendly as models like the RAM ProMaster City or the Ford Transit Connect, as it's still bigger than those vehicles. As commercial vans go, it's surprisingly adept and maneuverable.
The Sprinter is a whole different story. Even in standard wheelbase trim with the normal roof, a Sprinter feels a bit ponderous and the more size you add, the more that feeling increases. An extended-length Sprinter with the 170-in wheelbase isn't something you'll want to drive around unless you've had serious training. The cumbersome driving feel is only enhanced by the Sprinter's seating position, which makes it feel like you're driving a bus with a 3-pointed star on the hood.
Safety
Due to their status as full-size vans, the Sprinter and Metris have not been crash-tested by the federal government's National Highway Traffic Safety Administration or the nonprofit Insurance Institute for Highway Safety. However, we're impressed with the long list of safety features available on these models, as each one boasts standard anti-lock brakes and traction control, with options ranging from side-curtain airbags to lane-keep assist, forward-collision prevention assist, parallel-parking assist, parking sensors, automatic high beams and automatic wipers. While you probably don't normally associate safe with cargo van, these models might change your mind.
Conclusions
Not only do the 2016 Mercedes-Benz Metris and the 2016 Mercedes-Benz Sprinter offer some major size and capability differences, they also tout a huge price difference. A Metris cargo van starts around $30,000, while the Sprinter is closer to $37,500; passenger versions of both models start at $33,500 and $41,800, respectively. As a result, our advice is simple: You shouldn't spend the extra money for the Sprinter, or deal with its more challenging driving dynamics, unless you seriously need the extra space. If you do seriously need the extra space, you'll find that the Metris won't be able to seriously compete with the Sprinter, its huge cargo area and its variety of size configurations.
Find a Mercedes-Benz Metris for sale