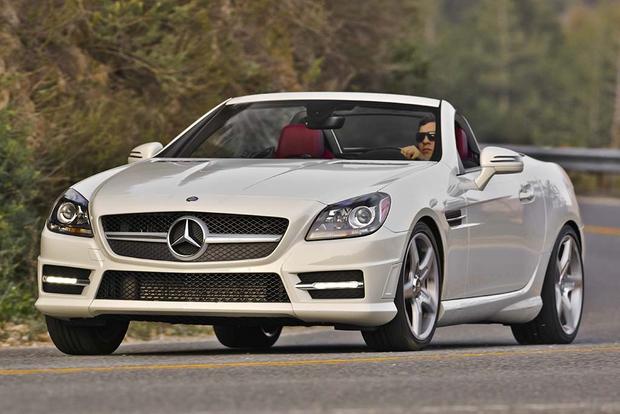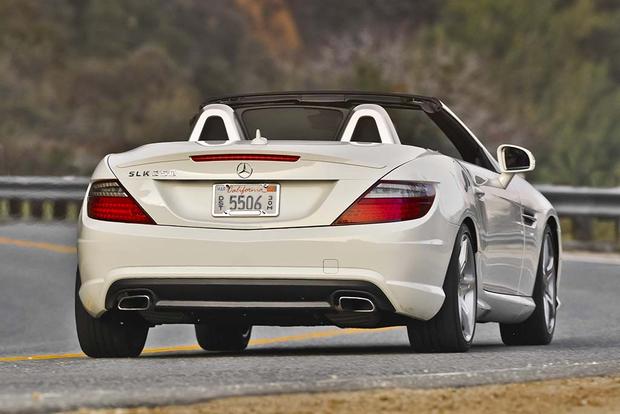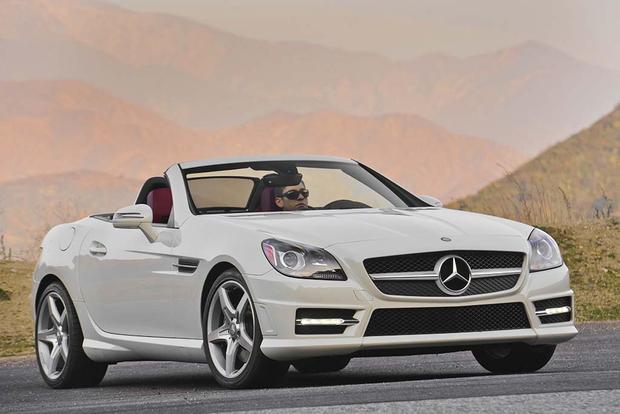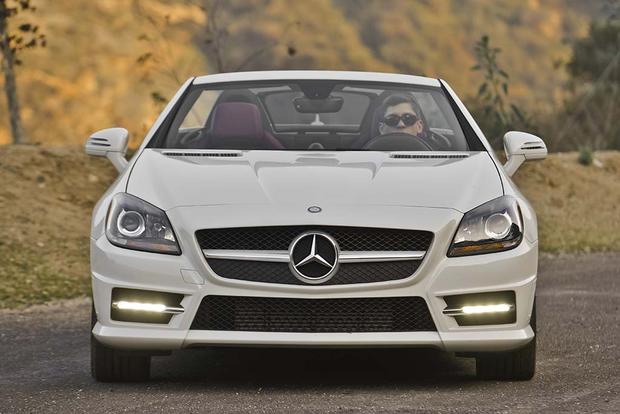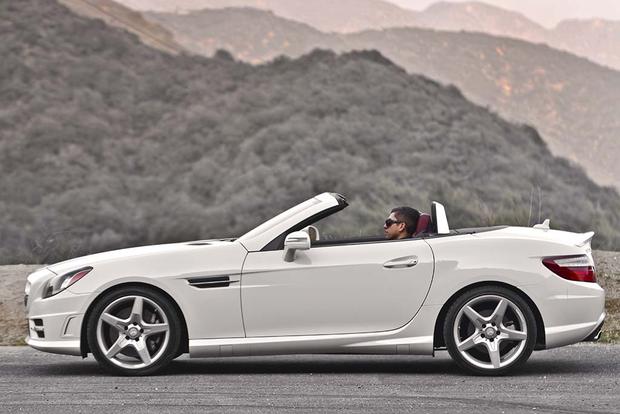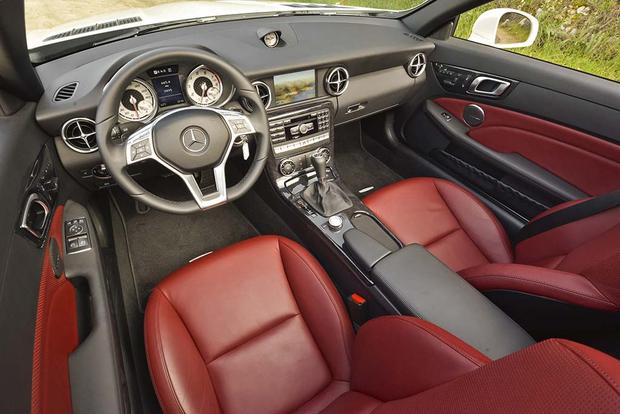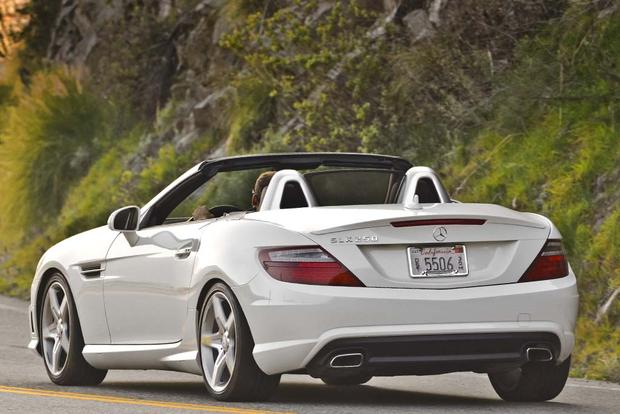 The 2016 Mercedes-Benz SLK-Class represents a high point for this compact roadster with the retractable hardtop. Over the years and generations (this is the third, soon to be refreshed and renamed for the 2017 model year), it has evolved from its days of being known as the first roadster to have this type of folding roof. It's now more distinct for using a supercharger (the "K" in SLK stands for Kompressor, which is German for supercharger) and feeling more like a sedan than a sports car.
Turbocharging is now the chosen method of boosting an engine, and the car's reflexes have been sharpened up, although they're not even close to the point of discomfort. The SLK has become an ideal luxury hardtop convertible, as long as you don't mind driving a compact car instead of something like the relatively imposing SL, which is the only real compromise the SLK demands.
What's New for 2016?
A fresh model comes with a fresh engine: The SLK300 has a turbocharged 4-cylinder under its long hood. It comes with a 9-speed automatic transmission (the manual transmission has been ditched for this year). There's been some reshuffling of options packages, and the AMG version takes on the new division name of Mercedes-AMG. See the 2016 Mercedes-Benz SLK-Class models for sale near you
What We Like
Marvelous retractable hardtop; great engines; unruffled high-speed demeanor; capable handling; high-quality interior; great fuel economy; Mercedes' MAGIC SKY CONTROL
What We Don't
Limited occupant space, even for a compact; a lightly used SL is about the same price
How Much?
$47,925-$73,525
Fuel Economy
A new 9-speed automatic transmission is standard in the non-AMG variants. Every SLK uses rear-wheel drive.
The SLK300 features a turbocharged 2.0-liter inline 4-cylinder engine making 241 horsepower and 273 lb-ft of torque. The Environmental Protection Agency estimates fuel consumption at 25 miles per gallon in the city, 32 mpg on the highway and 28 mpg combined.
The SLK350 sports a naturally aspirated (no turbo or supercharger) 3.5-liter V6 rated at 302 hp and 273 lb-ft of torque. It achieves 21 mpg city/29 mpg hwy/24 mpg combined.
The AMG SLK55 has a 5.5-liter V8 that develops 415 hp and 398 lb-ft of torque. On the other side of that performance equation is a perfectly bearable 19 mpg city/28 mpg hwy/22 mpg combined.
Standard Features & Options
The 2016 Mercedes-Benz SLK-Class is available in SLK300, SLK350 and SLK55 versions.
The SLK300 ($47,925) comes with 17-inch alloy wheels, LED running lights, power-folding heated mirrors, rain-sensing wipers, a power-adjustable tilt-telescopic steering wheel, leatherette upholstery (called MB-Tex; sounds suspect, but it's actually OK), 8-way power seats with memory settings, Bluetooth and an infotainment system with a 5.8-in display, eight speakers, HD Radio and a USB port.
Options include an 11-speaker Harman Kardon surround-sound system, AIRSCARF (vents set into the seats at neck level that emit warm air), heated seats, remote roof operation and keyless entry/ignition.
The SLK350 ($60,125) has 18-in wheels and most of what is optional in the SLK300.
The AMG SLK55 ($73,525) has its own transmission, chassis, suspension and brake upgrades to complement its powerful V8 engine. It also has torque vectoring by brake (for better handling), bi-xenon headlights, leather upholstery and a sport steering wheel.
There's an even more track-focused suspension option for the AMG version that also adds a limited-slip rear differential and a different design of 18-in wheels.
All three models can be optioned with active safety features such as adaptive cruise control and lane-keeping assist, although blind spot monitoring is part of a separate bundle, Premium 2, which also features navigation and dual-zone climate control. Premium 3 has those first two safety items we mentioned, plus an automatic parallel-parking system, parking sensors at each end and adaptive dampers.
A great extra feature is MAGIC SKY CONTROL, which makes the glass panel in the roof darker or lighter with the touch of a button.
Total trunk space is an adequate 10.1 cu ft., which shrinks to 6.4 cu ft. when the roof is stowed away.
Safety
The SLK-Class comes with standard stability control, 4-wheel anti-lock disc brakes, 10 airbags, active headrests, aluminum roll bars behind the headrests and a driver-drowsiness monitor. An array of computer-driven safety systems is available, but getting them all means buying two packages instead of one.
Each SLK also comes with the mbrace2 safety telematics suite, which connects the car, a computer and/or a compatible smartphone to both cloud-based and GPS technology for faster emergency-response times.
Like many luxury vehicles, the SLK has not been subjected to crash tests by any American agencies.
Behind the Wheel
At speed, the SLK could almost pass for an SL, as it's so stable and composed. And the cabin materials are just as upscale. Unlike its big brother, the SLK feels at home on twisty roads too, attacking corners with an enthusiasm not traditionally associated with the 3-pointed star.
Since the SLK350's V6 is also found in the E-Class luxury sedan, it's more than enough for something this size. The acceleration is strapping at virtually any speed.
The AMG version's big V8 in the little SLK is a recipe for giant thrills, accompanied by a stirring exhaust note. For the lucky few who upgrade to the SLK55, this insane rush of power will never get old.
On rough pavement, the SLK's short wheelbase can't reach maximum levels of comfort, but structural rigidity is exemplary, so the top can come down without any worry about shakes and rattles. Mercedes-Benz also has decades of experience with convertible aerodynamics, so you can count on minimal wind buffeting. But if you keep the top up, the SLK turns into a luxury cruiser, permitting normal conversation even when the speedometer is at the higher end of the dial.
Other Cars to Consider
2016 BMW Z4 -- As a compact hardtop roadster, the Z4 is really the SLK's only direct competitor. But it's a formidable one, featuring smooth turbocharged engines.
2016 Porsche Boxster -- The Boxster uses a vinyl soft-top, so it lacks the SLK's serene top-up character. But serenity is hardly the point of a Porsche. What the Boxster concedes in refinement, it reclaims in pure driving pleasure. It's also about to be updated substantially for the 2017 model year.
Used Mercedes-Benz SL-Class -- Along with the company's big luxury sedans, the SL-Class is the car that really means "Mercedes-Benz." It's gone beyond class and status symbolism to become an icon.
Autotrader's Advice
If fuel consumption is a serious consideration, the SLK300 is still lively enough while returning 28 mpg on average. But why not make the most of the SLK's small dimensions and relatively light weight and go for the blistering AMG version? It isn't even that thirsty. Find a Mercedes-Benz SLK-Class for sale