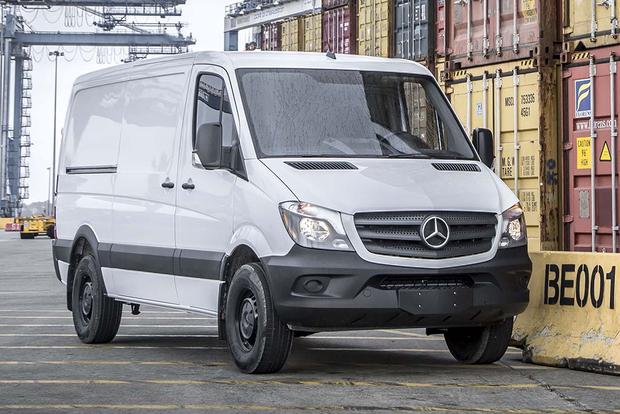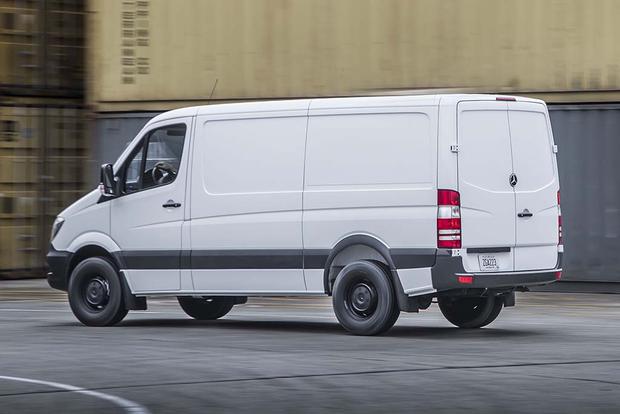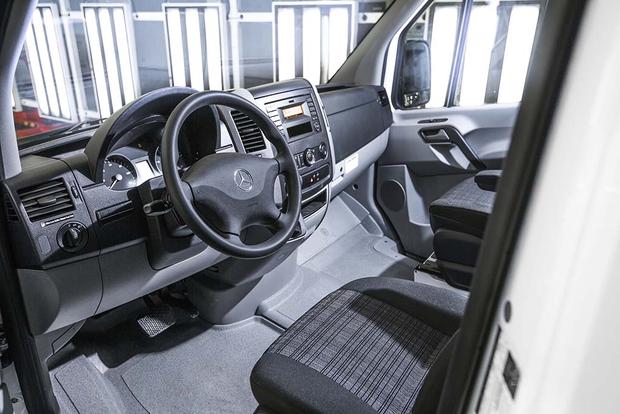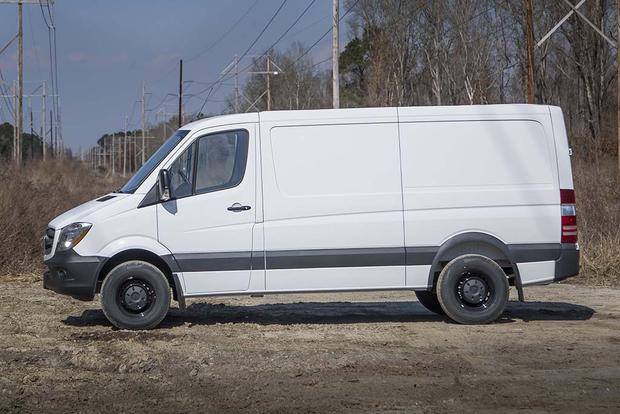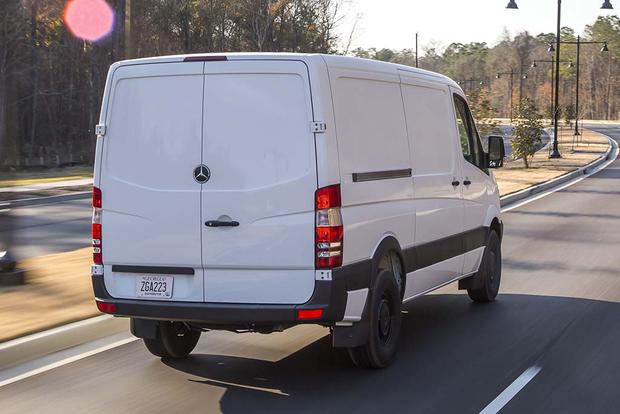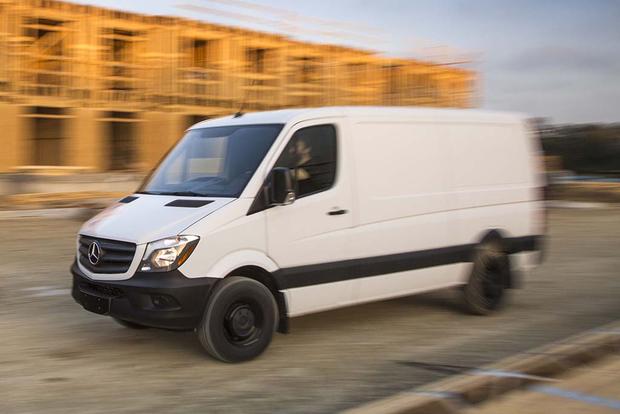 If you're looking for information on a newer Mercedes-Benz Sprinter, we've published an updated review: 2018 Mercedes-Benz Sprinter Review
The 2016 Mercedes-Benz Sprinter bears out the wisdom that you get what you pay for. Yes, it's initially a little more expensive than other new full-size vans, but that price includes quality, capability, engineering and equipment. For example, nothing else in this class has Crosswind Assist, a special feature of the stability control system that can brake individual wheels to prevent the van from being blown off course. We've tried it, and it works.
The Sprinter also has a choice of strong diesel engines. Bear in mind that the Europeans (especially the Germans) have spent decades refining their diesel technology. An optional all-wheel-drive system comes with a raised off-road suspension and optional low-range gearing. Independent agencies have given the Sprinter awards for best fleet value and named it as having the best resale value in its class.
Another Sprinter strength is its ability for customization. According to Mercedes-Benz, there are more than 80 preferred upfitters in the United States with the company's seal of approval, and 75 percent of Sprinters are delivered with modifications from these suppliers.
Mercedes-Benz excels at far more than making cars and crossovers.
What's New for 2016?
New regulations have resulted in the Sprinter gaining front-side airbags and front side-curtain airbags as standard in all 2500 models and 3500 models with the gross vehicle weight rating of 9,990 pounds. The optional all-wheel-drive system features hill-descent control. And the fuel tank has gone from a capacity of 26.4 gallons to 24.5 gallons. See the 2016 Mercedes-Benz Sprinter models for sale near you

What We Like
Turbodiesel engines for superior fuel efficiency; three body styles with choices of lengths and heights; optional all-wheel drive; precise handling for a big van
What We Don't
Not a great amount of standard equipment
How Much?
$36,845-$41,670
Fuel Economy
The Sprinter is offered with either rear-wheel drive or all-wheel drive. The latter can come with a raised suspension and low-range gearing with push-button activation.
The base engine is a 2.1-liter turbodiesel 4-cylinder making 161 horsepower and 265 lb-ft of torque. A 7-speed automatic is the sole transmission with this engine.
A 3.0-liter turbodiesel V6 developing 188 hp and 325 lb-ft is optional and is linked to a 5-speed automatic transmission. The V6 is the only engine that can be paired with all-wheel drive.
The Environmental Protection Agency does not provide fuel economy estimates for large vans.
Standard Features & Options
The 2016 Mercedes-Benz Sprinter is offered in cargo-van, crew-van and passenger-van body styles. There are also two wheelbase lengths (144 inches and 170 inches), three roof heights (low: 65 inches, high: 78.2 inches and super high: 84.3 inches; only the cargo van is available with the super high roof, though) and two payload strengths (standard 2500 or heavy-duty 3500).
The cargo van only has two seats in front. The crew van includes second-row seating. The passenger van has four rows of seating with room for 12.
Behind the front row, the Sprinter is truly versatile, with up to 586.1 cu ft. of storage in the cargo van. The crew van offers 367.5 cu ft. The 4-row passenger version maxes out at a still-considerable 190.3 cu ft.
A cargo van in 2500 form can carry a payload of up to 3,513 pounds and can tow up to 5,000 pounds. In 3500 form, we're looking at a maximum payload of 5,585 pounds and a towing capacity of 7,500 pounds.
Standard features on the base Sprinter cargo van ($36,845) include 16-in steel wheels, Crosswind Assist, hill-start assist, a passenger-side sliding rear door, a wood loadspace floor, air conditioning, a tilt-telescopic steering wheel, a locking glove box, a 5.8-in color infotainment display, Bluetooth connectivity, a USB port, an SD-card slot and a 5-speaker audio system with auxiliary input.
The base Sprinter crew van ($40,095) adds the second-row seat with extra side windows for those passengers. This model only comes as a 2500 version.
The base Sprinter passenger van ($41,670) features 4-row seating (including a 4-person bench in the back row) with additional windows, plus an upgraded 13-speaker audio system. This is also a 2500-only model.
Options (of which there are many) include parking sensors, an automated parking feature, xenon headlights, LED running lights, fog lights, headlight washers, roof rails, a driver's-side sliding rear door, a heated windshield, rain-sensing wipers, a chrome grille, 16-in alloy wheels, cruise control, a rear cabin heater, a rearview camera, navigation, luxury front seats with extra adjustments and front-seat heaters. Partitions between the cabin and loadspace area are available in the cargo and crew vans, while the passenger version can be specced with rear air conditioning.
Safety
The Sprinter has anti-lock disc brakes with automatic drying, brake assist, traction and stability control, rollover mitigation, Crosswind Assist, front airbags, front-side airbags and side-curtain airbags.
Optional electronic features include a radar-based collision warning system, a blind spot monitoring system, automatic high beams and lane-keep assist.
Behind the Wheel
Build quality is rock solid; the model uses above-average materials. The standard front seats provide firm support, but you should consider the optional luxury seats if you make long trips on a regular basis. The rear seating rows are more contoured than the norm, and there's adult-sized legroom (even in the passenger van's fourth row).
Although the austere dashboard layout lacks the usual Mercedes-Benz panache, it's still attractive for a van. And the standard audio system includes a wide range of connectivity features.
The Sprinter is undeniably tall, but for all that height (and length), the driving experience is remarkably pleasant. The responsive steering carves a precise path, while the torque-rich diesel engines serve up decent thrust, even though acceleration is modest. Road and wind noise are low enough not to fatigue the driver, while the ride is firm but not harsh. The Sprinter is simply one of the best vans to drive.
Other Cars to Consider
2016 Ford Transit -- Directly inspired by the Sprinter's success, the Transit is the one model that Mercedes-Benz should be worried about. With comparable capabilities and similar styling, plus interesting engine options such as a turbodiesel 5-cylinder and a turbocharged 310-hp gasoline V6, this Ford is a must-drive.
2016 Nissan NV -- Nissan's entry offers less cargo space and only gasoline engines, but it's value-priced and plenty powerful with the optional V8.
2016 RAM ProMaster -- Although the ProMaster's driving position takes some getting used to (you'll need long arms), it matches up well with its huge interior and optional diesel V6.
Used Ford E-Series -- Ford discontinued the venerable E-Series (formerly known as the Econoline) to make way for the Transit, but if you just want a cut-price workhorse, a used E-Series could do the trick.
Autotrader's Advice
It's only around $1,000 extra for the more powerful V6. The size of your ideal Sprinter will obviously have the biggest influence on which engine to choose, but the V6 won't have to work so hard. Find a Mercedes-Benz Sprinter for sale