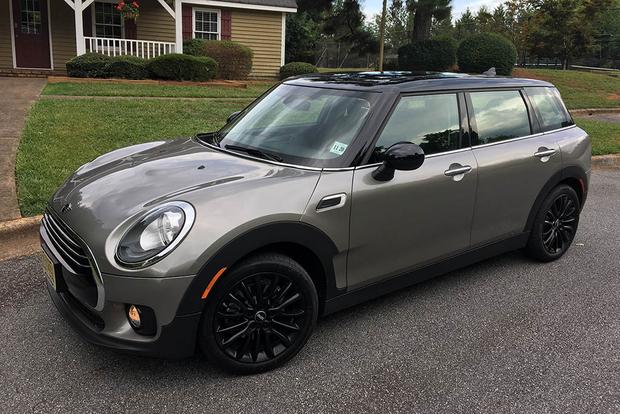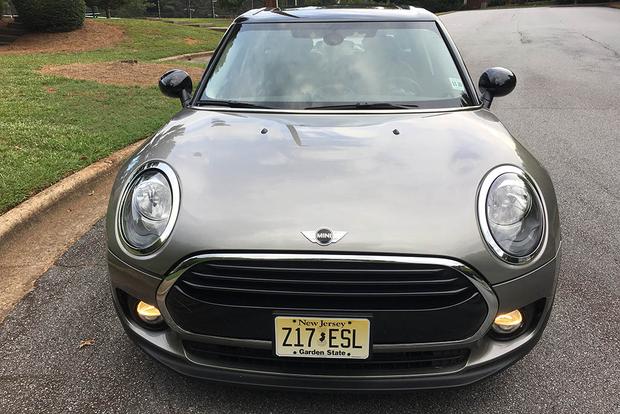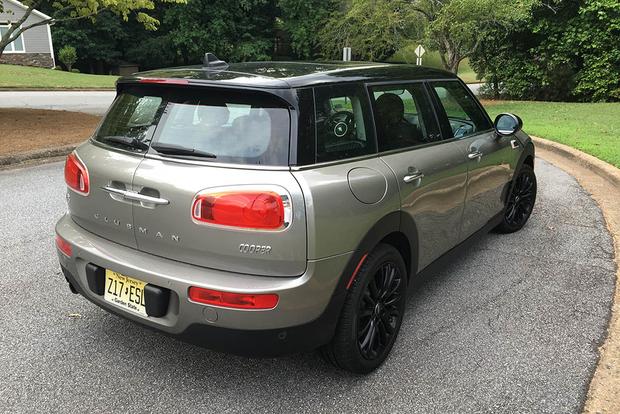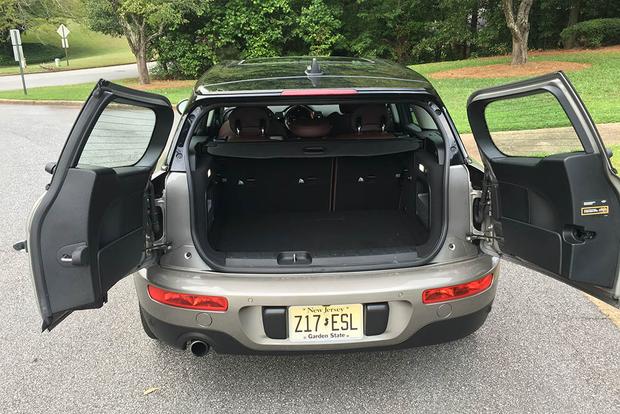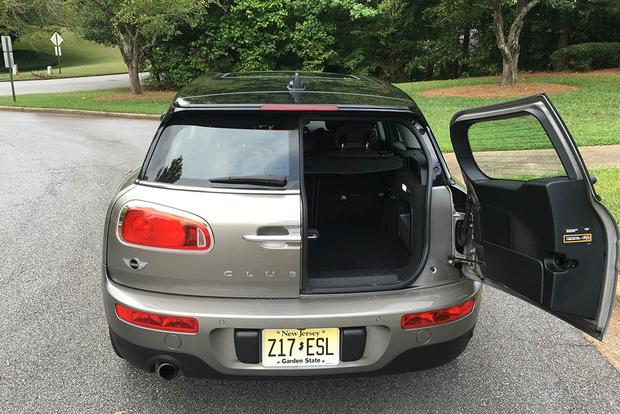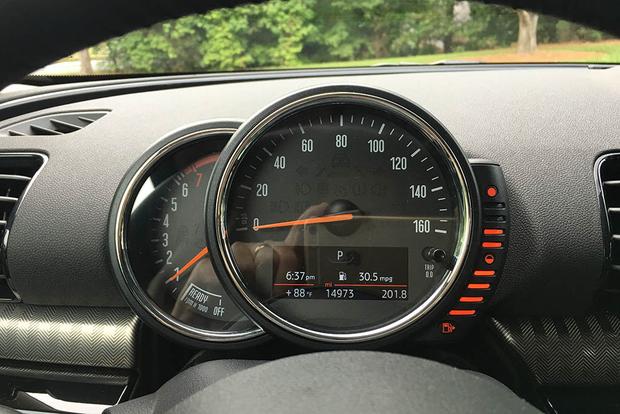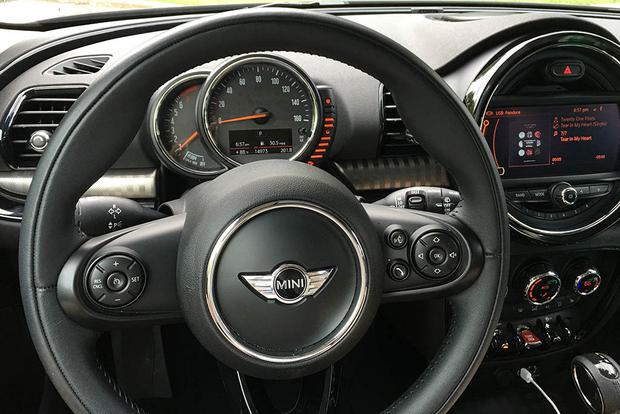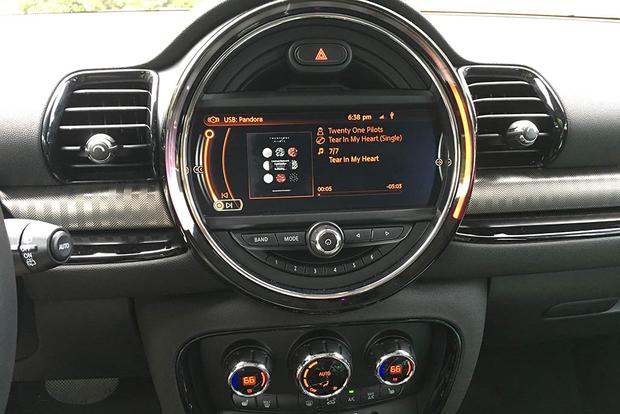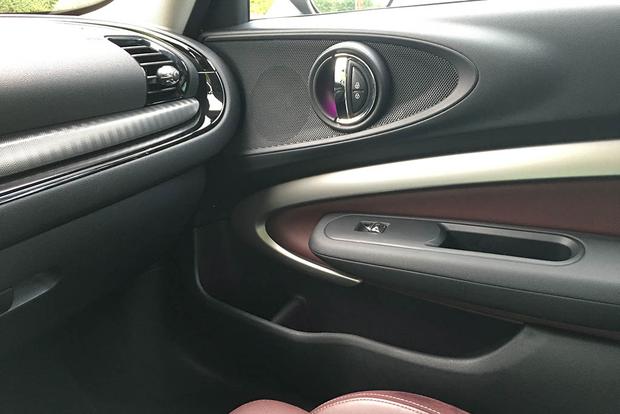 If you're looking for information on a newer Mini Cooper Clubman, we've published an updated review: 2019 Mini Cooper Clubman Review
Not all Minis are created equal. The 2016 Mini Cooper Clubman is certainly a small car, but its dimensions are similar to a Volkswagen Golf, and it dwarfs the traditional Mini Cooper Hardtop hatchback. This grants it far more passenger and cargo space, which is accessible through four side doors and two barn-style doors in the back -- a quirky feature carried over from the original Mini Clubman that's 100 percent form over function.
We had a chance to drive a 2016 Mini Cooper Clubman for a week to see how it met our various commuting, family and general life demands. Here's what we thought.
It's Great to Drive
In terms of driving feel, there was no disagreement: The Mini Clubman has impressively sharp handling and spirited acceleration from the standard turbocharged 3-cylinder engine, which is designated by the Cooper trim level (the Cooper S has a turbo 4-cylinder engine). One tester wished the Clubman we tried came with the standard 6-speed manual instead of the optional 6-speed automatic, but nevertheless walked away enjoying the experience thoroughly.
"This car screams 'road trip,' and I would love to take it on one," he said. "This is the most I have enjoyed driving a MINI since the Coupe we had a few years ago." See the 2016 Mini Cooper Clubman models for sale near you
Missing Features
Unfortunately, we were unimpressed with the amount of features you get for your money, which was a not-insignificant $33,450 for our test vehicle. For that price, we noted the absence of an auto-dimming mirror (part of $500 or $750 packages), rearview camera ($500 and requires an extra $500 for parking sensors), keyless start/entry ($500), satellite radio ($300) or power adjustable seats (not available at all). We also noted that silver paint cost an extra $500, while advanced safety systems, such as a blind spot monitoring system, lane-departure warning and rear cross-traffic alert, are not even offered. A forward-collision warning system is offered, but it's tied to the $5,250 Fully Loaded package.
Luxurious Interior and Cool Looks
We really liked the look of the Clubman and thought that its cabin represented a clear step up from the regular Cooper in terms of interior quality. We found it to be luxurious when fitted with leather-and-suede-lined sport seats, a panoramic sunroof and a few other aesthetic upgrades. Of course, these enhanced interior features were a big part of our test car's elevated price.
Comfort and Functionality Foibles
Despite a surprising amount of interior space (in a Mini!), one of our testers just couldn't get comfortable in the Clubman's manually adjustable driver's seat that couldn't go down far enough. Meanwhile, his wife couldn't find the unusually placed seat-recline controls. We also found the nondimming rearview mirror to be too small -- a problem made worse by the fact that its view is annoyingly split by the quirky rear barn doors.
Mixed Feelings About the Electronics Interface
The Mini Clubman's electronics interface consists of a standard 6.5-inch screen and a knob/button controller located on the center console. It's similar to BMW's iDrive system, but the graphics and menus are different. It can also be upgraded with a bigger screen and extra features such as navigation.
Some of our testers liked it, others did not.
"I think the entire infotainment system is complicated for no reason," one said. "You can get used to it, but there are systems that are super simple. This is not."
On the other hand, another tester thought the system was worth whatever extra effort was required to figure it out.
"There's quite a lot of functionality," he said. "Even the navigation screen was a surprise -- not cartoony or dated. Navigating your way around takes a little practice, but it's pretty intuitive."
Our Take
"Mixed feelings" pretty much sums up our impression of the fun but frustrating 2016 Mini Cooper Clubman. We loved driving it, found it surprisingly spacious and comfortable, thought it looked great and enjoyed spending time in the luxurious cabin. The lack of features you get for your money is unfortunate, however, and there are enough functionality quirks that would make us seriously think twice. Find a Mini Cooper Clubman for sale