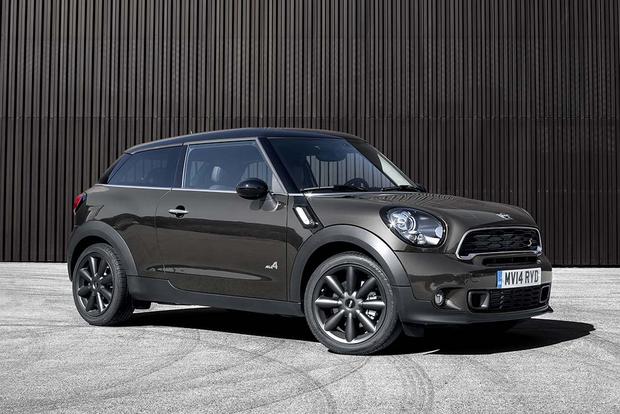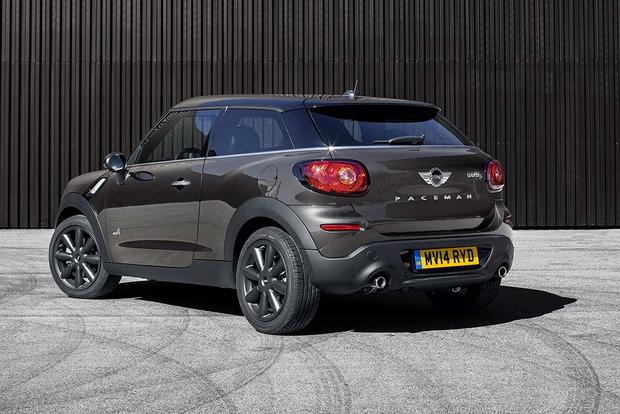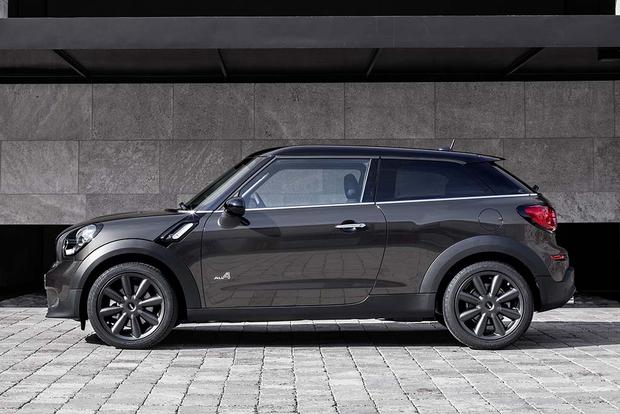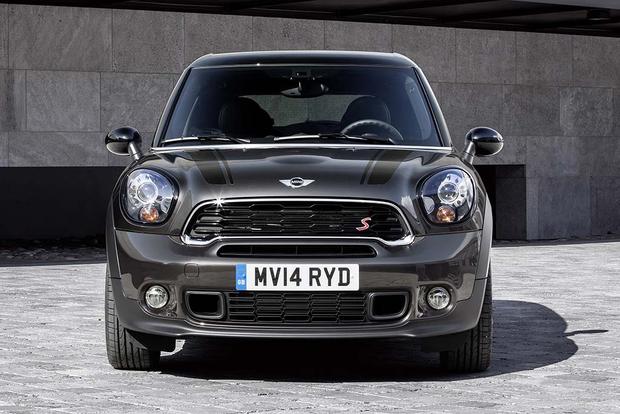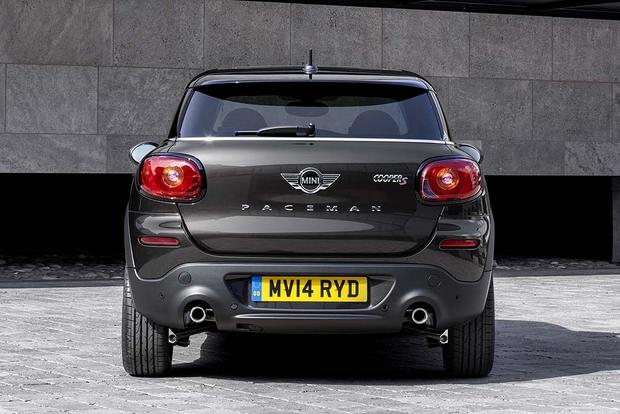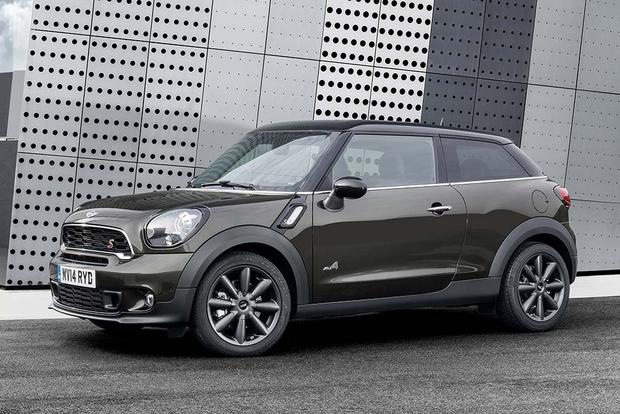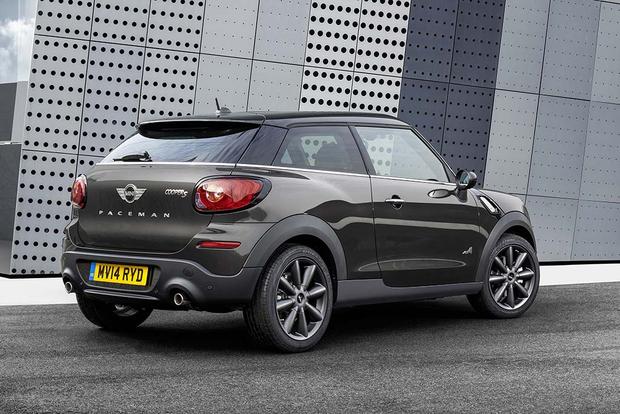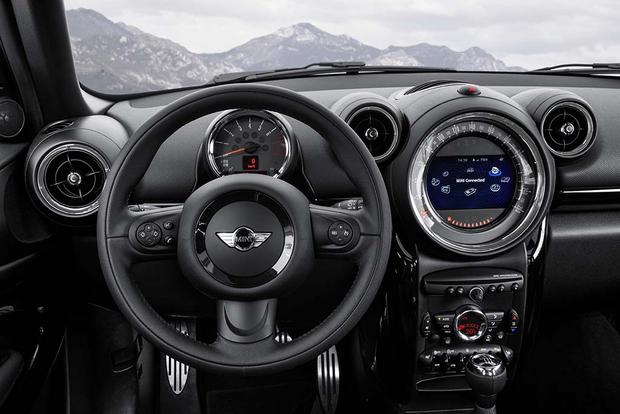 Allow us to correct two common misconceptions about the 2016 Mini Paceman.
The first is that the Paceman is just a 2-door version of the Countryman, Mini's high-riding, 4-door compact crossover. There's admittedly a kernel of truth here, as the Paceman shares the Countryman's design and architecture from the dashboard forward. But everything else is Paceman-specific, from the rakish roofline to what Mini calls the "lounge atmosphere" of the 2-person back seat. And for good measure, the Paceman rides lower than the Countryman for superior balance in corners.
The second misconception is that the Paceman simply doesn't make any sense. We've seen this claim in a number of Paceman reviews, and here's our retort: Says who? If you ask us, a 2-door crossover makes a lot of sense for modern drivers. After all, just about everyone loves the elevated crossover driving position, but not everyone needs -- or wants -- a 4-door vehicle. That's the idea behind the trendy 2-door Range Rover Evoque, and we see the new Paceman as a similarly trendy, yet more affordable, alternative.
Throw in the Paceman's inherent Mini goodness, from its trademark fun-to-drive character to its entertainingly enormous center-mounted speedometer, and you have one of the coolest new cars in the last few years. Don't let the naysayers dissuade you, folks: Stop by your Mini dealer, and give the Paceman a chance.
What's New for 2016?
Except for a few minor changes to its option packages, the Paceman is unchanged for 2016.
What We Like
Excellent turbocharged engine; fun to drive; good fuel economy; available all-wheel drive; funky styling
What We Don't
Weak base engine; firm ride; limited cargo space relative to other hatchbacks and crossovers
How Much?
$24,500-$36,600
Fuel Economy
The Paceman offers three available engines. Base models use a 1.6-liter 4-cylinder rated at 121 horsepower and 116 lb-ft of torque. That engine returns 28 miles per gallon in the city and 35 mpg on the highway with a manual or 25 mpg city/30 mpg hwy with an available automatic.
Step up to the Cooper S Paceman, and you'll get the same 1.6-liter 4-cylinder, except with a turbocharger. That engine makes 181 hp and 177 lb-ft of torque and offers 26 mpg city/32 mpg hwy -- or slightly less with available all-wheel drive.
Topping the range is the 208-hp John Cooper Works Paceman, which is only offered with all-wheel drive. That model returns 25 mpg city/31 mpg hwy with a manual or 23 mpg city/30 mpg hwy with an automatic.
Standard Features & Options
The Paceman comes in three trim levels: the base-level Paceman, the midlevel Cooper S Paceman and the sporty John Cooper Works Paceman.
The base-level Paceman ($24,500) includes a lot of standard equipment. Features include 17-inch alloy wheels, power accessories, air conditioning, premium vinyl upholstery (dubbed leatherette), cruise control, a CD player, an auxiliary jack, Bluetooth and a USB port for music. Base-level Paceman models are only offered with front-wheel drive.
Step up to the Cooper S Paceman ($27,900), and you get a turbocharged version of the base model's engine. The result is 181 hp and 177 lb-ft of torque, an increase of 60 hp and 61 lb-ft. Fog lights and sport seats are also standard.
Topping the range is the high-performance John Cooper Works Paceman ($36,600), which is only offered with all-wheel drive. The JCW model boosts power by another 27 hp and also adds a sport-tuned suspension and a performance exhaust.
But standard features only tell some of the story. Mini also offers plenty of options, ranging from wheel choices, paint colors and interior schemes to a panoramic sunroof, rain-sensing wipers, leather upholstery, heated front seats, satellite radio, a navigation system and Mini's Mini Connected infotainment system. All-wheel drive is also optional on the Cooper S Paceman.
Safety
The 2016 Mini Paceman comes with standard stability control, 4-wheel anti-lock disc brakes and seven airbags (front, front-side, passenger-knee and full-length side-curtain).
The Paceman had not been crash-tested at the time this article was written, though MINI's larger Countryman earned a reassuring Top Safety Pick rating from the nonprofit Insurance Institute for Highway Safety.
Behind the Wheel
On the road, the Paceman is remarkable for how planted it feels, even when cornering at a healthy clip. Relative to the Countryman, the lower, tauter Paceman does a convincing impression of the regular Mini Cooper. It's a car you can definitely have some fun with on winding roads. Just don't forget to turn on Sport mode for enhanced steering and throttle response.
We don't have as much praise for the ride quality, which borders on stiff, especially with the bigger wheels that come standard on turbocharged models. That's normal for a Mini, but it might be a bit much for some drivers. For this reason, we'd think twice before ordering the optional sport-tuned suspension.
The audio and climate controls are typical Mini fare, meaning they're laid out haphazardly and can be hard to operate without glancing down. We get a kick out of the pie-plate-sized central speedometer, though, and we don't understand why so many people deride it. Would they really prefer a Mini with a boring BMW-style interior?
Other Cars to Consider
2016 Kia Sportage -- The stylish Sportage lacks the Paceman's 2-door design and cool interior vibe, but it compensates with an excellent available 260-hp turbocharged engine.
2016 Volkswagen GTI -- The GTI arguably has a higher-quality cabin, and it's not as quirky (in case you find the Paceman to be a little over the top).
Used Range Rover Evoque -- The baby Range Rover offers similar sizing to the Paceman, and it delivers a more upscale driving experience -- although it's less fun.
Autotrader's Advice
The front-wheel-drive, turbocharged Cooper S Paceman hits the sweet spot for value, performance and fuel economy. Make ours a manual with the panoramic sunroof -- that's a pretty sweet ride at a pretty reasonable price.