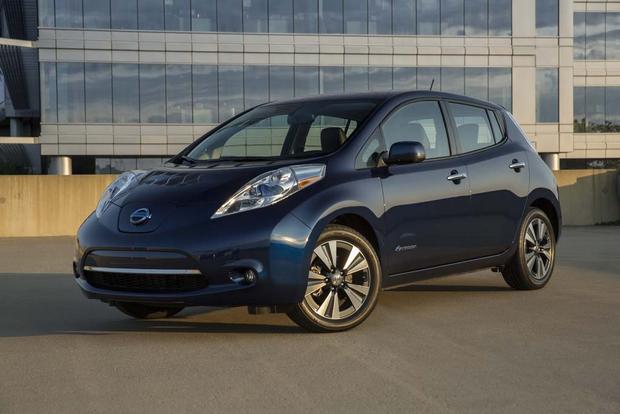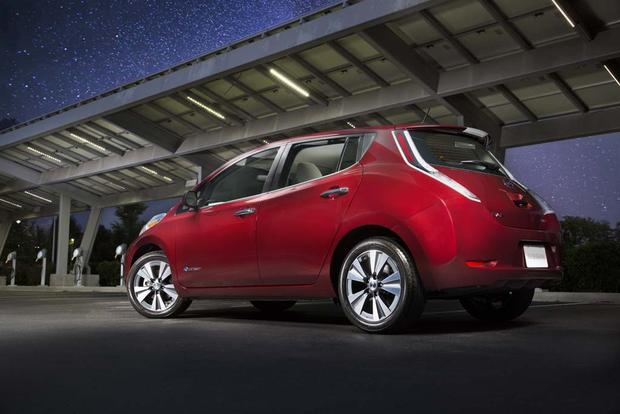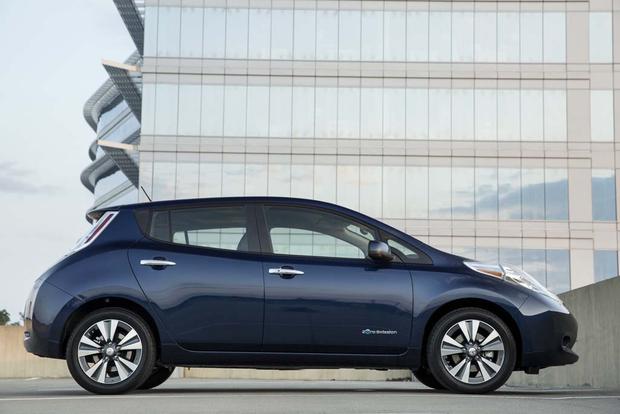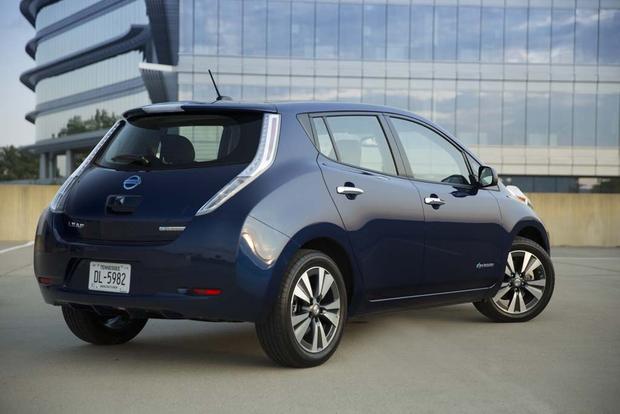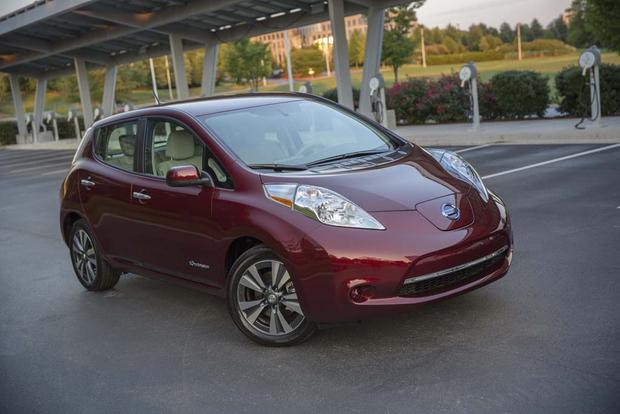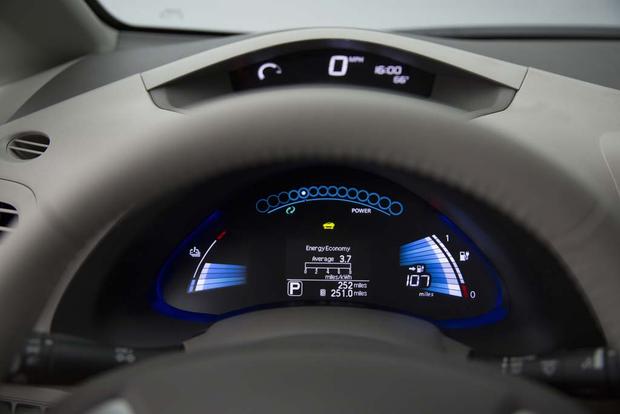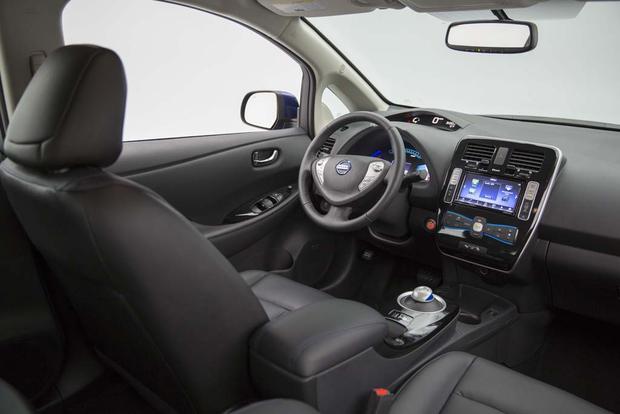 If you're looking for information on a newer Nissan Leaf, we've published an updated review: 2019 Nissan Leaf Review
Nissan rolled the dice and decided to jump headfirst into the electric-car market. In the 2016 Nissan Leaf, the company will showcase not only its technological prowess, but also its apparent acumen in predicting the future. Meeting, and in some cases beating, all expectations, the 2016 Nissan Leaf possesses everything necessary to placate environmentalists, technophiles and any forward-thinking consumers looking to cut back on high fuel bills.
Upon its arrival in 2011, the Leaf garnered a lot of praise but also a few complaints, mostly regarding charging times and a high sticker cost. Since we know how rumors can persist, we are happy to say the 2016 Leaf no longer suffers from any of these flaws.
A 6.6-kilowatt onboard charger lets the Leaf recharge in half the time it took the 2011 model to recharge, and a new, larger battery gives the Leaf the longest range of any electric vehicle. The entry-level S resolves the pricing problem, while numerous upgrades to the upper trims make the Leaf feel more like any other gasoline car.
What's New for 2016?
SV and SL trims are fitted with a new 30-kwh battery, extending the Leaf's driving range to 107 miles. The S model retains the smaller battery and lesser 84-mile range, but gains a new 5-inch color audio display and NissanConnect apps. SV and SL trims gain NissanConnect with navigation plus a number of improvements to the mobile apps and interface display. See the 2016 Nissan Leaf models for sale near you
What We Like
Never uses a drop of gas; longest range to date; available luxury equipment; drives like a normal car
What We Don't
Polarizing styling; long-term reliability is uncertain; performance may leave something to be desired
How Much?
$29,860-$39,000
Fuel Economy
All Nissan Leaf models have front-wheel drive. Regardless of trim level, the Leaf is rated at 107 horsepower and uses a single-speed automatic transmission. Because the Leaf uses an electric motor, its full 187 lb-ft of torque is available at any speed.
The Leaf trades performance for efficiency. Officially rated in terms of miles-per-gallon equivalency at 126 mpg in the city and 101 mpg on the highway (good for 114 mpg combined), the Leaf never actually uses any fuel. Instead, it offers a fully electric range of up to 84 miles, though the number can substantially vary based on driving style. In the city, the Leaf is far more efficient thanks to its regenerative braking, which transfers energy back to the batteries as the Leaf slows down. On the highway, where drivers don't brake as much, the Leaf is less efficient. Higher trims (SV and SL) have a larger 30-kwh battery, extending the Leaf's range to 107 miles and changing its Environmental Protection Agency (EPA) fuel estimates to 124 mpg city/101 mpg hwy, and 112 mpg combined.
Our test of the 2016 Leaf S involved both city and highway driving. Surprisingly, the battery charge, which is displayed in the gauge cluster, was just below 50 percent after 50 miles of mixed driving. The test even included constant use of the Leaf's climate-control functions and stereo. Naturally, the battery capacity will deplete over time, but in its fully charged state, the 2016 Leaf with the smaller 24-kwh battery seems capable of reaching nearly 100 miles on a single charge, although many drivers will never take it that far due to range anxiety.
Standard Features & Options
Nissan offers the Leaf in three trim levels: S, SV and SL.
The Leaf ($29,860) includes Nissan's Intelligent Key system, which allows drivers to open the doors and start the car without removing the key from a pocket or purse. It also includes heated front and rear seats, Bluetooth, split-folding rear seats, a rear backup camera, NissanConnect with mobile apps on a 5.0-in color display, Bluetooth streaming audio, hands-free texting, a USB/iPod port and a heated, leather-wrapped steering wheel. Other standard features include power windows, power locks, power mirrors, 16-in steel wheels with full covers, automatic temperature control, a rear defroster and a vehicle-security system. Optional on the Leaf S and standard on the other trim levels is the 6.6-kw charger that speeds up charge times.
The Leaf SV ($35,050) adds a larger 30-kwh battery, 17-in alloy wheels, a navigation system, the 6.6-kw charger and Nissan's CARWINGS system, which allows drivers to use a smartphone to check their battery charge remotely or even activate the Leaf's climate-control system. SV models also add audio controls and cruise control to the steering wheel, along with Pandora Internet Radio capability. Seats are upgraded to a partially-recycled cloth seat fabric. Options for the SV include a Charge package (with a 220-volt quick-charge port, LED headlamps and fog lights) and a Premium package that brings the Around View Monitor and a Bose audio system.
The Leaf SL ($37,640) includes the 220-volt fast-charge port, leather seats and automatic LED headlights. Options for the SL include the Premium package previously mentioned.
Nissan also offers a number of port- and dealer-installed options, such as the Eco Design, Protection and Recycling/Organizational packages.
Safety
All 2016 Nissan Leaf models include dual front airbags, front-side airbags and side-curtain airbags. The Leaf also has standard anti-lock brakes, traction control, stability control and a tire-pressure monitor.
The Leaf has performed well in government tests. The hatchback earned an overall 5-star rating in National Highway Traffic Safety Administration crash tests, which measure front-impact, side-impact and rollover protection. The Leaf also received the Top Safety Pick designation from the independent Insurance Institute for Highway Safety (IIHS). IIHS rates cars based on front, side and rear crash tests, as well as on rollover protection.
Behind the Wheel
For all the new technology in the Leaf, it certainly operates like a normal car. That's high praise for Nissan, since the Leaf isn't meant to confuse drivers with gadgetry and high-tech equipment. While it can be a little slow, highway merging is acceptable, as is passing. The seats are comfortable, and the driving position is good. Visibility is great, especially with the redesigned rear headrests. The ride is supple, and while steering is light, it provides adequate feedback to the driver. The only major difference between the Leaf and a gas-powered car comes during acceleration, when the Leaf doesn't make a sound.
Despite the Leaf's small appearance, interior room is ample, both in the front and back. Yes, the rear seats can be slightly cramped, but they're far better than back seats in many similarly sized compact cars. Unfortunately, the Leaf's large interior doesn't include its cargo area. While it's not small, the Leaf's rear space certainly concedes some room to the car's batteries. At just 24 cu ft. with the seats down, the Leaf offers half the cargo room of Nissan's subcompact Versa hatchback.
Other Cars to Consider
2016 Chevrolet Volt -- The plug-in hybrid Volt is among the Leaf's biggest competitors. Although it isn't fully electric, the Volt can be operated in electric mode for around 53 miles before its gas engine kicks in.
2016 Ford Focus Electric -- Based on the Ford Focus hatchback, the Focus Electric has a similar range as the Leaf, though its $36,000 base price is much higher.
2016 Kia Soul EV -- The Soul EV offers more features in a more attractive package plus has a longer cruising range than the base Leaf S.
Used Toyota Prius Plug-In Hybrid -- A 2012-2015 Prius Plug-in Hybrid operates much like the Volt. A used model should cost about the same or less than a Leaf. The Prius Plug-In Hybrid offers more room and, thanks to its gasoline engine, more range.
Autotrader's Advice
Before drivers consider a Leaf, they should decide whether it fits their lifestyle. Many car owners need to travel more than 100 miles at a time, and others don't have access to a charging station. Some will want more performance, too. If the Leaf fits your lifestyle, it's hard to ignore the major savings that come with driving a car not requiring fuel. This is especially true with the Leaf's low lease rates and available federal tax credits. For drivers who do choose a Leaf, we recommend a midlevel SV model; it has all the luxury you'll need, plus the new longer-range battery. Find a Nissan Leaf for sale