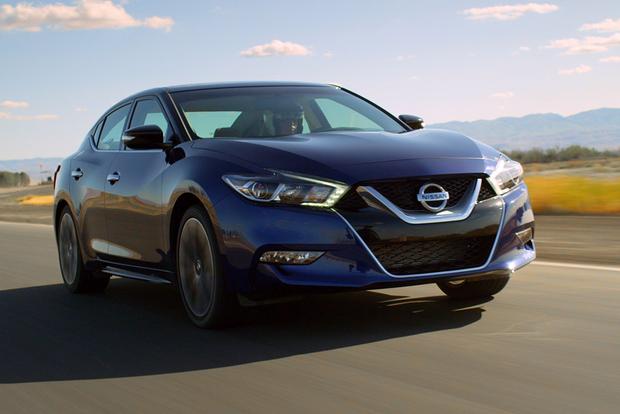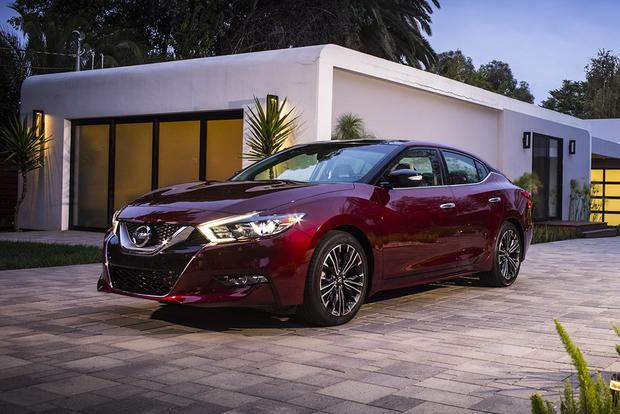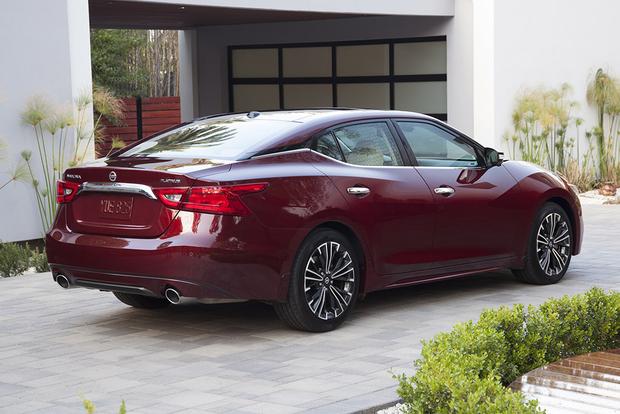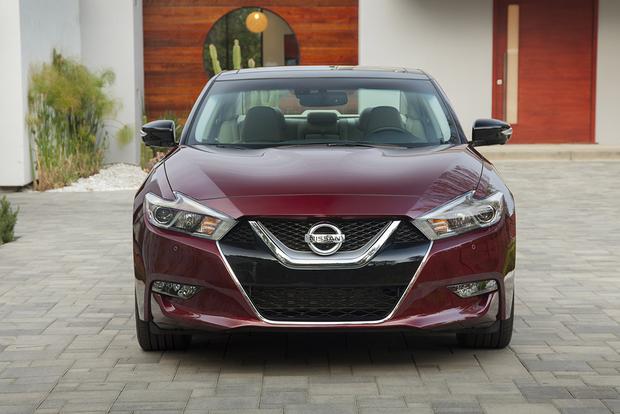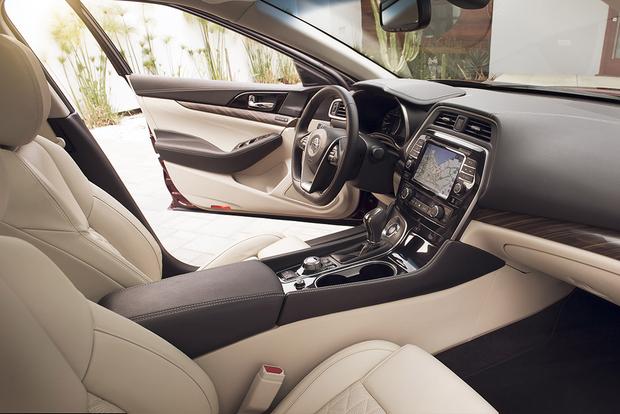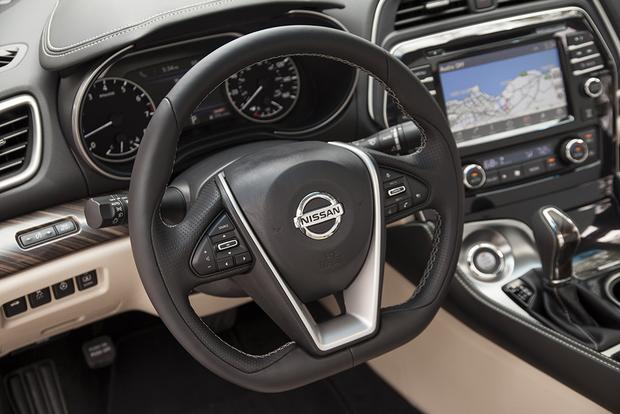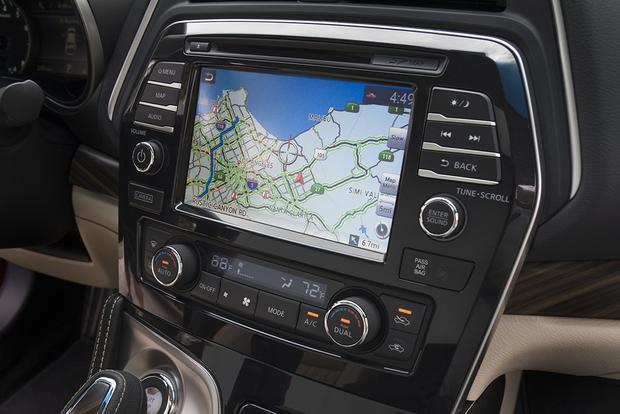 Nissan isn't a luxury brand, but since 1981, it has made what is essentially a luxury car: the Maxima. The Maxima is also Nissan's flagship model and style leader, and a 2016 redesign featuring the brand's "energetic flow" design language makes it stand out on the road more than ever before. Under its skin, a stiffer structure, more power and a high-quality cabin make the 2016 Nissan Maxima the brand's best sedan to date.
Well-Appointed, Roomy and Well-Equipped
The 2016 Maxima's interior sets a new high-water mark for Nissan cabins. Occupants are surrounded by quality materials, thoughtful details and a healthy helping of amenities. Most of the major surfaces are soft to the touch and trimmed with accent stitching. A navigation system with an 8-inch touchscreen is standard, and the top Platinum model comes with amenities such as diamond-pleated Ascot leather upholstery, ambient lighting and active noise cancellation. The look and feel are worthy of a luxury car.
The touchscreen is the command hub for the NissanConnect control interface, which can also be controlled via voice commands or the new Display Commander dial on the center console. The system has Google Search capability when paired with a smartphone, and it responds to gestures you'd use on a tablet such as swipe and pinch-and-stretch. NissanConnect is fairly easy to use, but it lacks the array of apps that most modern infotainment systems offer.
Space and storage are plentiful. Storage for small items is highlighted by a media hub with two USB ports and an auxiliary jack. This cubby is big enough to fit an iPhone 6 Plus and has a slot that allows phones to sit vertically so drivers can see messages as they arrive. Front-seat occupants sit on Nissan's zero-gravity seats, which provide excellent support. The rear seat has enough room for three people, but the Maxima competes with full-size cars, and its rear seat can't match the space of many of those rivals. The trunk is also roomy at 14.3 cu ft., but again, it isn't as big as full-size competitors.
Decent Dynamics
Nissan's marketing tagline touts the Maxima as a "4-door sports car." If Nissan really wanted a 4-door sports car, it would have started with a rear-wheel-drive architecture like it did with the Infiniti G35 in the mid-2000s. At the very least, Nissan would have outfitted the Maxima with a sophisticated all-wheel-drive system like the rival Acura TLX. Instead, the Maxima is agile for its size, somewhat sporty and an all-around pleasant performer, but it falls just short of its marketing claim.
The Maxima does have some traits of a sport sedan, though. The steering is hefty and direct, and the body doesn't lean too much in corners. On a twisty road, however, the car doesn't rotate like a well-balanced sport sedan, and it tends to push forward instead of biting and turning when charging into a corner. We're guessing that the average Maxima buyer won't push the car hard enough to make this distinction. Instead, most who take a 2016 Maxima out for a test drive will be smitten with the car's initial responsiveness. In some ways, the Maxima is packaged like an affordable BMW 5 Series, but the 5 Series really delivers on the sport side of things.
The SR model comes closest to living up to the marketing tag line. It has stiffer settings for the shocks, springs and stabilizer bars, upgrades to 19-in wheels instead of 18s and adds a front chassis damper bar to make the front end more rigid. The result is a more agile car, but the otherwise supple ride becomes rather firm.
Potent Powertrain
The returning 3.5-liter V6 is heavily revised. Nissan says that 61 percent of the parts are new, and the changes help it improve horsepower by 10 for a total of 300 hp, and fuel economy is up by 14 percent to 22 miles per gallon in the city, 30 mpg on the highway and 25 combined. Torque remains unchanged at 261 lb-ft, and a continuously variable transmission (CVT) also returns.
On the road, the V6 delivers as much punch as anything this side of a V8 or turbocharged V6. Nissan says 0 to 60 miles per hour takes less than 6 seconds. From a stop and in the midrange, power is willing to provide passing punch, and the transmission does a good job of sidestepping the drawbacks that are common with CVTs. That's because it has seven preset gear ratios that kick in if the driver applies three-eighths throttle or more. The result is the stepped acceleration that Americans are used to in traditional automatics, rather than the slurred gear-ratio changes, whining at high rpm and rubber-band feel that plague other CVTs. If you apply anything less than three-eighths throttle, you'll never notice that this transmission is constantly adjusting gear ratios instead of shifting. The new Nissan Murano has the same programmed shift points in its CVT, but the features makes more sense and are more rewarding in the Maxima.
The Verdict
Now in its eighth generation, the 2016 Nissan Maxima is more of a luxury car than it's ever been. It features a truly impressive cabin, ready and willing power, and a bold new design that gives the model some of the cache that the brand can't. While it's fairly fun to drive, the Maxima is more of a pleasant family car than a sport sedan, and it sure isn't a 4-door sports car.