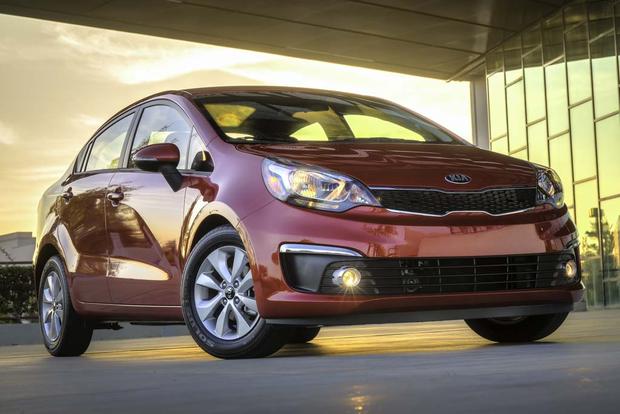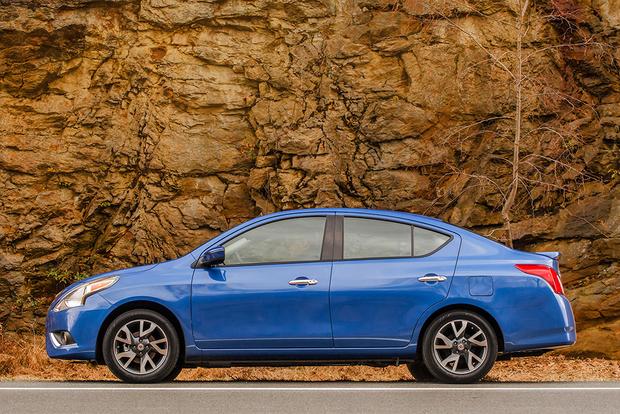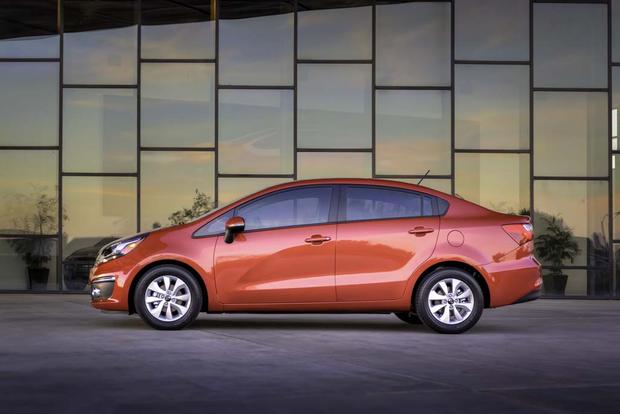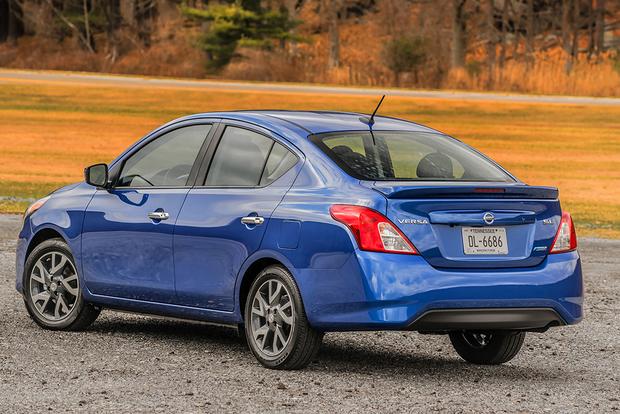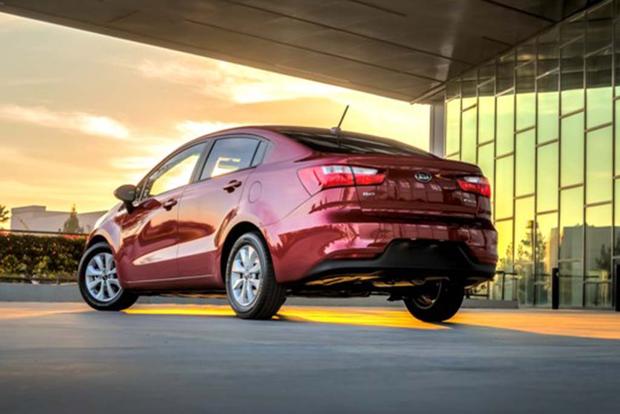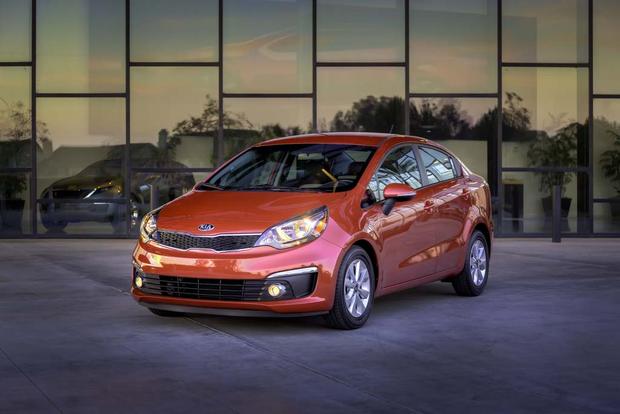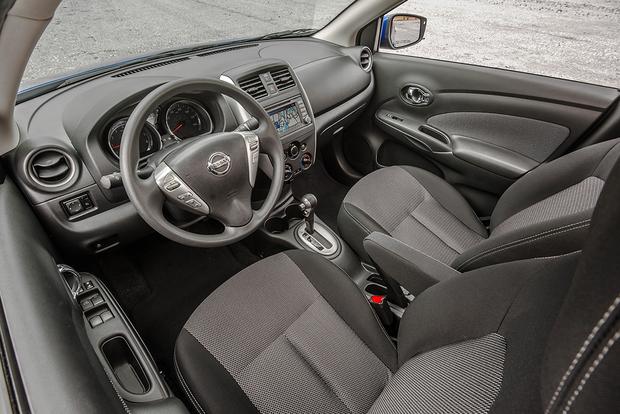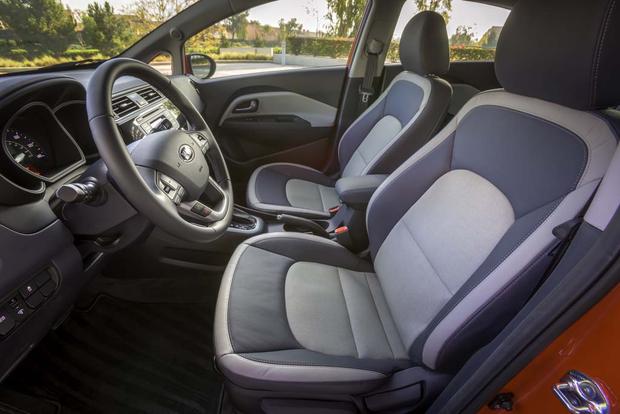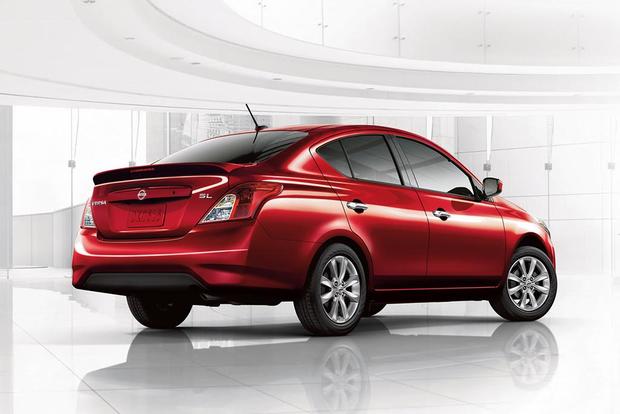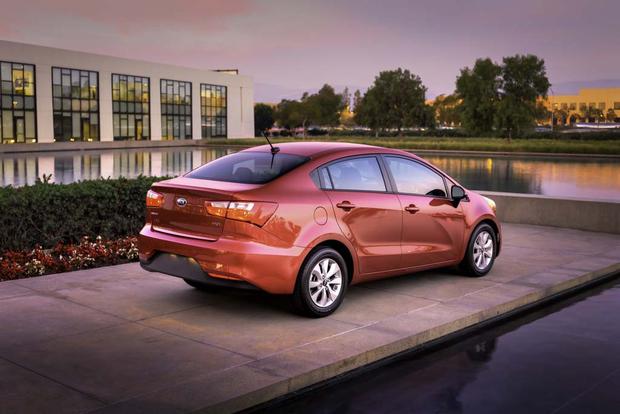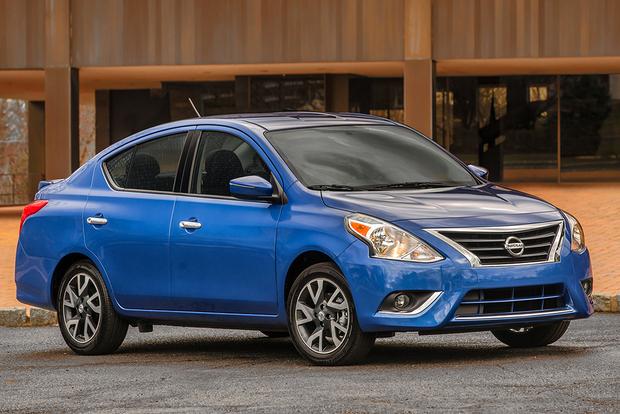 If you're interested in buying a new small car at a budget-friendly price, the 2016 Nissan Versa and the 2016 Kia Rio should be on your shopping list. Both models offer highly affordable pricing, a lot of available equipment, and the peace of mind that comes with owning a totally new vehicle. Which one is better, and which one should you get? We've created a close comparison to help you answer those questions. But first, let's see what's new with the Versa and the Rio for the 2016 model year.
2016 Nissan Versa
The Versa makes minor changes for 2016, such as a leather-wrapped steering wheel on the SL sedan and a 5-inch center touchscreen on the Versa Note SV that includes a backup camera.
2016 Kia Rio
The Rio offers revised styling for the 2016 model year, along with a newly updated UVO infotainment system, an upgraded interior and for hatchback models, a newly standard automatic transmission.
Reliability
According to industry experts at J.D. Power, the Kia Rio offers only average reliability. Consumer Reports disagrees, calling the Rio's reliability worse than average. While Consumer Reports has not yet rated the Versa for reliability, J.D. Power also lists its reliability as average.
As for warranty length, the Versa offers a fairly standard 3-year or 36,000-mile bumper-to-bumper warranty and 5-year or 60,000-mile powertrain warranty. By comparison, the Rio offers a best-in-class 5-year or 60,000-mile bumper-to-bumper warranty and a 10-year or 100,000-mile powertrain warranty. While reliability ratings don't do much to distinguish these two cars, that warranty alone allows us to award this category to the Kia.
Fuel Economy
All Versa models are powered by the same engine: a 109-horsepower 1.6-liter 4-cylinder. There are a few transmission options, but most drivers go with the continuously variable transmission (CVT), which returns up to 31 miles per gallon in the city and 40 mpg on the highway, regardless of whether you choose the sedan or the Versa Note hatchback. Versa models equipped with the standard 5-speed manual transmission return 27 mpg city/36 mpg hwy.
The Kia Rio also offers only one engine: a 138-hp 1.6-liter 4-cylinder mated to a 6-speed manual or 6-speed automatic. Fuel economy stands at 27 mpg city/37 mpg hwy with the automatic, or 27 mpg city/38 mpg hwy with the manual.
So which is better? If you opt for its available CVT automatic, it's the Versa: Its figures outshine manual or automatic Rio models, as well as the fuel economy numbers of its own standard 5-speed manual transmission.
Safety
In crash tests carried out by the federal government's National Highway Traffic Safety Administration, both the Versa and the Rio earned four overall stars out of a possible five. Neither car fared well in testing carried out by the nonprofit Insurance Institute for Highway Safety, with both models earning weak scores in the firm's challenging new small-overlap front crash test.
As for safety features, the Versa and Rio offer what you'd expect and nothing more. That means standard side-curtain airbags, anti-lock brakes and traction control, along with an optional backup camera. Neither model offers any of the latest safety technology, including forward-collision alert, lane-departure warning or a blind spot monitoring system.
Technology
If technology is important to you, these two models probably aren't the best choices, as most of today's latest gadgets have not yet trickled down to the subcompact-car segment. With that said, these cars are basically dead even when it comes to features and gadgets.
In fact, there are only two noteworthy technological differences that separate the Versa and the Rio. One is infotainment: We prefer the Kia's easy-to-use UVO infotainment system and its 7-in screen, compared to the Versa's NissanConnect system and its 5.8-in screen. However, the Versa battles back with its excellent optional Around View Monitor, which makes parking a breeze.
We think these cars are roughly neck and neck in terms of technology, but we also think that drivers especially interested in gadgets or features may want to move up to a compact car or consider a used model instead.
Value
If you're especially interested in getting a new car at the lowest possible price, the Versa is the vehicle for you. It offers a base-level S model that starts at less than $13,000 with shipping -- around $2,000 less than the cheapest Kia Rio. While the Versa S only comes with a manual transmission, drivers who master the stick shift will get a surprisingly long list of features that includes Bluetooth, air conditioning, split-folding rear seats, an auxiliary audio jack and power mirrors.
Beyond the Versa S, however, the Versa and the Rio are highly similar in just about every way, with similar equipment, similar pricing and a similar choice between hatchback or sedan body styles. As a result, we'd say the Versa wins our value category, but only if you're looking for the cheapest possible new car. Otherwise, it's a draw.
Autotrader's Advice
The 2016 Kia Rio and the 2016 Nissan Versa are among the least expensive new cars on sale today and it shows. Neither offers many modern gadgets and both suffer from fairly mediocre crash-test ratings. However, when it comes to offering a brand-new car at a budget price, these two models deliver exactly as promised.
So which one is better? To us, it's difficult to say. Drivers on an especially tight budget will like the Versa S and its low base price. For everyone else, both the Rio and the Versa offer benefits and drawbacks, such as a longer warranty with the Kia and better fuel economy with the Versa. With no clear victor, we strongly suggest that you drive both models and choose the one that appeals most to you -- or the one that offers the best deal.