Editor's note: You may want to read more of Autotrader's model vs. model comparison car reviews as well as the 2016 Porsche Cayenne review, the 2016 Range Rover Sport review and Buying a Used Range Rover: Everything You Need to Know.
If you're looking for a stylish luxury SUV with an eye on performance and presence, you probably have the 2016 Range Rover Sport and the 2016 Porsche Cayenne on your shopping list. Both are excellent SUVs that offer handsome designs, a lot of equipment, well-appointed interiors and several enticing powertrain choices — and the two models are competitively priced, too.
But which one is better? And which one should you get? To help you decide, we've created a close comparison of the 2016 Cayenne and the 2016 Range Rover Sport, but first let's see what's new with both SUVs for the latest model year.
2016 Porsche Cayenne
After a recent refresh, the Cayenne adds two new models this year: the GTS and the Turbo S. See all 2016 Porsche Cayenne models available near you
2016 Range Rover Sport
The Range Rover Sport adds a new turbodiesel engine option for 2016, along with several new features, including off-road-friendly crawl control, a new access-height suspension setting and a newly standard power lift gate. See all 2016 Rover Range Rover Sport models available near you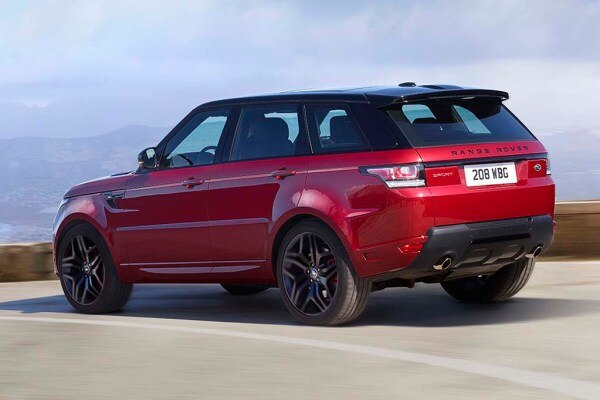 Reliability
According to the reliability experts at J.D. Power, the Cayenne offers average reliability. Because it debuted for 2014, the Range Rover Sport is too new for reliability ratings, but it's worth noting that J.D. Power's Vehicle Dependability Study, which rates brands rather than specific models, places Porsche near the top of the list and Land Rover almost at the very bottom.
As for warranty coverage, the Cayenne and Range Rover Sport are identical, touting 4 years or 50,000 miles of bumper-to-bumper coverage.
Thanks to its stronger J.D. Power ratings, this category goes to the Cayenne.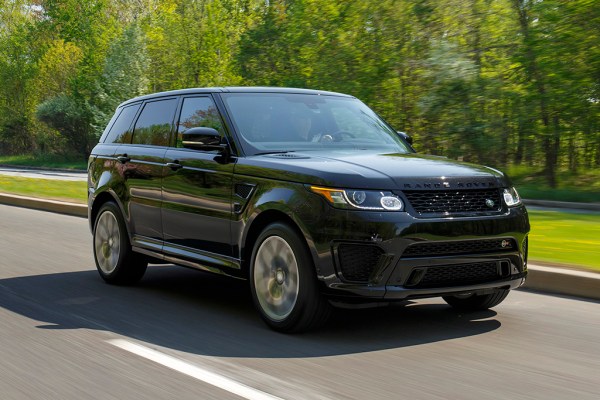 Performance
The Cayenne offers an amazing list of powertrains, all of which are mated to an 8-speed automatic transmission and all-wheel drive.
Base models use a 300-horsepower 3.6-liter V6, while the Cayenne Diesel uses a 240-hp 3.0-liter turbo diesel V6. Drivers looking for more performance can opt for the Cayenne S (which uses a 420-hp 3.6-liter turbocharged V6), the Cayenne GTS (which adds 20 hp to the Cayenne S) or the plug-in hybrid Cayenne S E-Hybrid, which boasts a 416-hp supercharged plug-in hybrid V6.
For truly amazing performance, the Cayenne offers two range-topping options: a 520-hp 4.8-liter turbocharged V8 in the Cayenne Turbo and an amazing 570-hp version of the same engine in the Cayenne Turbo S.
The Cayenne Turbo S can go from 0 to 60 miles per hour in 3.6 seconds, while the base-level V6-powered Cayenne has a 0-to-60 time of 7.2 seconds.
Although the Range Rover Sport's engine lineup isn't quite as impressive, it's still fairly comprehensive. Base-level models use a 340-hp 3.0-liter supercharged V6 or a 254-hp 3.0-liter turbodiesel V6. Drivers looking for more performance can opt for the Range Rover Sport Supercharged, which uses a 510-hp supercharged V8, or the SVR, which offers a 550-hp version of the same engine.
The SVR goes from 0 to 60 mph in about 4.4 seconds, while the base-level V6 model does it in 7 seconds.
So which has better performance? Unsurprisingly, that would be the Porsche. Not only does it offers more maximum hp and sportier versions, but it also delivers better acceleration and much-improved handling. But don't count out this model year's Range Rover Sport: It boasts stronger acceleration and a sportier chassis than ever before.
Safety
Because the Cayenne and Range Rover Sport are produced in such low volume (relative to common family cars such as the Toyota Camry or Honda Pilot), they aren't crash-tested by the National Highway Traffic Safety Administration or the nonprofit Insurance Institute for Highway Safety. But we have no doubt occupants of either vehicle would fare well in a collision given the cocoon of safety features that surrounds them.
We say this because both the Cayenne and the Range Rover Sport offer a long list of safety features, including standard side-curtain airbags, anti-lock brakes and traction control, along with options such as lane-departure warning, a blind spot monitoring system, adaptive cruise control, forward-collision warning and automatic forward-collision braking.
With that said, the Range Rover Sport has a slight advantage in this category, as it comes standard with a backup camera and parking sensors, both of which are optional in the Cayenne. The Range Rover Sport also offers a self-parking system, which you can't get in the Porsche.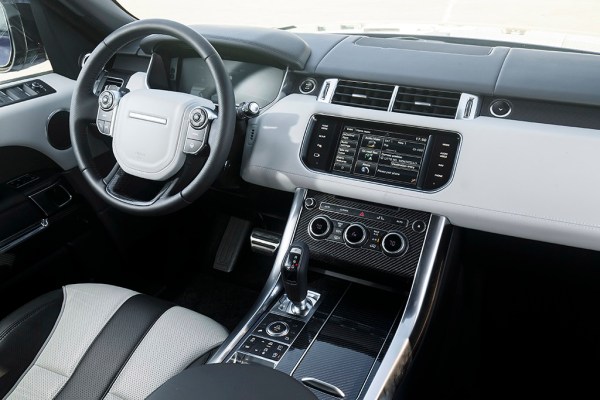 Technology
Although the Range Rover Sport has a slight edge over the Cayenne in terms of safety, both the Cayenne and the Range Rover Sport are near the cutting edge when it comes to overall technology.
Admittedly, both vehicles offer some unique features that the other doesn't have — for instance, a head-up display and an automated parking system in the Range Rover Sport, or ventilated rear seats and power-closing doors in the Cayenne. But while you may prefer the high-tech features offered by one of these two SUVs or the other, one thing's for certain: Few SUVs offer more technology and equipment than these two. We suspect technophiles will be very happy with either one.
Value
If you're comparing base models, the Range Rover Sport is a bit pricier than the Cayenne: Its price tag starts around $66,000 compared to around $61,000 for the Porsche. But the Range Rover offers a lot more standard equipment than the Cayenne, including a backup camera, parking sensors, 14-way power front seats with driver memory settings and more. If you equalize the equipment, the two models are roughly identical in price.
At the top end of the range, however, the Cayenne is quite a bit pricier. The 520-hp Cayenne Turbo starts around $116,000, while the 510-hp Range Rover Supercharged is just $81,000 with shipping. Comparing the Cayenne Turbo S to the Range Rover Sport SVR gives a price delta of almost $50,000.
At that price point, though, value is all based on what you want. The Cayenne is sportier and more exciting to drive, while the Range Rover Sport offers more practicality, especially when you consider its larger size and available third-row seat.
Autotrader's Advice
The 2016 Range Rover Sport and 2016 Porsche Cayenne are highly competitive in base-level form and quickly diverge as you progress into the upper-level trims, where the Cayenne becomes far pricier and more performance-oriented. As a result, it's hard to pick an overall winner here, since either of these two SUVs offers major benefits for drivers with different priorities.
If you want performance, the Cayenne is the better choice. But for practicality, it's the Range Rover Sport all the way.
Find a Used Porsche Cayenne for sale