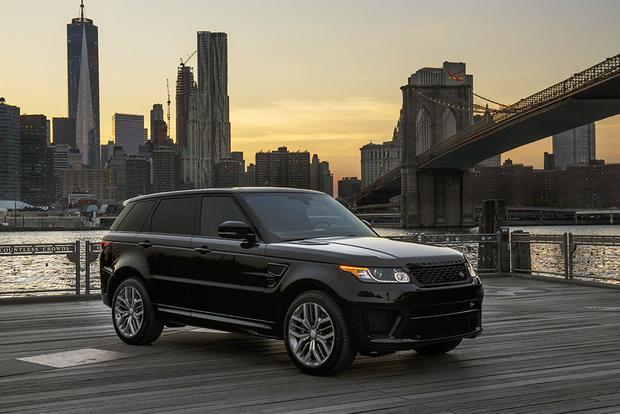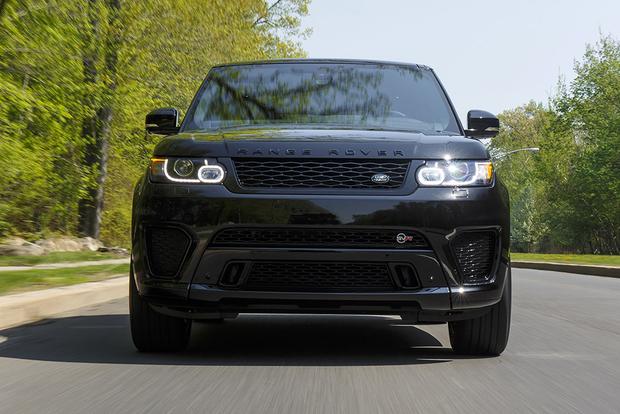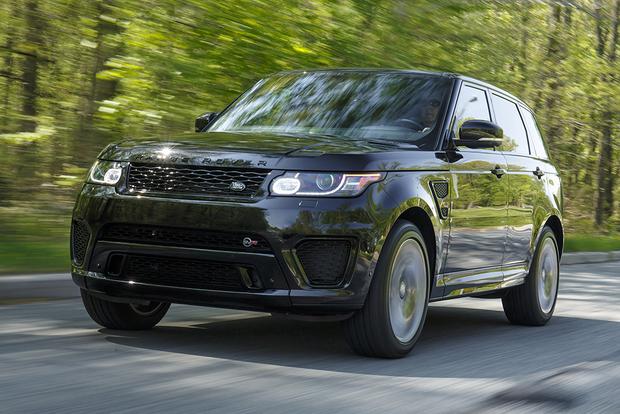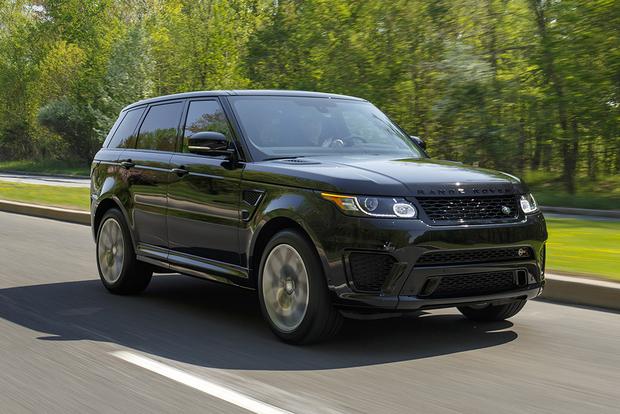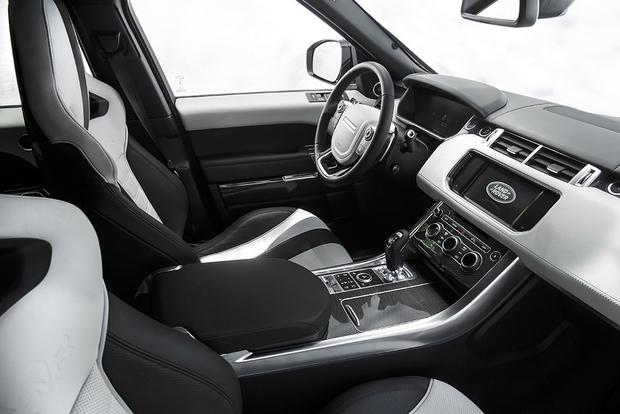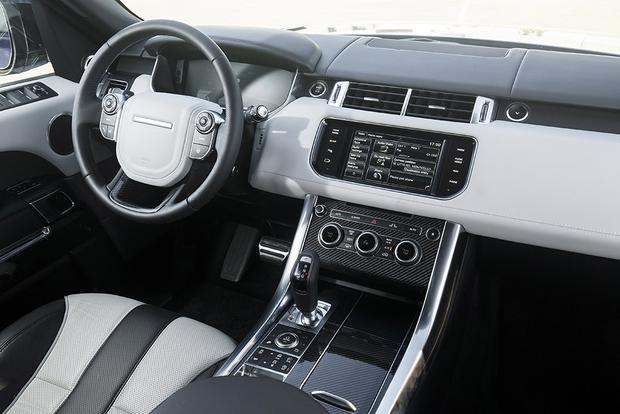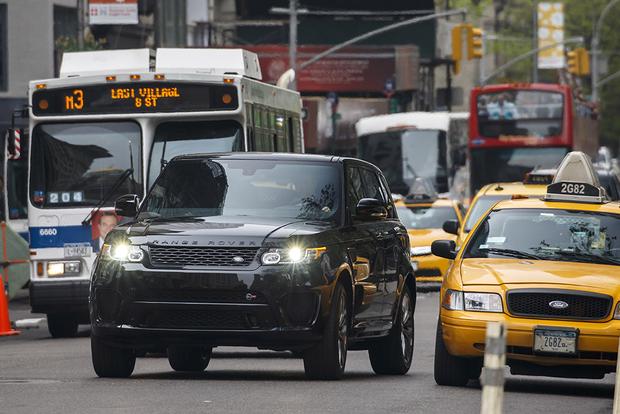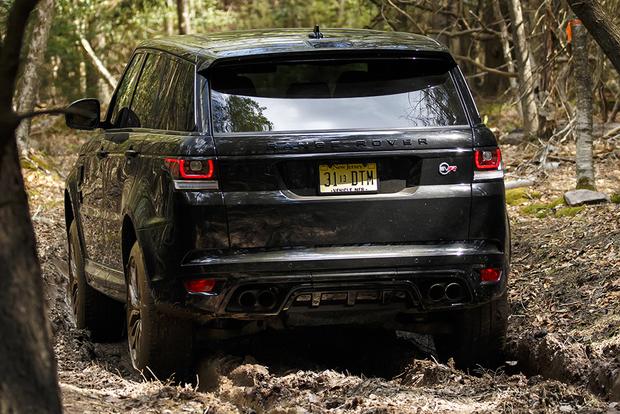 The 2016 Range Rover Sport SVR shouldn't really exist. Trundling over rough terrain in comfort and confidence, rolling onto a track, hitting speeds in excess of 150 miles per hour and taking fast corners with a different kind of confidence and composure are abilities that should be mutually exclusive. Yet the SVR doesn't just make a brave stab at both; it actually succeeds.
What we have here is the automotive equivalent of a unicorn, although it's not alone in the world. The idea of a sport utility vehicle (SUV) that really emphasizes the "sport" part is also behind the BMW X5 M/X6 M. Should anyone want to take the kids and the labradoodle for a lap or two before hitting the campsite, the SVR is the perfect choice.
Handles Muddy Waters
The Range Rover Sport is a midsize luxury crossover SUV, and it's one notch down from the ultraluxurious and well-equipped Range Rover. It still has the kind of hardware for which parent company Land Rover is renowned, including permanent all-wheel drive and a computer-controlled terrain response system that complements attributes such as axle articulation.
When making the SVR, the company made a point of not compromising off-roading essentials such as approach, departure and ramp-over angles, not to mention allowing for a wading depth of 33.5 inches. Just one area has changed a little: The deeper front spoiler (for better high-speed aerodynamics) has reduced the approach angle slightly, but that probably won't be a problem because the SVR still has an adjustable air suspension with plenty of leeway. And who really goes extreme off-roading with such a premium purchase? The point is that it comes from Land Rover, so some things just have to be included.
Built for Speed
The less predictable stuff arrives under the SVR umbrella. Those initials stand for Special Vehicle Operations, with R denoting the most powerful of Land Rover's performance arm. To describe the supercharged 5.0-liter V8 merely as an engine does it a disservice. It's a power station, pushing 550 horsepower and 502 lb-ft of torque to all four wheels, enabling a vehicle that weighs more than 5,000 pounds -- and whose coefficient of drag still doesn't approach that of a sports car's -- to sprint from standstill to 60 mph in just 4.5 seconds. The SVR can also hit a top speed of 162 mph, which is impressive in anyone's book, and it would be even faster if it wasn't limited electronically. Peak torque comes in at around 3,000 rpm and stays around until almost 500 rpm as the SVR keeps accelerating.
And it's smart speed, as well. The aforementioned air suspension is tuned to remain stable without ever becoming stiff and unforgiving. There's also a clever system called Torque Vectoring by Braking. If the SVR starts to understeer (when the nose washes wide) or oversteer (when the tail end slides out), the computer will assess speed and steering angle and will brake whichever wheel is necessary to keep the car on the desired line. When the time comes to hit the anchors with force, 6-piston Brembo front calipers are lurking behind the SVR's 21-inch alloy wheels, ready to bite into 15-in front discs.
An 8-speed automatic transmission with steering-wheel-mounted paddle shifters handles the shifting duties, which it does with subtle yet rapid efficiency. It has no problem coping with such a high level of engine output and still has a low-range transfer case because off-road talent is a necessity, not a luxury.
A lot of time and effort has also gone into making the SVR sound the part. If you amble through town, the quad exhaust note remains civil. But if you find a space to open her up, the resulting bark will make any driver turn off the high-end Meridian 19-speaker audio system so they can hear a different kind of music.
If anything, the electrically assisted steering could use more feel. It's deliberately light at low speeds, which is fine for maneuvering, but the extra weight at higher speeds doesn't really bring much more feedback. That's the only gripe with what is an amazing all-round vehicle, so it's hardly a deal breaker.
Manufactured With Comfort in Mind
Since the 2016 Range Rover Sport SVR sits at the top of this model's mountain, it naturally comes well appointed, including a panoramic glass roof, adaptive headlights, a surround camera system, aluminum accents and leather-covered heated seats in the front and rear. In the front, there are sports seats that hold their occupants snugly. These are very useful because this car can generate strong cornering forces. The SVR retains the 5-seat layout (well, four and a bit), but the rear seats are somewhat sportier too, and they can also recline a little. Rear headroom is generous and rear legroom is fine -- especially since one's toes can slide under the seat in front.
Pricing starts at $111,470, including $995 in destination charges. This is the first vehicle from Land Rover to wear the SVR badge, but with any luck, it won't be the last.