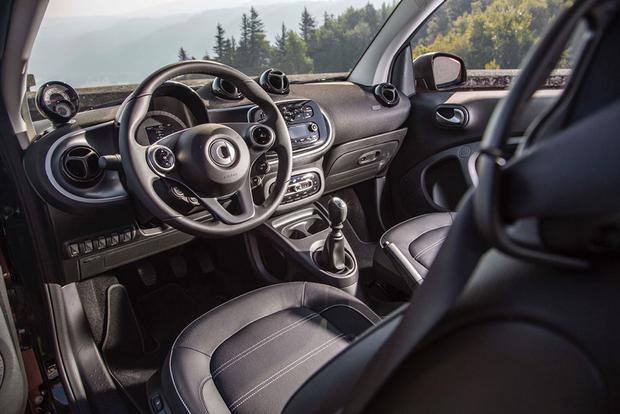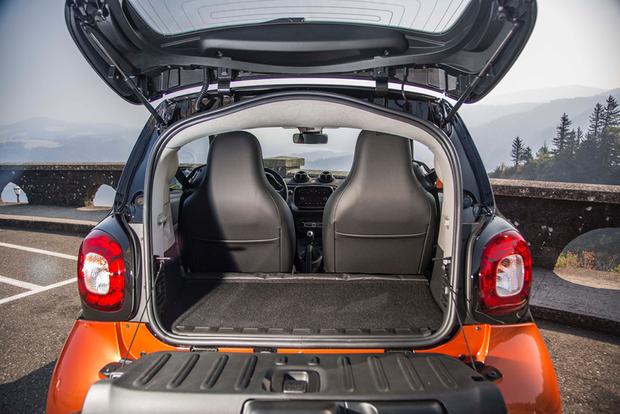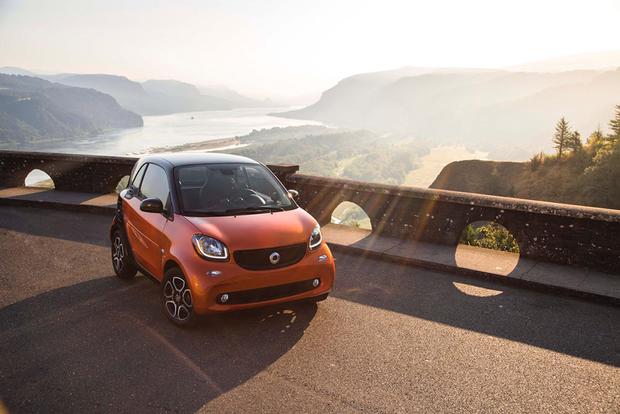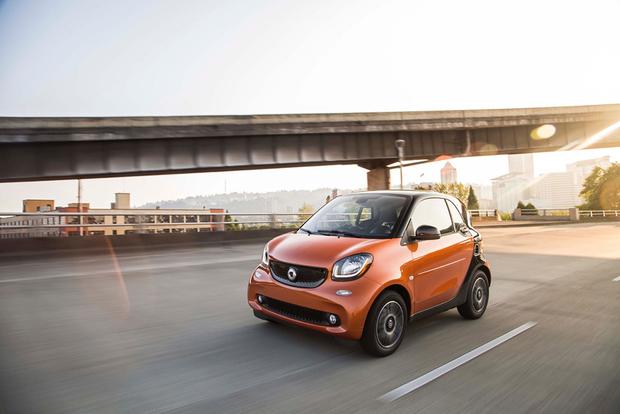 The 2016 smart fortwo is evidence that parent company Mercedes-Benz still believes in its 2-seater sub-subcompact. This model represents the beginning of an all-new generation, based on the now-familiar layout of rear engine, rear-wheel drive and a length of only 8.8 feet. It could be parked at 90 degrees to the curb and still not protrude beyond the average vehicle's width. Some virtues remain, then, but improvements have been made in all the areas where the previous generation was a letdown.
smart Size
Perhaps 3.9 inches doesn't sound like a lot, but that's how much wider the 2016 fortwo is over the outgoing model. It's noticeable just by looking at it. Jump inside, and those lateral inches translate into more shoulder room. The smart has always been good for headroom and legroom. Cargo space behind the seats (calling it a trunk would be a little misleading) is similarly more accommodating. Incidentally, the top part of the tailgate is separate from the lower section, so the whole thing doesn't have to be opened just to drop in a small item or two.
The other upside of those 3.9 inches is that the car now rides on a wider track, which helps it feel more stable. Accelerating through curved freeway on-ramps feels precise and planted. Although the fortwo is essentially a city car, it doesn't have to be confined to built-up areas. If drivers of the older model ever felt insecure when trying to overtake an 18-wheeler on the highway, they'll be fine in this. Just for good measure, there's a crosswind assist function in the new smart's traction/stability control setup that helps keep the car steering straight in gusty weather. And for even more stability, the tires are also wider.
smart Protection
Talk of safety typically happens further into a review after the sexy stuff such as styling and engine power has been covered. But considering America's roads are filled with giant SUVs and pickup trucks, a potential smart buyer might be concerned about simple physics when a big, heavy object runs into a small, light object. A high-strength steel safety cell forms an essential part of the smart. Think of it as a roll cage or a kind of exoskeleton. It can take a serious collision and still protect those inside. It even acts as one of the color elements on every smart's 2-tone paint scheme.
Naturally, the cabin also houses eight airbags, and the fortwo packs the usual mandatory array of safety features. Forward-collision warning is optional.
smart Moves
Whirring away behind the seats is an all-aluminum 3-cylinder engine. Whereas the previous generation's was naturally aspirated (in the United States, at least), this one employs a turbocharger to extract 89 horsepower and 100 lb-ft of torque from 899 cubic centimeters of displacement. Top speed is 96 miles per hour, and the sprint from a standstill to 60 mph takes 10.1 seconds in the manual version or 10.5 in the automatic.
Fuel consumption (91 octane) is estimated at 32 miles per gallon in the city, 39 mpg on the highway and 36 mpg combined for the manual and 33 mpg city/39 mpg hwy/36 mpg combined for the automatic.
As those figures illustrate, the aspect that was the biggest deal-breaker in the former fortwo -- its herky-jerky semi-automatic transmission -- has been replaced by two far more civilized options. A 5-speed manual is standard, or there's the 6-speed dual-clutch unit that acts just like a regular automatic while allowing drivers to select gears themselves when the fancy arises; higher trim levels have steering-wheel-mounted paddle shifters.
No one is going to have their breath taken away, but in a car that only weighs around 2,000 pounds and is aimed primarily at city dwellers, power levels are fine. What might be more important is how it rides.
Yet again, the new model trumps the old. There's only so much any chassis engineer can do with a short wheelbase, but the fresh fortwo has a more forgiving suspension while making good use of the tires' sidewalls. The result is comfort blended with control, and no longer will the driver dread going over speed bumps. Steering feel is direct and quick to react. And here we come to the real superpower of the 2016 fortwo: a turning circle of 22.8 feet. That's the best you can get.
Thanks to having the engine in the back and the body being wider, the front wheels can reach relatively extreme angles. When negotiating tight city streets and having to perform U-turns, the smart is invaluable and sometimes even chucklesome.
Less amusing are the ergonomics. The seats feel concave in shape -- both the lower cushion and the seatback. Also, if you don't spend $100 on the smartphone-cradle option (and then obscure some buttons on the sound system), there's nowhere to put your phone except to have it rattle around in the door pocket. The two cupholders in the center are too small for anything except those to-go espresso cups that Starbucks uses. It would be better to have one larger holder than two that can't really accommodate much.
While we're complaining, some road surfaces will create noticeable tire noise; the transmission is too eager to downshift under braking, so there's still some less-than-smooth aspects to the driving experience. On the plus side, the front passenger seat folds down to create more cargo space. And the driving position is quite elevated for a small car.
smart Money
The 2016 smart fortwo starts at $15,400, including $750 destination charges. That's for the Pure trim. Other trims -- in ascending levels of luxury -- are Passion, Prime and Proxy. The automatic transmission is a stand-alone option at $990. Basic equipment includes Bluetooth, automatic climate control, cruise control, a multi-function steering wheel and LED daytime running lights.
The fortwo coupe goes on sale in late September. The convertible is scheduled for early next summer, with the all-electric version due in late 2016.