Editor's note: You may be interested in reading more of Autotrader's model vs. model comparison car reviews as well as the 2016 Toyota Land Cruiser review and the 2016 Lexus LX 570 review.
If you're in the market for a full-size luxury SUV, you've probably noticed that Toyota and Lexus both offer virtually the same model — and at a very similar price point. Indeed, aside from their exterior styling, the 2016 Lexus LX 570 and the 2016 Toyota Land Cruiser seem to offer roughly the same package for about the same cost. Or do they? We've created a close comparison to examine the key differences between the Land Cruiser and the LX 570 in order to help you decide which one is right for you.
Exterior
The biggest differences between the Land Cruiser and the LX 570 are on the outside. While earlier Land Cruiser and Lexus LX models offered similar exterior styling with only a few variations, that's no longer the case; these days, the Land Cruiser and LX are distinguished with a lot of highly obvious styling differences. Generally speaking, the LX has a much bolder look than the Land Cruiser, with the largest-yet version of Lexus' new grille and giant eye-catching wheels. The Land Cruiser offers a much more subtle look to go along with its more mainstream badge. See the 2016 Toyota Land Cruiser models for sale near you
Interior
The Land Cruiser and LX 570 also offer some major differences on the inside. While visibility and seating positions are roughly the same between the two models, the SUVs offer vastly different dashboard designs that seem to share virtually nothing, save for a few small switches here and there. Specifically, the LX 570 offers a more modern, sportier look compared to the Land Cruiser's more utilitarian dashboard shape, while the Land Cruiser has a smaller touchscreen compared to the LX 570's larger screen and its Remote Touch interface. The two SUVs also offer different steering wheels and different positioning of climate controls, vents and more.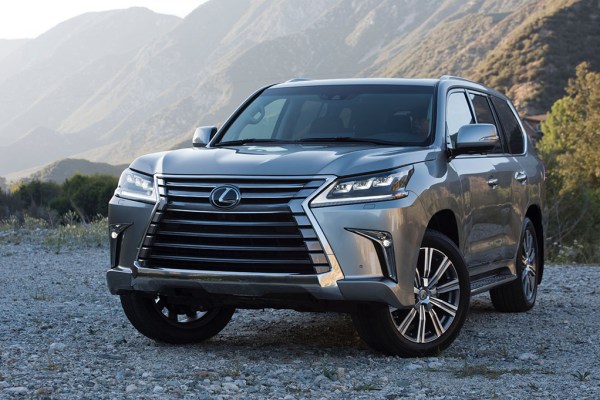 Mechanicals
Under the skin, the Land Cruiser and LX 570 are largely identical. Both offer standard 4-wheel drive, a new-for-2016 8-speed automatic transmission and a plethora of features designed to improve off-road capabilities. Both also tout the same engine: a 380-horsepower 5.7-liter V8 borrowed from the Tundra that boasts 400 lb-ft of torque and churns out a mediocre 13 miles per gallon in the city and 18 mpg on the highway. The only major difference is towing capacity: While the Land Cruiser can pull more than 8,000 pounds, the Lexus is limited to just 7,000. See the 2016 Lexus LX 570 models for sale near you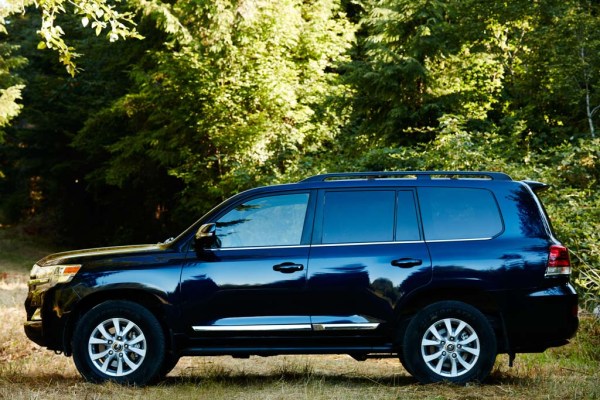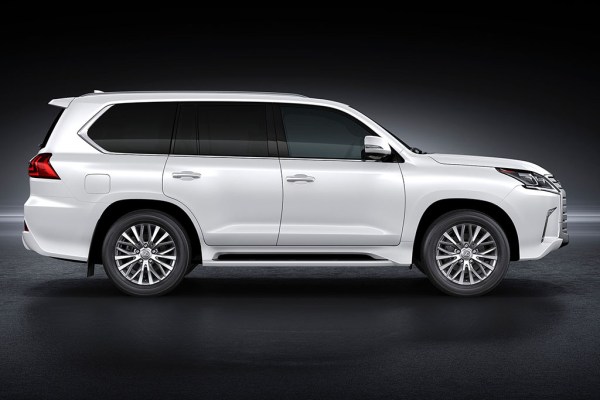 Features & Technology
Despite one offering a Lexus badge and the other wearing the lesser Toyota emblem, both the Land Cruiser and LX 570 are equipped in roughly the same way. You probably expect that when you consider the pricing: The LX 570 starts at $89,900 with shipping, while the Land Cruiser isn't far behind with a base price of $84,700.
To say the two models are well equipped is an understatement. Both come standard with virtually everything you could want, from an around-view camera system to a navigation system, 4-zone automatic climate control, a cooled center console box, front and rear parking sensors, huge center screens, a dual-screen rear-seat DVD entertainment system, LED headlights and taillights, a power sunroof, Bluetooth and a series of impressive off-road gadgets.
The Lexus offers only a few features that you can't get in the Land Cruiser, such as an available 19-speaker Mark Levinson sound system (the Land Cruiser includes a 14-speaker JBL system instead), a 12.3-inch center screen (the Land Cruiser has a 9-in screen instead) and a climate concierge system that monitors all four climate zones and the SUV's steering wheel and heated seats.
Driving Experience
Behind the wheel, the LX 570 and Land Cruiser feel almost identical, with each offering big power, impressive visibility and a king-of-the-road driving position. Handling and cornering is only average — as expected for the huge SUVs — though wind noise, road noise and suspension travel are kept to a minimum.
Simply put, the LX 570 and Land Cruiser are confined to a very unusual class of full-size SUVs shared only with the Range Rover and Mercedes G-Wagen in that they offer high-end luxury and serious off-road abilities. These are gigantic, highly capable SUVs that can do practically anything from traverse serious off-road trails in Moab to comfortably navigate Nantucket's cobblestone Main Street.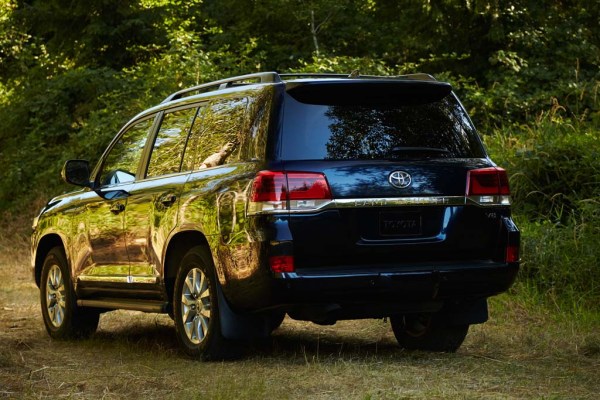 Safety
Neither the Land Cruiser nor the LX 570 has been crash-tested by the nonprofit Insurance Institute for Highway Safety or the federal government's National Highway Traffic Safety Administration. But given their size, long list of safety features and 6,000-lb curb weights, we suspect you'll come out ahead in virtually any collision.
Speaking of safety features, updates to the Land Cruiser and LX 570 for 2016 have brought the SUVs to the top of the SUV safety realm. Of course, they include the typical standard fare such as side-curtain airbags, anti-lock brakes, backup cameras and traction control. But the Land Cruiser and LX 570 also now come standard with blind spot monitoring systems, rear cross-traffic alert, lane-departure warning and forward-collision alert systems with low-speed braking. Both SUVs also tout adaptive cruise control, front and rear parking sensors, and a 360-degree camera as standard equipment.
Conclusions
The 2016 Lexus LX 570 and 2016 Toyota Land Cruiser are surprisingly similar SUVs with only a few differences worth noting. Styling is one change, as the Lexus offers a far bolder look than its Toyota twin — both inside and out. The Lexus also offers a few more features and, most importantly, a $5,000-plus price increase.
Our take: Although most shoppers go with the Lexus, the Land Cruiser should be fine for most needs. Then again, the Highlander should be fine for most needs. Shoppers in this segment often don't think about what's fine but rather what's best, and in this case, it's hard to dissuade them from picking the Lexus (and its accompanying high-end badge) over the more commonplace Toyota nameplate. Find a Used Toyota Land Cruiser for sale or Find a Used Lexus LX 570 for sale