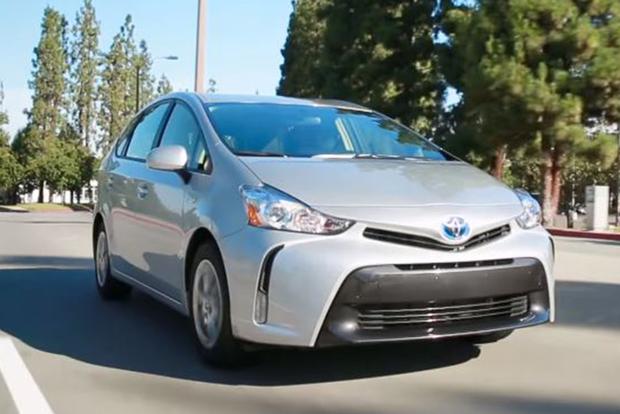 Prius has quite the family, and its biggest member -- the Prius V -- has tons of room for yours. And of course, since it's a Prius, the fuel bills will be low, too. We have five reasons why the 2016 Toyota Prius V is an exceptional value.
High Volume
Space is probably a top priority if you're considering the Prius V. You'll be glad to know that the hybrid expands to an impressive 67.3 cu ft. with the rear seats folded flat -- more than enough room for a hefty load on a long road trip. Those dimensions are comparable to many compact crossovers, but the Prius V will be a lot lighter on your wallet and at the gas pump.
Economy of Movement
We couldn't mention the Prius without noting fuel economy. A Toyota through and through, this hybrid returns 40 miles per gallon on the highway and a very satisfactory 44 mpg in the city -- so when it comes to the numbers, the V is hard to beat. Plus, these are figures you can hit in real-world driving, which isn't always the case with some of the Prius's competitors.
User-Friendliness
Toyota designers gave the Prius V its own unique design. The squared-off roof creates a lot more headroom for those seated in the rear seats, as well as a larger cargo volume. You'll find over 3 feet between the rear wheel wells for boxy items. Plus, the designers threw in two glove boxes and other stowage areas for storing smaller things. Job well done.
Display Team
Can you believe that the Prius has been around for over 15 years now? It's made some improvements over those years. The Prius V shows the actual hybrid system working in real time with the energy monitor. There's also an ECO Score display on the dashboard, which tells you how efficient the drive is. You might compare this feature to a video game -- the only difference is that the environment and your wallet are the true winners.
Surprisingly Sweet Ride
The Prius is known for many things, but a great drive may come as a surprise to some. But we found that the Prius V has a comfort level similar to some luxury brands. We especially love the stability and smoothness when driving on the highway.
Autotrader Says
We didn't even get to mention the various trim levels that Toyota offers for the Prius V. The well-appointed base trim includes a rearview camera, Bluetooth, push-button start and cool 16-inch alloy wheels. When you tack on fuel economy and space, the 2016 Toyota Prius V is an exceptional hybrid.