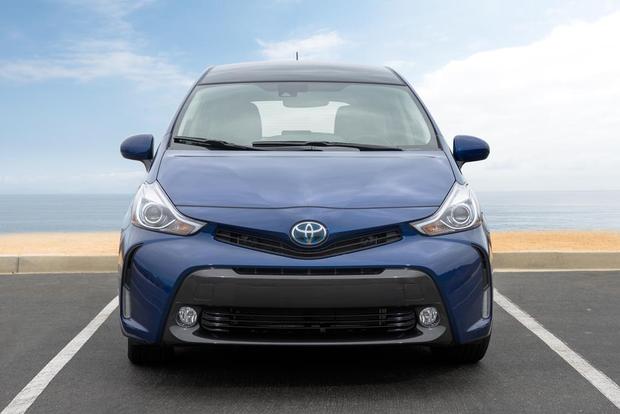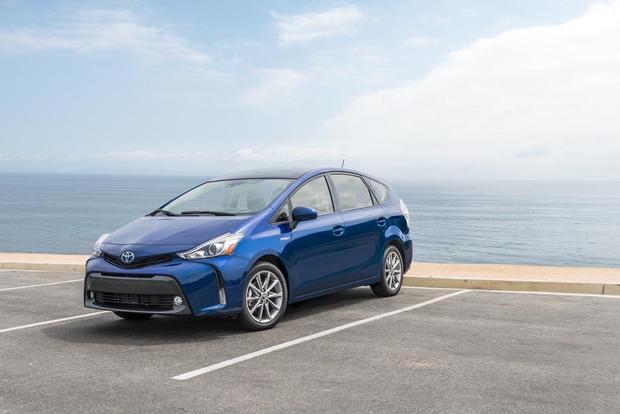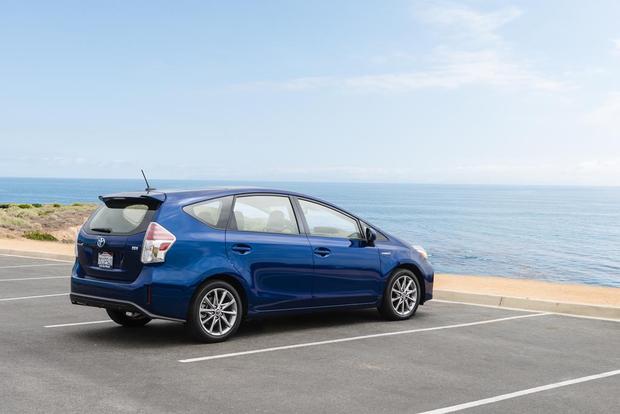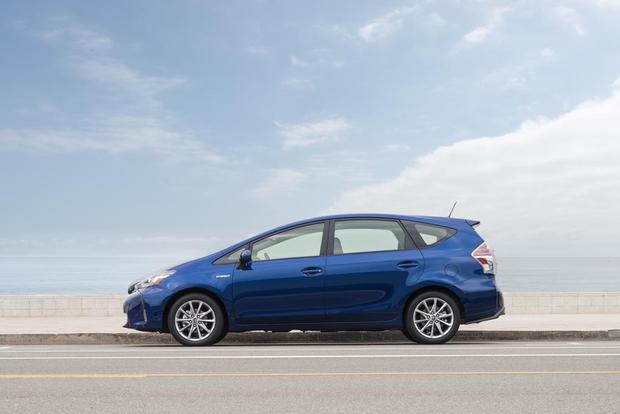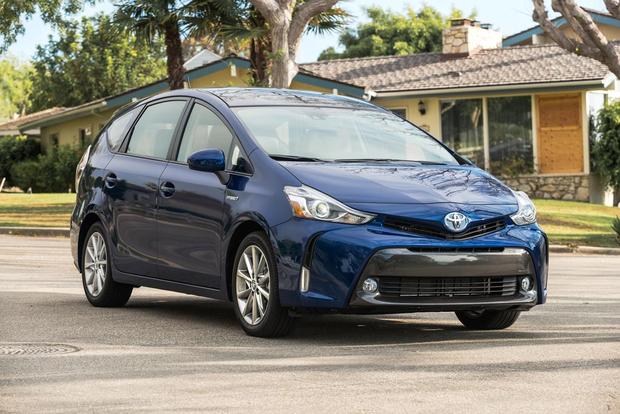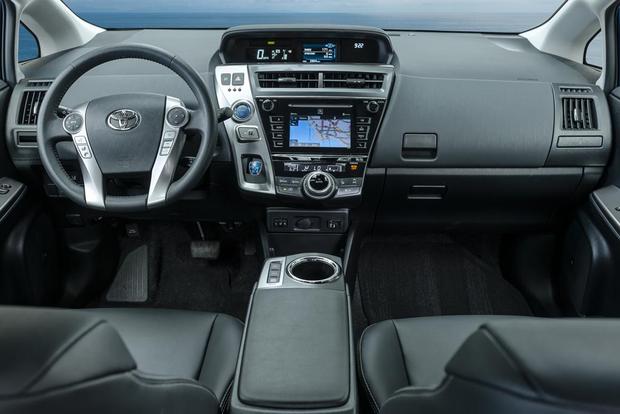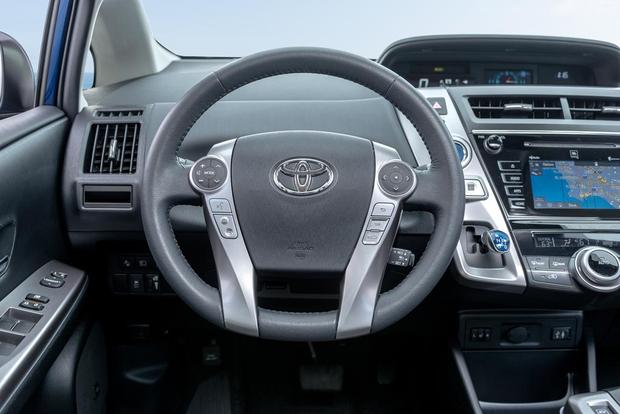 If you're looking for information on a newer Toyota Prius v, we've published an updated review: 2017 Toyota Prius v Review
If you think of the 2016 Toyota Prius v as a standard Prius that's been stretched out, you wouldn't be too far off. To create the 5-door hatchback, Toyota simply took what was already appealing about the normal Prius -- excellent fuel economy, a comfortable ride, reasonable pricing -- and elongated the car, turning it into a roomier, taller package that's even more family-friendly than the normal model.
One of the Prius v's primary selling points is its higher seating position, and that's no small thing in this SUV-saturated era. When seemingly every other vehicle on the road is a jacked-up Jeep wannabe, ground-skimming hatchbacks such as the regular Prius can feel a bit small, even if their crash-test scores are great. That's why Toyota makes sure that you sit up high in the Prius v, giving you an extra measure of confidence on the road.
Drawbacks? Well, the Prius v employs the same hybrid power system as its smaller and lighter sibling, so it's both slower and less efficient. But speed is largely a matter of personal preference -- and while 42 miles per gallon isn't quite 50 mpg, it's not what we'd call shabby, either. So, if you like the idea of the Prius but need more space, the Prius v could be just the thing.
What's New for 2016?
The Prius v is unchanged for 2016.See the 2016 Toyota Prius v models for sale near you
What We Like
Great fuel economy; elevated seating; more space than a normal Prius; nicer interior than a regular Prius
What We Don't
Worse fuel economy than a regular Prius; more expensive than a regular Prius; lethargic acceleration
How Much?
$27,700-$31,900
Fuel Economy
The front-wheel-drive Prius v features the same drivetrain as the regular Prius: a 1.8-liter hybrid 4-cylinder. Total output is 134 horsepower -- this in a vehicle that weighs as much (almost 3,300 pounds) as a loaded Camry. In other words, acceleration is not the Prius v's forte.
But considering that not-insignificant curb weight, the Prius v's Environmental Protection Agency (EPA) fuel economy estimates of 44 mpg in the city and 40 mpg on the highway are impressive, edging out even the Camry Hybrid's 43 mpg city/39 mpg hwy fuel economy numbers.
Standard Features & Options
The 2016 Toyota Prius v 5-passenger wagon comes in four trim levels, named simply Two, Three, Four and Five.
The entry-level Two ($27,700) delivers strong value with 16-inch alloy wheels, a 6-speaker sound system with a 6.1-in touchscreen display, a backup camera, iPod/USB and Bluetooth connectivity, automatic climate control, keyless entry with push-button starting and a height-adjustable driver seat with power lumbar support.
The Three ($29,000) adds a navigation system, Toyota's smartphone-based Entune mobile app interface, a multicolor information display and a fold-down rear armrest.
The Four ($30,500) features leatherette upholstery, heated front seats, an auto-dimming rearview mirror and a power driver's seat.
The upscale Five ($31,900) adds LED headlights, fog lamps and 17-in alloy wheels. The Five is also eligible for a number of exclusive upgrades, including adaptive cruise control, automatic high-beam control, lane-departure warning and Toyota's pre-collision safety system. A panoramic sunroof, formerly exclusive to the Five, is now available on the Three, as well.
Safety
The Prius v comes with standard stability control, a backup camera, seven airbags (including a driver's-knee airbag) and anti-lock brakes. Optional on the high-level Five are adaptive cruise control, automatic high-beam control, a lane-departure warning system and a pre-collision system with automatic braking.
In National Highway Traffic Safety Administration crash tests, the Prius v earned a 5-star overall rating. That includes four stars in frontal and rollover crash tests and five stars in side-impact tests. The Prius also earned an excellent Top Safety Pick+ score from the nonprofit Insurance Institute for Highway Safety.
Behind the Wheel
The Prius v shares the regular Prius' smooth, quiet ride -- though its extra size and weight makes it feel more substantial, especially at highway speeds. With its higher center of gravity, the Prius v is certainly no athlete, but it has an easygoing nature that commuters and parents will likely appreciate. There's no getting around the power shortage, though, as it's apparent every time you need to accelerate.
The Prius v's dashboard is a bit more conventional than the spaceshiplike dash in the regular Prius, but it's more upscale too, in both appearance and construction. The digital gauges and hybrid-system displays will be familiar to any Prius veteran, and none of the controls or readouts take much time to get used to. Also familiar is the Prius family's trademark joystick-style shift lever.
The back seat in the regular Prius is already quite accommodating, but the Prius v does it one better with sliding/reclining rear-seat functionality and a significantly higher rear cushion, allowing long-legged passengers to ride with full under-thigh support.
Cargo space measures up to twice the regular Prius model's trunk size. That places the Prius v in crossover-SUV territory -- and Toyota does a great job of integrating the Prius v's battery pack seamlessly beneath the floor.
Other Cars to Consider
2016 Mazda CX-5 -- Although the Prius v is an excellent crossoverlike choice, shoppers who would rather have a crossover will be best served by the highly efficient (and cheaper) CX-5, which gets more than 30 mpg hwy.
2015 Toyota Prius -- Remember, the regular Prius gets 50 mpg. It's cheaper and it's a little quicker, too. How badly do you need the Prius v's higher seats and extra room?
Used Toyota Highlander Hybrid -- Although it doesn't offer the fuel economy of the Prius v, Toyota's midsize Highlander Hybrid boasts good gas mileage numbers, a high seating position and third-row seating. New ones are pricy, but a used one should do.
Autotrader's Advice
We think the Three model is the sweet spot. It gives you all the technology you need, including Entune, without breaking the bank. Find a Toyota Prius v for sale