Editor's note: You may want to read more of Autotrader's model vs. model comparison car reviews as well as the 2016 Toyota Prius review and the 2016 Chevrolet Malibu Hybrid review.
The terms "hybrid" and "Toyota Prius" are practically synonymous. If you think of one, you probably think of the other. And yet, it isn't the only gasoline-electric option out there, and it certainly may not be the best one for you. One such alternate option is the 2016 Chevrolet Malibu Hybrid, which takes Chevy's impressive new midsize sedan and essentially drops in the Volt's advanced hybrid system (minus the plug and all-electric driving range). So when considering the 2016 Toyota Prius and 2016 Chevy Malibu Hybrid, which is better?
2016 Toyota Prius
The Prius was also completely redesigned for 2016, which is pretty easy to tell given its new, polarizing styling. More importantly, the new Prius is more efficient, better to drive, quieter and more comfortable. See all 2016 Toyota Prius models available near you
2016 Chevrolet Malibu Hybrid
Not only was the Chevy Malibu completely redesigned for 2016, but the hybrid version is an all-new model, as well. Though the Malibu was technically available as a hybrid in years past, it was a technologically unsophisticated effort that paled in comparison to its contemporaries. See all 2016 Chevrolet Malibu Hybrid models available near you
Reliability
Since both the Chevy Malibu and Toyota Prius were redesigned for 2016, there isn't enough data at present to determine their reliability. All we have to go on is history, which strongly favors the Prius. According to multiple sources, the Prius has been one of the most reliable cars on the road. The Chevy Malibu has had more problems reported and generally average ratings, but we certainly wouldn't call it unreliable. The Prius is just better.
Fuel Economy
The Prius has superior fuel economy estimates, but it's a bit more complicated than simply looking at its ratings of 54 miles per gallon in the city, 50 mpg on the highway and 52 mpg combined versus the Malibu Hybrid's 47 mpg city/46 mpg hwy/46 mpg combined.
On the surface, those Environmental Protection Agency estimates favor the Prius. However, mpg figures are deceiving. When you consider the amount of money actually spent filling your tank in a year, the average annual difference between the Prius and Malibu Hybrid is only $50 ($100 if you get the 56 mpg Prius Eco model). When you consider some of the Chevy's advantages over the Prius, $50 may be worth the extra cost.
Driving Experience
The Chevy Malibu Hybrid feels more like a normal car to drive, particularly with its more natural, easily operated brake pedal (often a hybrid sore point). Like the regular Malibu, its surprisingly sharp handling is balanced by a composed ride. We also appreciate the power delivery from its hybrid powertrain, which relies more on its electric motor to produce smoother, quieter and seemingly quicker acceleration. Its gasoline engine also kicks in less frequently and with less noise.
At the same time, the Prius is greatly improved from its predecessor. No one will ever say the Prius is enjoyable to drive, but the new one is far quieter and transmits fewer road imperfections into the cabin.
Safety
A slight victory to the Chevy Malibu Hybrid here, as it received five stars from the National Highway Traffic Safety Administration for overall, frontal and side crash protection. The Prius managed five stars for overall and side crash protection but got four stars for frontal protection. Both received Top Safety Pick+ awards from the Insurance Institute for Highway Safety.
Accident avoidance technologies such as forward-collision and blind spot monitoring systems are bundled together in the Malibu Hybrid's $1,195 Driver Confidence package. It is unfortunately tied to another $895 package.
With the Prius, blind spot and rear cross-traffic monitoring systems are standard on the Prius Four trim levels, while forward-collision and lane-departure warning are available on the Prius Three and Four trim levels as part of the Safety Sense package.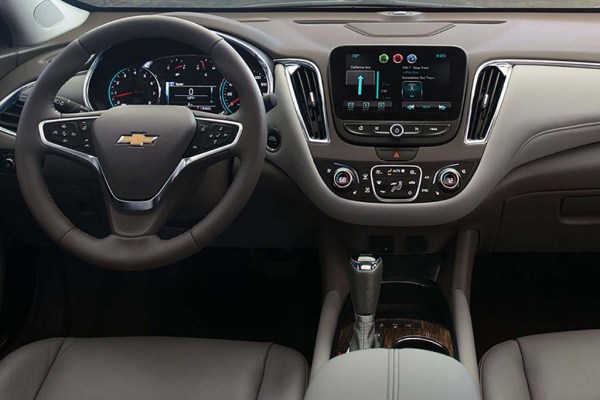 Technology
Both the Toyota Prius and Chevy Malibu Hybrid come with their respective brand's latest and greatest touchscreen tech interfaces. The Chevy MyLink system is a bit prettier to look at and features a few extras not available on the Prius, such as Android Auto, Apple CarPlay and on-board Wi-Fi through the standard OnStar emergency communications system. It's also reasonably easy to use.
The Prius system is perhaps a bit simpler, especially for those who'd prefer regular old radio buttons to a fancy touchscreen, yet it still offers a variety of advanced features, including wireless charging and smartphone-connecting apps Pandora Internet Radio and Yelp.
Comfort and Interior Space
The Chevy Malibu Hybrid is a bigger car, so it'll be a better choice for those looking for more back-seat legroom and shoulder room. The Malibu is also quieter, has a comfier ride and is generally more refined. However, the Prius no longer suffers from insufficient front-seat travel, allowing more drivers to fit comfortably. Its hatchback cargo area is also more versatile than the Malibu's, which is compromised by the presence of battery packs.
Value
If you're just looking for the best mpg at the lowest price, the Toyota Prius is the better choice. It starts at $24,200, while the Malibu Hybrid starts at $27,770. However, should you try to match the Prius' feature content to the Malibu's standard equipment (likely a Prius Three Touring or Prius Four trim level), you'll look at very similar pricing.
Autotrader's Advice
The Prius offers superior reliability and fuel economy and is a far better car than the one it replaces. It's probably the more practical choice. However, you may enjoy driving, looking at and spending time in the Malibu Hybrid enough that its fuel economy deficit becomes palatable over the long term.
Find a Used Toyota Prius for sale