Editor's note: You may want to read more of Autotrader's model vs. model comparison car reviews as well as the 2016 Toyota RAV4 review and the 2016 Hyundai Tucson review.
If you're interested in a new compact SUV, we suspect that you already have the 2016 Toyota RAV4 and the 2016 Hyundai Tucson on your shopping list. Both models have been recently updated, and both offer many highly compelling reasons to merit your consideration. But which one is better, and which one should you get? We've created a close comparison of the Tucson and the RAV4 to help you answer those questions, but first let's see what's new with the two SUVs for the 2016 model year.
2016 Toyota RAV4
The RAV4 was heavily updated for 2016, touting a revised exterior, a subtly updated interior and a long list of new features, including many important safety gadgets. The RAV4 also adds a new hybrid powertrain for the 2016 model year.
2016 Hyundai Tucson
The Tucson was fully redesigned for 2016. It boasts new styling inside and out, along with a revised powertrain lineup and a long list of new features and equipment.
Reliability
According to experts at J.D. Power, the Toyota RAV4 offers better-than-average reliability. Because the latest Hyundai Tucson is so new, it hasn't yet been rated by J.D. Power, though the outgoing model earned a respectable average score.
As for warranty length, the Hyundai has a clear advantage with its 5-year or 60,000-mile bumper-to-bumper warranty and 10 years or 100,000 miles of powertrain coverage. In comparison, the RAV4 offers only 3 years or 36,000 miles of bumper-to-bumper coverage and 5 years or 60,000 miles of powertrain protection.
As a result, we think these two SUVs are in a dead heat when it comes to reliability, with the RAV4 offering a better overall rating and the Tucson boasting a longer warranty.
Fuel Economy
The RAV4 offers two powertrains. Most models use a 176-horsepower 2.5-liter 4-cylinder, which returns up to 23 miles per gallon in the city and 30 mpg on the highway. New for 2016 is a RAV4 Hybrid, which offers a hybrid version of that same engine that's good for 34 mpg city/31 mpg hwy.
Meanwhile, the Tucson also offers two engines. Base models use a 164-hp 2.0-liter 4-cylinder, which returns up to 23 mpg city/31 mpg hwy. Other trims use a 175-hp 1.6-liter turbocharged 4-cylinder, which boasts up to 26 mpg city/33 mpg hwy.
If you're looking for overall fuel economy, you won't find any compact crossover that tops the RAV4 Hybrid. If you don't want to pay the hybrid premium, however, the Tucson's 1.6-liter turbocharged engine outshines the RAV4's base-level powertrain when it comes to gas mileage.
Safety
In federal government crash tests carried out by the National Highway Traffic Safety Administration, both the RAV4 and the Hyundai Tucson earned perfect 5-star overall ratings. Both models were also given the coveted Top Safety Pick+ rating by the nonprofit Insurance Institute for Highway Safety, suggesting that they both have excellent crash protection.
As for features, the Tucson and RAV4 are also among the best. In addition to offering the usual standard equipment — side-curtain airbags, a backup camera, anti-lock brakes and traction control — the Tucson and RAV4 also offer a wide range of cutting-edge amenities such as forward-collision warning with automatic braking, lane-departure warning, parking sensors, a blind spot monitoring system and rear cross-traffic alert.
Overall, however, we'd say the RAV4 offers a slight advantage over the Tucson, as it offers automatic high beams and lane-keep assist, which the Hyundai doesn't. But the general gist is that these two models are among the safest and best-equipped compact SUVs on the market.
Technology
As in the Safety section, both the Hyundai Tucson and Toyota RAV4 prove themselves to be among the most advanced models in the segment — though, once again, the Toyota boasts a slight advantage over its Hyundai rival.
For instance, while both SUVs offer parking sensors, only the RAV4 has them in both the front and back. While both SUVs tout backup cameras, only the RAV4 offers a 360-degree camera system. And only the RAV4 offers an 11-speaker sound system (the Tucson maxes out at eight speakers), adaptive cruise control and Toyota's excellent Entune infotainment system, which we prefer to Hyundai's Blue Link system.
Don't get us wrong: The Tucson also offers a lot of tech, such as xenon headlights, ventilated front seats, an 8-inch touchscreen and more. But overall, we think the RAV4 has a slight leg up here.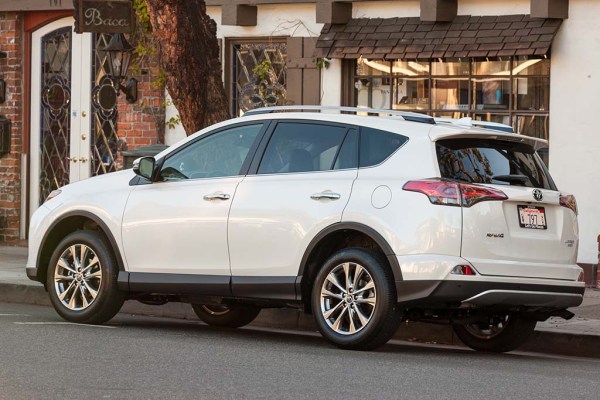 Value
Although the Tucson and RAV4 have largely been neck and neck up until this point, this one is a no-brainer: The Hyundai wins when it comes to value. While the two SUVs offer roughly the same basic standard equipment, the Hyundai's base price of $23,700 is far more affordable than the RAV4's $25,300 base MSRP. Those differences stay relatively steady as you progress through the trim levels, with the top-level Hyundai Tucson Limited starting at $30,900 compared to the RAV4 Limited's $32,500 base MSRP.
Our take: The RAV4 might nudge out the Tucson in a few key categories, such as safety equipment and technology, but the Hyundai offers a better value.
Autotrader's Advice
It's hard to choose a winner between the 2016 Toyota RAV4 and the 2016 Hyundai Tucson, largely because these two models are both clearly at the top of the compact-crossover game. In the end, then, we have to award a split decision.
If it's gadgets you're after, go for the Toyota, as it offers more safety equipment and more features. The same goes if you're willing to pay extra for the excellent fuel economy of the RAV4 Hybrid. If you're more interested in value, the Hyundai is the best bet, as it just barely lags behind the RAV4 in the aforementioned categories, but it does so with a noticeably lower base price. Generally speaking, we suspect you'll be happy with either of these two SUVs.
Find a Used Toyota RAV4 for sale