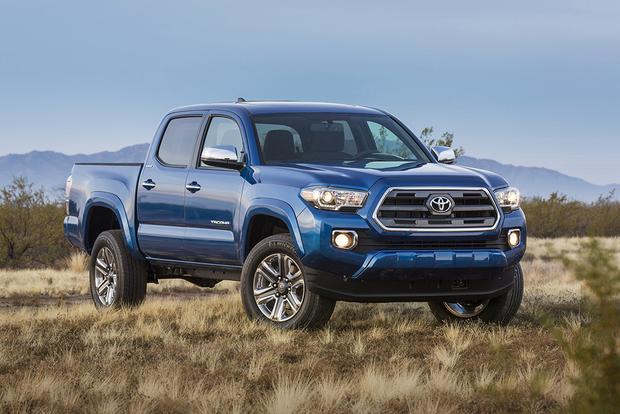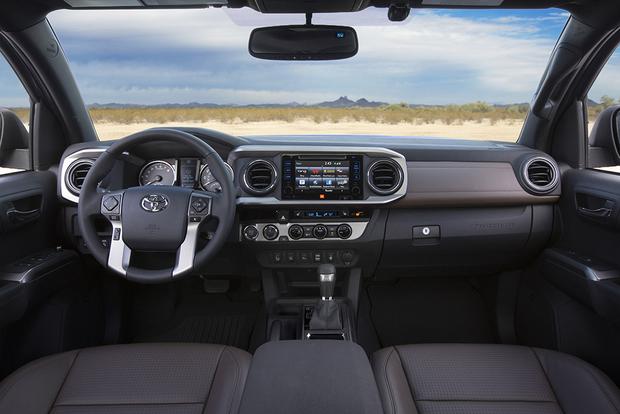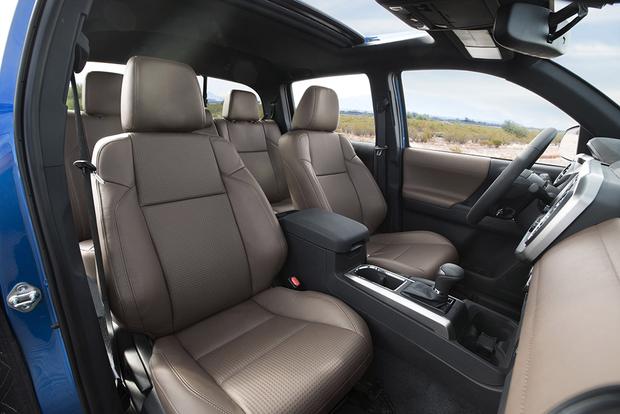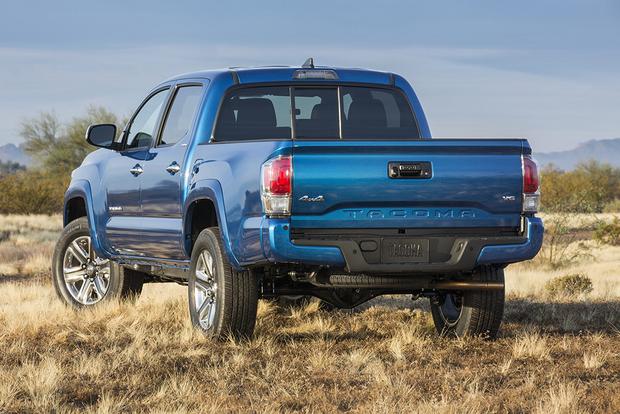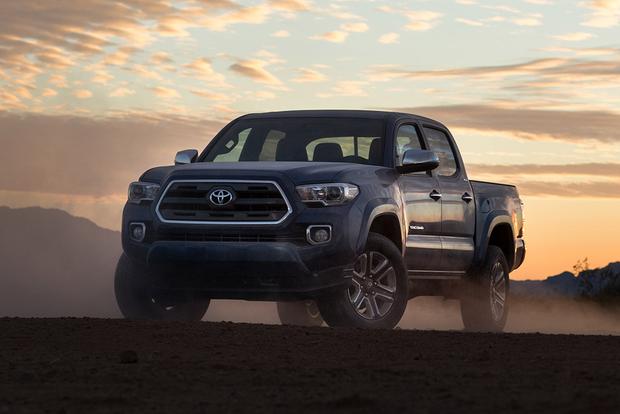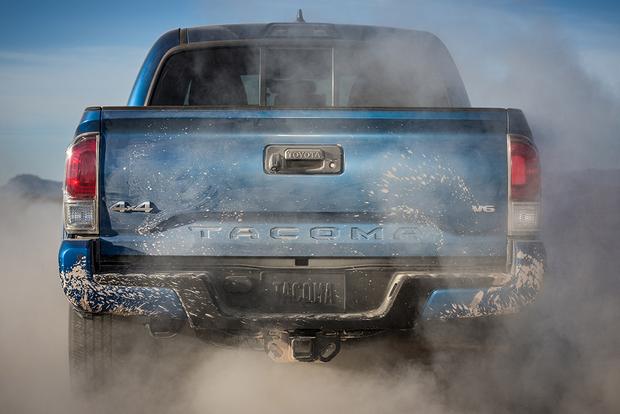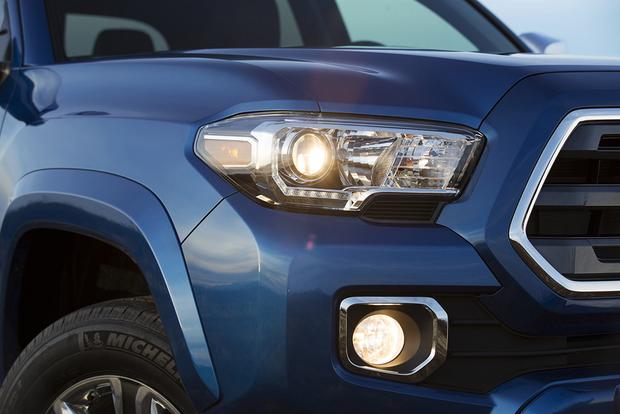 After a long wait, the ninth-generation 2016 Toyota Tacoma arrives on September 10 as a 2016 model with new engine choices, an upgraded interior and many sophisticated, carlike features designed to keep it out in front for years to come.
Toyota didn't approach the Tacoma remake casually. They've rethought the model lineup, adding another TRD (Toyota Racing Development) option, bringing the total of Tacoma models to five (SR, SR5, TRD Sport, TRD Off-Road and Limited). Factor in the mix of Access Cab, Double Cab, Short Bed, Long Bed, 4x2 and 4x4 choices and there are 29 different Tacoma configurations, ranging in price from $25,385 to $37,820.
Sharper, Sleeker, Similar
The new Tacoma isn't dramatically different in appearance from the outgoing model, but it is sleeker, sharper and better looking overall. Without significantly raising the shoulder line, when looking at the truck from the side, Toyota reduced the height of the windows for a much more modern look. Some smart construction on both ends is designed to reduce repair costs in minor collisions.
Plain wrap SR models still look lean and purposeful, while TRD Sport models grow scoops and vents. All models benefit from a desert racer theme that works with the illusion of more ground clearance and a higher stance than before. Both 5-foot and 6-foot bed styles have been increased in depth by 7 percent to 19.1 inches, and both maintain a solid 53.4 inches of width at the tailgate (41.5 inches between the wheel wells). This means you can carry a stack of 4-foot-by-8-foot plywood in the pickup bed on top of the wheel wells, hanging out of the open tailgate. Standard speed rails and fixed tie down points make it easy to secure that load of plywood, and a new locking easy lower tailgate simplifies loading and unloading. Payload ranges from 1,120 pounds to 1,620 pounds, depending on truck configuration. All Tacoma models are rated to tow 3,500 pounds, and with an optional V6 Tow Prep Package installed, some can tow up to 6,800 pounds. Sway control is standard on Tacoma this year, which is a very good thing no matter what size trailer you're towing.
Tailored Swiftly
Inside the cabin, there's nothing cheap or rough-hewn about the Tacoma. Indeed, luxury-level amenities like heated power leather seats, dual-zone climate control, smart key with push-button start and other features have been integrated into most trim levels. In a nod to the active young buyers that Toyota is courting for Tacoma, each pickup will be equipped with a standard GoPro camera mounting point on the dash. The latest edition of Toyota's Entune infotainment system is standard across the lineup, with enhanced versions and more elaborate sound systems in the higher trim levels. Siri Hands Free is standard on Tacoma, and cellphone-based Scout GPS integration is also available.
Gain Without Pain
A choice of two engines live in the Tacoma bay. There's a new 3.5-liter V6 engine, now rated to produce a beefy 278 hp and 265 lb-ft of torque. The carryover 4-cylinder engine displaces 2.7 liters and produces a healthy 159 hp and 180 lb-ft of torque. There are two new transmissions to choose from, too: A 6-speed automatic and a 6-speed manual in the V6. The 4-cylinder gets the new 6-speed automatic and an older 5-speed manual. The V6 engine is particularly high-tech, enabling it to deliver fuel economy that rivals the 4-cylinder's. With 4x2 and an automatic transmission, the V6 Tacoma is rated to achieve 19 miles per gallon city and 24 mpg on the highway, while it gets 21 mpg combined. The 4-cylinder/4x2/6AT Tacoma is actually not as good: 19 mpg city/23 mpg hwy/21 mpg combined. The difference between engines is about $1,700.
Handling and ride comfort in the Tacoma is predictably good in most situations. If you're going to be driving your Tacoma as a car stand-in, pick a tire/wheel setup that matches your intended use. Riding around on off-road tires all the time won't do much for your daily drive or peace of mind -- though your truck will look cool.
Tacoma continues to ride on a double-wishbone front suspension with a stabilizer bar, and a leaf spring rear. You can get a couple levels of 4x4 in Tacoma. The TRD Off-Road trim level, for instance, includes Toyota's impressive Multi-Terrain Control system. With 9.4 inches of ground clearance, all the 4x4 Tacoma trucks are impressively capable when the pavement ends.
50 Percent and Holding
Tacoma is a really good truck -- a worthy successor to the eighth-generation truck. There's a wide range of choices within the lineup, which means there's a Tacoma out there for everybody.
It won't take long to drive the competition, but give the Chevy Colorado, GMC Canyon and Nissan Frontier a test before you order your Tacoma. Each has much to offer, and one might push your buttons better than the Tacoma. We're especially looking forward the diesel-powered Chevy Colorado.
For now, Toyota is not likely to relinquish its 50 percent hold on the marketplace with the 2016 Toyota Tacoma.