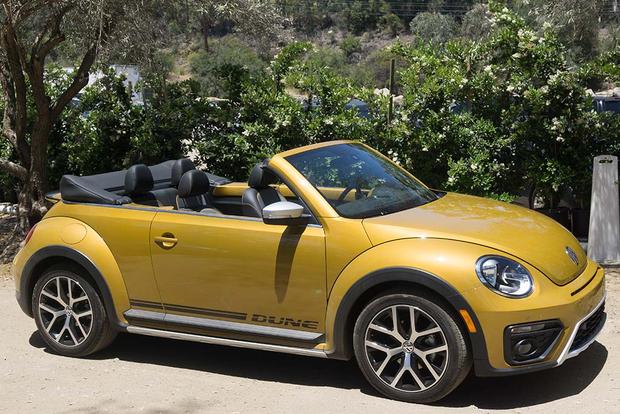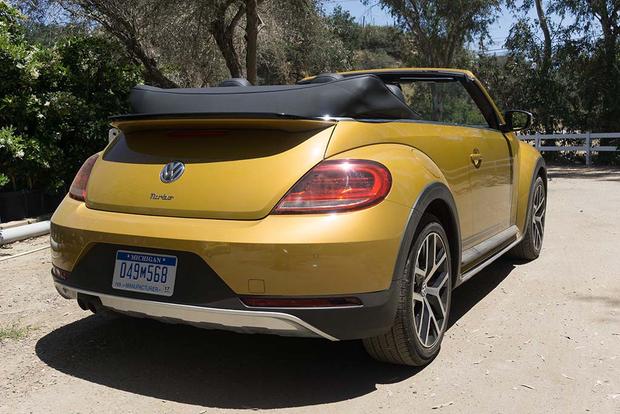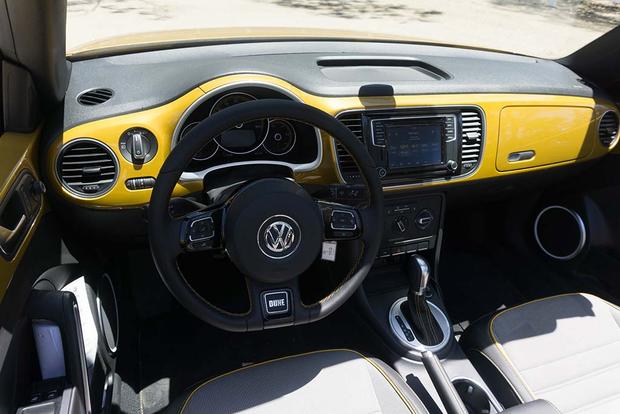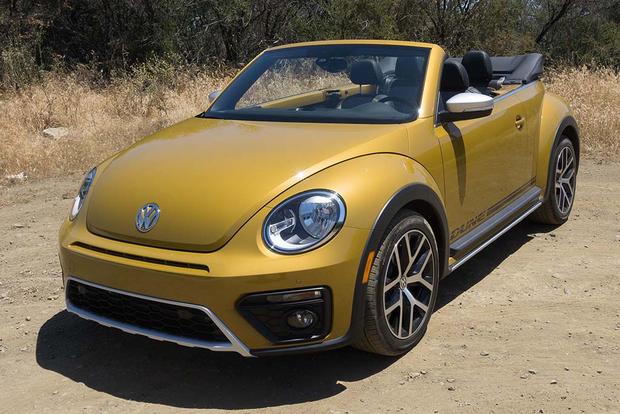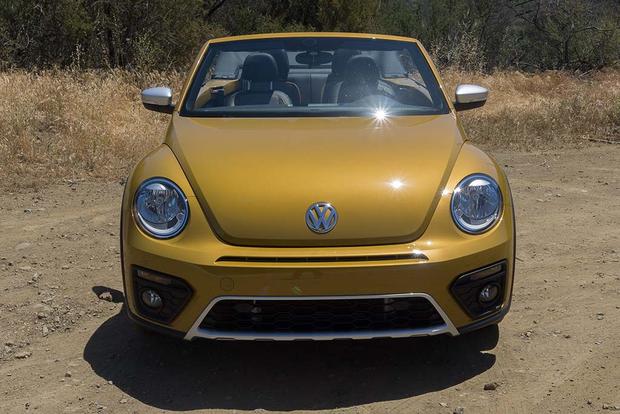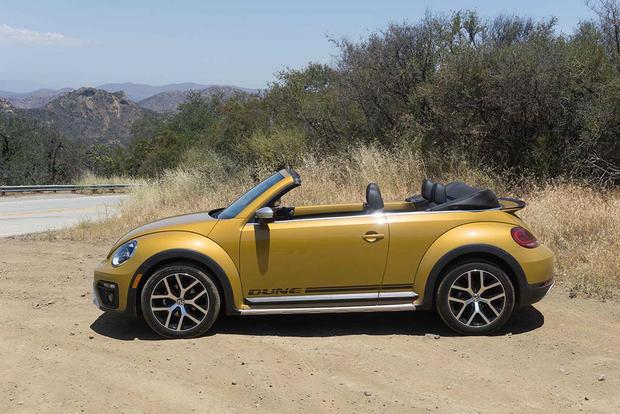 We recently had a chance to sample the 2016 Volkswagen Beetle Dune Convertible at the Motor Press Guild's Droptops & Dirt, an annual driving event for journalists. The Motor Press Guild invites manufacturers to bring out their toughest off-roaders and their snazziest convertibles to Calamigos Ranch in the Malibu hills, and the journalists line up to explore the trails (hopefully in the off-roaders) and area roads (in the convertibles). The Sandstorm Yellow (one of three available colors) Dune got more than its share of attention in a cadre of convertibles that included examples from Mercedes-Benz, Alfa Romeo, MINI, Buick and others. Quite simply, the Dune is cute as all get-out, with just enough nostalgic and rugged appeal to capture the imagination.
Hardtop or Convertible? Convertible, of Course.
The Dune is available as either a hardtop coupe or convertible. It doesn't take much to transform the ordinary Beetle, which has been around since 1998, into a Beetle Dune. New front and rear fascia and black wheel-arch flares, a big rear spoiler and some faux skid plates echo the look of the classic Baja bug conversions that were very popular in Southern California in the 1980s. The ride height has been lifted by 0.4 inches, and the overall body (with the flares) is 0.6 inches wider than stock. 18-inch aluminum alloy wheels wear wide 235-series all-season tires. Bold stripes run along the vehicle's sides, with a graphic pronouncing DUNE.
The interior has been kicked up a notch too, with standard sport seats with orange contrast stitching. On the Sandstorm Yellow car, the interior painted parts match the body color for a custom look. The motorized top is black and has a glass rear window with a defroster element. Unlatch, and you're riding in the open air in a jiffy, and the top tucks away neatly on its own.
When Is a Beetle Not a Beetle?
Unlike the classic Baja Beetles, the modern third-generation Beetle is a front-engine, front-wheel-drive vehicle, based on a once-upon-a-time Golf/Jetta platform. The Dune comes with a 1.8-liter turbocharged gasoline direct-injection 4-cylinder engine (170 hp/184 lb-ft of torque) and a 6-speed automatic transmission.
Despite the Dune's visual connection to the Baja Bug, this is not an off-roader. It's a lifestyle vehicle, a cool runaround with the main purpose of looking great and attracting attention. It does that very well.
Driving around on the curvy Malibu roads, we realized why performance vehicles are generally lowered rather than raised. The 0.4-in lift applied to the Dune adds a little bit of floatiness to its cornering attitude, which made slower speeds more appealing than faster ones. It never felt tippy or unsafe -- just a little too floaty for fully assertive cornering.
Fortunately, VW has fitted a full suite of safety systems to the Dune, including electronic stability control, airbags and automatic post-collision braking. It's important to remember that a convertible is inherently less safe than a hardtop coupe, so if safety is your primary concern, there are better choices. Always wear your seat belt in a convertible, and adjust your driving style to ensure that a rollover incident never becomes an issue. We'd expect that a lot of these Beetle Dune Convertibles will wind up with young drivers behind the wheel -- it's that kind of car -- so a serious safety talk is imperative. As cute as the Dune is, it is not a toy.
Looking Good, Pricing Low
Pricing hasn't been revealed for the 2016 Volkswagen Beetle Dune Convertible yet, but we expect it to be a little more than the $23,995 price of the Dune Coupe. Inevitably, buyers will compare the Dune with other cute 4-passenger convertibles, such as the FIAT 500 Cabrio and MINI Cabrio, and against roadsters including the Mazda MX-5 Miata and FIAT 124. Each of these vehicles is so different from the Beetle Dune that it becomes a matter of taste and a question of which vehicle suits your personal style the best. It's not the best-driving drop-top of the bunch (that prize goes to the MX-5), and it's not the best looking (again, MX-5) -- but it might be the cutest and the coolest.