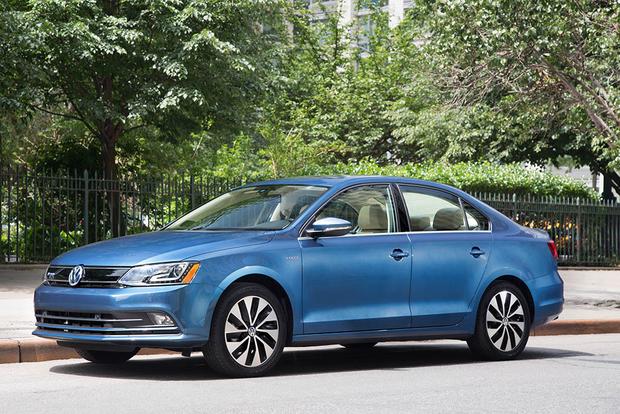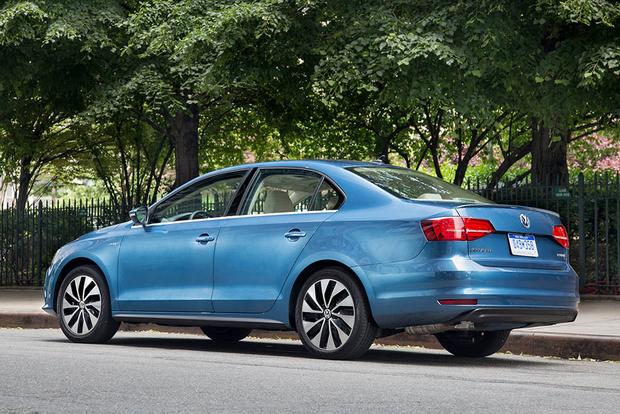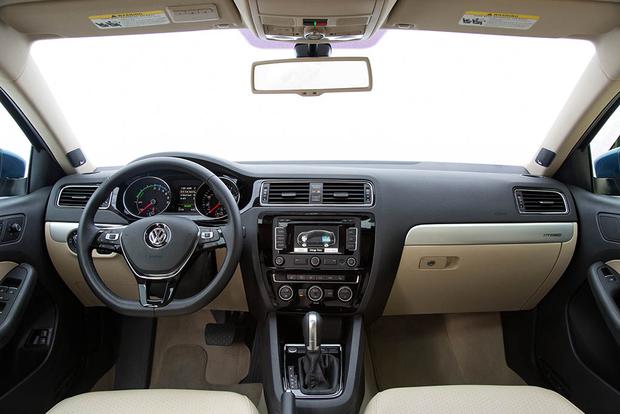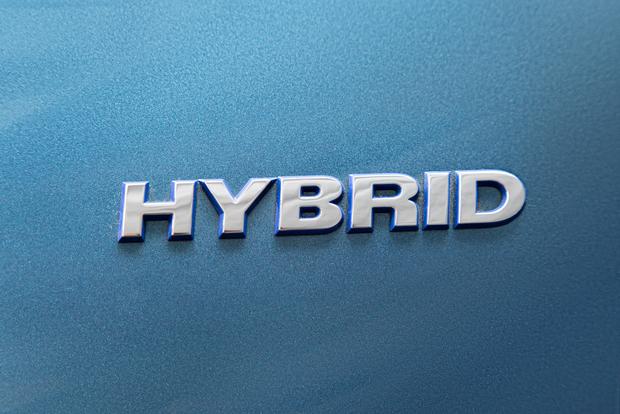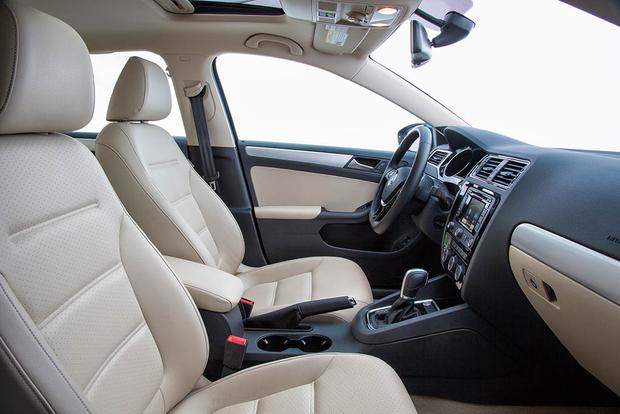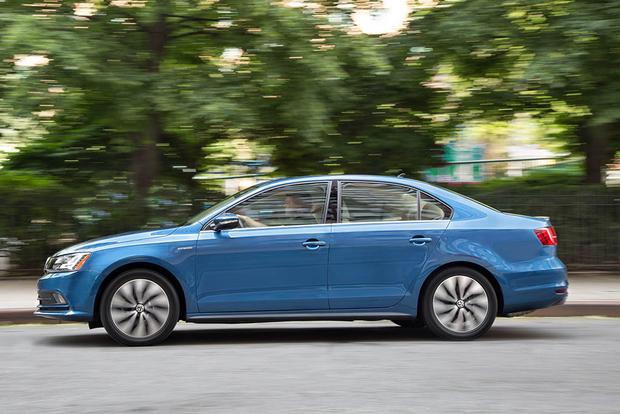 If you're skeptical about hybrid vehicles or simply not a fan of them so far, the 2016 Volkswagen Jetta Hybrid may change your mind. This unassuming sedan targets two negative stereotypes about hybrids and bids them a decisive auf Wiedersehen.
The first stereotype is that driving a hybrid is a strange experience. We've certainly tested our share of hybrids that drive like transportation pods and look like spaceships, but the Jetta Hybrid is notable for how downright normal it is. Aside from having two different motors (gasoline and electric) that work together to maximize fuel economy, the Jetta Hybrid drives like any other Jetta. And it looks like a Jetta too, thanks to its sensible sedan exterior and its simple, cleanly styled interior.
The second stereotype is that hybrids are slow, but you'll realize the Jetta Hybrid is different as soon as you hit the accelerator. The electric motor provides immediate punch off the line, and the turbocharged 1.4-liter gas motor kicks in seamlessly, teaming up with the quick-shifting direct-shift gearbox (DSG) auto-manual transmission to pull you forward with real urgency. In fact, the Jetta Hybrid feels similar to the fastest Jetta on the market, the turbocharged Volkswagen GLI, except that it gets an incredible 45 miles per gallon in combined city and highway driving.
What's New for 2016?
Like all Jetta models, the Jetta Hybrid gets a revised touchscreen for 2016.
What We Like
Exceptional fuel economy; sprightly acceleration; normal-car character; roomy back seat; very well-equipped
What We Don't
Touchy brakes; low-speed quirks from the DSG transmission; lacks modern safety gadgets of other Jetta models
How Much?
$31,900
Fuel Economy
The Jetta Hybrid is powered by both a 1.4-liter turbocharged 4-cylinder gasoline motor and an electric motor that gets its energy from a rear-mounted battery pack. Being a dual-mode hybrid, the Jetta Hybrid can shut the gas motor off when it's not needed.
When you step on the accelerator, both motors work in tandem to produce 170 horsepower and 184 lb-ft of torque. An unusual touch is the 7-speed DSG dual-clutch auto-manual transmission, which the Hybrid shares with sporty models such as the GTI hatchback.
Given the Jetta Hybrid's respectable power, fuel economy is astounding: 42 mpg in the city and 48 mpg on the highway, according to the Environmental Protection Agency.
Standard Features & Options
The 2016 Volkswagen Jetta Hybrid sedan is offered in a single SEL Premium trim level.
The SEL Premium ($31,900) comes standard with 17-inch alloy wheels, a sunroof, adaptive bi-xenon headlights with LED accents, LED taillights, fog lights, keyless entry with push-button starting, heated front seats with 6-way power adjustments for the driver, Bluetooth connectivity, dual-zone automatic climate control, a 6-speaker audio system with an SD-card reader, a leather-wrapped multifunction steering wheel, a 5-in touchscreen interface with a graphical hybrid status display, a navigation system, a rearview camera and a hybrid-exclusive power gauge that replaces the tachometer and shows how efficiently you're driving.
The Car-Net telematics suite (see the below Safety section) is also included.
There are no available options on the Jetta Hybrid. That means you can't get some of the modern safety features available on other Jetta models, including forward-collision warning with automatic braking, a blind spot monitoring system and lane-departure warning.
When you're at the dealership, make sure the Hybrid's trunk is to your liking. Although the regular Jetta has an impressive 15-plus cu ft. of trunk space, the Jetta Hybrid has a battery pack back there, so it can only manage 11.3 cu ft. Moreover, that battery pack creates an awkward hump in the cargo floor. There's still more than enough space for groceries and such, but golfers will find scant room for their bags, and larger suitcases might be a tight squeeze.
Safety
The 2016 Volkswagen Jetta Hybrid comes with standard stability control, 4-wheel anti-lock disc brakes and six airbags (front, front-side and full-length side-curtain). The standard Car-Net telematics suite includes automatic crash notification, roadside assistance, stolen-vehicle location assistance, remote vehicle access and boundary and speed alerts, most of which are accessible via a smartphone app.
In government crash testing, the Jetta sedan received four out of five stars overall, including four stars for frontal impacts and five stars for side impacts. The Insurance Institute for Highway Safety gave the Jetta its coveted Top Safety Pick+ designation based on its excellent crash-test scores.
Behind the Wheel
The Jetta Hybrid is a surprisingly quick car, powering confidently away from stoplights and zipping around slow-moving traffic with ease. The gas motor is refined and responsive, while the electric motor adds a big dollop of torque that shoves you back in your seat. The DSG transmission can be finicky when you're parking -- you can feel it feathering the clutch like a teenager learning to drive, with less-than-precise results -- but it delivers amazingly quick shifts at speed.
While the Jetta Hybrid driving experience is dominated by its energetic powerplant, there's a lot to be said for the car's ride and handling, too. With largely the same upgraded suspension components as the GLI performance sedan, the Jetta Hybrid holds its own in corners, limited more by its mpg-minded tires than anything else. As for the ride, it's great, striking a subtle balance between control and comfort and generally keeping road and wind noise at bay.
Our only criticism is the brakes, which use regenerative technology to recharge the battery pack via energy from the wheels. All hybrids employ some version of this technology, and most have odd-feeling brakes as a result. Alas, the Jetta Hybrid is no exception: The pedal feel is inconsistent, and the act of braking generally requires more thought than you're probably used to. It's not a huge deal, but keep it in mind on your test drive.
Other Cars to Consider
2017 Ford Fusion Hybrid -- The Fusion Hybrid has a surprisingly playful character, and it looks good, too. We prefer the Jetta's power delivery, though.
2016 Hyundai Sonata Hybrid -- The Sonata Hybrid offers sporty handling and excellent gas mileage, and it touts much more technology than the Jetta Hybrid. Of course, it's also more expensive.
2017 Toyota Camry Hybrid -- Toyota's fuel-sipping family sedan provides surprisingly robust power, albeit with less refinement than the Jetta.
Used Lexus CT 200h -- Although the CT is saddled with the Prius' relatively dull powertrain, it compensates with a luxurious cabin, responsive handling and hatchback convenience. Prices are high, though, so you may have to consider a used model.
Autotrader's Advice
The 2016 Jetta Hybrid only comes one way, and if you like it, we say go for it. It's a satisfying car all around.