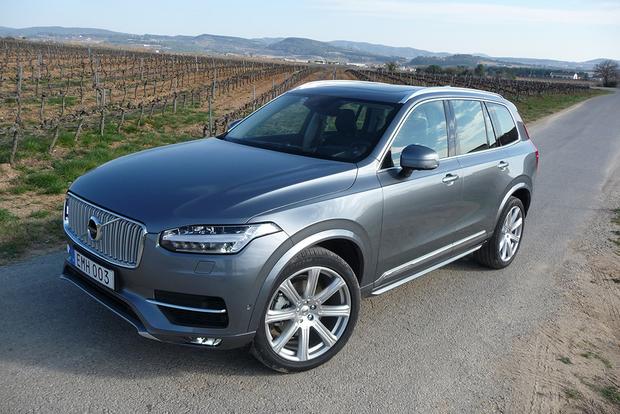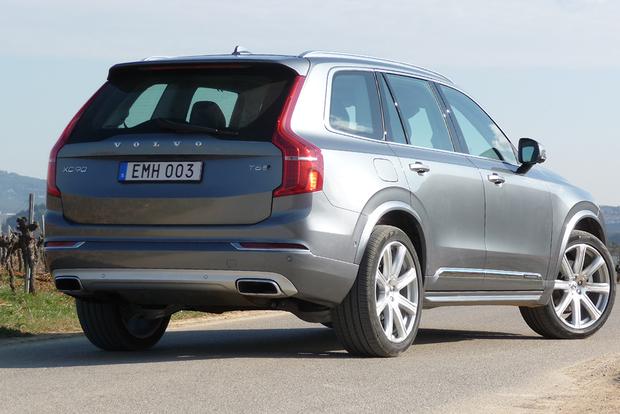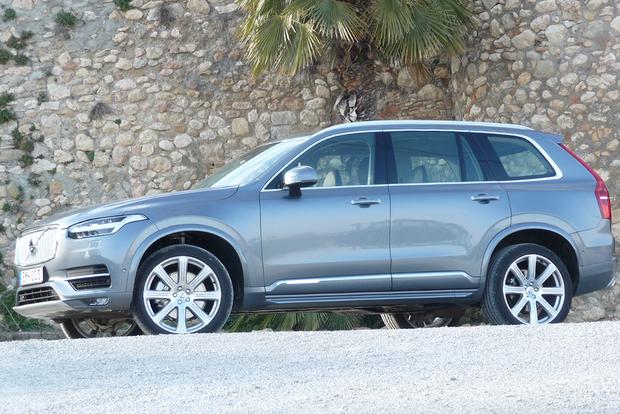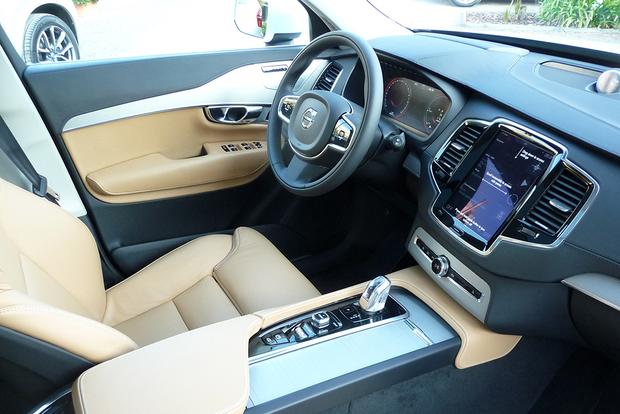 Volvo models don't get any bigger or more luxurious than the XC90 crossover SUV. This capacious Swede pampers its occupants in grand style, with room for seven passengers in three rows of orthopedically engineered seats and 15.8 cu ft. of cargo space, which expands to a best-in-class 85.7 cu ft. with the second and third rows folded flat.
Not as Swedish as Usual
The 2016 Volvo XC90, all new from road to roof, doesn't drive big. Yes, it has a wider cabin and a body stretching 5.5-inches longer bumper to bumper, paying off in more second- and third-row legroom and 80 percent more cargo space behind the back seats than the previous version of Volvo's 7-passenger SUV. But this hauler has the composure and maneuverability of a less generously proportioned vehicle. Its liveliness became apparent as our XC90 test vehicles racked up hundreds of kilometers touring the narrow and often winding roads of the Catalonia region southwest of Barcelona, Spain.
The new XC90 looks smaller, too. Where the previous-design 2003-2014 XC90 loomed tall and blunt-nosed, the 2016 iteration has a road-ready mien and radiates a sophisticated elegance. The 4.9-in wheelbase stretch of the 2016 model imparts a classic dash-to-axle profile reminiscent of rear-drive German luxury sedans, and the lowered roof gives it a sportwagon-like vibe. A lower-set grille inspired by the 1960s-era Volvo 1800 sports car and available LED headlamps with elements shaped like Thor's hammer create newfound visual excitement.
The 2016 Lineup
Volvo will bring two versions of the 2016 XC90 to the U.S.: the T6 and the T8. The T6, which goes on sale this spring, is powered by a turbocharged and supercharged Drive-E 4-cylinder that puts out 316 horsepower and 295 lb-ft of torque. It's teamed with a slick-shifting 8-speed automatic transmission and Haldex-developed all-wheel drive (AWD). The T8 will be Volvo's first plug-in hybrid when it comes to American shores this fall, and it augments the T6's 316-hp 4-cylinder with an electric motor that drives the rear wheels. Total T8 system output is 400 hp. The T8 packs a 9.2 kilowatt lithium-ion battery packaged in the center tunnel space normally occupied by the AWD-system driveshaft, and it can drive the first 25 miles on battery power alone.
On the Road
On the road, the T6 is as quiet as a church mouse, with no spooling up or turbine sounds out of the engine's turbocharger or supercharger. The diminutive 2.0-liter 4-cylinder behaves like a 3.5-liter V6 with ready torque across the engine speed range, and there are more than enough gears to handle any driving situation. The Haldex-developed AWD system defaults to front-wheel drive in normal operation, and it'll apportion the appropriate level of drive torque to the rear wheels should the front tires begin to lose traction. Volvo claims 6.1-second 0-60 acceleration for the new 316-hp T6, which is about 2.5 seconds quicker than that of the previous version of the XC90 with its 235-hp 3.2-liter 6-cylinder. That performance is right in line with the turbocharged 6-cylinder BMW X5 xDrive 35i.
The T8 plug-in hybrid feels even quicker off the line (Volvo claims a 5.8-sec 0-60 time), courtesy of the instant torque from its electric motor. For the most part, the blending of gas-engine and electric propulsion is seamless in the T8, aside from some occasional pulsations under light-load conditions. Volvo is targeting an Environmental Protection Agency (EPA) rating of 59 miles per gallon equivalent (mpge) for the T8; we saw about 27 mpge (our calculation) over roughly 100 miles of driving.
Equipped with a new multi-link front suspension, a unique transverse-leaf-spring rear suspension and optional 4-corner air suspension with FOUR-C active damping, both versions of the new XC90 drive smaller than their 7-passenger size might suggest. Steering effort is light and precise, body roll around bends is well controlled and both the standard 19-in and optional 20-in tires give plenty of grip. As you'd expect of a Volvo, stopping power is impressive, although the T8 hybrid occasionally has a 2-step feel as the system attempts to blend mechanical and regenerative braking.
Scandinavian Sanctuary
The 2016 Volvo XC90 is best experienced from within. Volvo designers crafted a beautiful space, generously fitted with standard leather, aluminum trim and available matte-finish woods. Ergonomics are spot on, courtesy of lumbar-supportive seats inspired by Wegner lounge chairs, a shifter (in the T8) influenced by Orrefors crystal and a new vertically oriented 9-in touchscreen vehicle-systems control tablet with smartphone-like pinch and swipe functions.
Auto Trader Says
We recommend checking out the base T6 with Momentum trim, which starts out just under $50K with a long list of standards. These include leather trim, power heated front seats, Sensus navigation, a panoramic moonroof, a hands-free power liftgate and a 10-speaker audio system with SiriusXM. There's also a comprehensive array of safety systems such as collision avoidance with City Safety automatic braking, Pedestrian Detection, Volvo On Call, Run-Off Road Protection and much more. It's all the Volvo you'll ever need.