Editor's note: You may want to read more of Autotrader's model vs. model comparison car reviews as well as the 2016 Volvo XC90 review and the 2017 Audi Q7 review.
If you're interested in a family-friendly luxury SUV, two of today's top contenders are the 2016 Volvo XC90 and the 2017 Audi Q7. Both tout 3-row seating, brand-new designs, an impressive expanse of technology and smooth, comfortable rides. But which one is better? And which one should you get? To help you find out, we've created a close comparison of both models, but first let's see what's new with the Q7 and the XC90 for the latest model year.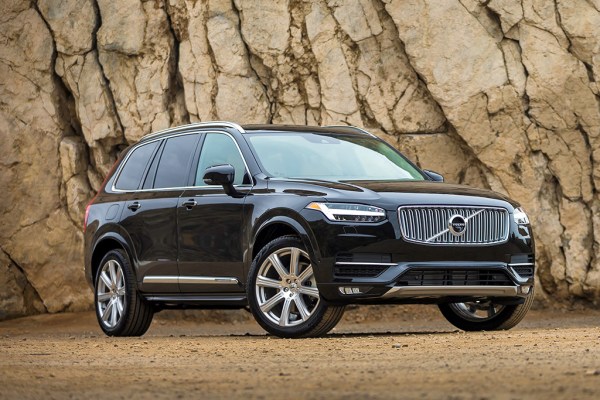 2016 Volvo XC90
The Volvo XC90 is a midsize luxury SUV with 3-row seating. After going more than a decade without a major update, the XC90 is totally redesigned for 2016 with new styling, new powertrains, a revised interior and a long list of new features. Find a 2016 Volvo XC90 for sale near you
2017 Audi Q7
The Audi Q7 is a 3-row luxury SUV that straddles the border between midsize and full-size. It, too, is newly redesigned, touting an impressive list of new features, a thoroughly updated interior and a revised exterior design. Find a 2017 Audi Q7 for sale near you
Reliability
Although the Q7 and XC90 are too new for reliability ratings from experts at J.D. Power, it's worth noting that J.D. Power's latest vehicle dependability study ranked both Volvo and Audi near the middle of the pack among overall automakers. Since these two models also offer identical warranty coverage (4 years or 50,000 miles of bumper-to-bumper coverage with no additional powertrain protection), it's safe to say that the Q7 and XC90 are tied for reliability — at least until J.D. Power releases more detailed ratings that specifically cover both models.
Fuel Economy
The Q7 offers only one engine: a 3.0-liter supercharged V6 that makes 333 horsepower and 325 lb-ft of torque. All Q7 models have all-wheel drive, and fuel economy stands at 19 miles per gallon in the city and 25 mpg on the highway — impressive numbers given the SUV's size and power.
The XC90, meanwhile, offers two powertrains. Base-level models use a 2.0-liter 4-cylinder that's turbocharged and supercharged for 316 hp. It boasts a Q7-like 20 mpg city/25 mpg hwy. For drivers who want better gas mileage, there's the plug-in hybrid XC90 T8, which uses the same engine as the base-level XC90 with an added plug-in hybrid component. While we suspect its fuel economy is roughly the same as a standard XC90, it can travel 17 miles on electric power alone. That makes it the winner here for overall efficiency, though shoppers who don't want to upgrade to the plug-in powertrain will find that traditional gas-powered versions of the Q7 and XC90 offer roughly equivalent fuel economy.
Safety
When it comes to safety, it's hard to imagine two better vehicles than the XC90 and the Q7. While neither SUV has been crash-tested by the federal government's National Highway Traffic Safety Administration, both easily earned Top Safety Pick+ scores from the nonprofit Insurance Institute for Highway Safety — the firm's highest possible rating.
But crash tests are just the beginning. We think the Q7 and XC90 are most impressive when you consider their long list of safety equipment, which ranges from impressive standard features — such as a backup camera, parking sensors and forward-collision warning with automatic braking — to virtually every new safety item you could imagine, including lane-departure warning, lane-keep assist, blind spot monitoring systems and rear cross-traffic alert. It even offers other unusual features such as run-off protection (in the Volvo) and side-exit alerts (in the Audi), which notify you if a car or a bicyclist is approaching before you open your door.
Neither the Q7 nor the XC90 beats out the other when it comes to safety. Instead, the big winner here is the car shopper, who benefits by getting to choose from two of the safest new models on the road.
Technology
As you may have guessed from reading the Safety section, technology is a huge strong suit for both of these SUVs. In addition to the safety features we've mentioned, the XC90 and Q7 offer a wide range of high-tech comfort and convenience features, from huge center screens with advanced infotainment systems to impressive sound systems (with up to 19 speakers in the Volvo and 23 in the Audi), adaptive suspensions and more.
While we're sure there are minor areas where the Q7 beats out the XC90 and vice versa, we think most technophiles will consider either of these two models a dream come true. Unless there's a specific feature you have to have, we suspect you'll be happy with either one.
Value
When it comes to pricing, there's no doubt that the Volvo is a more attractive deal than the Q7. While the Audi offers a few more standard features than the Volvo, they hardly justify its price increase: The Q7 starts at $55,800 with shipping, while the Volvo starts from $45,000 with shipping.
Yes, the Audi's a bit bigger, and, yes, it offers a little more power, but when you consider that the XC90 comes standard with 4-zone automatic climate control, a panoramic sunroof, a hands-free tailgate, automatic forward-collision braking, 19-inch alloy wheels and a 9-in center screen, we find it hard to believe the Audi can come close to justifying its dramatically higher price. As a result, value easily goes to the Volvo.
Autotrader's Advice
Although we think both the 2017 Audi Q7 and the 2016 Volvo XC90 are among today's best family-focused luxury SUVs, there's no doubt in our mind that the Volvo is the better buy. The Audi is handsome, high-tech, safe, comfortable and roomy — but so is the Volvo. And the Volvo is $10,000 cheaper right off the bat. Unless you find yourself really needing the little bit of extra space the Audi provides, we think most shoppers would be better off with the XC90.
Find a Used Volvo XC90 for sale