Editor's note: You may want to read more of Autotrader's model vs. model comparison car reviews as well as the 2016 Audi A4 review and the 2017 Audi A4 review.
If you're interested in an excellent new luxury car, the Audi A4 is a safe bet, as it combines a smooth, comfortable ride with a well-crafted interior and a lot of high-tech features and equipment. This year, the 2017 Audi A4 is all new, boasting a long list of the latest equipment and some cosmetic changes, too.
But what exactly has been revised? And is the new edition really worth the price premium over a used or certified pre-owned version of the outgoing model? We've rounded up all the key differences between the 2017 A4 and the 2016 model in order to find out.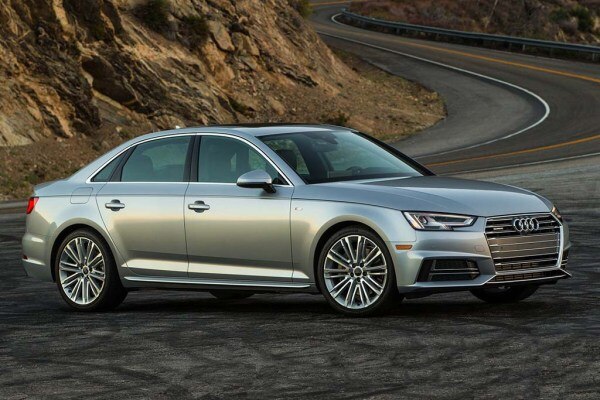 Exterior
Although the 2017 Audi A4's exterior styling may not seem especially new at a first glance, the car has been fully redesigned, not just given a small facelift. As a result, you might be surprised at exactly how different it looks from the outgoing model in person: The 2017 touts different wheels, colors, front and rear ends and even a slightly different overall shape. Even if the latest A4's styling hasn't exactly been overhauled, it certainly has been modernized.
Interior
Updates to the 2017 A4's interior are a lot more thorough than changes to its exterior. Not only does the new model offer more room, upgraded materials and more comfortable seating, it also touts a totally new cockpit design that includes an updated center control stack, gauge cluster, center console, steering wheel and more. With these cabin revisions, the new A4 makes up for whatever it may lack in visual changes on the outside.
Mechanicals
Last year, the A4's sole powertrain was a 2.0-liter turbocharged 4-cylinder that offered 220 horsepower and 258 lb-ft of torque. Front-wheel drive and a continuously variable automatic transmission were standard, while drivers who wanted all-wheel drive could opt for a 6-speed manual or an 8-speed automatic.
This year, the A4 adds power. While it retains a standard 2.0-liter turbocharged 4-cylinder, it now offers 252 hp and 273 lb-ft of torque. And while drivers can still choose between front- and all-wheel drive, the sole transmission is a 7-speed dual-clutch automatic. Fuel economy is also up slightly, from last year's best figures of 24 miles per gallon in the city and 32 mpg on the highway to 25 mpg city/33 mpg hwy.
Features & Technology
Although the outgoing Audi A4 was hardly outdated, the new model has been thoroughly modernized with dramatically more equipment than its predecessor. Specifically, the new version adds a full-color LCD gauge-cluster screen, along with newly optional features such as an adaptive suspension, automatic high beams, a surround-view camera system, a larger display screen, ventilated seats and a few new safety features covered below. Meanwhile, the highly coveted Apple CarPlay and Android Auto systems are newly standard.
The new model isn't just a step forward compared to the outgoing version — it's a massive leap, and we suspect technophiles will vastly prefer the latest A4 to the outgoing 2016.
Driving Experience
On the road, the latest A4 makes some big improvements over its predecessor. Once again, the outgoing model was hardly in need of serious changes, but the new one is enhanced in every single way, touting sharper handling, better acceleration and even a more comfortable ride. In a word, the latest A4 is more focused than the 2016 version, offering significant gains in many crucial areas.
With that said, the outgoing A4 didn't offer the driving engagement of its primary rivals, the BMW 3 Series and the increasingly sporty Mercedes-Benz C-Class, and neither does the new one. While handling and acceleration have been improved, they still don't quite keep up with those class leaders, to the point where we'd say the A4 is more about comfort and technology than driving pleasure and excitement.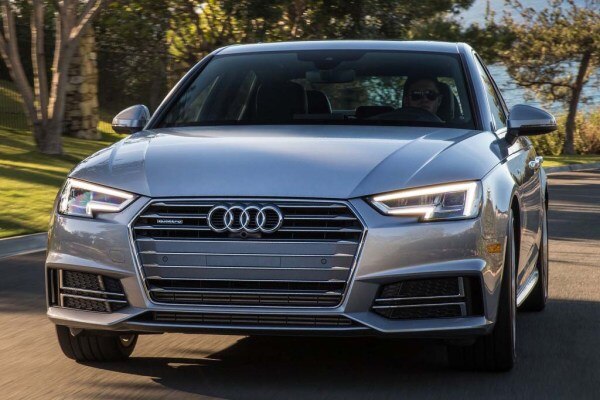 Safety
Although the 2017 Audi A4 has not yet been crash-tested by the federal government's National Highway Traffic Safety Administration, the outgoing model earned a perfect 5-star overall score, and we expect the new version to retain this rating. The new A4 has also not yet undergone testing by the nonprofit Insurance Institute for Highway Safety, though we hope it improves upon the outgoing model's Poor rating in the firm's challenging front small-overlap test.
In keeping with a dramatic infusion of new technology, the 2017 A4 adds a long list of new safety features compared to the outgoing model. Specifically, it now touts forward-collision warning with automatic braking as standard technology, while the previous A4 didn't offer the feature at all.
Beyond that, the A4 adds several new features to its options list, including lane-departure warning, lane-keep assist and even automatic rear-collision braking. It also offers a standard backup camera, which was formerly optional, along with an enhanced surround-view camera system. Simply put, the new A4 is a huge technological leap forward from the outgoing model, and that's good news for drivers who prioritize safety.
Conclusions
This is an easy one: The 2017 Audi A4 offers a major update compared to the 2016. While it may look relatively similar, it touts a long list of new technology, features and safety equipment, as well as an amazing new interior. It also offers a better driving experience with more power and sharper handling.
If you're in the market for an A4, you'll want the new one. We'd only recommend going for the outgoing model if you get a deal that you just can't pass up.