Editor's note: You may want to read more of Autotrader's model vs. model comparison car reviews as well as the 2016 Honda CR-V review and the 2017 Honda CR-V review.
The 2017 Honda CR-V represents a complete redesign for the best-selling SUV in the United States. Let's take a look at what changed between the 2016 and 2017 CR-V.
Exterior
The general proportions of the 2016 and 2017 CR-V are pretty similar, so you'll be forgiven if it takes you a second look to see everything that's changed. In the details, you might see that everything is a little chunkier and even muscular, as Honda has tried to impart a more athletic appearance — note the new dual exhaust outlets as well. One thing that hasn't disappeared: the high-mounted taillights that have been a CR-V trademark since the very first generation back in the late 1990s. See the 2016 Honda CR-V models for sale near you
In terms of dimensions, the new CR-V is indeed a bit bigger. It has 1.4 extra inches of height, width and wheelbase, with the latter being particularly important to rear legroom. There's also a considerable amount of extra ground clearance, growing from 6.7 inches for all-wheel-drive (AWD) models to 8.2 inches for 2017. That's not quite as good as the class-leading Jeep Cherokee and Subaru Forester (8.7 inches), but it's close. See the 2017 Honda CR-V models for sale near you
Interior
This is where most CR-V shoppers will notice the biggest difference between the 2016 and 2017 models. The new model's cabin represents a leap forward in terms of quality, quiet and comfort. It's just a more premium environment now, and not just in comparison to the 2016 CR-V, but most SUV rivals as well.
The 2016 CR-V, which dates back to the 2012 model year, suffered from some disappointing plastic surfaces and an antiquated technology interface. It really wasn't anything special. By contrast, the materials on the 2017's dash and doors are of a softer, more visually appealing variety, the steering wheel has a smaller and more contoured appearance (your hands will also approve), and the top Touring trim level benefits from a tasteful matte wood-look applique.
Functionally, the 2017 CR-V is better as well. The center console has been redone to create a more versatile space. There is a forward bin with a traditional power point, a pair of sizable cupholders and a long, deep bin covered by the center armrest that can be segmented by a movable tray. For those who lament that the CR-V lost its purse-friendly center console midway through the last generation, a small purse should now fit once again with the tray removed.
The 2016 CR-V was already one of the most spacious SUVs in its segment, and the 2017 is even better, making it difficult to classify it as a "compact" SUV any more. The 2017's 2 extra inches of rear legroom make the back seat more comfortable for adults and bigger teens and make it even easier to mount a rear-facing child seat without impeding Mom and Dad's space up front. As for those front seats, the driver's now has additional power adjustment range on all but the base model.
Cargo space also grows by 2 cu ft. with the seats raised (39.2 cu ft.) and about 5 cu ft. with the seats lowered (75.8 cu ft.). That means the CR-V has reseized its title of best-in-class cargo room from the Toyota RAV4. A low lift-over height continues to be a CR-V trademark as well.
Mechanicals
The 2016 Honda CR-V comes only with a 2.4-liter 4-cylinder engine that produces 185 horsepower and 181 lb-ft of torque. Acceleration is average for the segment, and indeed it's a smooth, capable engine that happily responds to your right foot. Now, this engine does survive with a slight change in output (184 hp, 180 lb-ft) in the 2017 CR-V LX trim level, and there's no great harm in sticking with what is now the base engine.
All other 2017 CR-V trim levels come with a 1.5-liter turbocharged 4-cylinder that produces 190 hp and 179 lb-ft of torque. Given this output, overall acceleration really doesn't feel much different. If anything, it's their characters that are different, as the new engine is a little growlier and the continuously variable transmission (standard on both the 2016 and 2017) tends to keep it at a lower rpm, where its optimum power is located.
The difference is also seen in fuel economy, as the new turbo engine returns 28 miles per gallon in the city, 34 mpg on the highway and 30 mpg in combined driving with front-wheel drive (AWD lowers each by 1 mpg). By contrast, the engine in the 2017 CR-V LX returns 26 mpg city/32 mpg hwy/28 mpg combined. All of these estimates are by the Environmental Protection Agency, which changed its measurement method for 2017, so the 2016's estimates are not comparable. However, in the real world, fuel economy for the new engine should be similar to that in the 2017 LX.
Besides its engine, improvements to the suspension, steering and vehicle structure result in an overall more comfortable, quiet and refined CR-V.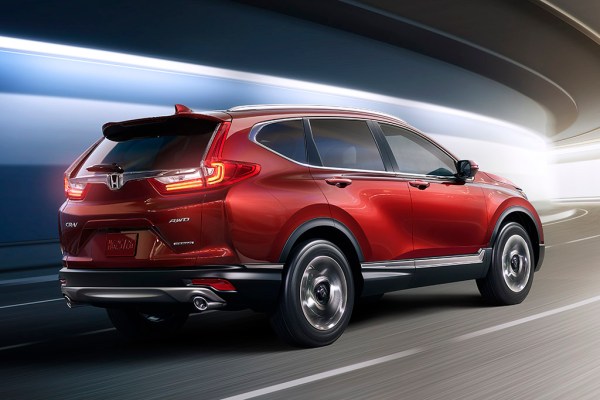 Features & Technology
Each 2017 Honda CR-V comes with additional standard equipment, although the gains are most noticeable on the EX trim and above. Those trims now include Apple CarPlay and Android Auto, four USB ports, a digital gauge cluster, a forward-collision warning and collision-mitigation system, a blind spot monitoring system (replaces the LaneWatch camera found on other Hondas), lane-keeping assist and Honda's latest adaptive cruise control, which greatly improves upon the rather frustrating previous version available on all other current Hondas. Another new feature available on the EX-L and Touring trims is an advanced power liftgate that can be activated by waving a foot under the bumper and programmed to open to a particular height.
As for controlling many of those features, the 2017 CR-V comes with new tech interfaces, both of which are improvements over what was there previously. The base system, found on the LX, features a large color screen and a traditional set of buttons and knobs. It's easy to use but lacks feature content. The touchscreen found on all other trims is not only an improvement on the rather aftermarket-looking unit available in the 2016 CR-V, but also on the frustrating touchscreen found in the Pilot, Civic and other Hondas. The main difference is the addition of a volume knob and new map, audio and phone shortcut buttons, which make going between the various menus far less confusing. Unfortunately, it's still quite slow in comparison to rival interfaces.
Driving Experience
The 2016 Honda CR-V feels a little smaller and more nimble than the 2017 version, but that's largely the result of its steering having a bit sharper turn-in that makes it feel slightly more responsive. If you, like many CR-V owners, have owned multiple versions of the vehicle, the driving experience of the 2016 will feel more normal. The 2017 is indeed different, but it also feels more grown up and substantial, offering fewer vibrations and less noise. That should make the CR-V far friendlier on road trips, as should the more comfortable and controlled ride and the steering, which requires fewer corrections when driving on the highway. Actually, when the cruise control is activated, the steering will automatically reduce the effort needed to keep itself straight, say when driving on a sloped road surface.
Safety
The 2016 CR-V received perfect 5-star crash ratings from the government and was named a Top Safety Pick+ by the Insurance Institute for Highway Safety for its top performance in all pertinent tests. Honda expects the 2017 version to perform similarly.
At the same time, as we mentioned in the Features & Technology section above, all but the LX trim now comes standard with accident-avoidance technologies that are either optional on its competitors or restricted to the uppermost trim levels. That's the case with the 2016 CR-V, which offers lane-departure warning and forward-collision warning and auto-braking only on the top Touring trim.
Conclusions
The 2017 CR-V is so much better than its predecessor that Honda actually delayed its release so that the existing stock of 2016s would be cleared out before the public cast its eyes upon the new-and-improved version. We think you'd probably regret saving a few bucks in the short term by opting for the older CR-V, especially if you're looking at something other than the base model. Find a Used Honda CR-V for sale