Editor's note: You may want to read more of Autotrader's model vs. model comparison car reviews as well as the 2016 Mazda CX-5 review and the 2017 Mazda CX-5 review.
The 2017 Mazda CX-5 is the result of taking a vehicle that was already one of the most appealing in its segment and improving it a bit in nearly every area to make it a whole lot stronger, and indeed a top choice in its segment. Let's take a closer look at those myriad changes to show you what's the difference between the 2016 and 2017 CX-5.
Exterior
The changes outside certainly aren't revolutionary. Most of the dimensions are the same as the 2016 CX-5 with the exception of overall height, down 2 inches and ground clearance, down an inch, which contribute to the new car's overall sleeker look. Also helping are its new, narrow headlight clusters that come standard with LEDs, and a wider grille highlighted by a handsome black mesh trim. Things are actually pretty similar at the rear, although there are narrower taillights along with a more aggressively raked roofline.
The latter element takes its toll on maximum cargo capacity, however, as there is now less space up high to accommodate bulkier items. Indeed, with 58 cu-ft of maximum cargo space, the CX-5 is one of the least utilitarian compact SUVs. There's a particularly stark difference if you compare it to a 2017 Honda CR-V.
Interior
The previous Mazda CX-5 had strong cabin quality for the segment, but it didn't actually look it given the rather drab design. Both elements have been greatly improved for 2017. For starters, it looks fantastic, with a downward sloping dash leading into airvents that jut out from a trim piece as if they were tips of individual ducts. Padded surfaces covered in stitched simulated leather are not only a welcome addition in a segment dominated by hard plastic, but when a two-tone color scheme is added, they add a further premium air to the environment. The rest of the cabin's materials are top notch as well with the overall ambiance in the top Grand Touring trim level doing a pretty convincing impression of a luxury model.
There are functional improvements as well, as the back seat gets an extra 2 inches of rake and can now recline an extra 4 degrees. It was previously fixed. The center console was also redesigned to better carry stuff, though it's still more a car-like design than the cubbies galore of the CR-V.
Mechanicals
On the surface, there isn't that much different under the hood as the 2.5-liter 4-cylinder is mostly carried over (the 2.0-liter has been discontinued and a diesel engine won't arrive until 2018). This engine produces 187 horsepower and 185 lb-ft of torque, which is typical for the segment, but Mazda did a lot of work to make sure that its throttle and transmission response greatly outpaced its many competitors that feature turbochargers and continuously variable transmissions (items that, respectively, tend to hamper throttle and transmission response). Mazda actually benchmarked Porsche in this regard and they weren't too far off the mark.
Now, there is a downside to erring on the side of response: Fuel economy has taken a bit of a hit. Although a change in Environmental Protection Agency methodology makes comparisons of 2016 and 2017 figures less than apples-to-apples, you are still likely to see a slight decrease in fuel economy — especially with front-wheel drive. Estimates are now 24 miles per gallon in the city, 31 mpg on the highway and 27 mpg in combined driving with front drive (effectively down 2 mpg). All-wheel drive is basically the same at 23 mpg city/29 mpg hwy/26 mpg combined.
Elsewhere, the steering and suspension were tweaked slightly to increase ride comfort, improve handling and reduce vibration. A complicated engine technology known as G-Vectoring helps in those areas as well. The result is that the CX-5 goes from arguably the best vehicle in the segment to drive to inarguably the best vehicle in the segment to drive.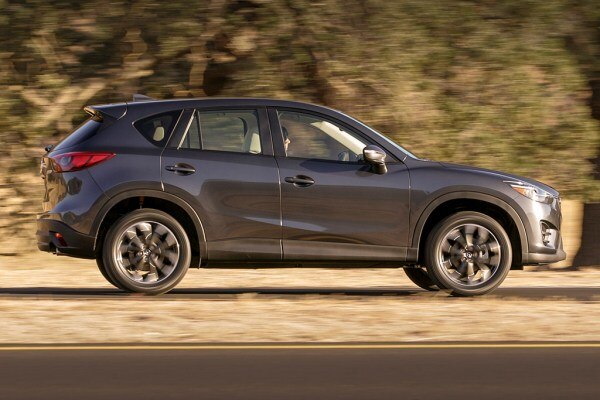 Features & Technology
The new CX-5 has the same knob-and-screen Mazda Connect tech interface as the 2016 model. Its feature content doesn't really change, either, meaning that Apple CarPlay and Android Auto remain unavailable. Nevertheless, there are new features such as those standard LED headlights and the City Safety automatic emergency braking system, plus available adaptive cruise control, two back seat USB charge ports, heated rear seats, a power passenger seat, a proper head-up display (not the small plastic pop-up version found in other Mazdas) and a power liftgate that was conspicuously absent from the 2016 model.
At the same time, despite this increased content, the CX-5 maintains its strong value. A comparably loaded Honda CR-V Touring trim would be about $1,000 more than the loaded CX-5 Grand Touring. A top-of-the-line Toyota RAV4 would be about $2,500 more and doesn't have nearly as much equipment.
Driving Experience
As we've already implied, the 2017 CX-5 is the most responsive, engaging and confidence-inspiring compact SUV to drive. If you're trading in a smaller and/or fun-to-drive car, it'll make the transition that much easier. That was pretty much the case before, but for 2017, Mazda's engineers were obsessive about making the car quieter. It worked as not only is the new CX-5 quiet compared to its predecessor and other past Mazdas, but for any car in this price range. Its ride comfort has also been improved, especially on upper trim levels with big wheels, resulting in a more rounded, refined and near-luxury driving experience.
Safety
Besides the carry-over selection of stability control, antilock brakes and six airbags, the 2017 CX-5 now comes standard with the low-speed City Safety automatic braking system. It was previously part of an option package on the Touring and Grand Touring trim levels. The i-Active Sense package continues to be optional on those trim levels, but now features an enhanced high-speed automatic braking system and a lane-keeping system.
The government has given the 2017 CX-5 a 4-star overall crash rating with 5-star frontal and side crash ratings. The 2016 CX-5 had a 4-star frontal rating but was otherwise the same. The non-profit Insurance Institute for Highway Safety named the 2016 model a Top Safety Pick+ for its top performance in all tests. The 2017 has yet to be fully tested, but has thus far received top marks in the moderate front overlap and side tests.
Conclusions
While the 2016 CX-5 aged very well and continued to be a class leader, especially among those who prioritize a responsive driving experience, the new version outdoes it in every way apart from fuel economy. And even then, it's not like it's now inefficient. The 2017 Mazda CX-5 is quieter, more comfortable, sharper to drive, more luxurious, better-equipped and better-looking. It's certainly hard to argue with that.