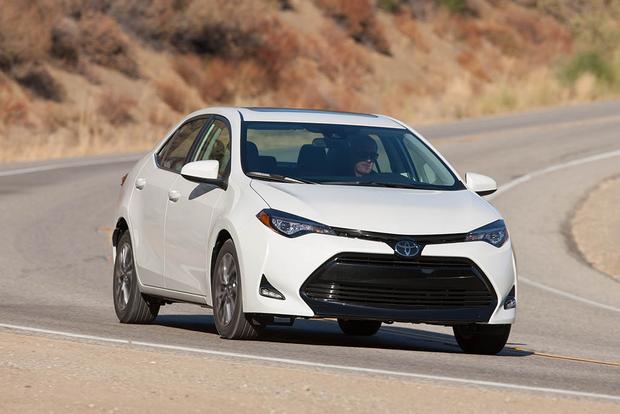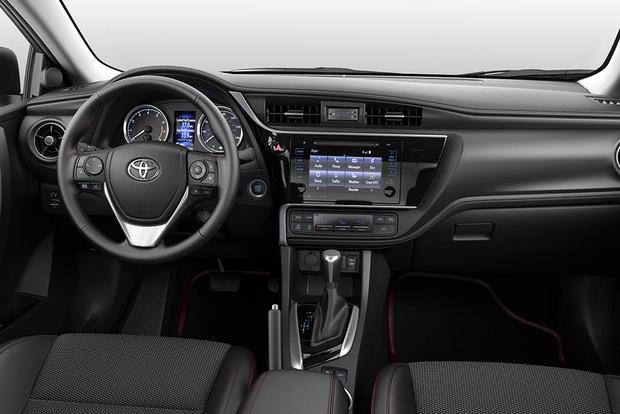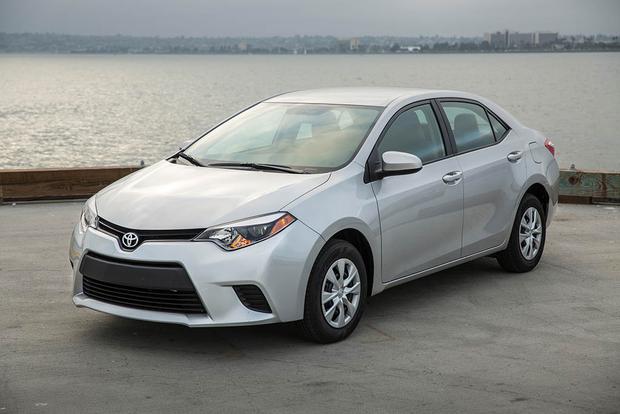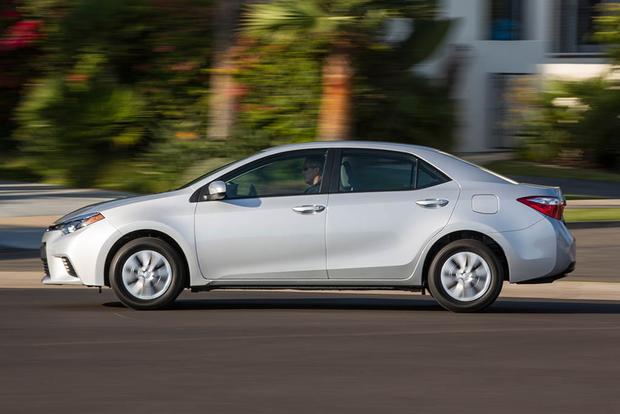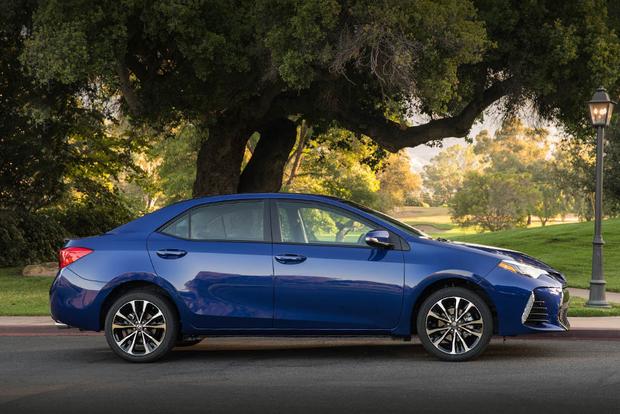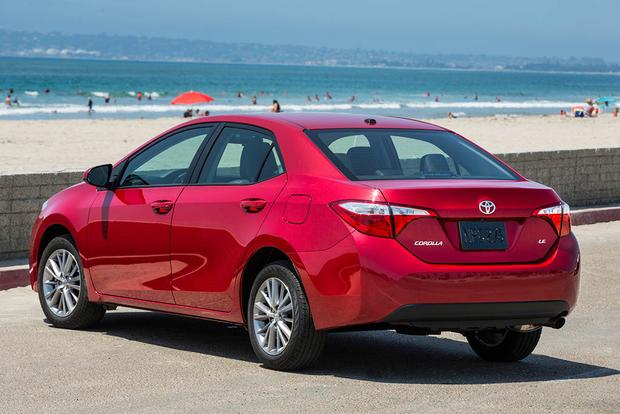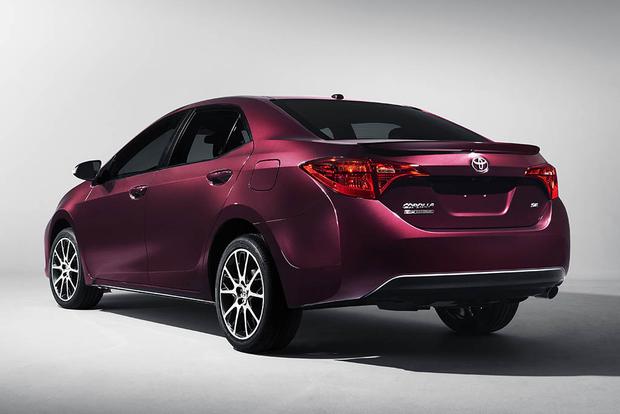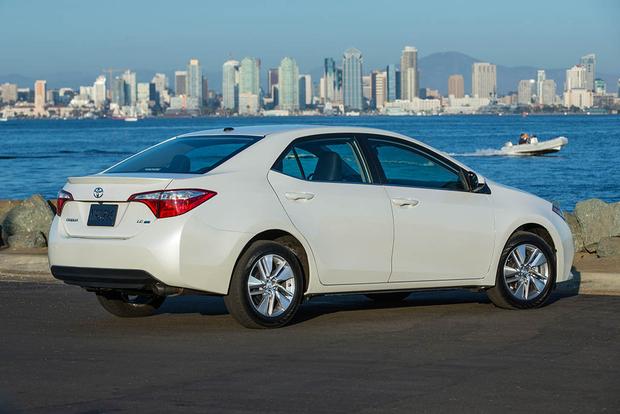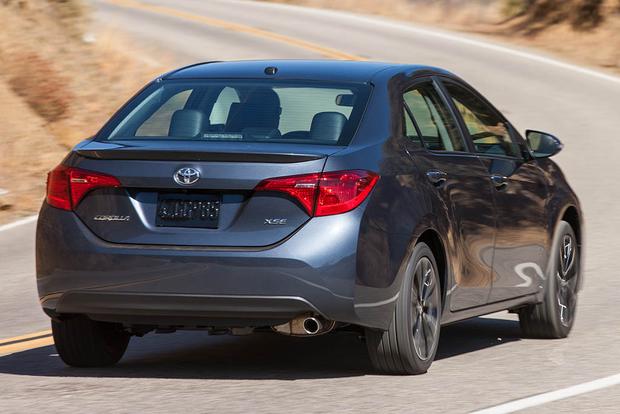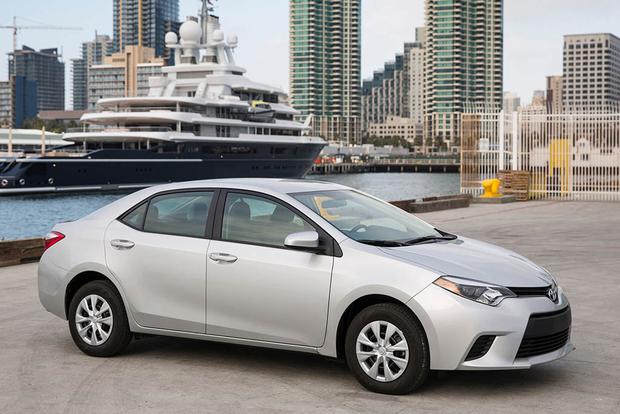 The 2017 Toyota Corolla represents this massively popular compact sedan's 50th anniversary, and to celebrate, there are quite a few noteworthy updates to know about. Let's take a look at them to let you know what the difference is between the 2016 and 2017 Toyota Corollas.
Exterior
The Corolla gets revised styling for 2017. The overall shape is the same and the details aren't that different, but the headlights have been reshaped, the lower grille was enlarged and redesigned to share the same hexagonal shape as on other Toyotas (the badge now joins the big lower grille and slit-like upper grille), and there is a more organic shape to the bumper's outer portions. Changes are far more subtle at the rear, with new taillight designs being the only noticeable difference.
Interior
Similarly, the interior doesn't see changes to its dimensions, general design or quality, but there are new color combinations, upgraded seat fabric, the climate controls have been updated, there are new gauges, and the outboard air vents are now circular. Otherwise, the Corolla continues to provide abundant rear-seat space for a vehicle of its size, but front seat comfort, interior storage and the quality of interior materials still lag behind rivals like the 2017 Honda Civic and Mazda 3.
Mechanicals
The Corolla's engine and transmission lineup has been simplified and improved for 2017. Every trim level except the LE Eco has a 1.8-liter 4-cylinder engine that produces 132 horsepower and 128 lb-ft of torque. A 6-speed manual transmission is optional on the sportier SE trim, but a continuously variable automatic transmission (CVT) is included on all trims. This represents a change from 2016. Its base L trim comes standard with the manual and can be optioned with an old, underwhelming 4-speed automatic. The CVT is found on anything else and a now-discontinued S Plus trim can get the manual as an option.
The LE Eco continues to get a more advanced version of the same engine that actually produces more power at 140 hp and 126 lb-ft of torque. Nevertheless, all Corollas are underpowered for the segment and consequently are quite noticeably much slower than the competition. At the same time, fuel economy is usually a bit worse. This is the case for both 2016 and 2017 Corollas.
Features & Technology
This is where the 2017 Corolla very much differs from its 2016 predecessor. Now standard on every Corolla is the Toyota Safety Sense-P package of collision-avoidance technologies, including a forward collision warning system with automatic braking assistance and pedestrian detection, lane-departure warning and steering assist, automatic high beams and adaptive cruise control. None of these items were even offered on the 2016 Corolla and are optional on other compact sedan competitors -- and even then, sometimes only on upper trim levels.
The 2017 Corolla also gets a new trim-level structure that includes new SE and XSE trim levels. Unlike their counterparts in other Toyota model lineups, these only come with extra equipment and sportier styling and seats -- there are no suspension or steering changes. The XLE trim is also new and basically adds the extra equipment without the flashier styling.
Other key feature updates include the now-standard rearview camera and bi-LED headlamps (before, the high beams were halogen). Unfortunately, Android Auto and Apple CarPlay remain unavailable.
Driving Experience
Apart from the 4-speed automatic (mercifully) no longer being available on the base model, there really isn't any difference to be experienced in how the 2016 and 2017 Corollas drive. Frankly, that's a shame, because there was plenty of room for improvement. Besides the languid acceleration, the Corolla's handling, sense of driver control and overall refinement trailed that of the Honda Civic and Mazda3, not to mention the Chevrolet Cruze, Hyundai Elantra and Kia Forte. This remains the case.
Safety
Safety is one of the main reasons to consider buying a 2017 Corolla -- not just versus the 2016 but compared to its competitors as well. The newly standard package of collision-avoidance technologies really does make a difference. Forget other compact sedans; these are features that are rarely even standard on luxury cars that can cost two, three or four times as much as a humble Corolla L.
Now the 2017 Corolla has yet to be crash-tested by the government, but it's extremely difficult to believe it would do worse than the 2016's perfect 5-star scorecard. The Insurance Institute for Highway Safety has tested the 2017 and named it a Top Safety Pick+ for its best-possible Good crash ratings and Superior-rated forward-collision prevention system. It even got a second-best score of Acceptable for its headlights, whereas the majority of tested vehicles have been getting Marginal or Poor ratings.
Conclusions
The 2017 Toyota Corolla starts at $1,200 more than the 2016 model, but it also includes the Safety Sense features and a better automatic transmission than the one than was found on the base model before. All of that would equal more than $1,200, so it's a good deal that includes snazzier styling as a bonus. If you're just looking for basic, inexpensive transportation that'll keep you safe and run for years with minimal worry, it definitely makes sense.
However, if you're looking for more than basic, the Corolla's deficiencies relative to its competitors have not been sufficiently addressed for 2017. Once you go up in price and trim level, those safety features are generally no longer an advantage, and competitors like the Honda Civic and Mazda3 have pretty solid reliability reputations themselves while boasting superior acceleration, fuel economy, driving experiences, interior quality and overall refinement.