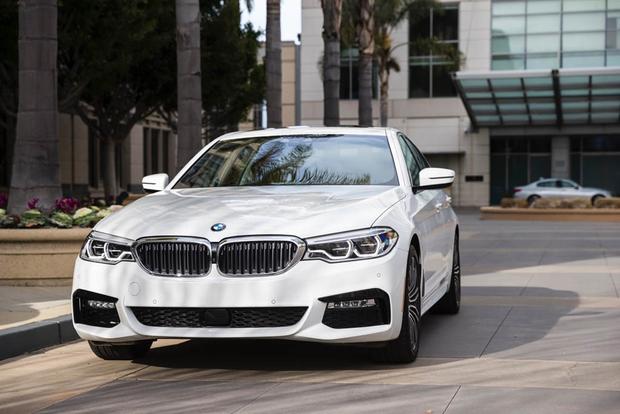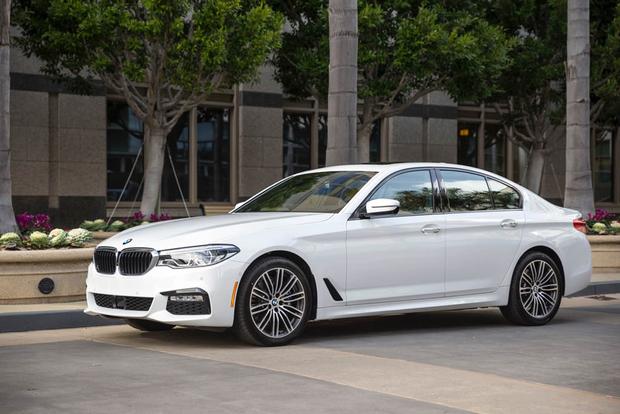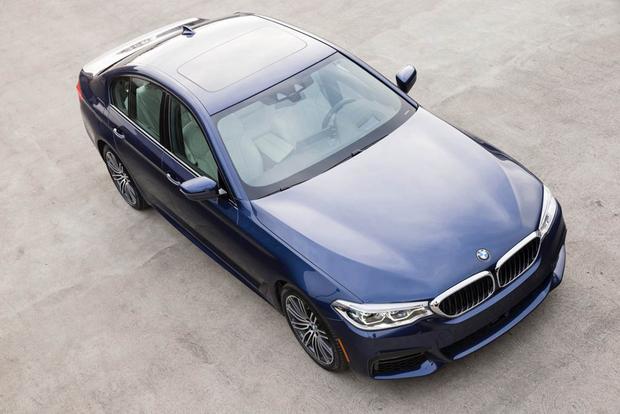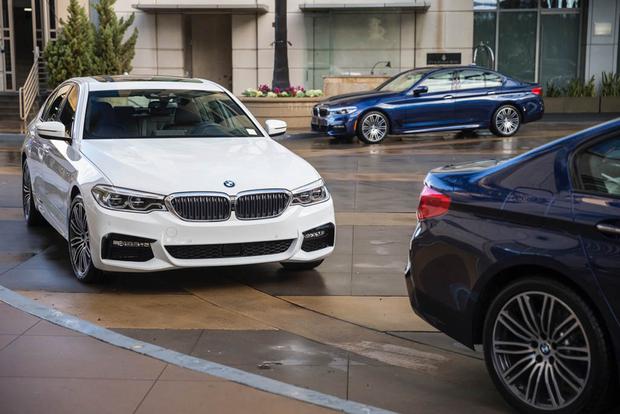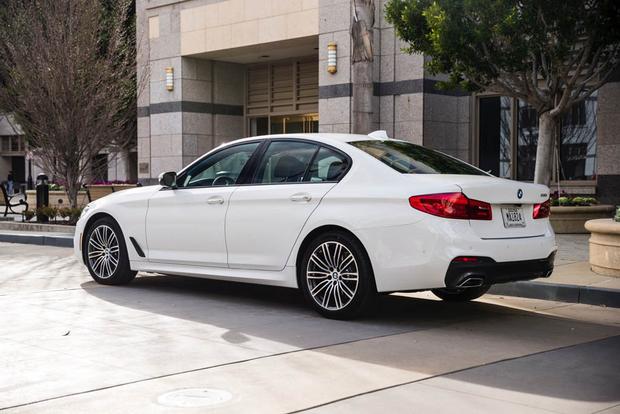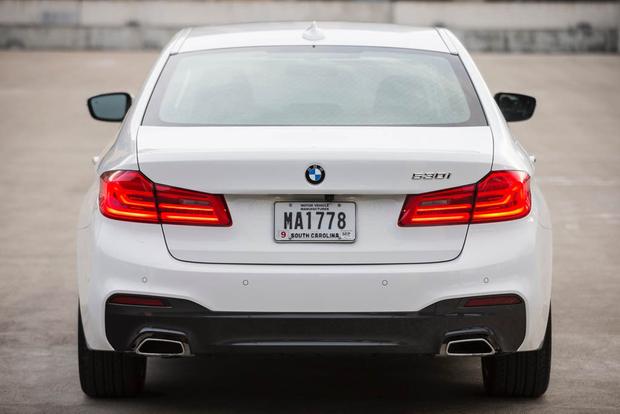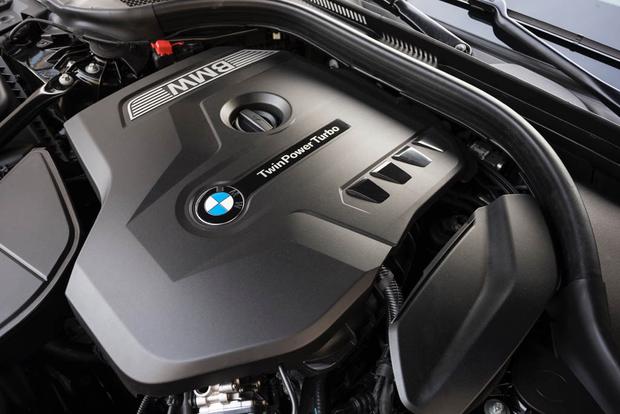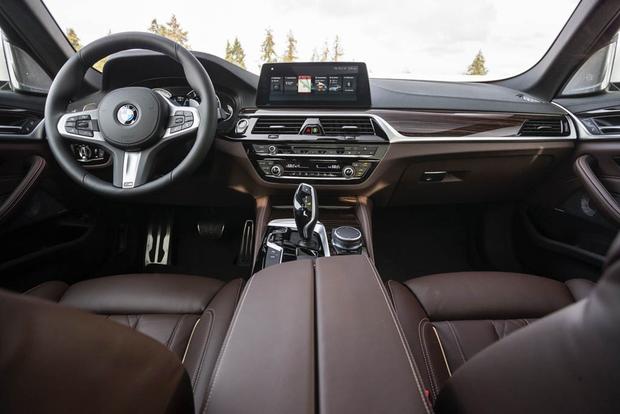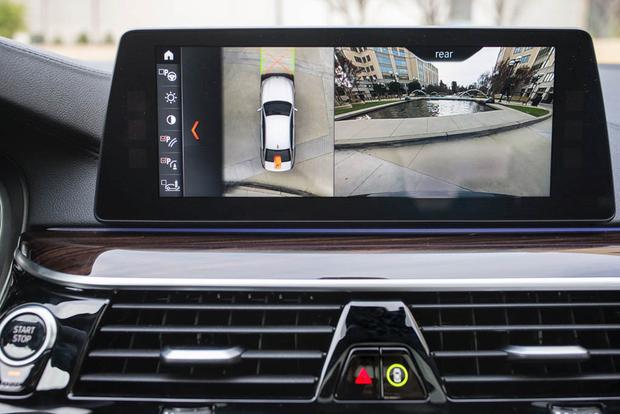 The new 2017 BMW 5 Series oozes technology. It's partly the result of BMW and other auto manufacturers opening research and development facilities in the heart of Silicon Valley. Drawing from some of the best talent the digital world has to offer has allowed BMW to ride on the leading-edge of high-tech innovations in designing its latest version of this sedan.
BMW flew Autotrader to this Northern California hotbed of innovation to check out the new 5 Series. An unseasonable deluge washed out roads along our driving route, but we still had a chance to see what this sedan is up to.
Seventh Generation
Built in Dingolfing, Germany, the new 5 Series is a 4-door, 5-passenger sports sedan that is what the company calls an "executive-class vehicle." Two engines are available at launch, starting with a 2.0-liter TwinPower turbocharged inline 4-cylinder engine (530i) that produces 248 horsepower and 258 lb-ft of torque. Also on offer is a 3.0-liter TwinPower turbocharged inline 6-cylinder (540i) that, since its last appearance, has received a kick in the pants good for an additional 35 hp. Now netting 335 hp and 332 lb-ft of torque, both power plants are mated to a sport-programmed 8-speed Steptronic automatic gearbox with steering-wheel-mounted paddle shifters.
The 530i manages a 0-to-60 launch in 6.0 seconds, while the 540i completes the same sprint in 4.9 seconds. With the M Sport package, the top speed for both vehicles jumps from 130 to 155 mph.
In addition to the two engine choices, this new midsize sport sedan is available with xDrive all-wheel drive ($2,300), which is just the ticket for BMW to go head-to-head with the Audi A6 quattro, Lexus GS350 AWD and Mercedes-Benz E-Class 4Matic. As variations on a theme, a plug-in hybrid, M550 and M5 performance model are all in the pipeline, though their release dates have not yet been announced.
Evolutionary Rather Than Revolutionary Looks
The look of the new 5 Series is pure BMW all the way. If you liked the 2016 model, you'll love the 2017. Changes in the width and height are negligible, but the wheelbase has been stretched by 1.2 inches, which can actually be felt by rear-seat passengers. Underneath the skin, the 5 sports high-strength steel and other structural innovations that helped the 2017 model shed 137 pounds. The 3,746-pound 530i should achieve mileage of 24 miles per gallon in the city and 34 mpg on the highway, while the 3,846-pound 540i checks in at 20 mpg city/30 mpg hwy. We say "should" because our test car was so heavily optioned that it probably regained all the weight it lost.
Trimmed Out
When you peer in at it, the interior of the 5 Series appears to maintain many of the features that made it a standout in years past. Borrowing from the company's 7 Series flagship, the new 5 includes the iDrive 6.0 controller with track padding via finger traces. The system also includes BMW's gesture controls, which are activated by pointing in the direction of the 10.25-inch HD display screen. First seen in last year's 7 Series, the system lets the driver rearrange function tiles and map sizes by pinching two fingers, as well as adjust the audio-system volume by swirling a pointer finger.
The Sport design package on the new 5 Series is now standard and includes 18-in double-spoke alloy wheels, chrome window, bumper and kidney-grill trim, and a SensaTec-upholstered dashboard. Sixteen-way sport seats are now standard, with power adjustable side bolsters to accommodate most driver sizes.
Our 530i and 540i testers were both equipped with the M Sport Package ($2,600), which features M Aero kits with larger air intakes, rocker panels, rear diffuser and exhaust system bits. The car rides slightly lower than normal thanks to the M Sport suspension and 19-in sport wheels. The 20-way Luxury Seating Package offers heating, ventilation and a massaging function that could easily lull you to sleep -- if you're in the passenger seat.
As for in-car entertainment, the new 5 series is normally equipped with a standard 205-watt audio system. Although this base system is adequate in its own right, buyers will still likely choose the midlevel Harman Kardon system ($825) or step up to the plate for the 1,400-watt Bowers & Wilkins premium audio system, which checks in for a cool $4,200. A rear-seat dual-screen entertainment system ($2,200) is also available. Speaking of rear seats, this one has a 40/20/40 split-folding affair, with 18.7 cu ft. of cargo space in the trunk.
Technology Talk
The 2017 BMW 5 Series would feel right at home in the middle of Las Vegas's Consumer Electronics Show (CES). The list of technology features would clearly show the reason why. Drive Dynamics Control returns to allow drivers to choose settings from the ECO PRO, Comfort, Sport and optional Adaptive modes. In adaptive mode, the steering, transmission and damper controls become infinitely adjustable to road surfaces and locations as they are determined by the active BMW Navigation Professional system, which provides real-time road conditions. Using the same navigation system, ECO PRO reads topographical changes that can sense a grade climb and downshift accordingly to help maintain fuel efficiency.
Our 530i included 3D Surround View and Remote 3D view via the BMW Connected app. A Wi-Fi hotspot, wireless charging for Android phones, and Apple CarPlay ($300) were on board to aid the smartphone set, while the 5 Series is now compatible with Amazon's Alexa protocol, which presumably could take you to your local Java Stop for a cup of joe prepped just the way you like it, all ordered in advance.
Integral Active Steering ($1,150) was included in our 530i tester, to help aid ride quality by offering firmer wheel control at speed while also easing things up during around-town driving. Additionally, it assists in shortening the radius of a curve by a mild turn of the rear wheels for added directional stability.
Various driver-assistance packages are now offered on the new 5 Series. Ranging from $1,400 to $3,500, they include such features as blind spot monitoring, daytime pedestrian protection, foward-collision warning with city-collision mitigation, lane-departure warning and rear cross-traffic alert. Also available are active cruise control with stop and go, traffic-jam assistant with semi-automated steering, evasion aid, front cross-traffic alerts and active lane-keep assist, which will essentially steer the vehicle through city and highway traffic.
Bragging rights come via the Remote Control Parking feature exclusive to the 540i model. Slightly smaller than a smartphone, the remote control allows a driver to exit the vehicle -- in the case of a narrow parking slip, for example -- and then drive the vehicle into its parking spot by tracing a finger. It really does work.
Wheel Time
Winter freezes will always cause barren vines to lie dormant before yielding a new crop of grapes in the vineyards near our driving routes in Northern California. Similarly, the rains that caused washouts tended to alter our route but did nothing to dampen the 5 Series' abilities.
Driving the 2.0-liter turbocharged 4-cylinder showed us an eager competitor that will likely become the brand's bread-and-butter vehicle. While not really a candidate for track days at the local autodrome, it can still be expected to hold its own. The 530i's 248 ponies came on strong, with the 258 pounds of twist appearing quite low in the power band at 1,420 rpm. Power continued steadily, with smooth shifts from the Steptronic 8-speed automatic transmission. The Integral Active Steering was so well sorted we didn't know the car was even equipped with it until we noticed it on the window sticker.
The higher-performance 540i appealed more to our emotional side, with a vehicle that was more authoritative in every way. From the moment we stepped on the accelerator, pushing us back into the sport seats, to the audible pop from the 6-cylinder's exhaust gate, the car offered a satisfying look into the world of performance driving. Steering on both models was well-weighted and, despite verging on marketing cliche, once again showed us why BMW continues to build the Ultimate Driving Machine.
To gain access to this information, Autotrader attended an event sponsored by the vehicle's manufacturer.