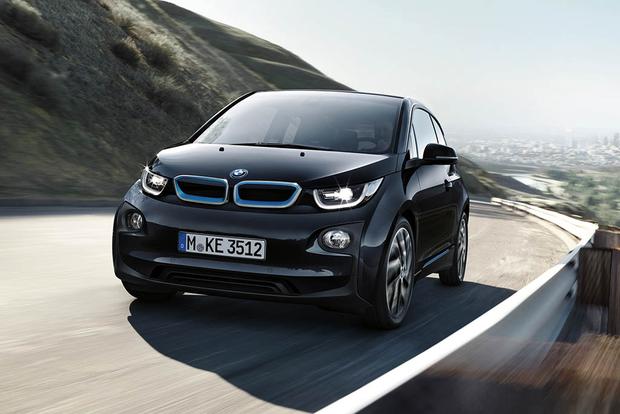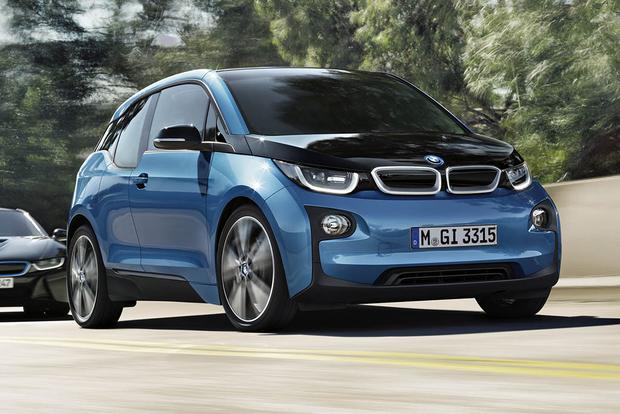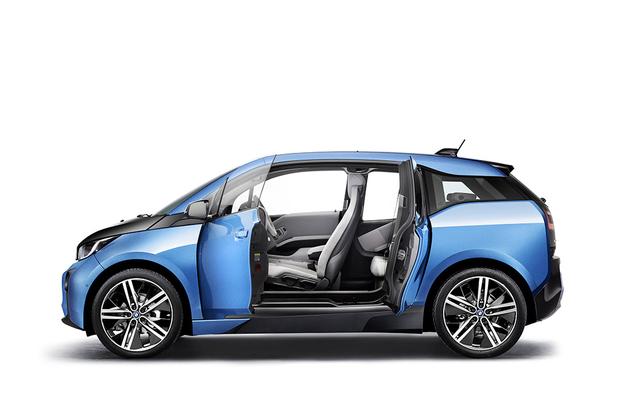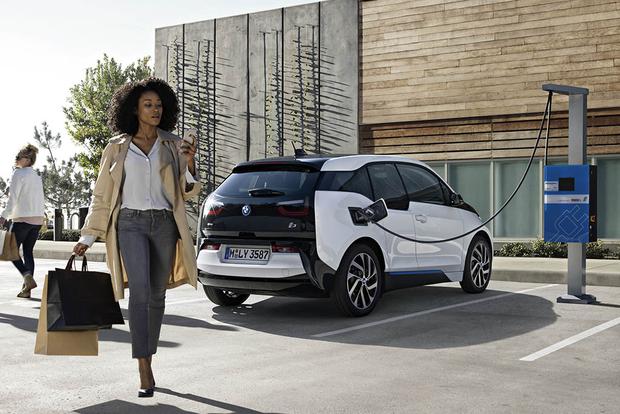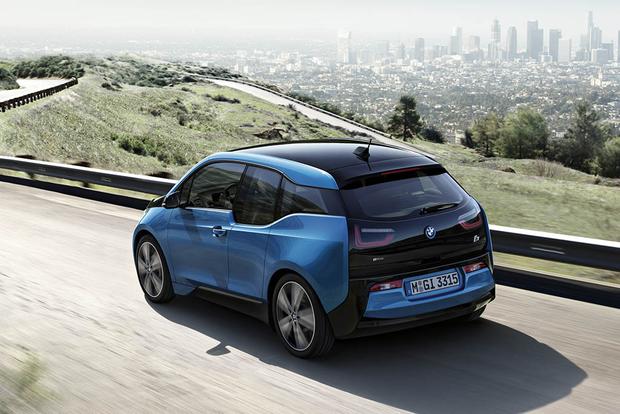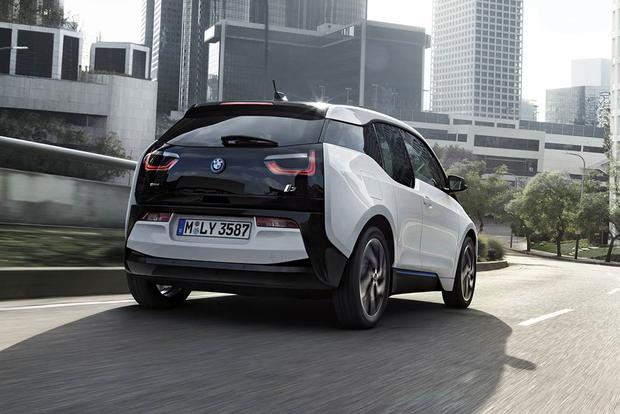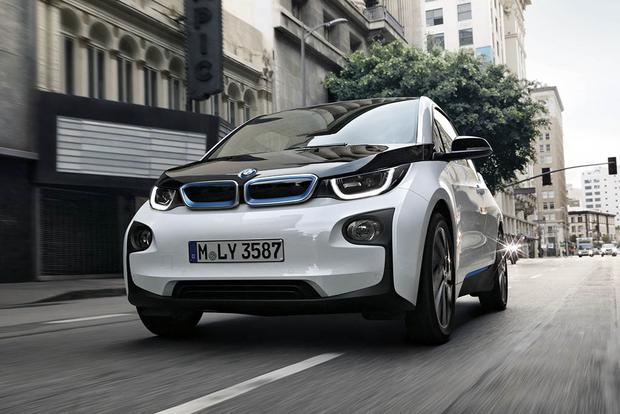 The 2017 BMW i3 is pretty radical for a compact all-electric hatchback. And not just for fashion's sake. The requirements of electric vehicles are, unsurprisingly, often different from those of conventional cars. While gasoline- and diesel-powered vehicles can replenish their energy supply with relative ease, electric vehicles (EV) need to make the most of each tiny watt's worth of power.
So instead of taking an existing car platform, BMW started with a clean sheet of paper (or, more probably, a blank computer screen) and approached the concept of an electric vehicle from a fresh direction.
Extra weight must be avoided as much as possible. So BMW used an aluminum "tub" onto which things like suspension parts, the lithium-ion battery pack and motor mounts are affixed. Over the tub is a body made mostly from carbon fiber reinforced plastic (CFRP), which is as strong as steel but with half the heft.
Special consideration has been given to the i3's footprint -- not just the contact patches of the large-diameter/skinny-width tires, but also the sustainability of the manufacturing process and the materials used inside and out. Even the owner's manual is made from recycled paper.
This is not a low-slung sports machine created for empty canyon roads. It's a car for cities, where more charging stations are being provided. So a high driving position and excellent outward vision are essential factors in the design. Just as city buildings go up instead of out, so does the i3. This creates plenty of headroom, and the rear seats will fit a couple of average-size adults with ease.
The i3 is out of the ordinary but makes perfect sense.
What's New for 2017?
A new battery is now available, taking maximum range to 114 miles. This battery is called the 94 Ah (amp-hour) and also comes with the range-extended (REx) version. The original 60 Ah battery is still available. A new, less expensive Deka World trim level has been introduced. REx models also have a larger gasoline tank. A powered sunroof is a new option, but it's not available with the 60 Ah battery.
What We Like
Instant acceleration; tidy handling; high-tech cabin
What We Don't
Inconvenient rear passenger doors; pricier than some rivals
How Much?
$43,395-$48,445
Bear in mind there are state and federal incentives to buying a vehicle powered by "alternative" fuels, which will offset the retail price. And many cities offer free charging in free parking areas.
Fuel Economy
The i3 comes with a 22-kilowatt/hour (kWh) lithium-ion battery pack (60 Ah) or a 33 kWh version (94 Ah).
Both power an electric motor that develops 170 horsepower and 184 lb-ft of torque.
The Range Extender version adds a 600cc 2-cylinder gasoline engine (essentially a flat twin from BMW's motorcycle division) rated at 38 hp and 41 lb-ft. It functions as an onboard generator for the electric motor and doesn't provide any added muscle. It's there as an antidote to range anxiety.
Using a regular household outlet, it takes 20 hours to recharge the battery completely. A special 240-volt outlet requires 4 hours. There's also a standard-issue DC fast charger that enables a full charge in just 30 minutes at compatible charging stations.
According to the Environmental Protection Agency (EPA), the 60 Ah battery provides 81 miles of range on a full charge. The new 94 Ah battery is capable of covering 114 miles.
The EPA has a particular way of measuring efficiency in electric vehicles: miles per gallon equivalent (MPGe). One gallon of gas is equivalent to 33.7 kWh of energy. The 60 Ah model is estimated to consume 27 kWh every 100 miles, which works out to an average of 124 MPGe (137 MPGe in the city and 111 MPGe on the highway); the 94 Ah version is rated at 118 MPGe (129 MPGe city/106 MPGe hwy).
There were no EPA figures for the 94 Ah battery with the range extender at the time of this writing, but assume it will add another 30 to 35 miles.
The i3 is rear-drive only.
Standard Features & Options
The 2017 BMW i3 is a 4-seat hatchback that comes in 60 Ah form ($43,395), 94 Ah form ($44,595) and 94 Ah/REx form ($48,445).
Then there are Deka World, Mega World, Giga World and Tera World subtrims.
The 94 Ah model starts with the new Deka World trim level that has cloth upholstery. Other equipment includes 19-in alloy wheels, LED headlights and taillights, rear parking sensors, an onboard DC fast charger, heated front seats, automatic climate control, auto-dimming mirrors, rain-sensing wipers, vinyl/cloth upholstery, a leather-wrapped steering wheel, Bluetooth phone connectivity and BMW's iDrive infotainment system with a 6.5-in display, navigation, a USB port, HD Radio and satellite radio.
The Mega World has simulated leather upholstery and its navigation system is augmented by real-time traffic information. This is the point where the 60 Ah battery becomes available.
The Giga World adds different 19-in wheels, a sunroof, keyless entry/ignition, leather/wool interior trim and a universal garage door opener.
The Tera World has its own design of 19-inch wheels and a full leather interior with textile accents.
A Technology + Driving Assistant package is optional on all models. It includes an upgraded widescreen iDrive system with a touch-pad interface, Bluetooth audio and USB connectivity, adaptive cruise control, and a forward-collision mitigation system with automatic braking. A Parking Assistant package can also be specified, which features a rearview camera, front parking sensors and a parallel self-parking system. Additional options include 20-in wheels, a sunroof (94 Ah versions only), and an upgraded Harman Kardon audio system.
Cargo space behind the rear seats measures 15.1 cu ft., and 36.9 cu ft. with those seats folded down. That's not bad for a compact hatchback, but the Volkswagen e-Golf (for example) gives significantly more: 22.8/52.7 cu ft.
Safety
The i3 comes with stability control, 4-wheel anti-lock disc brakes and six airbags (front, front-side and full-length side-curtain). Optional safety features include a rearview camera, adaptive cruise control and forward-collision mitigation with automatic braking.
The National Highway Traffic Safety Administration (NHTSA) has not crash-tested the i3. But the Insurance Institute for Highway Safety (IIHS) gave the car its top score of Good in all major categories except for rear-crash protection, where it was deemed Acceptable.
Behind the Wheel
The i3 is unlike any other car. Vehicle information is provided by twin high-resolution display screens (one behind the steering wheel and one in the center of the dash). Every i3 comes with a distinctive combination of interior materials, and while not every theme will meet with universal approval, none of them are dull. Despite the high-tech gadgetry, most functions are easy to learn and use, aided by BMW's much-improved iDrive interface (with available touch-pad functionality).
Rear passengers enjoy spacious accommodation for such a small car, with adequate legroom and generous headroom. Access isn't straightforward, however. The rear-hinged back doors can't open unless the front doors are open (there's no B-pillar), which is particularly inconvenient if another car is parked alongside.
The sprint to 60 mph is arguably irrelevant, but the i3 manages to do it in 6.5 seconds. It actually feels a lot quicker, though, because there's a lot of thrust available from a standstill. Such responsiveness is a particular EV attribute.
The i3 also brings the concept of one-pedal driving. This sounds off-putting, but it's easy to come to grips with. Because of the regenerative brake function (that captures and stores energy that might otherwise be lost), the car slows as the driver eases off the throttle. The more pronounced the lift-off, the more forceful the slow-down. In city driving, this stop/go ability is far less tiring and stressful than having to dance the right foot between two pedals.
What might be surprising is the i3's well-tuned handling, courtesy of a nearly 50:50 front/rear weight distribution and BMW's expertise in rear-drive dynamics. This is an engaging EV for less than half the price of a Tesla Model S. Happily, it's also supple and quiet in normal driving, for suitably upscale manners.
Other Cars to Consider
2017 Chevrolet Bolt -- Less spacious than the i3 and not as high-class, but with a range of 238 miles.
2017 Mercedes-Benz B250e -- The B-Class EV offers quick acceleration and a relatively spacious interior, though its styling is bland when compared to the i3's, which may or may not be preferable. Its maximum range is 87 miles.
2017 Volkswagen e-Golf -- VW's electrified 4-door Golf has just had its range stretched to 125 miles. It also has a handier back seat and more cargo space for less money, while still coming close to premium quality.
Electric cars are still quite new and rare, so there isn't a healthy used market right now. A pre-owned Tesla Model S would still be more expensive than a new i3.
Autotrader's Advice
Hard to think of any good reason why the less capable older battery would be chosen over the new one.