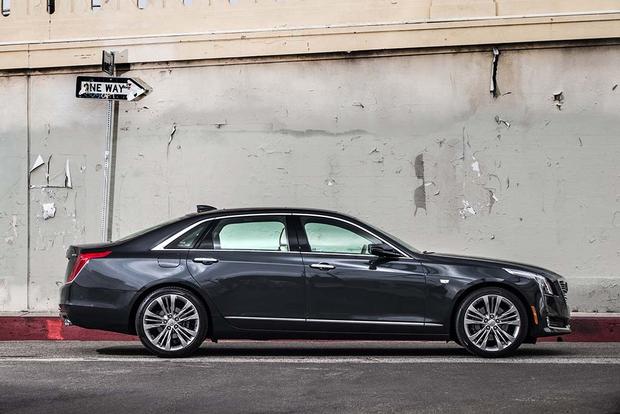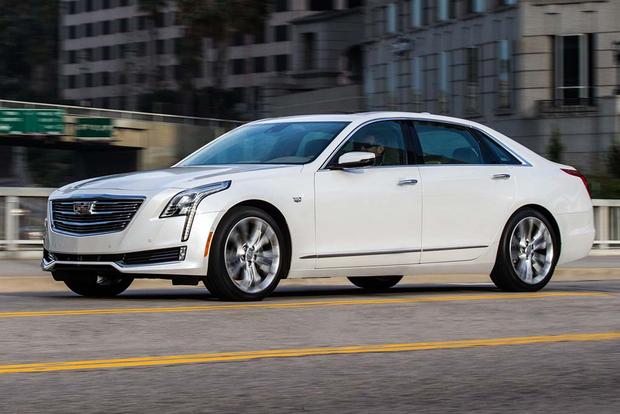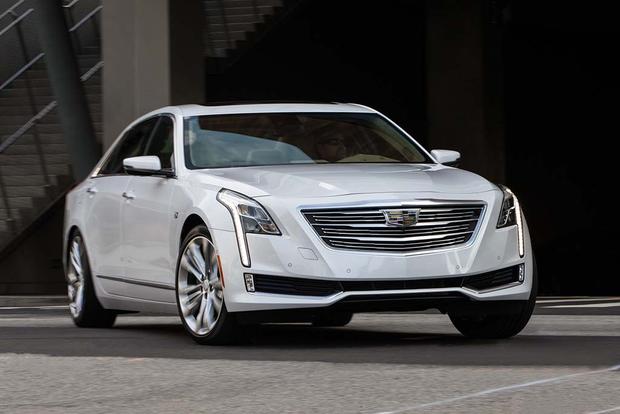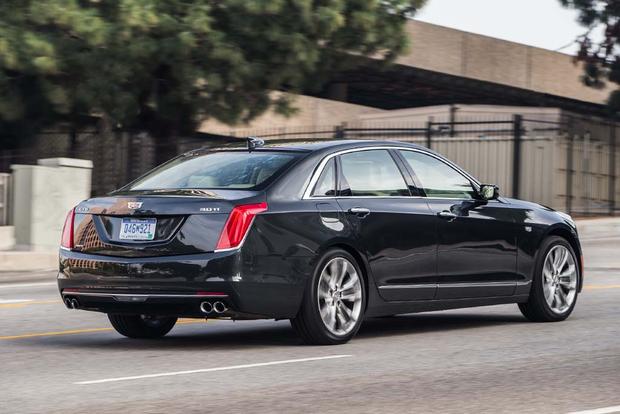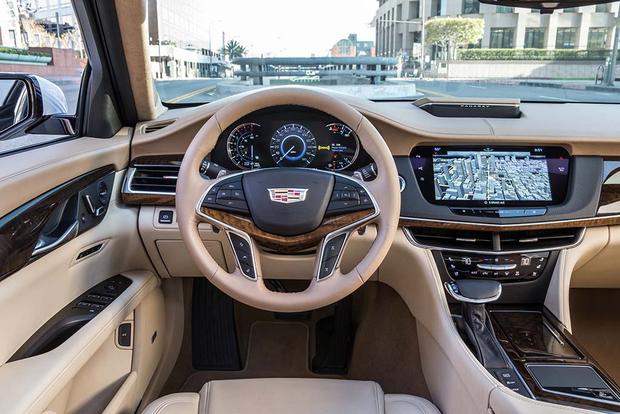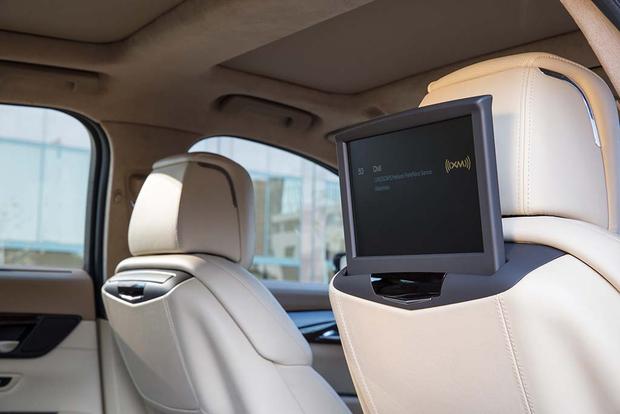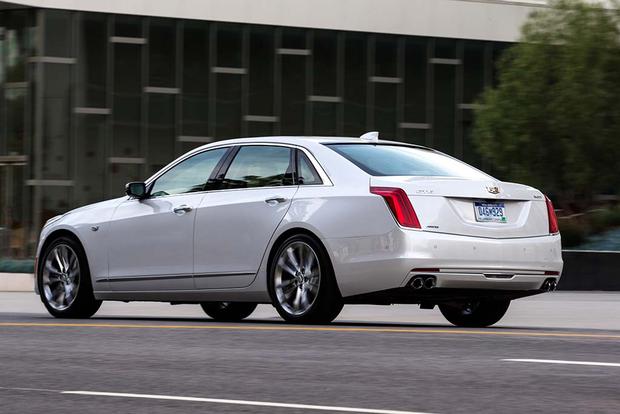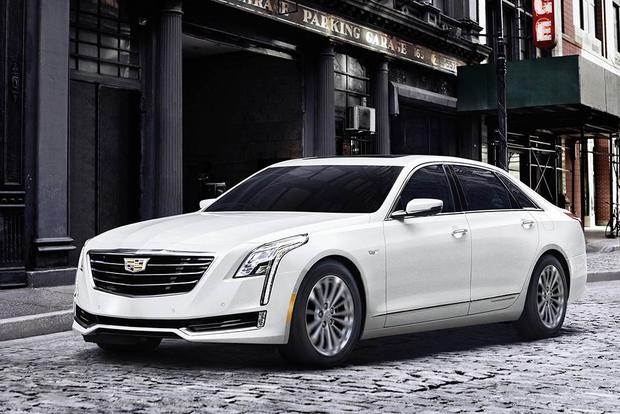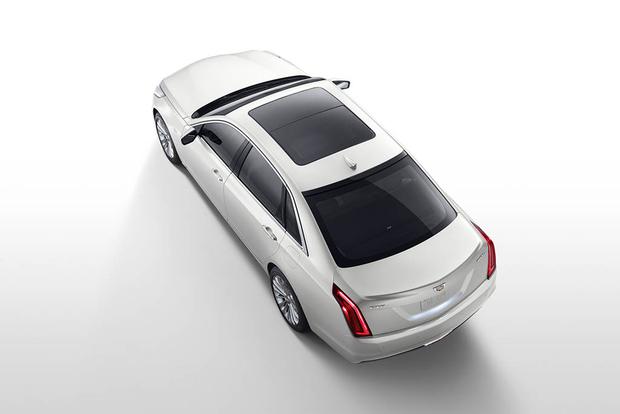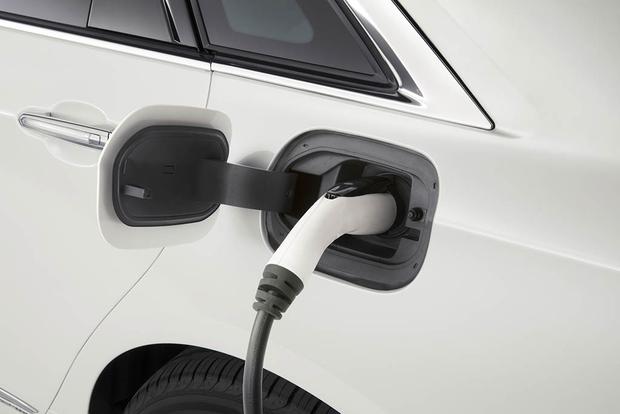 Although Cadillac's recent renaissance of quality, desirability and popularity began more than 15 years ago with the arrival of the original Escalade, the brand has grown up over the last two decades without a true flagship sedan. Though the DeVille, the DTS and the XTS have been popular, these front-wheel-drive, comfort-focused large sedans were hardly competitors for the best from European luxury-brand rivals.
The 2017 Cadillac CT6 represents something far closer to what we expect from a modern flagship sedan, one far more in keeping with the best luxury cars the world has to offer. In terms of size, feature content and general character, the CT6 straddles the line between the Mercedes E-Class and S-Class (or if you prefer, the BMW 5 Series and 7 Series). It's tastefully styled, surprisingly athletic, suitably luxurious and highly advanced. It's so revolutionary, in fact, that we think it marks the first time in the modern era a full-size Cadillac has truly gone toe-to-toe with the best German luxury sedans.
What's New for 2017?
The CT6 was an all-new model last year and sails into 2017 unchanged.
What We Like
Surprisingly sharp handling; lots of technology; generous feature content and interior space for the money; appealing engine selection; tastefully stylish inside and out
What We Don't
Complicated infotainment system; pricing can get high with options; relatively small trunk
How Much?
$53,800-$87,800
Fuel Economy
The CT6 offers three engines, all of which come with an 8-speed automatic transmission. Rear-wheel drive is standard with the base 4-cylinder, while all-wheel drive is standard with both V6 engines.
Base models use a 2.0-liter turbocharged 4-cylinder, which makes 265 horsepower and 295 lb-ft of torque. It returns an excellent 22 miles per gallon in the city, 30 mpg on the highway and 25 mpg in combined driving. Moving up to the 3.6-liter V6, which produces 335 hp and 284 lb-ft of torque, reduces fuel economy to a still-commendable 18 mpg city/27 mpg hwy/21 mpg combined. The range-topping 3.0-liter turbocharged V6 (known as the 3.0L) essentially gets the same fuel economy despite boasting an ample 404 hp and 400 lb-ft of torque.
Standard Features & Options
The CT6 is offered in four trim levels: base, Luxury, Premium Luxury and Platinum.
The CT6 ($53,800) comes standard with 18-inch alloy wheels, a 10.2-in touchscreen with Cadillac's CUE infotainment system and Apple CarPlay, a backup camera, an 8-speaker stereo, dual-zone automatic climate control, leather upholstery with dual power front seats, driver memory settings, a power tilt-telescopic steering wheel, front and rear parking sensors and a wireless-device charging system. Options include a panoramic sunroof, heated front seats, automatic wipers, automatic high beams and a Driver Awareness and Convenience package that touts forward-collision warning, automatic forward-collision braking, lane-departure warning, lane-keep assist, a navigation system, a blind spot monitoring system and rear cross-traffic alert. The CT6's V6 engine is also optional in the base trim.
The Luxury ($58,700) adds all of the base-level CT6's options (aside from the 3.6-liter V6, which remains optional), plus an automated parking system, a 360-degree parking camera, rear window shades, a 10-speaker sound system and a power trunk opener. Options include heated rear seats, ventilated front seats and a unique rearview mirror that streams video from a camera.
The Premium Luxury ($63,900) adds the 3.6-liter V6 as standard equipment. It also adds the Luxury's options, along with a head-up display. Options include adaptive cruise control, a night-vision system and an improved forward-collision braking feature.
Both the Luxury and Premium Luxury also offer two optional packages. The Rear Seat package boasts a rear entertainment system and 4-zone climate control, while the Active Chassis package includes larger wheels, adaptive dampers and active rear steering. Drivers can also opt for an impressive 34-speaker Bose Panaray sound system.
Topping the range is the Platinum ($83,800), which comes standard with all the features and options we've described above. It also boasts upgraded upholstery, more adjustments for the front seats and even 8-way power rear seats with ventilation.
The optional 3.0L turbocharged V6 is available in the Luxury, Premium Luxury and Platinum trims.
Safety
The 2017 Cadillac CT6 has not yet been crash-tested by the National Highway Traffic Safety Administration. The nonprofit Insurance Institute for Highway Safety has also not yet tested the CT6.
As for safety features, the CT6 is loaded. It offers everything you might expect as standard equipment (including side-curtain airbags, anti-lock brakes and a backup camera), plus front knee airbags and OnStar emergency communications. Options include almost every accident-avoidance technology on the market, including forward-collision warning with automatic braking, night vision, lane-keeping assist, a blind spot monitoring system, rear cross-traffic alert and lane-departure warning with automatic steering intervention.
The CT6 can also be equipped with a special rearview-camera mirror. It can function like a typical mirror, or can be switched to become a display screen for a rear-mounted camera that provides a wider, unobstructed view. We've found it to be useful in certain situations, but its different focal point can be disconcerting and isn't well-suited to night driving.
Behind the Wheel
This is not your granddad's big Cadillac. The CT6 is one of the most agile flagship sedans on the market, benefiting from a relatively low curb weight and excellent chassis tuning. The lightest model, the rear-wheel-drive 2.0T, feels particularly light on its feet, and you'll be surprised at how well the turbocharged 4-cylinder gets it up to speed. Opting for one of the V6 engines sacrifices some of that agility for added oomph, but we think most buyers will probably be just fine with that. However, don't expect either of those engine upgrades to blow you away with its power, as some other luxury sedans are apt to do.
Ride comfort is quite good, especially with the available magnetically controlled suspension; but in general, the CT6 lacks the suppleness and isolation you'll find in a BMW 7 Series or Mercedes S-Class. Those cars still represent a step above, which is fitting given their substantially heftier prices.
Inside, the CT6 boasts the best craftsmanship and most tasteful design the brand has accomplished in decades. Cadillac's previously maligned CUE interface is also much easier to use now, though it can certainly be complicated for new users and the redundant touch-operated controller on the center console just chews up space.
But if you're really concerned with space, the CT6 should not disappoint. It offers more back-seat room than smaller yet similarly priced luxury sedans (BMW 5 Series, Mercedes E-Class). That back seat can also be equipped with heating, ventilation, massaging and power adjustments -- a collection of pampering items that those competitors do not offer.
Other Cars to Consider
2017 Audi A6 -- Audi's A6 sedan also touts 4- and 6-cylinder engines, along with all-wheel drive and a lot of high-tech goodies. Its styling isn't as bold as the CT6's design, but Audi also offers the unusual A7 hatchback.
2017 Genesis G90 -- Like the CT6, the Genesis G90 is a new entry into the flagship luxury sedan game. It too boasts more size and equipment than similarly priced sedans, and is a compelling alternative as a result.
2017 Mercedes-Benz E-Class -- The redesigned Mercedes-Benz E-Class is an exquisitely luxurious sedan that challenges its S-Class big brother for opulence and refinement. It isn't yet available with the same engine range as the CT6, but it's still a must-drive.
Used Jaguar XJ -- The CT6 and Jaguar XJ have a lot in common. They're both uniquely styled, relatively light in weight and possess lithe driving dynamics. Altogether, they're compelling alternatives to the typical go-to German sedans. Prices are higher than the CT6's, though, so you'll want to consider a used model.
Autotrader's Advice
The 2017 Cadillac CT6 is an excellent full-size luxury sedan with impressive performance, a bold design inside and out, and a lot of cutting-edge tech features. We wouldn't ignore the base turbocharged 4-cylinder -- you'll be surprised at how well it gets the job done and it'll save you some money at the pump. None of the engines are a bad choice, though, and we would in general point you in the direction of the midgrade Luxury trim, which represents a sweet spot in the model range and a great deal compared to European rivals.