Editor's note: You may want to read more of Autotrader's model vs. model comparison car reviews as well as the 2017 Cadillac XT5 review and the 2017 Acura RDX review.
So, you're considering the 2017 Cadillac XT5 or the 2017 Acura RDX. You're certainly not alone, as the RDX is the best-selling compact luxury SUV so far this year, while the XT5's predecessor, the SRX, was last year's best-seller, despite being quite long in the tooth. The XT5 is a substantially improved SUV, but how does it compare to the RDX, and which might be better for you? Let's take a look at both.
2017 Cadillac XT5
The XT5 replaces the SRX. Beyond the different name, it's considerably lighter, its wheelbase has grown for better rear-seat legroom, the cabin is more modern and luxuriously appointed, and the safety features have been added or improved. See all 2017 Cadillac XT5 models available near you
2017 Acura RDX
The RDX carries over unchanged for 2017 after a substantial update the prior model year. Changes then included styling changes and its own variety of new and/or improved safety features. See all 2017 Acura RDX models available near you
Reliability
The RDX has not been the paragon of automotive reliability you might expect from its Acura badge and the fact that Honda is its corporate owner. Some issues have been reported to multiple sources, but comparatively speaking, the RDX is still better than most in this regard. The XT5 is an all-new model, but the SRX that replaced it was only as good or worse than the average car. So history would suggest that the RDX would be better, but to be fair, there's insufficient data on the XT5 to know for sure.
Fuel Economy
According to the Environmental Protection Agency (EPA), the 2017 Cadillac XT5 returns 19 miles per gallon in the city and 27 mpg on the highway with front-wheel drive. Adding all-wheel drive drops each estimate by 1 mpg.
The Acura RDX may be the quicker SUV, but it also delivers slightly better fuel economy at 20 mpg city/28 mpg hwy with front-wheel drive, with all-wheel drive similarly dropping estimates by 1 mpg. However, the RDX requires premium gas. The XT5, on the other hand, can swallow regular. As a result, it's cheaper to fill up — specifically, $250 per year on average, according to the EPA.
Safety
The XT5 has not yet been crash-tested by the National Highway Traffic Safety Administration (NHTSA) or the Insurance Institute for Highway Safety (IIHS). The RDX got a perfect five stars from NHTSA for overall, frontal and side-crash protection. It's also an IIHS Top Safety Pick+, having received the best-possible rating of Good in all crash tests and a rating of Superior for its available forward-crash prevention system.
Both are available with optional advanced safety features, though in our experience, Cadillac's are generally better-executed and less prone to false alarms than Acura's. These features include forward-collision warning, a blind spot monitoring system, lane-departure warning and active lane-departure intervention, which steers for you should you start to drift out of your lane. The XT5's systems can detect pedestrians, and it can warn you by buzzing your seat bottom. It also comes standard with OnStar emergency communications.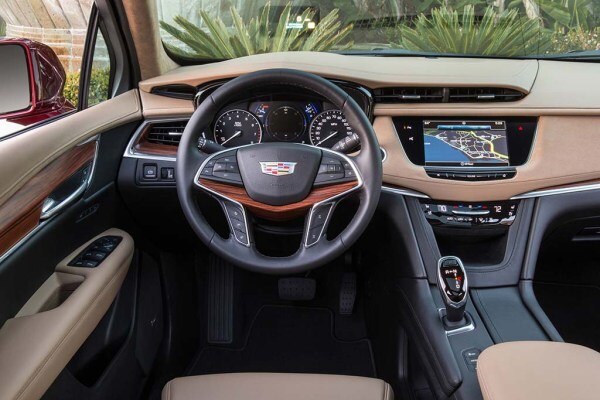 Technology
Major improvements to Cadillac's previously maligned CUE touchscreen interface result in the XT5 having an advantage here. Washing out in the sun remains a problem and only gets worse when inevitably coated in fingerprints, but if you can see what you're pressing, the icons are big, and it's easy to figure your way around. Responses have been greatly improved, and there's thankfully no longer a delayed "clunk" noise and vibration with every press. This isn't a perfect system, but we could live with it, and its standard Apple CarPlay and Android Auto are appreciated for certain smartphone-interface functions.
The RDX, on the other hand, could use some modernization. The standard setup of a central screen, a dash-mounted control knob and myriad physical radio buttons isn't overly complicated, but most other knob-and-screen systems are better. Nevertheless, it's probably preferable to the supposed upgrade included with the Technology package. It essentially adds a touchscreen in place of those physical buttons — as a result, some audio functions are controlled with the touchscreen, while others require the knob and top screen. It's confusing to learn and use. Apple CarPlay and Android Auto also aren't available.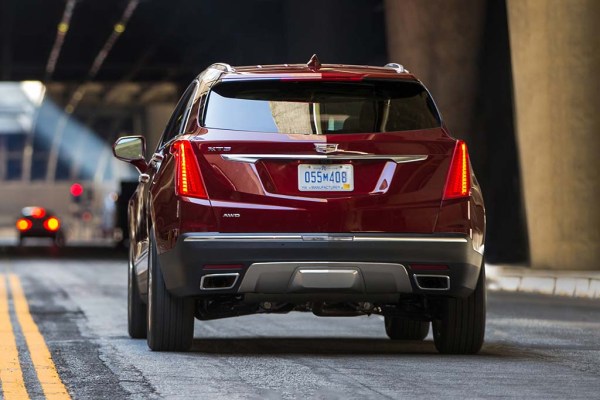 Value
The 2017 Acura RDX is the most value-rich vehicle in the segment. Not only does its size mean you get more utility for the money, but you also get far more features as well. A fully loaded RDX tops out at only $43,720, whereas a similarly equipped SRX would top $52,000.
This mostly speaks to the RDX's value, as most competitors are similarly more expensive. It should be noted, though, that the RDX doesn't feel quite as premium as those competitors, including the XT5. The cabin is a little cold and uninspired, and although everything seems well-constructed, the materials are unremarkable and free from the luxurious embellishments that are prominent in competitors.
At the same time, it's hard not to think that the XT5 costs too much. There were a few sporadic rattles, the driver-seat thigh extension wiggled about around corners, and its leather covering was pulling away to reveal the foam underneath. And although we certainly appreciate most cabin surfaces being covered in leather or simulated leather, we're not convinced that the XT5 possesses the performance, refinement and overall luxury to cost as much or more than a Mercedes-Benz GLC300 or a Jaguar F-PACE. And despite Cadillac's claims, it definitely doesn't seem like a competitor for the Lexus RX 350 and others in the higher segment.
Space and Comfort
The XT5 and the RDX boast two of the biggest cargo areas in the segment. With the rear seats in place, their cargo areas are usefully deep and wide — something that some small SUVs can't claim. Back-seat space is a different story. The XT5 may have gained some legroom over the SRX, but its insufficient rear headroom remains when equipped with the panoramic sunroof (standard on all but the base model). Taller adults or teens will feel cramped. Quite oppositely, the RDX's rear bench is mounted high for better thigh support and a less restricted view, while still providing plenty of headroom.
In terms of comfort, the RDX has a plush ride despite feeling lightweight and relatively nimble around corners. It's also pleasantly quiet on the highway, but the XT5 is even quieter, especially in terms of its engine. If you're looking for a serene environment, this Cadillac won't disappoint. You may want to think twice about the 20-inch wheels, though. They come packaged with a continuously damped suspension that controls body motions well and helps the XT5 feel like a bigger, more solid vehicle on the highway. Unfortunately, those big wheels aren't well-suited to slower speeds and poor pavement, sending sharp impacts into the cabin around town.
Autotrader's Advice
The Cadillac XT5 is the more overtly luxurious vehicle in this comparison, while still being more practical than most. Its price tag gives us pause, however. The RDX, on the other hand, is the sensible-shoes choice in the segment, with a low price, ample features and generous space. It ultimately depends on your expectations.
Find a Used Cadillac XT5 for sale