Editor's note: You may want to read more of Autotrader's model vs. model comparison car reviews as well as the 2017 Cadillac XT5 review and the 2017 Mercedes-Benz GLC-Class review.
The 2017 Cadillac XT5 certainly has its work cut out for itself. After all, to be the best, you need to beat the best. Since it was introduced for 2016, the Mercedes-Benz GLC-Class has stood out in the compact-luxury-SUV segment, boasting a beautiful interior, refined driving manners, strong power, good fuel economy and a lengthy list of well-executed features. It provides something for everyone, and if it's not the best in the segment, it's pretty close. But how does the all-new Cadillac XT5 stack up to such an impressive rival, and which is better for you? Let's find out.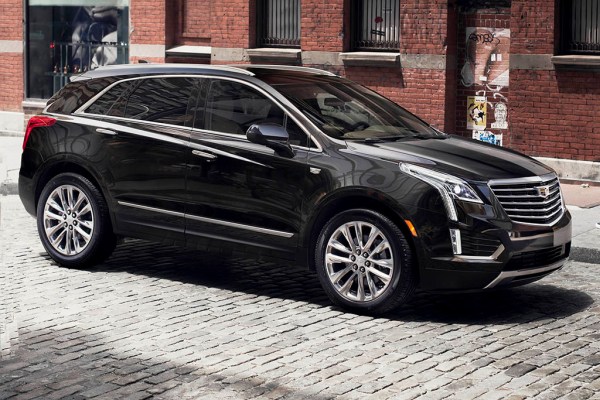 2017 Cadillac XT5
The XT5 replaces the SRX in name and body. It's a tiny bit smaller, a lot lighter, more luxurious and substantially better-looking. See all 2017 Cadillac XT5 models available near you
2017 Mercedes-Benz GLC-Class
The GLC is a similar story, as it replaced the GLK-Class last year. For 2017, the only noteworthy change is the addition of the AMG GLC 43 model that doesn't really line up with anything Cadillac offers. See all 2017 Mercedes-Benz GLC-Class models available near you
Reliability
Since the XT5 and GLC have been on the market for so little time and prove so different from the cars they replace, it'd be unfair to make a claim about reliability. If the history of their predecessors is any indication, though, the Mercedes GLK will have better reliability ratings and fewer customer complaints than the SRX.
Fuel Economy
Despite its standard cylinder deactivation and automatic stop/start systems, the XT5's fuel economy trails the GLC and many other competitors. The Environmental Protection Agency (EPA) estimates it'll return 19 miles per gallon in the city and 27 mpg on the highway with front-wheel drive (all-wheel drive lowers those figures by 1 mpg). The GLC300 receives an EPA-estimated 22 mpg city/28 mpg hwy with rear-wheel drive, and all-wheel drive is basically the same. However, even if the XT5 burns more fuel, you'll burn regular versus premium fuel, which actually makes the Cadillac cheaper to fill.
Performance
This result might not be what you expect. The XT5 has a 3.6-liter V6 that produces 310 horsepower and 271 lb-ft of torque, whereas the GLC300 has a 2.0-liter turbocharged 4-cylinder good for 241 hp and 273 lb-ft of torque. The Cadillac should prove quicker and more energetic, right? Wrong. Despite dropping 300 pounds from the hefty old SRX, it still weighs roughly the same amount more than the GLC. Whether you look at 0-to-60 mile-per-hour times or just feel it in the seat of your pants as you accelerate onto the highway or chug up a mountain grade, the GLC is the more vigorous performer and demonstrates a sharper, more agile driving character.
Safety
It's hard to fault the XT5's safety resume, but the GLC300 simply comes with more tricks up its sleeve. Standard equipment, such as a forward-collision warning system, automatic emergency braking, a driver-inattention warning system, a driver's-knee airbag and crosswind steering assist, are either optional or unavailable on the Cadillac. The two come with a similar number of other optional safety items, however, and neither has been crash-tested by a third party.
Technology
It's hard to imagine, but the once maligned but hugely improved Cadillac CUE interface is the more user-friendly of the two cars here. Operated by a touchscreen, it's now relatively easy to figure out and use. However, fingerprints and glare from the sun can cause problems. The GLC's COMAND interface can overwhelm with its multitude of redundant control options, which include a knob controller, a touchscreen, voice controls, buttons on the steering wheel and buttons on the dash. You may come to appreciate that you can pick your preferred way of controlling things, or you could just end up scratching your head.
The Cadillac comes with more infotainment technology standard than the Mercedes, including Apple CarPlay, Android Auto (neither are available on the GLC) and onboard 4G Wi-Fi. Both cars are also available with an adaptive cruise control system, but Mercedes' is a little smarter in its application and can essentially steer for you on the highway, as well.
Space and Comfort
For many, the Cadillac has a clear advantage in terms of space. It has considerably more rear-seat legroom, and its cargo area is bigger on the spec sheet and in practice. Indeed, the XT5 offers more utility than most in the segment. Unfortunately, the panoramic sunroof that comes standard on all but the base model chews into rear headroom considerably, making things a bit tight for those of above-average height. The GLC has no such problems, so it may be better for some (and despite being smaller than the Cadillac, it isn't exactly cramped).
Comfort is probably a win for the Mercedes, which demonstrates an exemplary ride over a variety of surfaces. You don't really need to have the adaptive air suspension (not that you're likely to find it on a dealer lot), and even opting for 20-inch wheels doesn't ruin the ride. The Cadillac, by contrast, is well composed and very quiet on the highway, but with its 20-in wheels, there's some impact harshness felt on broken pavement at lower speeds around town. Both SUVs have firm, supportive seats offering plenty of adjustment.
Value
Both the 2017 Mercedes-Benz GLC300 and 2017 Cadillac XT5 come with a similar amount of standard equipment (though not the same equipment) at a similar price of just under $40,000. However, if you want all-wheel drive, you have to spring for the XT5's Premium trim, which tops $48,000. The all-wheel-drive GLC starts at around $42,000. The two don't really separate from each other as you add options, and if anything, the Mercedes-Benz should cost less when similarly equipped. As such, although the XT5 provides a larger vehicle for your money, the GLC is likely to provide more equipment, performance and overall refinement.
Autotrader's Advice
Both the Mercedes GLC and Cadillac XT5 are much better than the models they replace, and each provides a suitably luxurious SUV experience. In most respects, though, the otherwise impressive XT5 is simply outdone by the Benz, but there's really no shame in that. This handsome new Cadillac is still worth a good, long test drive.
Find a Used Cadillac XT5 for sale