Car Review
2017 Chevrolet Bolt EV: First Drive Review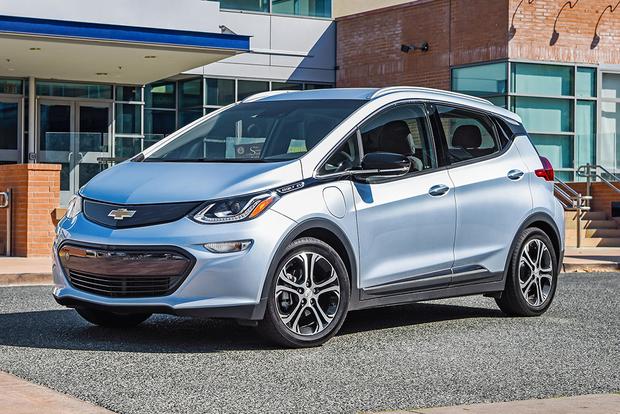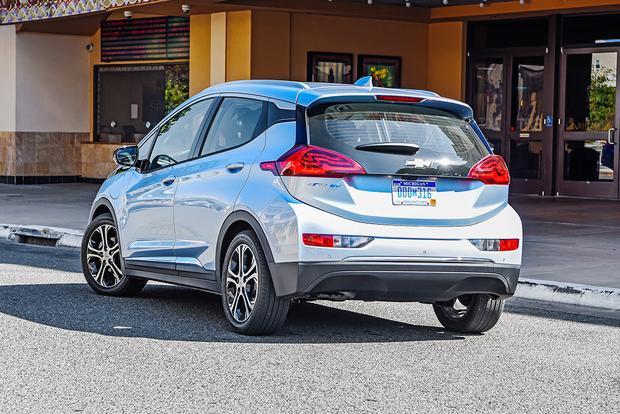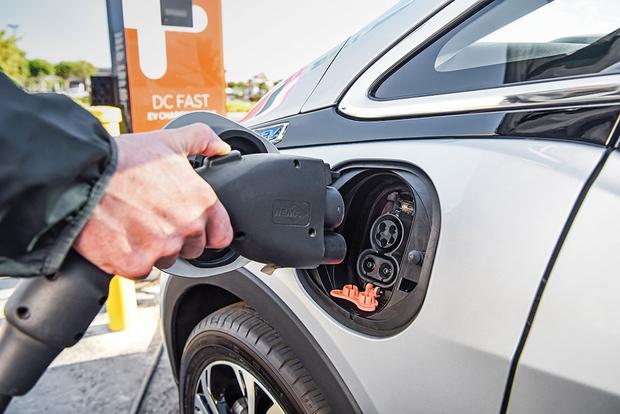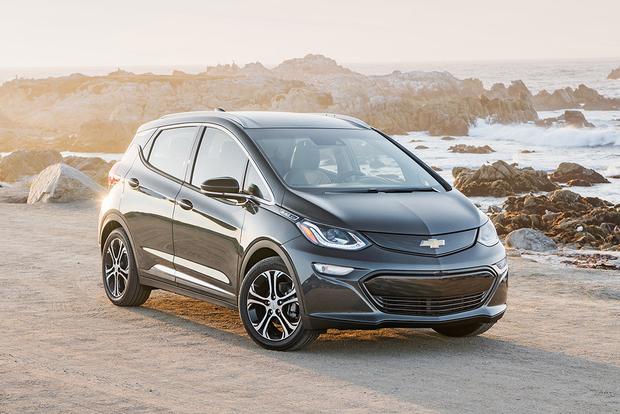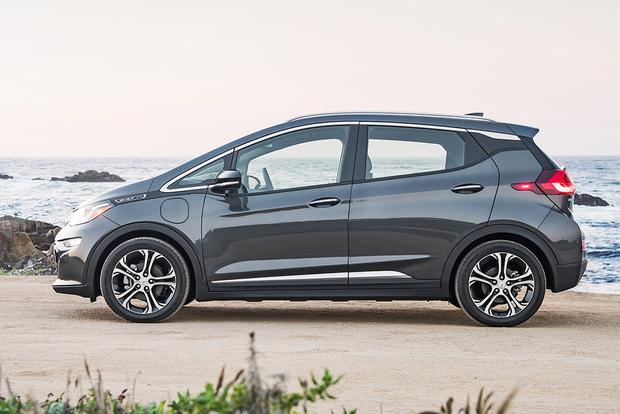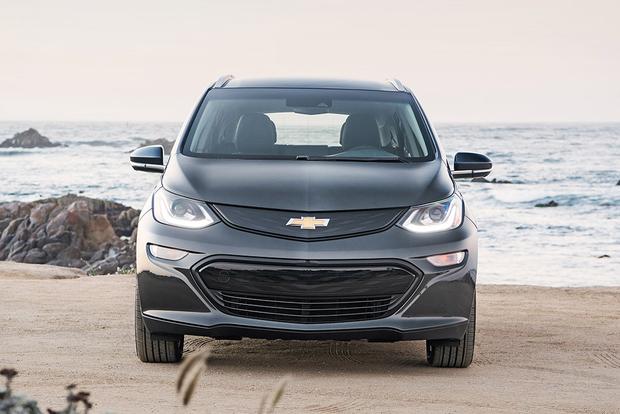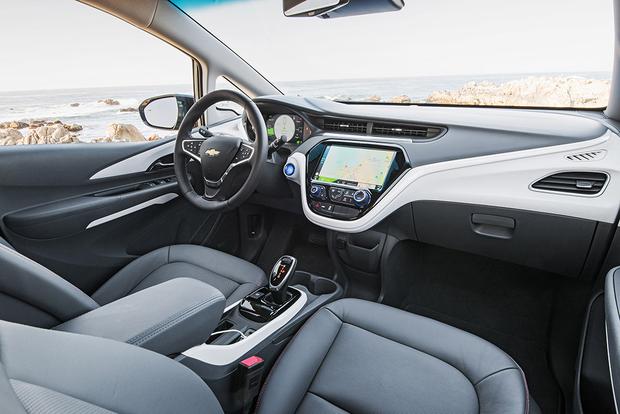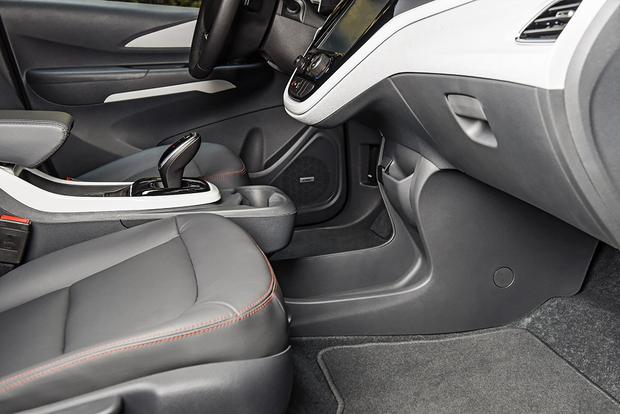 If you're looking for information on a newer Chevrolet Bolt, we've published an updated review: 2019 Chevrolet Bolt Review
Chevrolet made a promise a few years ago that it would produce an affordable electric vehicle that could travel over 200 miles on a single charge. That promise has been fulfilled with the 2017 Chevrolet Bolt EV, a compact crossover vehicle that will start at $29,995 (after federal tax credits) and offer a range of up to 238 miles. The Bolt EV will be rolling out to dealerships soon and will be available in all 50 states by September 2017.
All-New EV Platform
The Bolt is an all-new vehicle from the ground up, riding on a new dedicated EV platform, not a re-engineered gasoline platform. This means the engineers and designers were able to make bold decisions about where to store the 1,000 pounds of battery mass, a critical factor in handling. The batteries live low in the chassis, arrayed in a holder that contributes to the vehicle's structure and rigidity. The Bolt is a front-wheel-drive vehicle, so the motor and most of the control units are mounted up front, under the hood, like in a conventional car. There's even an ordinary-looking 12-volt car battery up there, right where you'd expect to find one. This battery is used to start up the functions in the high-voltage systems and provide lower-voltage power to systems like the radio, lights and gauges.
LT and Premier
At launch, the 2017 Chevrolet Bolt will be available in two trim levels: the LT (starting at a $37,495 net price) and Premier (starting at a $41,780 net price). There's a current federal tax credit of $7,500 on electric vehicles, which brings the starting price of an LT to $29,995. The LT is nicely equipped, with all the EV technology of the new platform. See the 2017 Chevrolet Bolt models for sale near you
Crossover Exterior
Chevrolet groups the Bolt with its crossovers and SUVs, though you'd be excused if you called it a hatchback. Nothing about the Bolt's exterior screams "EV." It has a very conventional look, with a snub nose and a roofline that arches back from the base of the windshield, sloping down a little toward the back of the vehicle. A strong beltline runs from the front wheel arch to the taillamps, and another strong line rises above the rocker panel, giving some lift and motion to the profile. HID headlights are surrounded by LED daytime running lamps, and LED taillights present a subtle lightning-bolt shape when illuminated. While not particularly distinctive, the Bolt is attractive and modern, and fits nicely into the Chevy lineup.
Interior Details
Unlike the interior of its competitor, the BMW i3, the Bolt's interior is simple and familiar-looking rather than jarringly modernistic. The most prominent feature is the big 10.2-inch touchscreen display at the top of the center stack. It's rectangular and set into the dash in landscape orientation. The center console is low and open, which makes the cabin feel a little bigger and less cramped. Soft-touch plastics are in the right places, and build quality appears solid. Several calming color schemes are available to keep the Bolt serene.
Motor, Batteries and Drive
Electric power is the Bolt's big differentiator. This is a pure electric vehicle, with no gasoline-engine backup or generator. A 200-hp/266 lb-ft drive motor, powered by a 60kWh lithium-ion rechargeable battery system, turns the front wheels. Chevy claims a range of up to 238 miles on a full charge. We didn't have the opportunity to test this claim, but it seems plausible thanks to two regenerative schemes. Like most hybrid and electric vehicles, the Bolt captures energy generated by the friction of braking and sends it to the batteries. So every time you touch the brake pedals, you're regenerating and in effect extending your range. The Bolt takes this one step further with Regen on Demand and one-pedal driving. A steering-wheel-mounted paddle allows you to initiate regeneration without touching the brakes. You're driving along, and the road ahead slopes down a long hill. As your vehicle coasts, you can pull in the Regen paddle to control your downhill speed -- without touching the brakes. The Regen paddle can even bring you to a complete stop if you plan ahead and allow a sufficient following distance. You may still need to use the brake pedal for quicker stops, but if you drive smoothly, you can easily travel for miles and miles without ever touching the brakes, and you'll be recapturing energy all along the way.
Suspension and Handling
The Bolt has an independent front suspension and a semi-independent rear suspension. The new chassis is pretty rigid, and the suspension is non-adjustable, so the ride is pretty firm. That's good for handling but not as good for comfort -- always a delicate balance, but nicely managed in this case. Sophisticated electric power steering delivers good response, with a light weight at low speeds and heavier feel at higher speeds. The low center of gravity (thanks to the battery placement in the chassis) lends a sense of stability around the curves. It's even possible to wring a little bit of fun out of the Bolt on a winding road.
Driving Experience
The best compliment we can pay to the Bolt is to say driving it is pretty unremarkable. If you've never driven an electric car, you're in for a surprise -- and that surprise is that there are no surprises. The big difference you'll notice is that there's no engine noise (since there's no engine), so you notice road and wind noise a lot more than in a gasoline-engine car. But mostly you just get in the Bolt and drive. And drive. And drive. Chevy reports acceleration from zero to 60 mph at 6.5 seconds, which is pretty quick for a compact hatchback.
The Bolt offers a level of engagement that you can enter into, or not, as your personality and tastes dictate. If you're into the gaming aspect of EVs, you can interact with the car to maximize range -- it gives you feedback in the instrument panel to let you know how you're doing. Or you can ignore that and just pay attention to your state of charge and range like you would with a fuel gauge. A wide range of advanced safety features are available on the Bolt, too.
Charging and Warranty
If you're intrigued by the promise of an electric car, you've got to consider charging. You can bring your Bolt up to a full charge with a standard household current by using the included 120-volt charge cord that comes with the vehicle. That can take a while -- possibly as long as 18 hours. A faster option is 240-volt charging, but you'll need to get an electrician to install the $699 charging station from AeroVironment, Chevy's recommended home-charging provider. The charging rate then goes to 25 miles of range per hour, or approximately 9 hours from depleted to full charge. Level 2 charging is also available at public charging stations, most of which require an account or payment on-site, and some of which are free (rarer and rarer these days). Additionally, you can opt for DC Fast Charging capability. At a commercial charging site that offers DC Fast Charging, a 30-minute charge can deliver 90 miles of range.
The 238 miles of range should relieve most cases of range anxiety. If your commute is like the average American's -- around 15 miles each way -- and you plug in every time you get home, you will not have a problem. But if you can't keep a cellphone charged, let alone a car, you may have to work a little harder to remember to plug in.
The Bolt will probably wind up as a family's second car, taking up garage space next to a gasoline or hybrid gas-electric vehicle. If a trip longer than 100 miles or so is anticipated, the family can take the gas car and take advantage of fueling stations along the way.
The Bolt comes with three warranties: a 3-year/36,000-mile basic; a 5-year/60,000-mile powertrain; and an 8-year/100,000-mile battery, thermal-management system, charging system and electric drive component warranty. Maintenance on the Bolt should be minimal -- no tune-ups, no oil changes, no radiator -- just wiper blades, washer fluid and brake pads in an ideal scenario.
Charged Up
So it appears Chevy has delivered on its promise. The Bolt is an affordable, fast electric car with a range of over 200 miles, and it's reaching showrooms now. It's a competitor to the Tesla vehicles only in terms of its propulsion system -- the current Tesla vehicles (Model S and Model X) are luxury cars that cost at least twice as much as the Bolt, and the Tesla Model 3 could be years away. Compare the Bolt to the Nissan Leaf, Fiat 500e, BMW i3, Mitsubishi i-MIEV, Ford Focus Electric and others -- for now, the Bolt offers the most range in a complete EV package that's impressive from the ground up. Find a Chevrolet Bolt for sale
To gain access to this information, Autotrader attended an event sponsored by the vehicle's manufacturer