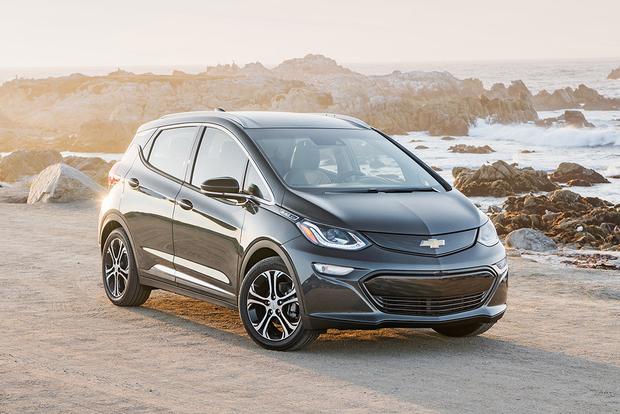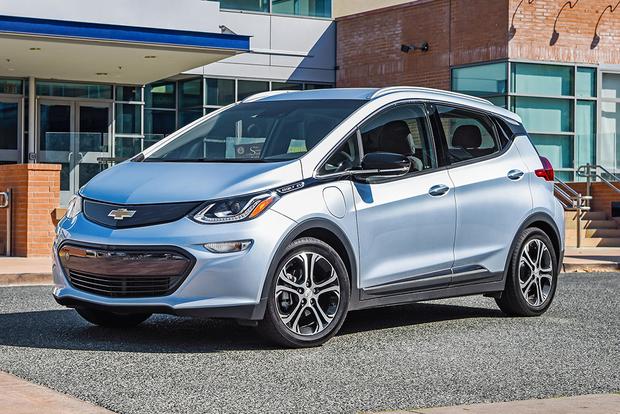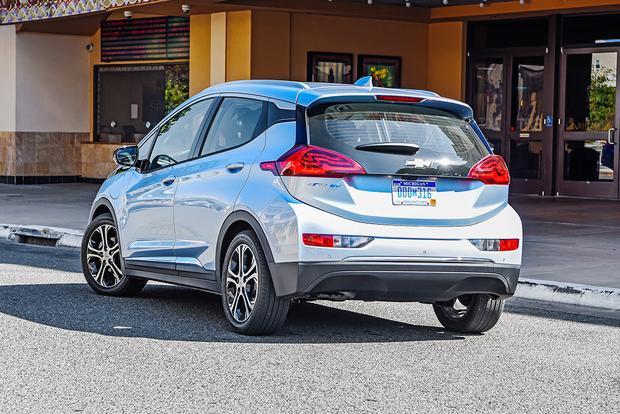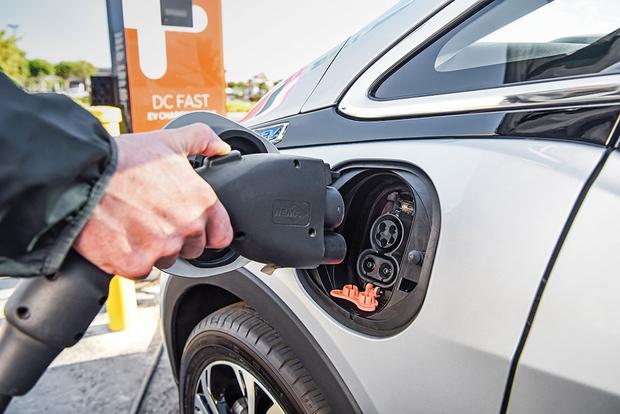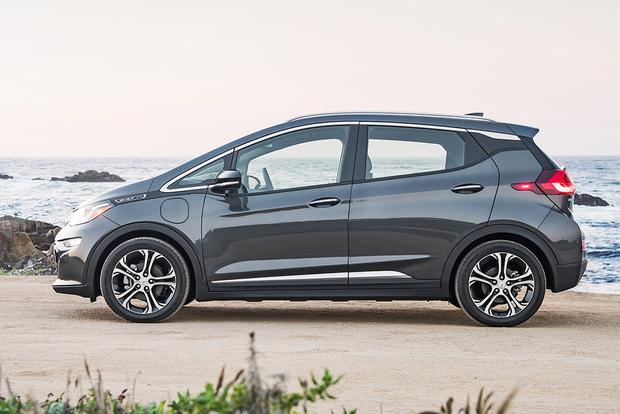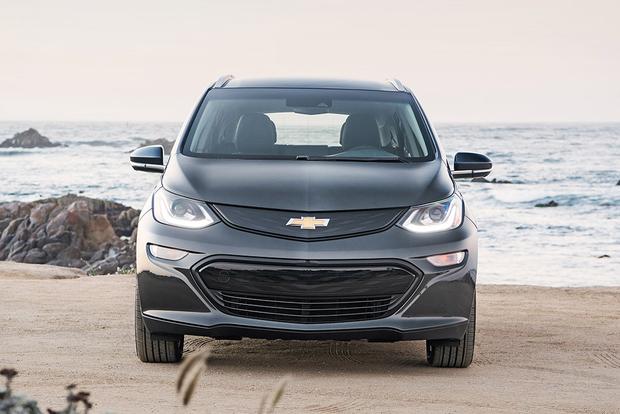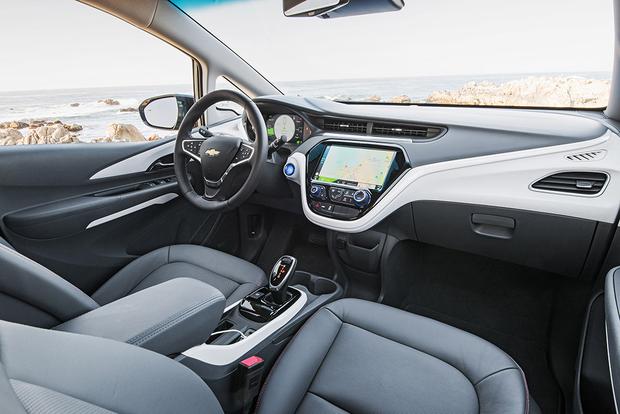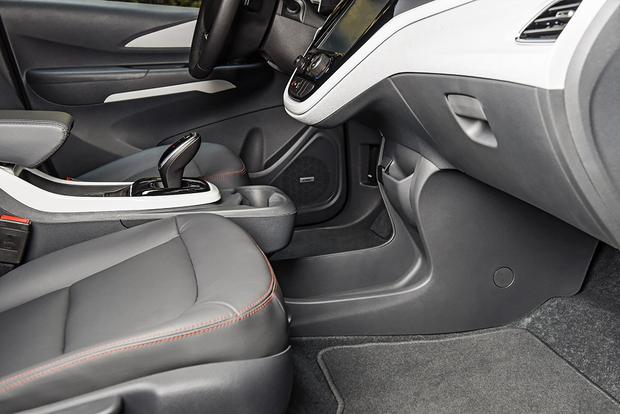 If you're looking for information on a newer Chevrolet Bolt, we've published an updated review: 2019 Chevrolet Bolt Review
Thanks to pioneers like Tesla Motors, the electric car has moved from novel idea to mainstream mode of transportation. Unfortunately, not everyone can dish out $70,000 for a car, which is why the 2017 Chevrolet Bolt EV is so appealing. After applying the $7,500 federal tax credit, the Bolt sells for around $30,000. That means for about the price of the average midsize sedan, you can be driving a clean, green machine on the cutting edge of a new automotive revolution.
The Bolt was designed as an electric from the ground up. That's important because it means engineers were able to incorporate the 1,000-lb battery pack into the Bolt's design in a way that isn't a detriment to the vehicle's ride and handling. With a nine hour average charge time (240-volt charging station) or a little under two hours using a DC Fast Charging station, the Bolt still isn't as convenient as a gasoline powered car, but it is more environmentally friendly, cheaper to fill up and a lot more hip. Like the BMW i3, the Bolt is cute and fun to drive, and with a 238-mile range, it can travel more than 100 miles further than the i3.
What's New for 2017?
The Bolt EV is a completely new platform for GM, catapulting Chevrolet to the head of the EV market place. Sure, the Ford Focus EV, Nissan Leaf, Volkswagen's e-Golf and BMW i3 all beat the Bolt to the showroom floor, but none of them can beat it for distance traveled on a single charge. See the 2017 Chevrolet Bolt models for sale near you
What We Like
200-plus mile range on a single charge; roomy interior; affordable price after tax credit; cost of the 240 charging station (around $750) can be financed with the car; available in all 50 states
What We Don't
Charging times still too long compared to the time it tanks to fill a gas tank; no backup motor/generator option; drab interior colors
How Much?
$37,495-$44,000 (before $7,500 federal tax credit)
Fuel Economy
As the Chevy Bolt EV is a pure electric car, fuel economy is measured in miles per charge, not per gallon of gasoline. The Bolt is powered by an electric motor producing the equivalent of 200 horsepower and 266 lb-ft of torque, the later available almost all at once. Electricity is stored in a 60 kilowatt lithium-ion battery pack. Chevrolet claims the Bolt can travel up to 238 miles on a single charge and that's a believable figure given the fact that there are two regenerative on-board charging systems. The first system is common on all hybrid cars and recaptures energy generated when braking. The second, called Regen on Demand, uses a steering-wheel-mounted paddle that allows the driver to initiate regeneration without ever depressing the brake pedal. The concept is similar to downshifting a manual transmission car, using engine braking to slow the vehicle.
Officially, the Environmental Protection Agency rates the Bolt EV at 128 mpge city and 110 mpge highway for a combined mpge of 119.
Standard Features & Options
The 2017 Chevrolet Bolt EV is offered in two trims: LT and Premier. Both cars qualify for a $7,500 tax credit from the federal government. There may also be further savings offered at the state level, so be sure to check with your local motor vehicle department before you buy.
The Bolt LT ($34,495) includes 17-in alloy wheels with self-sealing tires, auto HID headlights, power adjustable heated outside mirrors, keyless entry with push button start, Teen Driver, automatic climate control, 10 airbags including side curtain and driver and passenger front knee airbags, 8-in driver information center, 6-speaker audio with 10.2-in color touchscreen and Chevrolet MyLink, dual USB ports, OnStar with 4G LTE Wi-Fi, Apple CarPlay and Android Auto compatibility, power door locks, power windows, rear vision camera, remote start, cruise control, Bluetooth and a tilt and telescoping steering column.
Options for the LT are bundled into two packages. The Comfort and Convenience Package adds heated front seats, auto-dimming rearview mirror and a leather- wrapped heated steering wheel. The Driver Confidence Package brings side blind spot and lane departure warning, rear cross traffic alert and rear parking sensors.
The Bolt Premier ($41,780) adds all the LT standard and package features plus leather seating, upgraded 17-in wheels, roof rails, heated outboard rear seats, Surround Vision 360-degree camera, ambient lighting and a rear seat armrest. Optional packages for the Premier include the Infotainment Package that adds a 7-speaker Bose audio upgrade, wireless charging pad and rear-seat dual USB ports. The Driver Confidence Package adds collision avoidance with low-speed automatic braking, lane departure warning and lane keep assist, pedestrian detection braking and automatic high beams.
The Bolt comes with a 3-year/36,000-mile basic; a 5-year/60,000-mile powertrain; and an 8-year/100,000-mile battery, thermal-management system, charging system and electric drive component warranty.
Behind the Wheel
We recently attended the 2017 Bolt official launch. Here is what our Autotrader expert reviewer had to say about the experience:
"The best compliment we can pay to the Bolt is to say driving it is pretty unremarkable. If you've never driven an electric car, you're in for a surprise -- and that surprise is that there are no surprises. The big difference you'll notice is that there's no engine noise (since there's no engine), so you notice road and wind noise a lot more than in a gasoline-engine car. But mostly you just get in the Bolt and drive. And drive. And drive. Chevy reports acceleration from zero to 60 mph at 6.5 seconds, which is pretty quick for a compact hatchback.
"The Bolt has an independent front suspension and a semi-independent rear suspension. The new chassis is pretty rigid, and the suspension is non-adjustable, so the ride is pretty firm. That's good for handling but not as good for comfort -- always a delicate balance, but nicely managed in this case. Sophisticated electric power steering delivers good response, with a light weight at low speeds and heavier feel at higher speeds. The low center of gravity (thanks to the battery placement in the chassis) lends a sense of stability around the curves. It's even possible to wring a little bit of fun out of the Bolt on a winding road.
"The Bolt offers a level of engagement that you can enter into, or not, as your personality and tastes dictate. If you're into the gaming aspect of EVs, you can interact with the car to maximize range -- it gives you feedback in the instrument panel to let you know how you're doing. Or you can ignore that and just pay attention to your state of charge and range like you would with a fuel gauge. A wide range of advanced safety features are available on the Bolt, too.
"Unlike the interior of its competitor, the BMW i3, the Bolt's interior is simple and familiar-looking rather than jarringly modernistic. The most prominent feature is the big 10.2-in touchscreen display at the top of the center stack. It's rectangular and set into the dash in landscape orientation. The center console is low and open, which makes the cabin feel a little bigger and less cramped. Soft-touch plastics are in the right places, and build quality appears solid. Several calming color schemes are available to keep the Bolt serene."
Other Cars to Consider
2017 BMW i3 -- The BMW i3 isn't as roomy inside as the Bolt, and its styling is rather radical both inside and out. The i3's cruising range is about half what the Bolt can do, but it does offer an optional onboard gasoline motor generator that extends its range to about 180 miles.
2017 Nissan Leaf -- The Leaf is also limited to a range of about 100 miles, but the top-of-the-line SL trim costs less than the Bolt Premier. The LEAF has been around a while, so its repair and reliability history is well known.
2017 Volkswagen e-Golf -- Volkswagen's e-Golf looks just like the gasoline powered Golf, which some people may prefer to the Bolt's futuristic styling. The e-Golf's range is limited to 125 miles. Enticing lease deals may make the e-Golf a tempting alternative.
2017 Chevrolet Volt --The Volt is not a pure electric, but it can run solely on battery power for up to 53 miles, after which a gasoline engine kicks on to act as a generator for charging the battery pack. The Volt is a bit more stylish than the Bolt, but it also cost a more.
Used Ford C-Max Energi -- A 2013-2015 Ford C-Max Energi is a plug-in hybrid that can run short distances in pure EV mode. It features similar quasi-SUV styling like the Bolt, and has a total cruising range of about 620 miles.
Autotrader's Advice
If you only need the basics, the LT' s low price makes it the better deal. However, it's hard to look away from the Premier's optional driver assist features, especially since most Bolt EVs will be pulling duty in crowded city bumper-to-bumper traffic. If you can swing the extra $6,500, we'd say go for all the bells and whistles. Find a Chevrolet Bolt EV for sale