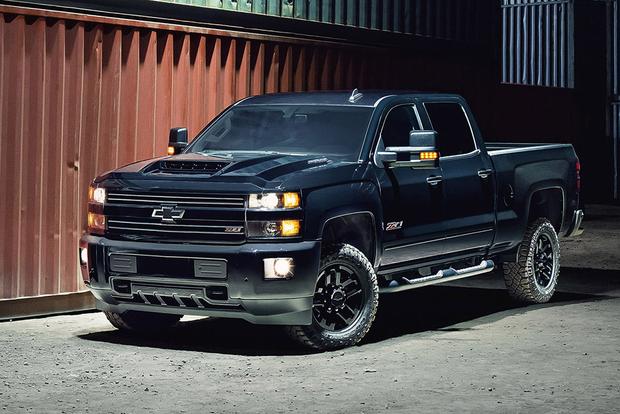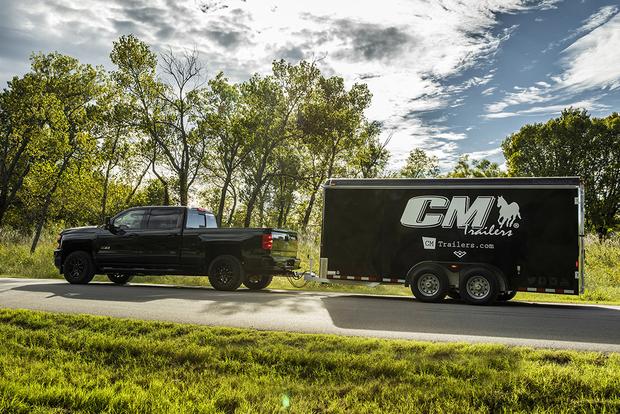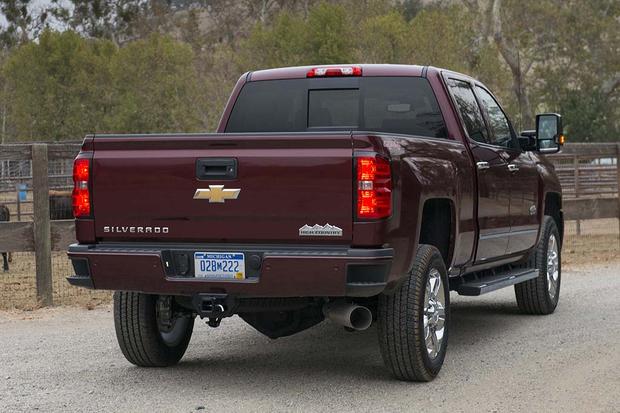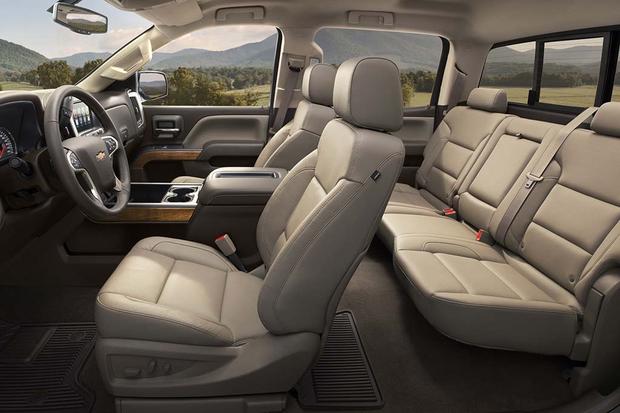 Heavy-duty pickups are the workhorses of the truck industry, yet not unlike their half-ton cousins, today's HD pickups are every bit as stylish, luxurious and feature-laden as the nicest full-size SUV. This is certainly the case with the 2017 Chevrolet Silverado 2500HD, a hard-working pickup with a rather soft side. Of course, if you just need a truck for light-duty chores such as moving furniture or carrying dirt bikes, a 1500 half ton will do just fine. But if you're looking for a heavy-duty pickup that's right at home on a jobsite, the Silverado 2500HD is a good choice -- a fact that's especially true after a full redesign for the previous model year. Offering new equipment, a new interior and a totally new look, the latest Silverado 2500HD boasts a fresh take on one of the most capable pickup trucks on the market, from the bare-bones Work Truck to the upscale LTZ.
What's New for 2017?
Chevrolet has done a major upgrade to the Silverado 2500HD's diesel engine, giving it a new air injection system that pumps horsepower to 445 and torque to stump-pulling 910 lb-ft. Teen Driver is added as standard equipment and a new Alaskan Edition is added.
What We Like
Highly capable; impressive towing and hauling capabilities; huge engines; interior offers class-leading equipment and passenger space
What We Don't
Doesn't offer manual transmission like the RAM HD does; trailer tow ratings still not as good as Ford; RAM's self-leveling suspension is compelling
How Much?
$34,700-$55,000
Fuel Economy
The 2017 Chevrolet Silverado 2500HD offers two engines. The pickup's standard powerplant is a 6.0-liter V8 that makes 360 hp and 380 lb-ft of torque. Drivers who want more pulling power can opt for the 6.6-liter turbodiesel V8, which develops 445 hp and a monster 910 lb-ft of torque. Official fuel economy ratings aren't available because the Environmental Protection Agency doesn't rate vehicles as big as the heavy-duty Silverado, but most drivers get around 8 to 12 miles per gallon in the city and 14 to 17 mpg on the highway, depending on the load.
Standard Features & Options
The 2017 Silverado 2500HD comes in many different body styles, trim levels and configurations. Drivers can choose from regular cab, crew cab and extended cab, as well as regular and long beds, gas or diesel engines and 2- or 4-wheel drive.
When it comes to trim levels, the Silverado 2500HD offers four: the base-level Work Truck, the midlevel LT, a high-end LTZ and the top-of-the-line Silverado High Country.
The Work Truck ($34,705) is designed for basic jobsite transportation, and as such, it doesn't offer much. There's an AM/FM stereo with an auxiliary port (but no CD player), vinyl seating, air conditioning and little else. It's so basic that items most drivers take for granted, such as keyless entry and power mirrors, aren't even standard.
Next up is the LT ($39,720), which includes a much more generous list of standard equipment. There are power mirrors, for example, and tinted glass. Silverado 2500HD LT models also include alloy wheels, Chevrolet's MyLink infotainment system, a CD player, OnStar and satellite radio.
Above that is the LTZ ($47, 040), which is not available on Regular Cab models, adds luxuries such as an automatic locking rear differential, fog lights, power-folding mirrors, larger alloy wheels, chrome trim, a larger center touchscreen, dual-zone automatic climate control, leather upholstery, heated front seats and a reversing camera.
Topping the range is the High Country ($55,760), which is similar to GMC's Denali trim and only comes on crew-cab models. The High Country adds primarily appearance upgrades, including 20-inch alloy wheels, body-colored bumpers, chrome side steps, full-leather front bucket seats, carpeted floor mats, special trim and a unique interior design with a center console. It also adds a navigation system, a Bose sound system, front and rear park assist and wireless charging system.
When it comes to options, the Silverado 2500HD offers the 6.6-liter Duramax turbodiesel engine, power adjustable pedals, front and rear park assist, a heavy-duty trailer package and 4-wheel drive. Optional safety features include forward-collision alert and a lane-departure warning system that vibrates the driver's seat if the truck starts to drift from its lane.
Safety
All 2017 Silverado 2500HD models include side airbags, side-curtain airbags, StabiliTrak electronic traction and stability control with trailer sway control, daytime running lights and a tire-pressure monitoring system. Optional features include a backup camera, park assist and upgrades such as forward-collision alert and a lane-departure warning system.
Neither the National Highway Traffic Safety Administration or the Insurance Institute for Highway Safety have tested the Silverado 2500HD since its redesign. Earlier models earned average ratings, but we expect the updated truck to perform better given its brand-new construction from the ground up.
Behind the Wheel
There aren't any surprises behind the wheel of the Silverado 2500HD. Yes, it was recently redesigned with a new look and a handsome new cabin that is a huge improvement over the old one, but any heavy-duty Silverado is still a big pickup truck. That means light steering, huge dimensions and a king-of-the-road driving position. In the Silverado's case, it also means a surprisingly quiet ride: We're impressed with just how well the pickup manages to cancel out road noise, wind noise and even the churning of the truck's optional diesel engine.
Inside the cabin, the Silverado 2500HD's dashboard brings a touch of modernity to the heavy-duty truck world, a segment that's usually the last to gain any of the latest features and equipment. We're also impressed by the rear-seat room, especially in crew-cab models. While we don't recommend it for city drivers, the Silverado 2500HD could easily be used as family transportation. In fact, it's just as adept at offering a comfortable ride to passengers as it is on the jobsite, where it can tow and haul better than nearly any pickup on the market.
Other Cars to Consider
2017 GMC Sierra 2500HD -- The highly similar Sierra 2500HD is worth a look, especially if you prefer the GMC's slightly revised styling. Even if you don't, check out the Sierra to see if you can get a better deal.
2017 RAM 2500 HD -- The heavy-duty RAM offers impressive capabilities, especially given its self-leveling suspension, available manual transmission and optional torquey 6.7-liter engine. But the RAM's cabin can't touch the interior in the latest heavy-duty Silverado.
2017 Ford F-250 -- The F-250 is all new this year, offering more luxury, more high-tech features and better towing numbers. The F-250's engine choices are the equal of the Silverado 2500HD, but its aluminum bed may not be as rugged.
Autotrader's Advice
There are too many trim levels and configurations to pick a Silverado 2500HD model that stands out above the rest. Instead, we suggest choosing the pickup that best suits your needs. For example, shoppers looking to tow large trailers will want the 6.6-liter turbodiesel engine. Drivers who need to cart around the whole family will want a crew cab. And those who want luxury will want a high-end LTZ or High Country model. If it were us choosing a Silverado 2500HD, we'd opt for the diesel because it's just so capable, and we'd skip the base-level Work Truck model, since its sparse options might make it hard to sell. But the Silverado's wide range of configurations means there's something for everyone.